Redang offers 80% of species found in the 'coral triangle' (an area bounded by the Philippines, Indonesia and Papua New Guinea known to have the highest number of marine species in the world). This biodiversity makes Redang one of the top dive sites in peninsular Malaysia. There are more than 20 dive sites to suit all skill levels, including beach dives and challenging deep dives, with a good mix of coral gardens, wall dives as well as sandy bottom offering plenty of opportunities for macro photography. The dive sites are all located nearby and are quickly accessible by speedboat.
Most resorts have dive centres which offer leisure dives and PADI dive certification courses. The PADI open water course theory and open water sessions can be completed within a 4D/3N stay, though it's recommended to stay at least 5D/4N for a more leisurely pace and to have time for a few extra leisure dives after that.
For non-divers who want to have a taste of what scuba diving feels like, some dive centres offer 'discovery dives' where a dive instructor or divemaster will conduct a short briefing on how to use the scuba equipment before personally bringing participants out on a shallow reef dive lasting about 30 minutes.
Divers are free to use any dive centre they wish though it's more convenient to use the dive centre at the resort one is staying at. Dive charges vary from resort to resort, though prices are competitive as there are many dive centres to choose from. Diving rates are around RM60 for a shore dive and RM90 for a boat dive, though many dive centres offer 2- or 3-dive packages which work out cheaper per dive. Discovery dives cost around RM160.
Dive responsibly
Control your buoyancy well to avoid crashing into and damaging the reef.
Avoid going too near corals as your fins might damage them. When near, fin gently and slowly. If you are too close, take a deep breath and float up out of the way before you start finning.
Secure your lines and gauges properly to avoid dragging them over the reef.
Do not stick sharp objects into coral reefs to anchor yourself when diving in currents or when taking photographs.
Do not chase, harass or remove marine life. You may injure them, cause them to retaliate defensively or expose them unnecessarily to predators.
Tunnels formed by boulders at Tunnel Point.
Among the three northern sites, Tanjung Tokong and Tunnel Point are the most popular, offering abundant fish life in waters with a maximum depth of 30 metres. Tanjung Lang is the shallowest, offering fans, whips and other corals in waters up to a maximum depth of 18 metres. The corals at these northern sites are among the healthiest in Redang as that they are situated away from most resorts and are in close proximity to the protected beach at Chagar Hutang which is off-limits to visitors as it hosts SEATRU's turtle conservation efforts.
Tunnel point
As its name implies, at Tunnel Point large boulders pile up in such a way as to form tunnel-like structures that divers can swim through, offering a different underwater experience from the other dive sites. At one point, attentive divers can hear a boulder creak when surf pushes it and causes it to move, rubbing against other boulders. Gorgonian fans can be found clinging to the wall surrounded by soft and hard coral covering the reef. Bumphead parrotfish, small barracudas, jacks and nudibranch can all be encountered here.
Tanjung Tokong (North Point)
Bluefaced angelfish at Tanjung Tokong.
Tanjung Tokong is situated very close to Turtle Bay at Chagar Hutang where SEATRU has its field station. As such, it offers greater opportunities to spot green and hawksbill turtles. The sea here can get rough at times but divers will be rewarded with the diversity of fishes and other reef life found here, including jacks, snappers, napolean wrasse, fusiliers, nudibranch, flatworms and the occasional shark. Many boulders are covered with soft coral, sponges and sea fans. Keeping the reef on one's left, divers can head into Turtle Bay where colourful hard and soft corals abound.
Tanjung Gua Kawah
At the northeastern tip of Redang, Tanjung Gua Kawah tends to have strong surface and deep-water currents and is best left to experienced divers. Rocks and boulders descend to sandy bottom at around 15 metres. Coral growth is average but due to the currents, there are opportunities to encounter pelagics in the open water, and other fish life in caves and under overhangs.
Razorfish at Paku Kecil.
Due to their easy accessibility, the housereefs at Tanjung Tengah and Tanjung Mak Cantik in Pasir Panjang are good for snorkelling, day and night beach dives and discovery dives. The waters are no more than 15 metres deep and divers will often encounter baby black tip sharks and the occasional adult. Don't forget to look under rocks and table coral. Often, one will find one or two Jenkins whiprays.
Pulau Paku Besar and Pulau Paku Kecil
A stone's throw away from Pasir Panjang are the islands of Pulau Paku Besar and Pulau Paku Kecil which are popular snorkelling haunts but also have enough to keep divers happy. The sandy bottom areas around these islands provide encounters with schooling razorfish, pipefish and other bottom dwellers.
Chek Isa (Mini Mount)
Schooling batfish at Chek Isa.
Chek Isa is a submerged reef that starts from 8 metres and progresses down to a sandy bottom 20 metres in depth. It is characterized by two enormous boulders carpeted with different species of soft corals, sponges and hydroids. Cowries, spider shells and colourful Christmas tree worms are often encountered together with angelfish, parrotfish, wrasses, groupers, schooling batfish and other reef dwellers.
Look out for well-camouflaged devil scorpionfish on the sandy bottom. There can sometimes be mild to moderate currents which may then present opportunities for pelagic encounters. Don't forget to look away from the reef and check the distant blue for chance sightings of adult black-tip sharks.
Night diving here can be a rewarding experience with many nocturnal creatures like crabs and eels, urchins, squids, spiny lobsters and cowries making their appearances.
Mak Cantik (Maxi Mount)
Close to Chek Isa is Mak Cantik (which means 'beautiful mother' in Malay), an underwater seamount in waters 12-18 metres deep that's home to a large coral garden comprising many hard and soft corals. Some divers prefer this to Chek Isa as the coral gardens here are prettier, with some lovely coral anemone gardens. Like Chek Isa, mild to moderate currents are sometimes encountered. When that happens, look around for chance sightings of pelagics.
Yellow-tail barracudas at Mak Cantik.
Fish life is similar to Chek Isa due to their close proximity. There is an abundance of fish life, including schooling yellowtail barracudas, snappers and batfish, rays, puffers and all the usual damselfish, wrasses, parrotfish, angelfish, butterflyfish and black-tip reef sharks. Again, look away towards the fringe of the reef occasionally and you might spot white-tip sharks and larger rays.
Tanjung Cina Terjun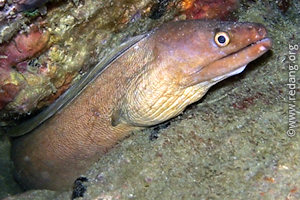 Eel at Tg.Cina Terjun.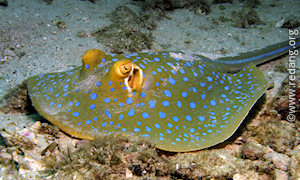 Rays like this blue-spotted stingray are commonly encountered at Kerengga.
If there is one place in Redang that qualifies as a macro photographer's wonderland, it must be Cina Terjun, one of my favourite sites in Redang. It might as well be called 'eel and lionfish city' too since divers are almost certain to encounter these here.
The sandy bottom fringing the reef is home to many stingrays, while scorpionfish and stonefish lie camouflaged against corals. Lionfish and porcupine fish shelter amidst a garden of sea whips, while schools of large puffers swim nearby. Small cat sharks, bamboo sharks and leopard sharks can be found sleeping under rocks.
This spot offers great day and night dives at depths up to 18 metres in fairly calm waters, so it is suitable for novice divers too. Shine your torch into a hole or crevice at night and chances are you'll see an eel.
Pulau Kerengga
Northwest of China Terjun are the islands of Pulau Kerengga Besar and Pulau Kerengga Kecil with a large expanse of shallow reef which is ideal for snorkellers as well as novice divers. If Cina Terjun is 'eel and lionfish city', Kerengga is 'ray city' as the shallow sandy bottom around it is home to a large number of rays and a few sharks. The diving around Kerengga Besar is in relatively calm and shallow waters up to about 15 metres maximum depth. A coral garden comprising both hard and soft coral lies between the two islands. Humphead parrots, snappers, tuna, jacks and trevallies may be encountered at the reef, while many species of shrimp and crab may be found especially during night dives.
A research study in 1976 found Pulau Lima and its associated sea mounts as perhaps the most valuable entity within the Redang marine park as the reefs around this islet represented all environments found elsewhere in Redang, thereby providing a miniaturized view of the entire park's marine environment.
Soft anemone fields at Black Coral Garden, Pulau Lima.
Easily accessible from the resorts at Pasir Panjang, Pulau Lima translated means 5 islets. There's good diving to be found all around it on the east, west, northern and southern tips. Among the most popular are Big Mount in the north and Black Coral Garden in the west with its large fields of anemone and other soft corals.
Pulau Lima South
The southern tip comprises a series of large boulders covered with hard and soft corals, sea anemones and other invertebrates, with caves and grottos at the base of the boulders forming hideouts for many reef fishes. The eastern side comprises steep walls encrusted with corals dropping to about 13 meters before sloping away gradually to 30 meters. Sea fans and whips can be found at the deeper bottoms. Apart from the usual reef fishes, look out for black tip reef sharks, moray eels, lionfish and puffer fish.
Pulau Lima North
Giant moray eel at Pulau Lima.
"Big Mount", located about 50 to 100 metres from the northern tip of Pulau Lima, is considered by many divers to be the best of all the dive sites around Pulau Lima and is probably one of the deeper dive sites, going down to about 35 meters.
Highly rated by local divers, it provides interesting encounters with a variety of pelagics such as tuna, barracudas, groupers, black-tip sharks and the rare but unforgettable encounter with the whale shark. Starting at about 20 meters, the boulder terrain drops away to 30+ meters and is filled with many varieties of hard and soft corals, gorgonian fans, sea anemones and whip coral gardens.
Terumbu Kili (South Point)
Large puffer fish at Terumbu Kili.
Terumbu Kili, a rocky outcrop that appears above water and slopes down to a sandy bottom at about 20 metres in depth, lies at the southern tip of Pulau Pinang and is one of the top dive sites at Redang.
Hard coral fields at Terumbu Kili.
Beware the strong surface currents in the channel separating this outcrop from Pulau Pinang. Due to the strong currents, this site is best left to more experienced divers. Those who take the plunge may be rewarded with sightings of occasional blacktip sharks, barracudas, jacks, snappers, fusiliers, jellyfish and schools of yellowtail. A coral garden of leather corals, soft coral, whips and fans occupy several ledges on the slope front. Hawksbill turtles are commonly encountered here.
Pulau Ling & Batu Chipor
Pulau Ling, a small rocky outcrop with no beach, used to be a popular dive spot in Redang with 2 massive, mushroom-shaped coral heads, believed to be the among the largest coral structures on the East Coast of Peninsular Malaysia. Estimated to be hundreds of years old, the larger head measures 24.5 metres while the smaller head measures 23.2 metres at their base circumference. These can be explored at relatively shallow depths of 10-20 metres. Caves found at the bases of the two heads are home to angelfishes, moorish idols and cardinal fish while the overhangs of these caves are encrusted with brilliant orange daisy corals.
North of Pulau Ling, Batu Chipor is marked by a buoy about 20m away from a tiny rocky outcrop barely exposed during high tide. Although a fairly shallow dive (8-15 metres), the sea around it can be choppy with currents and it is more suitable for experienced divers. The rocky wall is covered with soft tree corals, leather corals and fans, while the sandy bottom is covered mainly with hard staghorn, lettuce and boulder corals.
Both these dive spots are now less frequently visited by divers due to the large increase in boat traffic which pass these areas.
Pulau Ekor Tebu
The northeast tip of Pulau Ekor Tebu comprises mainly steep granite boulders dropping to 24 metres where it hits the sandy bottom. An underwater cave can be found at about 20 metres depth. Look out for healthy staghorn, table and lettuce coral. Sightings of trevallies, black tip sharks, pompano, barracuda, batfish and the occasional eagle ray can be expected especially when there are currents. Giant clams and other shells can also be encountered.
My first NAUI open water dive with my buddy Chee Keat (right).
NAUI open water theory test.
If you enjoy marine life but find that snorkelling only allows you to scratch the surface of the underwater world, then you may want to consider becoming a certified scuba diver. Scuba is an acroynm for 'Self Contained Underwater Breathing Apparatus'. As the acronym implies, scuba diving allows you to 'breathe' underwater and thus immerse yourself in the aquatic world much longer. This allows you to get up close and personal with marine life, including many that you won't be able to see when you're snorkelling simply because they are either too small, hidden away under rocks, in holes and crevices, or too deep out of reach, such as those living on the sea floor. If you are planning to become a certified diver, you need to be aware of the following.
All dive students need to fill up a medical self-assessment questionnaire and may need to get a medical checkup. It is important to answer the questions honestly. Many students are afraid they will be disqualified if they\ disclose certain medical conditions and choose not to. Doing so may put themselves and their dive buddies at greater risk. In many cases, their medical condition may not affect their ability to dive, and their disclosure will help alert the doctor doing the checkup to assess their condition more thoroughly.
Make sure you are comfortable and proficient in the water. While all the major dive certification schools require that students are at a minimum level of proficiency in the water, many dive centres do not adequately check the proficiency of their students in their eagerness to accept them. If you are going to participate in an activity that requires you to be in the ocean where conditions are not always predictable, it's to your own benefit to at least know how to swim, tread water and are comfortable being submerged underwater. A good minimum proficiency level to achieve might be something similar to the NAUI requirements: able to swim 200 meters non-stop (any style, no time limit), tread water for 15 minutes continuously and swim 20 metres underwater on a single breath. Being able to exceed these requirements is of course even better!
Safe diving links
If you are a fairly new and inexperienced diver, here are some tips for safe diving.
Practice makes perfect! Even after you've been certified, you can practice basic skills in a pool. Focus on improving finning techniques such as freestyle and frog kicks and mask-clearing and removal. If you have not dived much since getting your certification, you can also do a pool refresher course at your local dive school. You depend a lot on your equipment, and it is to your advantage to be well-versed with their use. The whole idea is to familiarize yourself to a point that operating your equipment and controlling your movements in the water become second nature.
Never be pressured to dive when you are sick or unwell, physically exhausted, or feel uncomfortable about diving conditions. Diving can involve quite a bit of physical exertion and cardio-vascular fitness. Just as you should avoid strenuous exercise when you have the cold or flu, better to skip diving too. If you feel unwell during a dive, you should also alert your buddy or dive master and cut short the dive if you need to.
Pay attention to dive briefings and follow the dive plan. It's best to dive with a buddy you are familiar with but if you have a new buddy, make sure you discuss any specific expectations and requirements like underwater photography. It's common for underwater photographers to be left behind while they are busy trying to take pictures!
Keep fit! Exercise regularly and make sure you are physically fit to handle the physical demands of diving. Drinking can impair your judgement and responses, so don't drink and dive.
Dive within the limits of your training and experience. If you are not comfortable with the dive plan, tell the dive master. Often there may be a few divemasters and it is simple enough to assign you a divemaster who may be on a simpler or shallower dive plan together with other less experienced divers.
Don't pursue after marine life in a way that puts yourself in danger. Divers may end up ascending too quickly or descending too deep or get caught in currents away from the reef. Don't take unnecessary risks or try to impress others with your underwater skills.