All the resorts offer snorkelling trips as part of their vacation package and rent out snorkelling equipment like masks, snorkel and life jackets (around RM30 for the whole set per stay). Young children, the elderly and even non-swimmers can enjoy snorkelling. Just put on a lifejacket, mask and snorkel and jump into the water. While there are powered masks and child-sized life jackets for rental, these are limited. If fit and hygiene are important, you may prefer to bring your own.
On boat snorkelling trips, there will be snorkelling guides accompanying snorkellers to ensure the site is safe and free from currents and also to render assistance. Sometimes, bread is provided for snorkellers to feed the fish. For those snorkelling on your own off the beach, there are no guides or lifeguards, so do so at your own risk.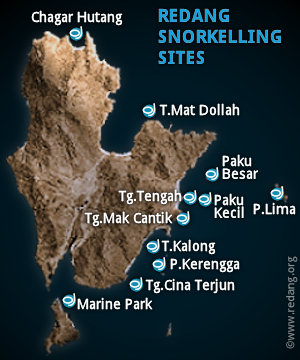 One of the best descriptions of snorkelling sites in Redang can be found at WhatsTheSnorkellingLike. Thanks to our Forum guest WhatSnork for alerting me to his site, which provides information about snorkelling locations, entry and exit points and snorkelling routes, maps, photos and condition of corals and marine life.
Snorkel responsibly
Don't use fins. To protect the corals, fins are not allowed in Redang while snorkelling.
Never stand or step on corals. You can damage or break them.
Do not litter. Don't leave plastic bags or bottles in the water. Turtles may mistakenly eat them thinking they are jellyfish. Collect all litter and dispose them properly back on shore.
Stay safe. Wear a lifejacket and fasten it securely unless you are proficient in the water. Stay within designated snorkelling areas for your own safety.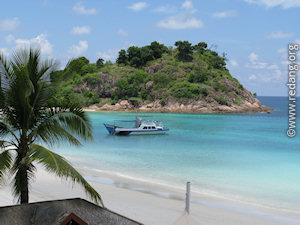 Tanjung Tengah and Shark Bay as seen from the southern side of Pasir Panjang beach.
Probably the busiest house reef is around Tanjung Tengah in Pasir Panjang. The southern side is commonly known as 'Shark Bay' as the reefs there are a nursery for baby black-tip sharks. April to August seems to be the best time to spot these shark pups, up to a dozen of them. Also resident to this reef are schooling needlefish, a few turtles, squid, an orange-striped triggerfish, a resident barracuda and the other coomon reef fishes.
Due to the popularity and easy accessibility of this house reef, it has suffered quite a lot of damage over the years particularly the corals nearer shore. During low tide, the corals are in very shallow water and are easily damaged through physical contact with snorkellers when they stand on them or kick them accidentally, especially when wearing booties or fins. As a result, fins are no longer rented out to snorkellers. To protect these fragile corals, snorkel carefully, don't go too near the corals and for your own safety, do not snorkel beyond the floating white markers where you may put yourself in the path of boats.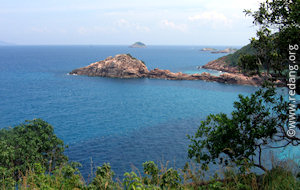 Tanjung Mak Cantik.
This house reef located at southern Pasir Panjang starts at the front beach of Redang Reef Resort and goes around the rocky outcrop to the back beach of the resort. Due to its location, it sees fewer visitors compared to Shark Bay. It is easier to get in the water and explore this reef from the front beach of the resort. Just get in the water and head right along the rocky outcrop. Look out for resident stingrays hiding under rocks or table coral, titan triggerfish, squid, porcupine fish, giant grouper, clams, christmas tree coral and the occasional turtle.
Alternatively, one can also start from the rear beach and head out with the outcrop to your left. Going around the outcrop should be left to experienced snorkellers as the water can get a little choppy once you reach the side facing the open sea.
The Marine Park Centre is the most popular snorkelling destination and can be crowded during peak visiting season. At 3-6m deep,the area around the jetty at the Marine Park Centre in Pulau Pinang is covered mainly with hard corals and offers easy access to a large variety of marine life that are resident among the PVC pipes of the artificial reef directly under the jetty, the most popular being the resident giant grouper and moray eel.
This place has the largest concentration of fishes in any single location probably due to the fact that many visitors feed the fish. Expect plenty of hungry damselfish, sergeant majors, wrasses, parrotfish and the resident triggerfish seeking food handouts from visitors. Just be careful not to get your fingers mistaken for food! Napolean wrasses are occasionally spotted to the west of the jetty, as are adult blacktip sharks.

Location of the wreck at the Marine Park Centre.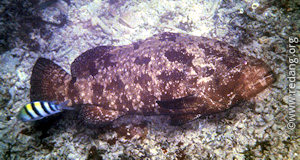 Look out for the resident giant grouper under the Marine Park jetty.
To the east of the jetty is a shipwreck lying in about 8-10 metres of water with part of it visible above the water surface. The coral encrusted structures make it an interesting place to explore. Just be careful not to scratch yourself on the metal structures and avoid touching the stinging hydroids that grow on the wreck. It's many crevices and hiding places are home to moray eels, giant groupers, batfish and angelfish. Be careful of currents when swimming out to the wreck - it is best to avoid visiting it when there are currents. Also keep within the white marker buoys as there are strong currents sweeping through the channel between Pulau Pinang and Pulau Redang.
There is a housereef located in front of Redang Holiday Resort around the rocks below their hillview chalets. From their frontbeach, head left following the rocky shoreline.
The resorts at Teluk Kalong also have housereefs in slightly deeper waters. The waters in front of Redang Kalong resort near their jetty is another nursery for baby black tip sharks which can be seen from the jetty without getting wet, especially if one attracts them with food. At Amannaggapa and Mutiara resorts, the reefs are around the rocky outcrops on either side of the resorts.
Over at Teluk Dalam in front of Taaras resort, coral reefs are located to the sides of the U-shaped bay, so snorkellers have to swim further to access them. The bay in front comprises mainly sandy bottom and seagrass areas and is devoid of coral.
All these housereefs see fewer visitors and are expected to be in better condition than those at Tanjung Tengah and Tanjung Mak Cantik. There are also other snorkelling sites at Pulau Paku, Pulau Lima and other areas but these are only accessible by boat.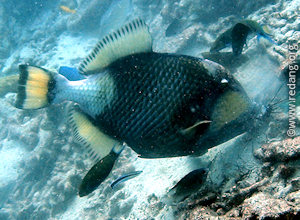 The Titan triggerfish can be aggressive and is commonly seen in Redang. Best to keep your distance or avoid it altogether.
Here are a few tips to help you to get the most out of your snorkelling sessions.
Choose a mask that fits well. Put the mask on your face without strapping, breathe in through your nose to create a vacuum in the mask and look down while holding your breath. If it fits well forming a perfect seal, it should not fall off. Adjust the snorkel length and position on the mask so that the mouthpiece fits comfortably in your mouth, between your teeth and lips. Bite gently on the protruding tabs to hold it in place and breathe in & out through your mouth.
To prevent your mask from fogging, rub a little defogging solution on the inside. Alternatively, you can use toothpaste, baby bath, shampoo or even saliva if you don't have anything else. Apply when dry then rinse the mask (but don't scrub it) before you wear it.
When wearing your mask, make sure you comb back your hair so that no hair gets trapped between the mask and your face which will cause leaks.
It is best to cover up for protection from the sun as well as from marine stingers you might accidentally brush against. Jellyfish and other marine stingers sting when they detect the presence of certain chemicals on human skin, so wearing clothes, wetsuits or swimsuits to cover skin also prevents stings.
Learn to recognize the titan triggerfish, which is quite common in Redang. Because of its size (adults can grow up to about 75cm long) and powerful bite, it is best to keep your distance from this fish as it can be aggressive especially during nesting season. When guarding its nest, it will sometimes attack divers and snorkellers who venture too close.