Spread the message of conservation!
Put these on your desktop to remind yourself of the beauty of the coral reef environment and why we should protect and preserve it. Choose the resolution that best suits your display monitor.
Permission is granted for anyone to download, use and distribute freely for non-profit purposes. All material is copyrighted and we appreciate that they are not edited or modified in any way. Thank you for helping to protect our coral reefs and marine environment!
File saving instructions:
To save the wallpapers to your PC, right-click on the required size and choose 'Save Target As...' (Internet Explorer users) or 'Save Link As...' (Firefox and Chrome users). Then choose your folder and click 'Save'.
Resting turtle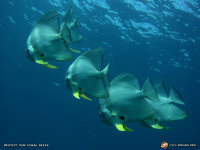 Schooling batfish