Location of towns of departure and jetties to various islands off Terengganu.
Location of Kampung jetty, airstrip, village, main beaches and only road on Redang.
The simplest way to travel to Redang is by Berjaya Air which offers direct flights to the island from Kuala Lumpur's Subang Airport and Singapore's Changi Airport Budget Terminal.
Other visitors should head for Shahbandar jetty in Kuala Terengganu (KT) or Merang jetty depending on which ferry they are taking. Some resorts operate their own ferries which usually leave from Merang jetty direct to the resort. Other resorts will make use of the public ferry which leaves from Shahbandar jetty to the Kampung jetty in Redang, after which passengers will transfer to other boats heading for the resorts. These ferry transfers are usually included in the resort's package price.
Visitors arriving at KT airport or KT coach station can arrange with their resorts for pickup and transfer to either jetty for a small additional fee. Just inform the resort your date and time of arrival and departure together with flight or coach details. The resort can advise you when to check out to catch your boat back to the mainland for your connecting flight or coach. Visitors can also catch a cab from the airport or coach station. Some coach companies operate direct services to Shahbandar jetty and Merang jetty. Visitors driving their own vehicles can park at Merang jetty or at one of the many public carparks in downtown KT. There are no train services to KT.
On Redang, there are no water taxis and no roads connecting the different beaches. The only road on the island connects the Kampung jetty at one end to Berjaya resort at the other end and passes by the airport and the island's only village (kampung). Visitors arriving at Redang airport or the Kampung jetty should pre-arrange with their resorts for transfers between the airport and the resort.
Most ferries leave for Redang in the morning so plan to arrive in KT or Merang earlier in the morning to allow sufficient time to catch the ferry. Other than the private resort ferries and the one public ferry operator, there are no other regular scheduled boat services between Redang and the mainland. Boat charters are available but cost from MYR500 and would only make economical sense if you have enough group members to share out the cost. For safety reasons, boats do not travel at night.
Getting to Redang from Perhentian or Lang Tengah
If you are visiting Redang from Perhentian or Lang Tengah islands, you should charter a boat as there are no scheduled services between these islands. It's usually easier to charter a boat from Perhentian to Redang or to Lang Tengah than the other way around as there are many private boat operators in Perhentian, many of whom operate the water taxi services there.
The public ferry at KT Shahbandar jetty (top) and at the Kampung jetty in Redang. The ferry is operated by Sejahtera Ferry Services Sdn.Bhd. (T: +609-6225233 | M: +6016-4160338).
Ferries to Redang depart either from Shahbandar jetty in Kuala Terengganu (KT) or from Merang jetty (40 minutes away from KT). Resorts that have their own ferries operate between Merang jetty and the resort and these boat transfers are usually included in the resort's vacation package. There is only one public ferry to Redang which runs between KT Shahbandar jetty and the Kampung (village) jetty in Redang. Tickets for the public ferry can be purchased at Shahbandar jetty (MYR50 one-way for adults, children pay half fare). Resorts that make use of the public ferry may include the ferry ticket as part of the package price or may charge you extra, so check with the resort before buying your own tickets.
Merang jetty
Don't confuse Merang with Marang, which is another town south of KT. Merang jetty is 40 minutes by road from KT and the nearest point on the mainland to Redang. At Merang, each resort has its own jetty and check-in areas along the river with public carparks just by the side of the road.
Shahbandar jetty
Located opposite the Tourist Information Centre and General Post Office in downtown KT and 15 minutes walk from the KT coach station, it is nearby the tourist attractions of Puteri Hill, Maziah Palace, Chinatown, shops, eateries, the wet market and other places of interest.
Ferry schedules
Most ferries require you to check-in at least half hour before departure. Ferry schedules are shown below for reference. Always check with your resort for ferry timings and jetty of departure as these are subject to change. Though rare, rough seas and stormy weather can result in delays or cancellations. When there is heavy siltation at Merang river mouth or during low season, resorts that normally operate out of Merang may also temporarily make use of Shahbandar jetty.
| Ferry | From Shahbandar | From Redang |
| --- | --- | --- |
| Public ferry | 9am, 10:30am, 3pm | 7am, 11am, 1pm |
| Coral Redang | 9am | 11am |
| Redang Holiday | 9am | 7am, 11am |
| Redang Reef | 9am | 11am |
| Redang Bay | 9am | 11am |
| Redang Lagoon | 9am | 11am |
| Resort ferry | From Merang | From Redang |
| Kalong | 10am | 8:30am, 11:30am |
| Laguna | 9:30am, 12pm | 9am, 11:30am |
| Mutiara | 9:30am | 11am |
| Pelangi | 9:30am | 8-10am |
FOR REFERENCE ONLY. SUBJECT TO CHANGES.
Travel time allowances
Check the table below to ensure you have sufficient time to catch the ferry, coach or plane. As a rough guide, allow a minimum of 2 hours to get from Redang to the KT coach station and about 3 hours to get from Redang to KT airport (inclusive of 1 hour pre-flight check-in). If you are catching a coach from Merang, allow at least 1 hour to get from Redang to Merang.
| From | To | Distance | Travel time |
| --- | --- | --- | --- |
| KT coach station | Shahbandar jetty | 1 km | 10-15 min walk |
| KT coach station | Merang jetty | 39 km | 40 min drive |
| KT airport | Shahbandar jetty | 13 km | 20 min drive |
| KT airport | Merang jetty | 30 km | 30 min drive |
| Redang | Shahbandar jetty | 48 km | 90 min by boat |
| Redang | Merang jetty | 25 km | 45-60 min by boat |
Approximate travel times between key locations.
For example, if you are flying into KT to catch the 9:30am ferry from Merang jetty to Redang, your flight needs to arrive KT no later than 8:30am since you need to check-in half hour before ferry departure. If you need to catch a 11am coach home from KT coach station, you need to leave Redang no later than 8:45am, again assuming you need to check-in half hour before coach departure. These examples assume normal traffic conditions and very little delay transferring from the boat to land transportation. So it is best to give yourself even more time just in case.
Boat charter booths at Merang jetty: Merang Redang Boat Services (top) and ZJ Holiday Services (bottom).
If your arrival schedule in KT or Merang does not allow you to catch a resort ferry or public ferry to Redang, you can either stay overnight in KT or charter a private boat. Chartering a private boat is also the only option for daytrippers who want to visit without staying overnight.
There are a few private boat charter operators at Merang jetty. Charges start from RM500 per boat for a one-way trip to Redang or RM50 per passenger if they have enough passengers to make a boat load. These private boat charter operators also provide boat services to Perhentian and Lang Tengah islands. Their other services include resort bookings, KT airport/coach station land transfers and van charters. For those who might have need for their services, below are some of these operators. I have not personally used any of them so am unable to comment on their service standards. If you intend to make use of them, it is advisable to call in advance to enquire and make arrangements prior to arriving at Merang jetty.
Merang jetty
RNR Budget Holiday
Contact: Roslan, T: +6013-9535666 | +6012-9679444
Redang Kampung jetty
Barakah Boat Services
Contact: Mr. Rosde Ambak, T: +6013 9588241 / +609 6308630
Redang Abadi boat services
Contact: Hazeme, T: +6017 9369834 / +609 6976537
Flying to Redang from Kuala Lumpur or Singapore
Berjaya Air's ATR 72-500 aircraft.
Contact Berjaya Air for schedules and fares.
Firefly plane at KT airport.
Berjaya Air is the only airline operating direct flights to Redang from Kuala Lumpur's Subang Airport (55 minutes, around MYR526 return) and Singapore Changi Airport Budget Terminal (80 minutes, around SGD352 return). They operate two types of turboprop aircraft: the 4-engine 48-seater DeHavilland Dash 7 and the twin-engine 72-seater ATR 72-500.
The airstrip on Redang is located near the Kampung jetty. Guests of Berjaya resort will be transferred from the airstrip to the resort by road, less than 10 minutes ride away. Passengers heading for other resorts will be transferred to the Kampung jetty by van to board the boats to their respective resorts. These van and boat transfers from the airstrip are included for those on 'fly and stay' vacation packages offered by Berjaya Air and a few of the island's resorts. Other passengers will need to arrange these transfers with their resorts in advance.
Flying to Kuala Terengganu from Kuala Lumpur
Malaysia Airlines, Firefly and Air Asia operate daily flights between KL and KT. Flight time is approximately 45 minutes (60 minutes for Firefly). Malaysia Airlines departs from KLIA (Kuala Lumpur International Airport). Air Asia departs from KLIA's LCCT (Low Cost Carrier Terminal) while Firefly uses KL's Subang Airport (also known as Sultan Abdul Aziz Shah Airport and just 28min away from the city centre).
International visitors flying into KLIA and catching a connecting flight from KLIA LCCT (or vice versa) should allow sufficient time for transfers between the two terminals (10 minutes by cab or 20 minutes by feeder bus which departs every 20 minutes). Visitors transferring between KLIA / LCCT and Subang Airport should allow at least 45-60 minutes transfer time by cab (fare around MYR70).
KT airport, also known as Sultan Mahmud Shah airport, is located 15km away from KT town centre. It takes about 20-30 minutes by road to get to KT Shahbandar jetty and about 30 minutes to Merang jetty in normal traffic conditions. Visitors can arrange with the resort or travel agent to provide transfers between the airport and the jetty for an extra fee. Alternatively, buy a cab coupon at the Taxi Counter located in the Arrival hall (MYR50 to Merang, MYR25 to Shahbandar jetty). To avoid missing your flights, you should allow about 2.5-3 hours transfer time between Redang and KT airport (inclusive of check-in time).
Flying to Kuala Terengganu from Singapore
There are currently no direct flights to Kuala Terengganu from Singapore. Firefly used to operate this route but stopped since the beginning of 2011. The only way is to fly to KT via KL, taking advantage of the many budget carriers like AirAsia, Tiger Airways, Jetstar Asia and Firefly that ply the KL-Singapore route. While promotional airfares can make flying an affordable alternative to coaches, the difficult part is trying to coordinate connecting flight schedules and ferry timings which often means having to stay overnight in KL or KT.
MPKT coach station to Shahbandar jetty (view larger map).
The simplest and probably safest way to get to Shahbandar jetty is by the main roads. Go right along Jalan Syed Hussein past the MacDonalds and turn left to Jalan Tok Lam at the junction. Keep on this main road past Yen Tin (YT) Midtown hotel towards the sea until you get to the Waterfront Park, then turn left at Jalan Sultan Zainal Abidin. Continue till you reach the Post Office. Shahbandar jetty is directly opposite the post office.
Travelling by coach is relaxing and a great way to enjoy the scenic countryside. Coaches make one or more rest stops along the journey for food, refreshments and toilet stops. Most coaches do not have toilets on board, so if you miss a scheduled stop and need to relief yourself, just inform the crew or driver and they will stop at the next available toilet (usually at a petrol station).
Coaches to KT
Outstation express coaches arrive and depart from MPKT (Majlis Perbandaran Kuala Terengganu) coach station centrally located downtown in Jalan Syed Hussein, about 10-15 minutes walk from Shahbandar jetty.
KL to KT (7 hours):
Express coaches from KL to KT include Transnasional, Nice, Sani Express, Maraliner and Kesatuan. Most coaches depart from Hentian Putra Bus Terminal located opposite PWTC and Duta Bus Terminal though its best to check with the coach operator as some may also depart from Hentian Duta Bus Terminal or Puduraya Bus Terminal.
Penang to KT (9 hours):
Coaches like SP Bumi, Cepat Express and Atieza depart daily from Komtar or Butterworth stations to KT.
JB to KT (8.5 hours):
Coaches depart from Larkin station. Many choices available including KKKL Express, Konsortium, Adik Beradik, Transnasional and Cepat Express.
Singapore to KT/Merang (9.5 hours):
Transnasional departs for KT from Kallang Bahru/Lavender station while Konsortium departs for Shahbandar/Merang from Golden Mile Centre at Beach Road.
Many coach companies operate luxury single or double-decker coaches. Some come with personal audio-video entertainment systems, massage seats and even attendants to serve food and drinks. The most comfortable are those with electrically-operated snoozer capsule seats which can be reclined close to horizontal without eating into the rear passenger's seat space. The luxury coaches have as few as 16-18 seats while the norm today are VIP coaches with 21-27 seats (for single-decker) in a 1-2 seating configuration which offer good legroom, comfort and space for sleeping on long journeys.
As most ferries leave in the morning, visitors going by coach usually have to board the overnight coach to get to KT or Merang on time. Bring warm clothing as it can get cold in the coach at night. Use inflatable neck pillows and blinders (or a cap) to help you sleep more comfortably. On the return journey, you have a choice of taking the day coach or night coach. Travel in the day if you wish to take in the sights of the countryside. Travel at night if you prefer to spend some time sightseeing in KT.
Travelling by coach from Singapore
The journey by coach from Singapore to KT takes about 9-10 hours depending on Causeway or Second Link traffic conditions. The overnight coaches usually arrive in KT/Merang before 8:30am.
Transnasional is the most affordable and runs daily services between Singapore Lavender bus station (at junction of Lavender and Kallang Bahru)and KT or Kota Bahru. Their travelling time may be slightly longer as they often pick up passengers at Larkin station in Johor Bahru on the way up. Passengers returning to Singapore can choose to get off at Woodlands Immigration Checkpoint (just tell the driver you won't be re-boarding after immigration) or at Lavender bus station.
Konsortium operate their own coaches directly between Singapore Golden Mile Complex at Beach Road and Merang jetty/Shahbandar jetty. They travel via the Second Link which is faster and often means a later departure time compared to Transnasional. The pickup from Merang jetty is usually at 10am (11am from Shahbandar jetty in KT) and will arrive in Singapore around 8pm depending on traffic conditions.
During busy periods, it may be difficult to get coach tickets from Singapore to KT. In such cases, you can try catching a coach to Kota Bahru instead and ask the driver to drop you off at KT which is along the way (those heading for Perhentian can ask to be dropped off at Jertih, 15 km from Kuala Besut, and catch a taxi to Kuala Besut). Alternatively, head for Johor Bahru Larkin bus station where there are more choices of coach operators at cheaper prices. You can get to Larkin station by catching SBS170, the Singapore-Johor Express from Ban San Terminal (junction of Queen and Arab streets) or the bright yellow Causeway Link bus from Kranji MRT. If you have a sufficiently large group, you can also try chartering your own coach from the coach companies at Golden Mile.
When travelling between Singapore and Malaysia by coach, you'll have to get down twice for immigration. The first is at the country of departure - just bring your passport and valuables and leave the rest of your luggage on the coach. The second is at the country of arrival where you'll have to bring all your luggage with you - it's thus a good idea to travel light. Note your coach license plate and markings, as you'll need to find and board the correct coach after checking out of immigration.
Carparks at Merang jetty. There are a mix of open air and covered lots.
The road system in Malaysia is excellent and driving to the East Coast can be an enjoyable and scenic experience. There are car parks in KT and Merang for short term parking which have basic security and wardens to look after your vehicle. At Merang, open-air lots cost about RM5 per day while shaded lots cost about RM10 per day. Note that there are very limited lots available at Shahbandar jetty but there are other carparks nearby within walking distance.
Driving directions
KL to KT (approx. 455 km):
From KL, head East (Timor) on Karak highway 2 and ECE (East Coast Expressway, also known as Lebuhraya Pantai Timur or LPT) all the way to Bukit Besi (the ECE beyond this point is still under construction). Exit to highway 14 and proceed north to KT via Ajil. When Phase 2 of the ECE is completed (expected end 2011), just take the ECE all the way to KT (about 410km from KL-KT via ECE, around 3.5 hours drive).
Penang to KT (approx. 460 km):
Head East towards Kota Bharu on East-West highway 4 via Grik and Jertih, then south on highway 3 to Merang or KT.
Singapore/JB to KT (approx. 562 km):
Head North (Utara) on the North-South highway (also known as Projek Lebuhraya Utara Selatan or PLUS) and exit at Yong Peng. Follow highway 1 to Labis and Segamat and highway 12 to Kuantan. Get onto the ECE (East Coast Expressway, also known as Lebuhraya Pantai Timur or LPT) to Bukit Besi, then exit to highway 14 to KT via Ajil. Alternatively, from Kuantan, take coastal highway 3 via Kemaman, Paka and Dungun which is more scenic but more congested during peak hours. If you're not in a hurry, head towards Mersing and use coastal highway 3 all the way to KT.
From KT to Merang:
Follow the road signs to Airport/Kota Bahru, Batu Rakit, UMT (Universiti Malaysia Terengganu or old name KUSTEM), Sutra Beach Resort and Merang Jetty. There is also a roadmap with detailed directions available from Laguna resort's website.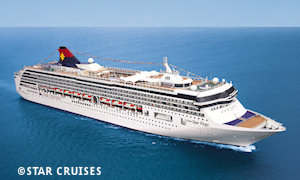 Superstar Virgo.
For those who prefer to get to Redang in the leisurely comfort of a cruise ship, check out Star Cruises' Superstar Virgo, which made its maiden visit to Redang on 6 April 2006. During the 8 and a half hour stopover, guests can opt for shore excursions which include diving, snorkelling, fishing or a free and easy time. For latest information, refer to the Star Cruises website.