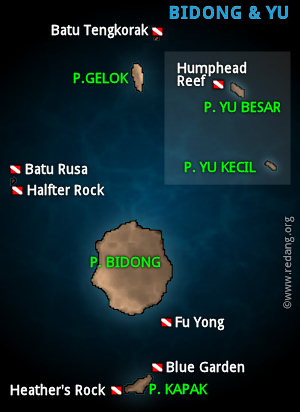 Dive sites around Bidong and Yu islands. The Yu islands shown are not to scale.
The Pulau Bidong archipelago consists of Pulau Yu Besar, Pulau Yu Kechil, Pulau Gelok, Pulau Karah, Batu Tengkorak and Pulau Bidong. Pulau Bidong is located about 5 miles south of Redang, a 15-20 minute speedboat ride away.
From the late 70's till 1991, Bidong was a camp for Vietnamese refugees (boat people) fleeing from Communist persecution and hardship after the fall of Vietnam. As many as a quarter of a million refugees spent some time at Bidong throughout those years. At its peak, there were as many as 40,000 people living here. Today, all the refugees have been resettled in other parts of the world or have been repatriated home. After the last Rela Home Guard members left in 1999, travel restrictions on visiting the island were lifted.
Today, all that's left are decaying and dilapidated remnants that once belonged to a community known as 'Little Saigon'. It holds many memories for those who lived and worked there and there is rising interest for tours to the island by those who once passed through its doors.
Snorkelling and Diving
Bidong and its surrounding islands are fairly new diving destinations since visiting restrictions were only lifted in 1999 and due to their distance from Redang, are not as easily accessible as dive sites around the Redang Archipelago. Not many dive operators will bring divers out here unless special arrangements are made.
For those who've had the opportunity to dive here, word has it that there is good visibility in the deep clear waters around Pulau Yu and the submerged reefs between Pulau Yu Besar and Pulau Yu Kecil, making this one of the better dive sites providing common encounters with schooling batfish and other reef life.
The other notable site is Batu Tengkorak with a shallow depth of around 14 metres, providing opportunities to encounter schooling trevallies and barracuda, and a wide variety of other reef life amidst dense and scattered coral formations. For snorkelling, head for Pulau Gelok with its gently sloping coral reef off the beach, providing chance encounters with black tipped reef sharks.
Resorts
There are no resorts or dive operators on this island. There are plans to preserve the remnants of 'little Saigon' here, as well as the memorials and other relics of historical importance, but how the island should be developed is still being discussed.
Lang Tengah beaches and resorts.
Pulau Lang Tengah is located between Pulau Redang and Pulau Perhentian. The clear emerald waters and the coral reefs around it is popular with scuba divers and snorkellers. Lang Tengah island itself is covered by hilly tropical rainforest, which offers varied flora and fauna for those willing to trek through the island.
Being only 30 minutes away by speedboat from Redang, Lang Tengah is the perfect place for a daytrip, and you can charter a boat out to visit it, which was what we did back in 1999. This close proximity to Redang is one reason why some package holidays on Lang Tengah include visits to the Redang Marine Park Centre.
If you've booked a package on Lang Tengah, you'll depart from Merang jetty. The speedboat ride takes about 40 minutes.
Snorkelling and Diving
Lang Tengah has a number of dive sites. Among the more popular ones are Tanjung Nibong Laut (26m), Yellow Reef (Terumbu Kuning, 25m), Tanjung Telunjuk, Karang Nibong, Batu Bulan and the house reefs. Snorkellers will be able to enjoy the house reefs at both beaches where the resorts are located. The shallow house reef at Pasir Mat Hassan provides opportunities to spot adult blacktip reef sharks.
Resorts
There are 4 resorts on Lang Tengah, 2 each on Pasir Air and Pasir Mat Hassan, the 2 stretches of sandy beach. For more information about each resort, just click on the resort name to go directly to the resort's website.
D'Coconut Lagoon: Has 16 rooms and 13 suites, all air-con with bathroom. Facilities include a swimming pool & spa, restaurant serving local & Western cuisine, bar and dive centre.
Blue Coral Island Resort: Has 70 air-con rooms with bathroom, hot shower and long bath. Facilities include a swimming pool, an open air restaurant serving western and oriental dishes, music and reading rooms, and a dive centre. Snorkelling gear is provided free of charge to guests. The resort is open from 1 Feb to 15 Nov.
Lang Sari Resort: Formerly known as Square Point Resort, Lang Sari has 56 air-con rooms with hot-water bathrooms. Facilities include a restaurant, a beach bar, karaoke, phone & fax services, sundry shop and a dive centre.
Redang Lang Island Resort: Has 40 air-con rooms with bathroom, fan and 2 queen-sized double beds. Facilities include a conference room for up to 60 persons, karaoke lounge, gift shop and dive centre.