Redang weather forecast
Check sea and weather conditions before going. Any rough sea warnings for Terengganu will apply to Redang.
Visiting season is from March to October each year.
Resorts are closed November till end-February during monsoon season.
There, I've said it. In bold red lettering too. I hope that's clear enough. I've lost count of the number of email from folks enquiring about visiting Redang between November and February because they were planning to spend Christmas and year-end holidays vacationing in this part of the world. I guess it's sometimes easier to send an email than to read. Don't believe me? Ever seen a baby or toddler playing with an iPad? Thanks to the late Mr. Jobs, infant development is now click, walk and run, while the first animal species toddlers learn about are hot-tempered birds that don't like pigs.
Resorts and scheduled transport services cease operations from November through February during the rainy monsoon season. In other words, if you must visit during this time, be prepared to swim, kayak or pay lots of money for some crazy boat skipper to brave the waves to bring you there. A few resorts may open towards the end of February, with most opening in March. To avoid crowds, visit in March and October as these are close to monsoon season when seas may be choppier than usual. Busiest periods are May to August, in particular during June school holidays. Resorts begin to close from mid-October.
For divers and snorkellers, visiting at different times of the year offer seasonal encounters with certain species. Green turtles nest in their greatest numbers between May to August. September is probably the best month to spot migratory whale sharks. June is probably the best time to spot arms and legs when homosapiens populate Redang waters in their greatest numbers (especially at the Marine Park).
The simplest way to visit is to let someone else make all the arrangements and just tag along. Really. Then they will have to read through sites like these while you chillax somewhere. But if you're that 'someone else', then save yourself the time and trouble and book an all-inclusive package with a resort or travel/tour company that provide land and boat transfers, accommodation, food and snorkelling or diving. While the 3D/2N packages are popular for weekend trips, we recommend at least 4D/3N to enjoy the island especially if you travelled a long way to get here. Do book early in advance especially during long weekends and holiday seasons.
If you are a walk-in guest who prefers to hunt for accommodation on the island, note that there are no water taxis or roads that connect the various beaches where the resorts are located, so it can be inconvenient and expensive to arrange your own transportation to beach-hop or get around.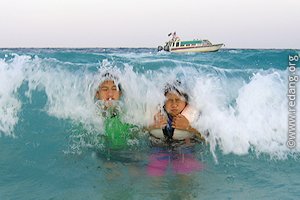 If you like playing in bigger surf, March and October close to monsoon season are the best times to go.
Use the holiday chart below to decide when to visit. Many resorts impose additional surcharges for peak season such as on weekends and school holidays and lower rates for off-peak season. You can book your package through a travel agent or directly through the resort (contact info available from the Resorts section - some resorts provide online booking through their websites). Some travel agents also include land or air transfers to Kuala Terengganu or Merang jetty as part of their tour package. If yours doesn't include this, check out the Transport secion for different ways to get to Redang.
OK, here's another reminder, seeing that this is the next most annoying question we get through email (after the question about visiting during non-visiting season).
Don't ask us for quotes and tour prices.
We do not provide quotes and tour prices
Sometimes, we receive requests for travel itineraries and quotes. We do not entertain such requests as we are not travel agents or resort owners and do not even work in the travel industry. Please contact a reliable tour operator such as Ping Anchorage Travel & Tours (T: +609-6262020 | +603-42808030) for such information. We have been their satisfied customers since 1998 and they have garnered numerous Malaysian Tourism Awards including Best Domestic Tour Operator.
The table below shows Malaysia holidays and Singapore holidays.
Public holidays
Malaysia
Singapore
New Year's Day
Wed 1 Jan
Wed 1 Jan
Prophet Muhammad's birthday
Tue 14 Jan
-
Chinese New Year
Fri-Sat 31-1 Feb
Fri-Sat 31-1 Feb
Good Friday
-
Fri 18 Apr
Labour Day
Thu 1 May
Thu 1 May
Vesak Day
Tue 13 May
Tue 13 May
King's birthday
Sat 7 Jun
-
Hari Raya Puasa
Mon-Tue 28-29 Jul

*

Mon 28 Jul
Singapore National Day
-
Sat 9 Aug
Malaysia National Day
Sun 31 Aug¹
-
Malaysia Day
Tue 16 Sep
-
Hari Raya Haji
Sun 5 Oct

*

Tue 15 Oct
Deepavali
Thu 23 Oct
Thu 23 Oct
Awal Muharam
Sat 25 Oct
-
Christmas Day
Thu 25 Dec
Thu 25 Dec
School holidays
Malaysia
Singapore
Term 1 break
22-30 Mar
15-23 Mar
Term 2 break
28 May-15 Jun
31 May-29 Jun
Term 3 break
13-21 Sep
6-14 Sep
Year end break
22 Nov-4 Jan
15 Nov-31 Dec
Holidays in gray text fall outside Redang visiting season. Only Malaysia national holidays (country-wide) are shown above. Refer to link above for state holidays.
¹Following Monday is a holiday; *Subject to change
Redang is usually busy during these holidays, particularly during long weekends and June school vaction. If you have to visit during these periods, book early. Many resorts impose surcharges for weekends (Friday and Saturday nights), eve of public holidays and school holidays.
Now, 'weekends' can be confusing for visitors to Malaysia. While Redang and the rest of the country adopt Saturdays and Sundays as normal weekend days, the predominantly Muslim states of Kelantan and Terengganu (to which Redang belongs) adopt Thursdays and Fridays as weekend days, so most shops in KT are closed on Fridays, an important point to remember if you are planning on shopping in KT before or after visiting Redang.
While walk-in guests without advanced room bookings can purchase ferry tickets to Redang at Merang or Shahbandar jetties, it is best to avoid doing this during peak periods when rooms are scarce unless you plan on sleeping under the stars. You can book resort rooms and packages at Merang jetty (subject to availability) - just enquire at the resort's ferry counter or at one of the local tour operator booths.
If you prefer to check out the resorts first before deciding where to stay, we recommend purchasing a ferry ticket for Pasir Panjang beach where you have at least 9 resorts to choose from. The public ferry from Shahbandar jetty goes to the Kampung jetty and is more suitable for guests heading for Berjaya (Taaras) resort - you will have to arrange for another boat to take you to other resorts. See the Transport section for more information.
The resort and public ferry schedules are not suitable for day trippers to Redang. Boats usually leave the mainland between 9-10am and the last boat leaves the island around 1pm. Day-trippers will end up with just 2-3 hours on the island.
If you have only a day to spend, your best option is charter a boat for a full-day (usually defined as 9-5pm) which would allow you to explore the island, visit different snorkelling sites, and perhaps even visit other islands like Lang Tengah along the way. There are private boat charter operators at Merang jetty. Some tour operators like Ping Anchorage can organize day tours to the islands. For flexibility, look for personalized boat charters like those offered by Deutzia Nautical run by Derek and Quee. They can customize your itinerary according to your preferences, including trips to Redang and neighbouring islands for snorkelling, fishing (in areas outside the protected marine park boundaries) and canoeing complete with meals on board the boat or even lunch in Redang if you wish.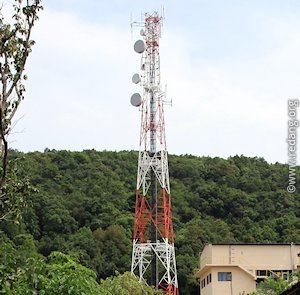 Cellular transmission tower located next to Laguna Redang's staff quarters.
Sigh, we know... you're on vacation but you just can't leave home without your gadgets, especially in today's Facebook-, Twitter- and Whatsapp-mad world.
Well, you'll be happy to know there is strong MAXIS, DIGI and CELCOM mobile signal coverage in Redang where the resorts are located so you should have no problem making and receiving mobile calls and sms. All the 3 major telcos claim to have HSDPA/3G coverage in the resort areas though the connection and access speed will vary greatly depending on your exact location. Our experience with DIGI prepaid using the daily data plan was satisfactory with stable 3G data connection around Laguna Resort's lobby area but we could not get a connection in our garden-view room at the back of the resort just next to the forest.
| Telco | 3G Prepaid Plan | Volume | Rates (MYR) |
| --- | --- | --- | --- |
| DIGI | coverage | Mobile Internet Daily | 150MB/day¹ | 3/day |
| | Mobile Internet Weekly | 600MB/wk¹ | 15/wk |
| | Mobile Internet Monthly | 600MB/mth¹ | 30/mth |
| CELCOM | coverage | Mobile Internet Daily | 500MB/day¹ | 5/day |
| | Mobile Internet Weekly | 1GB/wk¹ | 18/week |
| | mLite Monthly | 300MB/mth¹ | 28/month |
| MAXIS | coverage | 1-Hour pass | 100MB/hr² | 2/hr |
| | 1-Day pass | 500MB/day² | 8/day |
| | Monthly 100M pass | 100MB/mth² | 18/mth |
¹Usage over quota may be throttled (slower)
²Usage over quota charged at MYR0.10/10KB.
Pricing plans are subject to change. Please check the telco's website for latest prices and promotions.
If you are a tourist visiting Redang and Malaysia, we recommend getting a local prepaid card with any of the above telcos and activate one of the data plans above for the most economical way to surf if your resort does not provide free wifi or internet access. Many Android smartphones can function as wireless access points or hotspots so your family can also surf using your smartphone as a router. If you have a Windows 7 notebook, you can also install Connectify to turn your notebook into a wireless hotspot.
Sundry shops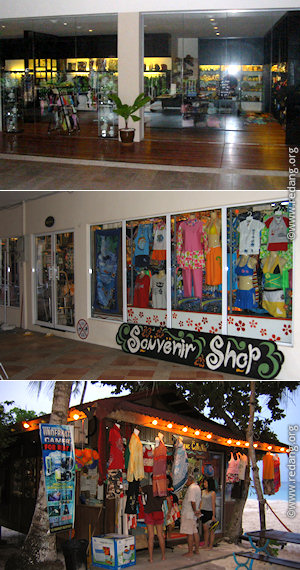 Souvenir shops at (top to bottom) Berjaya, Redang Beach and Redang Pelangi resorts.
There are sundry shops in most resorts selling daily essentials, snacks, drinks, tidbits, souvenirs and even beachwear so you don't need to bring everything with you, although these may not carry a wide variety. There are also many food and beverage outlets especially at Pasir Panjang. Beer and alcoholic drinks are available for purchase by non-Muslims at some of these outlets.
Banks and ATM machines
There are no banks and no cash withdrawal machines (ATM) on Redang and at Merang. If you need to use banking facilities, use those in KT before going to Redang. The majority of resorts at Redang now accept credit cards so you need cash only for things like souvenirs, food, snacks and drinks from the various cafes.
Medical facilities
There are in-house medical doctors with basic clinics at Laguna and Berjaya that are available to visitors from other resorts too so there is no need to bring a lot of first-aid supplies except for your own personal medication. Emergency medical cases are usually rushed back to the mainland for treatment.
Travelling with babies or young children
Bring diapers, infant food/formula and other essentials that your child needs. Resort shops do not carry such items. Some resorts, especially the bigger ones like Berjaya and Laguna, can provide baby cots and bath tubs upon request, and can also assist in purchasing these items from the mainland provided you specify in advance the brand and quantity required. The choices available may be limited, so if your infant or child has very specific needs, it's better to purchase your own and bring to the island.
Wheelchair access
Redang poses a big challenge for wheelchair-bound users especially when one has to get on and off boats. The only way to avoid boats completely is to fly to Redang on Berjaya Air and stay at Berjaya Resort. Although a road has recently been built connecting the resorts at Pasir Panjang to Teluk Bakau where Laguna's jetty is located, the access roads leading to some resorts may not be fully paved and resort grounds are often uneven or have steps making them difficult for wheelchair users to traverse. Most resorts also lack ramps and facilities for the handicapped. While wheelchairs can be accommodated in some of the bigger resorts, it is assumed that these guests can walk assisted or unassisted for short distances and are not fully wheelchair-bound.
Here's a simple packing checklist.
Beachwear
Some resorts use jetties, others may pick up or drop passengers off at the beach. Snorkellers may also have to wade out to snorkelling boats and wade back to shore upon their return. Sandals or water shoes can make the walk on the beach less painful especially during low tide when broken coral are exposed. Be sensitive to local culture and religion and avoid really skimpy beachwear. Bikinis are allowed but nude or topless sunbathing is out of the question.
Sunblock, UV protective clothing or skinsuits/wetsuits
We know you want to flaunt those tanned, toned muscles and curves but it's better to wear clothing to protect against marine stingers and sunburn if you're going to be in the water a lot (screaming in pain doesn't go down well with that macho look). Clothes are environmentally friendly too. Recent years have seen growing populations of jellyfish around the world so it's best to take precautions. If you must use sunblock, use eco- or coral-friendly sunscreen. Nidaria has a sunblock that also claims to protect against certain jellyfish stings (though not tested with Irukandji and Chironex box jellyfish).
Insect repellant
Useful if you're a mozzie magnet or planning to trek through the forest. Some repellants may contain chemicals harmful to corals and should be used only when you've completed your water activities for the day or else rinse off before going into the sea.
Snorkelling/diving equipment
These can be rented from the resort but you may prefer to bring your own for hygiene reasons or if you require powered lenses. Powered masks are available for rental but availability is usually limited. If you have very young children, bring flotation devices as child-size life-jackets for rental are more suitable for older children. If you are diving, bring your certification card.
Personal toiletries and medication
Many resorts provide toilet paper, soap and little else. While basic toiletries can be purchased, it's best to bring your own especially if you have sensitive skin or allergies. Sundry shops may sell only basic over-the-counter medication so best to bring your own. Don't forget anti-seasick tablets if you can't stand boat rides.
Ziplocs, dry bags and other watertight containers
These are useful for protecting personal belongings like passports, money, electronic equipment etc. in case you're planning on bringing these with you on the boat during snorkelling trips.
Torchlights for night walks along the beach.
Warm clothing if travelling on an overnight coach (aircon can be cold).