Every island has its fables and folklore and Redang boasts a few of its own, though nothing that would attract Josh Gates and his Destination Truth team out here. There is supposedly an inexhaustible pool of water at Pasir Gontang while the air at Puteri Mayang Mas at Pasir Mak Kepit is filled with the lingering fragrance of a princess who once lived there long ago. Tales are told of stones and rocks which were once sea-elephants at Batu Gajah (Elephant Rock), fowls tied to a rock at Pasir Macam Ayam, people immortalized in prayer at Batu Tokong, and a turtle guardian at Batu Pepanji (Turtle Rock). Over at Batu Surat (Letter Rock) near Pasir Chagar Hutang, a cluster of stones are supposed to contain some sort of message left behind by the Orang Bunian, magical residents of Redang. I guess imaginations do run wild when one has too much sun on a small island with nothing to do.
Sightsee responsibly
What you do on land eventually affects the marine life in the sea.
'Leave only footprints' applies when you go sightseeing or trekking. Don't leave empty bottles, cans, plastic wrappers and other trash behind on land or on the sea. Take everything back with you and dispose properly back at your resort.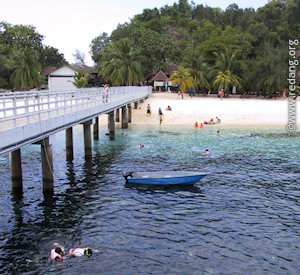 Marine Park Centre.
Redang is the first of the Malaysian Marine Parks to have a Marine Park Centre. Established in 1990, the Centre is located at Pulau Pinang, just off the southern tip of Pulau Redang. It acts as a focal point of administration and management and also provides facilities for research and education purposes.
This is one of the most popular snorkelling destinations due to the large number of fishes and marine life that are resident here, including giant groupers and moray eels. Almost all resort snorkelling packages will include a trip to the Marine Park Centre. Admission is RM5 per adult per entry (children pay RM2.50). Usually the resort operator will collect this fee from visitors.
Boats will drop visitors off at the jetty, which is used by many as the jump-off point for snorkelling. There is also a shipwreck to the east of the jetty, probably the only wreck shallow enough for snorkellers to explore.
Most visitors will just spend all their time in the water. For those who don't want to wet their feet, you can head for the beach and explore the island. Turn right and follow the broadwalk all the way to the end, then go left up the hill. There is a hiking trail on which will bring you to a viewing tower at the top of the hill near a lighthouse, where you can get a nice panorama of Redang island across the channel.
If you turn left at the beach and walk all the way to the northeastern corner of the island, there's a small rocky outcrop including a mound made up of bits and pieces of broken coral. From here, you have a good view of both the northern and eastern shores of Pulau Pinang as well as Redang across the channel.

Eastern shore of Pulau Pinang.
Most of the buildings in the Park Centre are for Marine Park staff and visiting researchers. There is an exhibition centre open to visitors where baby turtles from the park's hatchery are sometimes put on display. From the jetty, head towards the beach and turn left at the broadwalk. A little further down from the hall at the end of the broadwalk is the park's turtle hatchery.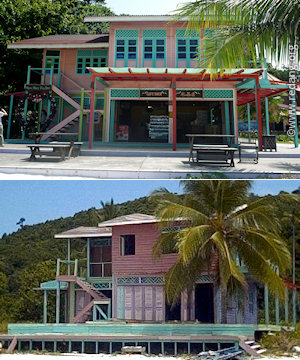 The replica gift shop at Laguna (top) and the original used in the movie (below).
The hit Chinese romantic comedy movie 'Summer Holiday' (not related to the famous 1963 Cliff Richard movie) starring Sammi Cheng and Richie Jen and directed by Hong Kong director Jingle Ma, was partly shot on Redang. The movie, released in 2000, contributed much to the recent popularity of Redang.
The original 'Mo Mo Cha Inn' (More More Tea Inn) featured in the movie was located between Redang Reef and Redang Beach resorts, where Laguna Redang now stands. The actors stayed at Redang Holiday while filming on location. The original inn was left in quite a dilapidated state and was in danger of collapsing, so the owners of Laguna tore it down and rebuilt a replica which now serves as Laguna's gift shop. The coconut tree on which the 'More More Tea Inn' sign was hung on the movie set is still standing in front of Laguna Resort's main building.
In 2011, "Love You You', a movie sequel to Summer Holiday, also directed by Jingle Ma, was released this time starring Angelababy and Eddie Peng. This sequel was shot on the neighbouring island of Lang Tengah. If this proves as commercially successful as the first movie, it will do for Lang Tengah what Summer Holiday did for Redang. In other words, there goes another pristine Malaysian island...
Sunrise over Pasir Panjang seen from back beach of Redang Reef Resort.
Sunrise is something not to be missed, even if the thought of waking up at 6am in the morning is not your idea of a holiday! Those living at Pasir Panjang or Teluk Kalong have front row seats to a breathtaking view, provided the weather is good and there are few clouds in the sky.
There are no resorts located on the western side of Redang so to catch a sunset, your best option is to charter a boat or sign up for a sunset cruise, available at some resorts.
On a clear night, gaze at the heavens and be amazed at the myriads of stars in the night sky. Look long enough and your eyes will adjust to the darkness, revealing even more stars. If you're lucky, you might even see a few shooting stars. If you're into stargazing, bring your star maps or better yet, if you've got an Android smartphone with GPS, load it up with Google Sky Map and spot all your favourite constellations and nearby planets. And if you're a really serious stargazer, bring a telescope - we even managed to spot one of Mar's moons!
If looking up at the sky is making your neck ache, look down instead. Bring your torchlights and go beachcombing at night, especially if the tide is out. Among the rocks and tide pools you'll spot crabs, hermit crabs, mudskippers, tiny crustaceans and other small active nocturnal creatures. In some really dark areas of the beach, particularly near Redang Reef Resort, sweep the sand at the water's edge and you might spot some tiny blue specks of light. Known commonly as 'blue sand', these are tiny crustaceans known as ostracods, which give off bioluminescent blue light as a defense mechanism.
Beach at Chagar Hutang.
Two species of turtles visit Redang to nest. The most common is the Green turtle followed by the Hawksbill turtle. The nesting period for Green turtles is between March to December with a peak in August. Hawksbill turtles usually nest between January to September with a peak in May. Favourite nesting spots in Redang include Pasir Chagar Hutang, Pasir Mak Simpan, Pasir Mak Kepit, Pasir Bujang and Teluk Dalam.
Although turtles prefer quiet, isolated beaches, there have been rare occasions when they have nested on quieter parts of Pasir Panjang beach. If you're fortunate enough to see a turtle coming up the beach to nest at night, try to observe it quietly without disturbing it.
The beach at Pasir Chagar Hutang is off-limits to visitors as it is home to a large green turtle rookery. The rookery practices natural incubation, that is, the turtle nests are left in their natural locations on the beach until the eggs hatch. Visitors can snorkel in the waters in front of Chagar Hutang as long as they don't go up on the beach.
The Turtle Research and Rehabilitation Group (formerly known as SEATRU, Sea Turtle Research Unit) runs this rookery and conducts conservation research on nesting populations of green and hawksbill turtles along this 300m stretch of beach. Since 1993, SEATRU has rescued over 250,000 eggs from being sold as food, by raising funds to buy turtle eggs from collectors and allowing them to incubate and hatch naturally on the beaches where they were laid. As turtle nests have many predators, they are guarded 24 hours a day until the hatchlings emerge. Among their more interesting research is tracking turtles that come to Redang using shell-mounted tags linked to a satellite-receiver. Green turtles have been tracked to countries like Philippines and Indonesia.
Visitors can also sign up as volunteers with the Turtle Research and Rehabilitation Group, where they will get to stay at their basic campsite in Chagar Hutang and help out in their research work. Check their website for more details.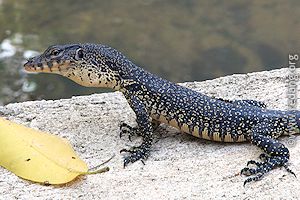 Juvenile monitor lizard along the Pasir Panjang access road.
Pasir Panjang access road signboard and road near Pelangi and Coral resorts.
Trekking through island trails in Pulau Redang is probably one of the best ways to appreciate the island's flora and fauna, some of which are rare species, though to see these, it's best to engage the help of local trekking guides. For the casual trekker, some of the more popular routes are listed below.
Trek 1: Village road
Distance: 3km one-way. Difficulty: Flip-flop easy.
This route connects Taaras (Berjaya) resort to the Kampung jetty. If you are a guest at Taaras (Berjaya) resort and flew into Redang on Berjaya Air or arrived by public ferry at the Kampung jetty, you would have passed through this road. This route goes past the village, the airstrip and Redang river. Along the way, you'll see sheep, goats and other domestic animals and flora like pitcher plants and mangrove forests. Monitor lizards can be found along the river banks.
Trek 2: Pasir Panjang access road
Distance: 1.5km one-way. Difficulty: Flip-flop easy.
This route is along the paved access road behind the resorts at Pasir Panjang. This road, built in 2010, connects Teluk Bakau where Laguna's jetty is located to Redang Holiday Resort, covering the entire length of Pasir Panjang beach. The main purpose of this road is for visitors and supplies to be transferred by road from the jetty to the rear of each resort, particularly when weather conditions make it difficult to do so from the front beach. To get to this road from the jetty, head left till you see the large signboard showing distances to the various resorts, then turn right towards the tall cellphone tranmission tower by the side of Laguna's staff quarters. To access this road from the other end of Pasir Panjang, head into Redang Holiday resort, go past the dining area till you come to the single-storey bungalow units, then turn left and follow the paved road next to the double-storey guest accommodations. A recommended round-trip would be to use the paved road one way and come back by the front beach.
Trek 3: Pasir Panjang to Teluk Dalam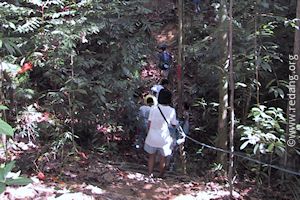 Trekking to Teluk Dalam through the forest.
Distance: 2km one-way. Difficulty: Moderately easy but wear shoes or sandals.
This moderately well trodden and marked path connects Pasir Panjang and Teluk Dalam where Taaras (Berjaya) Resort is located. The route goes through the forest and has a few uphill and downhill sections. From the paved access road behind the resorts at Pasir Panjang, look for the start of the path somewhere between Redang Bay and Coral Redang resorts marked by water and electrical conduits heading into the forest. The other end passes a mangrove swamp and opens into the far corner of Teluk Dalam Besar, the empty beach next to Berjaya's beach. On this trail, you'll pass large dipterocarpus trees. If you're unsure of the route, check with your resort staff for guided treks on this route.
Trek 4: Pasir Panjang to Teluk Kalong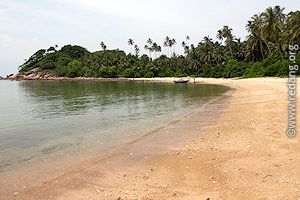 Teluk Bakau bay.
Distance: 0.8km one-way. Difficulty: Easy but best to wear sandals.
This trail connects Pasir Panjang and the north beach at Teluk Kalong where Redang Kalong resort is located. From Laguna's jetty, head down to the beach at Teluk Bakau and go around the bay about 200m until you're near the end, then follow a trail leading inland and head left towards the beach. You will emerge at one end of Teluk Kalong beach, then walk along the beach till you come to Redang Kalong resort. Currently there is no easy path connecting this part of Kalong beach to the next beach where Amannagappa resort is located - you'll have to trek about 0.5km through the forest. However, once you get to Amannagappa, there is a walkway that goes around the rocky outcrop to the southern Kalong beach where Mutiara resort is located.
Trek 5: Tanjung Tengah
Entrance to Tanjung Tengah path (top) and view from the top of Tanjung Tengah.
Distance: 150m uphill. Difficulty: Moderately difficult. Slippery during wet weather.
Located right in the middle of Pasir Panjang beach, Tanjung Tengah offers lovely panoramas of Pasir Panjang, the sea and the surrounding islands. This trail is not well-marked and requires climbing over rocks, so it is best avoided during wet weather when it can be slippery. The entrance to this trail is almost at the end of the beach at Shark Bay facing Redang Beach resort. It may not be immediately obvious as it is a narrow passage flanked by large rocks. You'll know you're on the right track when you see some steep rocks with a blue rope. The rope is old and frayed so test it first before you use it to help you negotiate the rocks during the initial steeper part of the climb. Around mid-level, there are different branches that take you to either the southern or northern views of Pasir Panjang. You may have to negotiate shrubs and branches to get to the higher levels. Right at the top, there is a concrete marker placed by the Malaysian Survey and Mapping Department.
Other treks
For the more adventurous, check with your resort staff how to get up to hilltops and rocky cliffs along the eastern ridge that offer spectacular overhead views of Pasir Panjang and Teluk Kalong. There are also treks on Pulau Pinang where the Marine Park Centre is located. If you intend to go off the beaten track, you should get a guide to lead you to avoid getting lost. With mobile signals now easily available on the island, bring a mobile phone with you when you trek just in case you need to call for emergencies.
What to see while trekking
Mangrove forest at the edge of Teluk Dalam Besar.
Large dipterocarpus tree along the path between Pasir Panjang and Teluk Dalam.
Pulau Redang consists of 2 hilly ridges, the western ridge with 4 hills and the eastern ridge with 3 hills. Between these 2 ridges flows Sungei Redang, the main river on Redang whose estuaries in the intertidal zone (neither land nor sea) are lined with one of the largest islandic mangrove forests in the East Coast of Malaysia.
Mangroves are ecologically important and biodiverse as both terrestrial and marine life converge here. They are a natural refuge, breeding and feeding ground for many fishes, molluscs and crustaceans. It is believed that more than half of deep-sea fish spend some life stage in the mangroves. Mangroves also control erosion, dissipating waves that would otherwise erode the soil. At the upper reaches of Sungei Redang is a small freshwater swamp forest, one of two on the island, the other located at Teluk Dalam. Sago palms are quite common along Sungei Redang.
The flora on Redang include 16 species of wild orchids, several of which are considered rare. Of all the different places on Redang that was surveyed, it was found that Teluk Dalam had the largest diversity of orchids. Redang also contains quite a wide array of traditional medicinal plants, such as the tongkat ali. Forest vegetation on the northeastern shore are exposed to constant winds, especially during the high-wind northeast monsoon season. The result is that the trees are stunted, gnarled and lean in the direction of the wind.
Breadfruit trees (locally known as sukun), with their large decorative leaves, are found abundantly on Pulau Pinang, having been introduced by early villagers on the island. This fruit was involved in the famous saga known as 'Mutiny on the Bounty' when Captain William Bligh of the 'Bounty' attempted to transport breadfruit trees to Jamaica to feed starving slaves - his crew mutinied and set him adrift. The versatile breadfruit is rich in carbohydrates and can be eaten boiled, roasted, braised, dried or powdered. The local villagers fry thin slices of the fruit to make chips, while thick chunks can be baked or fried and served with butter and syrup. Trees usually bear fruit in August and these fruits attract bats, squirrels and other local fauna that feed on them.
As with other islands, the fauna on Redang is impoverished compared to the mainland. No large animals are found. Domestic goats and sheep are probably the largest mammals. The rest of the island's fauna include macaque monkeys, the shy mousedeer (kancil), 8 species of bats, several rodents, different species of lizards including the large water monitor, over 50 species of birds including migrants, 4 species of crabs, 84 species of butterflies and other insects.
Among the common bird species found on Redang are the olive-backed sunbird, dark-necked tailorbird, terns, pink-necked pigeon, swiftlets and white-bellied sea eagles. Both black-nest swiftlets and white-nest swiftlets make their nests in the many cliffs and sea caves on Redang and their edible birds' nests are occasionally harvested for consumption as a medicinal tonic. To protect the young birds and the population of swiftlets, harvesting only takes place when the fledgling birds have left the nest.