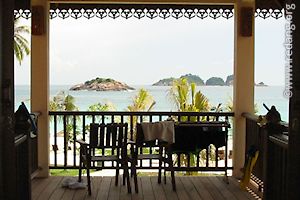 Pulau Paku Kecil and Pulau Lima from our seaview room balcony.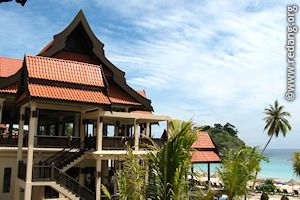 Laguna's dining and reception block.
Sarah's primary school was closed for a few days for PSLE marking. Timothy had just finished his Secondary 2 year-end exams. Monsoon season was starting soon. So we decided that Timothy skip school for 2 days to squeeze in this family trip to Redang before the monsoon rains began. Yes, I know, we sound like delinquent parents promoting truancy but we prefer to think of it as promoting family life, especially in the pressure cooker Singapore school system where school-life balance often leans towards the former. Or if you prefer, think of it as a school educational trip, after all, many school 'educational' trips these days sound more like vacations anyway: "Yes, Mr.Principal, we're educating our kids on the effects of the monsoon on the geological features of a tropical island." So off we went. It was a welcome change from peak season in June as most resorts had closed for the year and Pasir Panjang was almost deserted. This was the family's first visit to Laguna Resort and it began with the resort van transferring us from KT bus station to Laguna's rest house near the middle of town. Equipped with sofas, deck chairs, TV, showers and toilets, guests could wait here comfortably for their pickup to Merang or for their coach back home. We went for a simple breakfast across the road, then the resort van transferred us to Merang. S.H. Liu, my PADI Rescue instructor was also on the same boat going out to Redang.
The waves were quite rough at the river mouth and the boat had to carefully negotiate them before picking up speed in deeper waters. We were told that during the monsoon storms, the waves at the river mouth were sometimes large enough to capsize a boat. We arrived around 10:30am, had our welcome drinks at the refreshment bar next to the reception, then checked into our sea-view room on the upper floor. The room had a big balcony, a queen-sized bed and 2 single beds. After settling in, we explored the facilities around the resort, had lunch, then joined the afternoon snorkelling session to Pulau Lima. Sea conditions were calm at Lima but it seemed there were fewer fishes around, though there were a lot of anemones with various species of clownfish.
In the evening, we snorkelled around Shark Bay and Redang Reef. Like Lima, there didn't seem to be as many fishes at this time of year compared to June - maybe there were no crowds feeding them! Even the baby sharks had disappeared except for a lone shark pup, but we did manage to spot a turtle. Perhaps the other shark pups had left the bay and gone elsewhere. Pasir Panjang beach was quiet and almost deserted. Most resorts had closed around mid October, and the only resorts still open were Berjaya, Coral, Reef and Laguna. All, except Berjaya, would close by end of October.
Laguna's pool and pool-view rooms.
Nice seaview from our room.
Unlike our previous trips which were filled with activities, this was going to be a very relaxed vacation. Sarah was going to have her Primary 5 school examinations in a fortnight and one of the conditions for coming along to Redang was to set aside some time each day revising for her exams in the comfortable room.
The snorkelling trips each day were always to the same two destinations - Marine Park Centre in the morning, and Pulau Lima in the afternoon. After yesterday afternoon's session, we decided to give the rest of the boat snorkelling trips a miss and just snorkelled around the house reefs at our own leisure.
Diving at Tg. Cina Terjun
Small bamboo sharks, remains of a blue jellyfish, stingray and puffers at Tg.Cina Terjun.
This afternoon, I followed Liu and Irene for a dive at Tanjung Cina Terjun. Irene, a German lady training to be a divemaster at Laguna, was my buddy and would be leading the dive. This was one of my favourite sites in Redang and the dive did not disappoint - there were lots of sting rays on the sandy bottom, a school of about 6 large white puffers, scorpionfish, lionfish, snappers, an interesting blue jellyfish that was either dead or dying and even a pair of bamboo sharks sleeping under a rock. Towards the end of my dive, Irene and I got separated. Due to poor visibility, I aborted my search for her and headed back to the reef where we started our dive. Before ascending, I sat still and waited all alone to observe whether any reef creatures would come out of hiding. I was amply rewarded when a short while later, a number of stingrays, both large and small, appeared out of hiding from the sandy bottom! Amazing!
We returned to Shark Bay hoping to catch a glimpse of the baby sharks but didn't see any. We were told that one of the signs of the approaching monsoon was when certain species of fish not normally resident in the house reefs start to come into the sheltered bay but we did not spot anything unusual.
October landscapes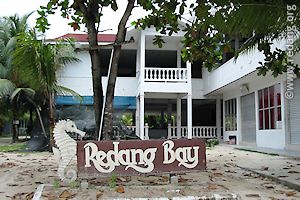 Redang Bay resort closed for monsoon season.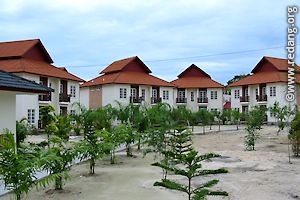 Redang Beach resort's new chalets closed for monsoon.
It had rained last night and the waves at Pasir Panjang were bigger today - possibly signs of the coming monsoon. We went for a walk on the beach to see how things had changed during this time of year. Other than Pasir Panjang beach being really deserted, there was a lot more coral rubble on the beach, washed up both by strong waves and due to erosion of the fine sandy layer on the beach, which uncovered coral rubble lying underneath. Visibility in the water was poorer due to waves churning up sand and sediment on the seabed. This was obvious when we snorkelled at Shark Bay - visibility in the shallow areas closest to the beach were restricted to an arm's length and improved gradually as we went out into deeper waters.
Redang in mid-October: quiet, empty beaches.
River forming between Pelangi and Coral resorts at Pasir Panjang beach.
We also noticed rivers were starting to form naturally at 4 locations along the beach: by the side of More More Tea gift shop, between Redang Beach and Redang Lagoon and flowing out to Shark Bay, between Redang Pelangi and Coral Redang, and in front of Redang Holiday. The rivers had begun to cut deep channels in the sand especially at Coral Redang. We were told that these rivers could run quite deep at the height of the monsoon, when heavy rains caused heavy runoffs from the hills inland. At other times of the year, these rivers could also form when there were periods of heavy rain. When the rivers dried up, they left behind deep channels that appeared as if someone had excavated the sand. At the end of the monsoon, the rivers dried up and fine sand was deposited back on the eroded beach and the dried river beds. This was the natural cycle of the beach at Pasir Panjang.
Tanjung Tengah
We took the opportunity to climb Tanjung Tengah just next to Shark Bay. This small hill provided a good view of both northern and southern Pasir Panjang. Initially, we took the wrong path which led us only halfway up the hill and we had to come back down again. Eventually, I found the correct path which was at the corner of Shark Bay. The entrance to the path looked like a dumping ground with litter and debris. Leaving the family on the beach, I scaled some small rocks and found a trail going up all the way to the top and eventually reached the summit where I was rewarded with an excellent view of the beach below.
South Pasir Panjang beach from Tanjung Tengah.
Snorkelling at Shark Bay in the evening, we were followed by a school of damsels and wrasses, even though we did not have any food with us. They were probably so used to being fed that they associated humans with food. We encountered a turtle, a barracuda, squid, and an orange-striped triggerfish that followed us around which was quite unnerving. This particular chap was probably a resident here as I had always seen one in Shark Bay over the years. So perhaps, like the damsels, it was also waiting for handouts!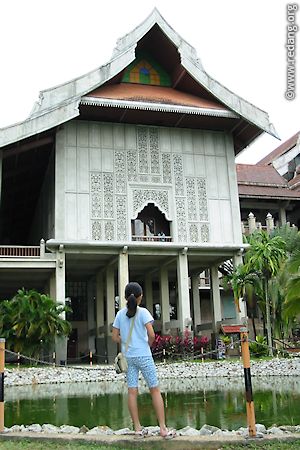 Sarah in front of the Terengganu museum.
It rained again last night. We had to check out early to catch the morning boat as it was going to be low tide in the afternoon and they did not want to risk the boat getting stuck at the shallow river mouth in Merang.
In KT, we dropped by Ping Anchorage to visit Alex Lee, then headed to Seng Lip's home. Seng Lip and his family graciously hosted us for the day until we left on the night coach. We visited the Terengganu Museum - the largest museum in Malaysia. Its roof design was similar to that at Laguna Resort and very characteristic of Terengganu Malay architecture. For those with about 2 hours to spare and keen to learn about local history and culture, this museum was certainly worth a visit. We also visited the market and wet market downtown, where a lot of local souvenirs and handicrafts were on sale.
Throughout our 4D/3N stay, we had light rain mostly in the evenings, and the waves at Pasir Panjang were noticeably bigger, which was to be expected at this time of year. The stronger surf also meant lower visibility in the water but other than that, it was fine to visit Redang even in late October. In a way, we enjoyed it more as there were no crowds - just a peaceful, quiet vacation. And the family's verdict on Laguna? Loved it!
P.S.: We were told that the monsoon rains started in early November, about 2-3 weeks after we'd left).

Dinner with Seng Lip's family in KT | The family at Laguna | Enjoying Laguna's buffet lunch.