Having visited most of the popular island destinations on the east coast of Peninsular Malaysia, it was now time to check out the Perhentian islands. I had put off visiting Perhentian earlier as it was far away and I wasn't sure if it was worth the extra time and effort needed to get there but I had always been curious to see how it fared against Redang.
Seng Hock and I had booked a full-board 3D/2N diving package at Tuna Bay Island Resort on Perhentian Besar through Ping Anchorage. The package included 5 boat dives with full equipment. We had booked our coach tickets to Kota Bahru earlier using KenAir Transnasional's phone booking service which was more convenient as tickets could be paid for by credit card over the phone instead of having to queue at the ticket counter at Kallang Bahru station. We just had to quote the booking reference number at the counter before departure and show proof of identification to collect our tickets.
The bus left Singapore fairly empty at 7:30pm and stopped at Larkin in Johor Bahru to pick up more passengers. A box of pastries and bottled mineral water were handed out to each passenger. After reminding the driver to drop us off at Jerteh, the nearest town to Kuala Besut along the coach route, we settled down for the night.
Sunrise at Kuala Besut jetty.
Kuala Besut jetty.
It was 6am and still dark when the bus stopped by the side of the road in what appeared to be a small town and the driver yelled 'Jerteh'. Seng Hock and I were the only passengers who alighted and were almost immediately approached by a few taxi drivers who quoted us RM20 for the 15-20 minute ride to Kuala Besut. It was probably possible to bargain down to RM10-15 but sleepy, tired men and haggling don't mix, so we just hopped into what looked like a private cab.
Kuala Besut jetty
Arriving at Kuala Besut, we found the Tuna Bay office closed so the cab dropped us off just down the road at the Besut Travel & Tours office located at the jetty. They seemed to be the only office open and there were a few British backpackers waiting there. We were told to wait for the Tuna Bay office to open at 8am to register ourselves and collect our speedboat tickets. There were quite a number of travel shops and eating places around the jetty but most were closed. We had breakfast at a small coffeeshop, walked around and watched the sunrise. A number of backpackers waited patiently around the jetty, while a herd of goats wandered around rummaging through discarded rubbish piles.
Unlike Redang where the boats were owned and operated by resorts, in Perhentian, independent boat operators provided transfers between Kuala Besut and the islands. They also provided water taxi services to get around different parts of the two Perhentian islands. After collecting our boat tickets at the Tuna Bay office and paying the RM5 Marine Park Conservation fee at the jetty, we set off in a small speedboat with some other backpackers. We arrived in Perhentian about half an hour later around 9:30am. The boat dropped off the other passengers at Perhentian Kecil before sending us to Tuna Bay Resort at Perhentian Besar.
Tuna Bay Island Resort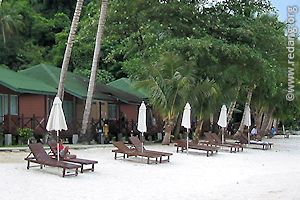 Tuna Bay Resort.
Tuna Bay beachfront and housereef.
Seng Hock at the dining patio overlooking the beach.
As the boat pulled up to the small floating jetty in front of Tuna Bay resort, we could see the house reef in fairly clear emerald waters cordoned off by floats to protect snorkellers exploring the reef. The beach in front of the resort was much narrower compared to the wide expanses of Pasir Panjang beach in Redang and the sand was not as white nor as fine but nevertheless it was still a nice beach.
The reception was located in the same building as the dining hall, which had a small outdoor dining patio overlooking the beach and the fishing village on Perhentian Kecil across the channel. With only 44 rooms housed in timber chalets, the resort felt small, quiet and cozy. We checked into a superior room near the dining hall. The room was clean and comfortable, tastefully furnished with 2 single beds, timber flooring, dressing table, wardrobe, split aircon unit, fan and an attached bathroom with hot and cold shower. The full length glass doors made for a bright interior with the curtains drawn open. A small balcony/porch with chairs and coffee table completed the room facilities. Our room came with an interconnecting door that could be opened out to the room on the other side when needed to form a family room comprising 2 interconnected rooms.
All meals were served in the dining hall. The full-board diving package we signed up for came with breakfast, lunch, tea and dinner. Food was a mixture of Chinese/local and Western cooking. An ala-carte menu was also available offering Chinese and Western appetizers, snacks, main courses and deserts. Food prepared by the 2 resident chefs were quite good (perhaps divers were an easy bunch to satisfy since diving always worked up the appetite!). Unlike the Redang resorts we were used to, there was no free-flow of self-served drinking water or coffee/tea. Outside of packaged meals, these had to be purchased from the dining counter.
There were few guests during our stay there as it was not peak season. We were one of the few local guests, the rest being foreign tourists. In fact, we noticed that many of the visitors to Perhentian were foreign tourists and backpackers.
We had heard that Perhentian sometimes suffered from water shortages, especially at Perhentian Kecil. Perhentian Besar had a catchment area and sufficient ground water and Tuna Bay's location had an adequate supply of fresh water. Despite the lack of rain over the last monsoon, we did not face any water shortages during our stay there.
We talked to K.K. Lee who ran Tuna Bay together with his brother Jimmy. Friendly and approachable, K.K. was happy to answer our questions about the resort and about Perhentian in general. Apparently, Tuna Bay was the second newest resort in Perhentian, the newest being the 5-star Arwana which just opened this year in Teluk Dalam on the south side of Perhentian Besar. Tuna Bay was targeted at guests who prefer a peaceful, quiet and relaxing beach holiday. With no TV and karaoke, we certainly experienced that! It was nice to sit in the dining area or outdoor patio facing the sea, just listening to the sounds of the waves and the numerous bamboo wind chimes placed in the dining hall.
Steffen Dive Centre
Steffen dive center.
Nia Cafe, a typical Perhentian beach cafe.
Coral View Resort beachfront.
Perhentian Island Resort beach.
After checking in, we went next door to Steffen Seasports Dive Centre to find Sebastian Ng, the resident instructor and divemaster who would be leading us on our dives in Perhentian. Steffen Seasports was one of the earliest dive operators at Perhentian and now had 3 branches spread across the 2 islands. The branch next to Tuna Bay Resort did not have compressors to fill up the tanks which helped to maintain the peace and quiet at the resort. Their tanks were brought to their main centre at Perhentian Kecil for refilling. Sebastian, a young and friendly chap from KL, had spent his last 4 years on Perhentian. Since we only had 5 dives, we specially requested Sebastian to bring us to the best that Perhentian had to offer, including the famous Tokong Laut (Temple of the Sea) and Terumbu Tiga.
Seabell Rock
A short rest after lunch and we were out for our first dive in the afternoon at Seabell Rock, marked by a small white lighthouse. The shallow area just around the 4 support beams was home to a rich variety of colourful soft corals. We encountered many small bamboo and nurse sharks hidden under crevices and boulders, pipefish and a large giant moray eel.
Housereef
Returning from the dive, we snorkelled around the housereef stretching from Tuna Bay Resort to the new Marine Park Centre building. Comprising mainly hard coral, it harboured quite a variety of marine life. I spotted a small and very well camouflaged octopus scurrying into a hole. The sandy areas were covered with gobies and their shrimp partners - there was a pair in almost every square foot! Occasionally, turtles would also visit the house reef.
Trekking
There were a number of trekking routes on both islands with well-trodden jungle paths connecting different beaches. In the evening, we trekked to Teluk Pauh at the northwestern part of the island. The 20 minute trek to Perhentian Island Resort was a good way to check out the many small chalets, beach restaurants and resorts. Part of the trek included climbing stairs over rocky parts of the beach and a short detour into the forested hilly interior. The well-trodden forest path had a water pipe running next to it making it easy to follow. High vantage points along the trek offered marvellous views of the beaches and surrounding scenery. At the end of the western beach was Coral View Island Resort which had both western and northern beach fronts. Cutting across Coral View Island Resort to get to Teluk Pauh, we found ourselves on the scenic northern beach. Located at the other end of the beach was Perhentian Island Resort. Both Coral View and Perhentian Island Resort were among the more upmarket resorts at Perhentian.
We encountered 2 fairly big monitor lizards while trekking in the jungle as well as a common Malayan green whip snake, macaque monkeys and large orb spiders. Returning to Tuna Bay after the trek, Seng Hock caught a beautiful sunset which I missed as I had nodded off in the room after a shower. Well, there was still tomorrow evening to catch it...
Nurse shark at Tokong Laut.
Hawksbill turtle at Terumbu Tiga.
Lovely scenery on the way to Teluk KK.
Storm clouds sweeping into Perhentian.
After a good night's rest, I couldn't resist downing all of this morning's full American breakfast. Not normally a wise thing to do just before a dive and I hoped I wouldn't end up feeding the fishes later.
Tokong Laut
Our morning dive was at Tokong Laut. This very highly rated dive site did not disappoint and was easily the best amongst the 5 sites we visited. Located quite far off in the open sea beyond Pulau Susu Dara to the northeast of Perhentian Kecil, this site had plenty of beautiful hard and soft coral gardens going down to a maximum depth of 25 metres, and an amazing diversity of marine life. We encountered many different species of fish, including many bamboo sharks and small nurse sharks.
Terumbu Tiga
The second dive was at Terumbu Tiga on the east side of Perhentian Besar, another highly rated dive site due to its jumble of boulders and rock formations which provided swim-through tunnels similar to Tunnel Point in Redang. As with Tokong Laut, there were many hard and soft corals, but Tokong Laut had more variety of fishes and interesting sights. I had a memorable encounter with a friendly Hawksbill turtle and a large nudibranch around 12cm long.
Teluk Dalam (Shark Point)
Our third and final dive for the day was a shallow dive at Teluk Dalam, also known as Shark Point to snorkellers. We were told that adult black-tip reef sharks were frequently spotted in the shallow waters here. The visibility on this dive was excellent and we spotted 4 of them. Most were in the shallow part of the reef and kep their distance except for one curious shark that ventured towards Sebastian and me before veering away not more than 6 feet from us. We also encountered a school of bumphead parrotfish and a Hawksbill turtle.
Trek to Teluk K.K.
Later in the day, we trekked south to a quiet bay at Teluk K.K., just next to a campsite being used by police and navy personnel. There were no resorts located along the beach here, and it was a private, quiet and relaxing place. A housereef was located further out but we did not bring our snorkelling gear to check it out. As we walked back to the resort, we noticed stormy skies brewing over the mainland and approaching Perhentian. Looked like I would have to come back another time to admire the sunset! The dark clouds contrasted with the yellowish-orange evening sky and looked very dramatic with rain visibly falling in the distance. By dinner time, the rains had reached Perhentian. It was a welcome change as the weather here had been really hot since we arrived.
Stonefish at Sugar Wreck.
Urchin crab carrying urchin on its back.
As we set out for our final dive this morning to Sugar Wreck, we hoped the stormy weather yesterday evening had not stirred up too many particles to adversely affect underwater visibility. Sugar Wreck was located in the open sea, about one-third the distance between Perhentian Kecil and the mainland, and marked by a large orange buoy. It was quite surprising to discover the sea here was shallower than I'd expected.
The top of the wreck was about 5 metres below the surface and bottomed out around 20 metres. Visibility was below average at only 3-4 metres but there was no current and we took our time exploring the wreck and the surrounding debris-strewn sandy bottom which felt more like a muck dive. We circled the exterior of the wreck and found a rich variety of marine life like stonefish, lionfish, puffers, porcupine fish, tiny boxfish, small nurse sharks, crabs, garden eels and urchins. We also caught sight of an urchin speeding along the sandy bottom which was curious as urchins don't usually travel that fast! On closer inspection, it turned out to be a crab carrying an urchin on its back perhaps as a form of defense or deterrent against predators.
We returned to Tuna Bay with sufficient time to spare to catch the noon speedboat back to the mainland. The return journey was very smooth. The sea was so tranquil it felt more like we were on a lake; there were hardly any waves, just gentle ripples on the surface. On arrival at Kuala Besut, we caught Ping Anchorage's transport back to Kuala Terengganu just over 100km away to catch up with Alex Lee and with Seng Hock's folks in KT before taking the night coach back to Singapore.
In our short stay, it felt like we had accomplished a lot, having dived the top sites in Perhentian, trekked twice and snorkelled around the housereef. As a diving destination, Perhentian offered a lot of easy dives in relatively shallow waters with a good variety of marine life. Certainly worth a return visit!

Perhentian Island Resort jetty | Seng Hock, DM Sebastian and me | Water taxi with Perhentian Kecil in the background.