Anilao dive sites.
It had been 3 years since my last visit to Anilao. We had such a good experience then with Edvin of OceanXplorer that we recommended to Pam to arrange this trip through him which she did at the beginning of the year. We had booked this trip to coincide with the Hari Raya public holidays to minimize the leave from work, even though we knew it was the beginning of the July-September rainy season in Anilao. On hindsight, it would have been better to have gone earlier, as just a week before our trip, Manila was deluged with some of the worst flooding it had experienced this decade.
Joseph, Ann Nee and I left Singapore after midnight on a Cebu Pacific flight and arrived Manila at 4:15am. We didn't have to wait long for the KL group to arrive. Edvin, Pam, Low and Chee Faun's Cebu Pacific flight from KL touched down half an hour later.
Before leaving the airport, I purchased a Globe mobile prepaid card and activated the Supersurf 200 plan which gave 5 days of unlimited mobile data for P200 (just over SGD6). Although Balai Anilao Resort had wifi access, I had heard it wasn't always reliable so Globe was my backup. Not that I was an internet junkie, but I had found it a lot cheaper to communicate with the wife and kids back home through Whatsapp and Skype rather than making IDD phone calls and SMS.
The van from Balai Anilao Resort was waiting for us outside the arrival hall and soon we were on the South Luzon Expressway (SLEX) which was already quite busy with morning traffic even though it was only around 5:30am. We weren't sure how badly the floods had affected the route from the airport down to Anilao, though the resort confirmed that things were fine. Fortunately, we saw no sign of the floods that had crippled Manila. We stopped at Jollibee for breakfast, bought some snacks and continued our journey south to Anilao. Compared to the last visit, the journey now was faster and smoother as the SLEX and STAR upgrading works had been completed. The last 30km from the outskirts of Batangas City to the resort was slower-paced as we drove on narrow village roads and winding hill roads. It had been raining quite often before we arrived and various sections of the road bore signs of recent landslides.
Jeepneys in Bauan on the road leading to Anilao.
Balai Anilao Resort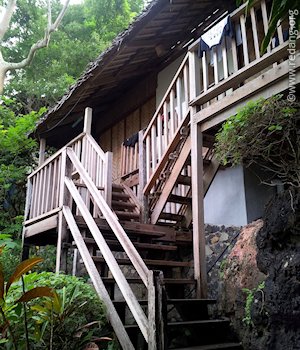 Our chalet at Balai Anilao resort.
View from the resort's sundeck.
We arrived at Balai Anilao Resort at 8:30am. Nothing had changed physically since we were last here. It was still as rustic and basic as before. The rooms were just as spartan as we remembered, complete with the occasional creepy-crawly guest or large tokay gecko. As a testament to the eco-friendly construction which caused minimal disruption to the environment, the attached bathroom in my room had a large boulder in one corner. Obviously, they had built the chalet around the boulder and tiled around it without removing it.
While the resort buildings hadn't changed, the quality of food served was a big improvement compared to our last visit. We had a good variety of local and Chinese-styled dishes over the five days we were here, including some delicious local soups and desserts.
First dives
After settling in, we were introduced to Berting our dive guide and proceeded to get ready for our checkout dive. The weather was cloudy but fine, with no rain clouds in sight. We were told that it had rained the past few days which had affected visibility in many of the off-shore dive sites due to runoffs from the mainland into the sea.
Dive 1: Twin Rocks, 11:02am, 69min, 21.9m/11.9m, 28°C
Dive 2: Aphol's Point, 3:03pm, 76min, 19.8m/12.2m, 27°C
Our first dive was at Twin Rocks. I remembered this site as a nudibranch haven but this time, there were few to be seen. As warned, the visibility was below average, 5 metres at best. We headed over to Aphol's Point at Maricaban island in the afternoon for our second dive. This was better with beautiful coral gardens and colourful reef fishes, including a large brown frogfish. However, fish life appeared less abundant.
Our early morning flights meant we all had little rest and we turned in early after dinner. Our first two dives today had left me feeling somewhat disappointed. Perhaps I had expected more given what I had experienced diving here 3 years ago. Hopefully, we'd wake up the next day to better diving!
Kirby's rock covered with small yellow Colochirus robustus sea cucumbers.
Coleman shrimp on fire urchin.
Dwarf scorpionfish.
Dive 3: Kirby's Rock, 9:20am, 80min, 26.8m/11.9m, 27°C
We were supposed to wake up at 7am but snoozed a little longer this rainy morning before dragging ourselves up for breakfast. We waited till the rain had subsided somewhat before setting out for our first dive at Kirby's Rock over at Maricaban island. I was excited as I had pleasant memories of this site 3 years ago when we encountered 4 pygmy seahorses and 4 giant frogfishes of varying colours. The corals here were nice and healthy with a diverse variety of reef fishes including many species of butterflyfish, but frogfish paradise it was not, at least not on this dive where we only saw one small yellow painted frogfish. We saw a number of eels and nudibranchs and Kirby's mound itself was covered with hundreds of small yellow Colochirus robustus sea cucumbers.
The sun came out during our safety interval at a small coral-strewn beach on Maricaban. As we ate snacks and sipped hot coffee, Berting went snorkelling to find us a pompom crab in the shallow waters. Before long, he found us a specimen which we brought closer to the shore. We laid it amongst the small pebbles in the water where it couldn't burrow and hide so some of us could take photos of it, after which we set it free in the deeper waters.
Dive 4: Bethlehem, 12:09pm, 39min, 21.6m/16.1m, 27°C
As some of us had not seen Coleman shrimp before, we went to look for them at our next dive at Bethlehem, located at the southern end of Caban island. There was moderate current flowing through the narrow channel between Maricaban and Caban where the site was located. As the shrimps were found on fire urchins, we spent quite a long time at depth on the seabed combing through dozens of urchins. It didn't help that we went against the current initially, consuming air at a faster rate and resulting in this being our shortest dive, just under 40 minutes for me. We saw mantis shrimps, spotted snake eels and nudibranchs but no Coleman shrimp until the end of the dive when Berting manage to find a pair.
Dive 5: Toros Point, 3:48pm, 79min, 21.3m/9.1m, 27°C
Our afternoon dive was at Toros Point and was one of the best dives here in terms of critter encounters. We saw frogfish, numerous seahorses, gurnards, snake eels, mantis shrimps, a white coral crab, cockatoo waspfish and even the dwarf scorpionfish, which is not often encountered. Toward the end of the long dive, a number of us were already feeling cold and we could see pouring rain on the surface of the sea when we did our safety stop. It was even colder on the boat back to the resort and we shivered with the rain and wind pummeling us, the banca boat offering little protection. It looked like the perfect recipe for catching a cold. Hot showers back in our rooms never felt so good!
Aegires villosus nudibranch.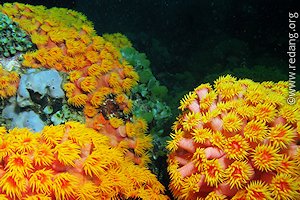 Beautiful colourful cup coral gardens.
Large nembrotha milleri nudibranch.
Dive 6: Bethlehem, 9:08am, 62min, 21.0m/14.3m, 27°C
This morning's breakfast was quite good, with the local section comprising whole fried fish, corn beef, porridge and sticky rice (pulut). After yesterday's rain, it was good to see clear skies once more. We returned to Bethlehem again for our morning dive. This time the currents were not as strong and we didn't go against it like we did yesterday, giving us a significantly longer bottom time. We saw more Coleman shrimps, a zebra crab, some nudibranchs including an Aegires Villosus which I had not encountered before. During our safety stop, we drifted with the currents down the channel where it brought us past a beautiful wooden shipwreck. When it first came into view, it looked like a skeletal carcass of a whale, with only the ribs remaining. The below average visibility added to the somewhat eerie but tranquil atmosphere of this boat's final resting place.
Dive 7: Tingloy, 11:31am, 71min, 18.0m/10.6m, 27°C
Our second dive was at Tingloy, a name that sounded more Thai than Tagalog. It's a town at Maricaban which got its name from a plant once found in abundance there. Again, we found ourselves diving in moderate currents. Not much to see here except at the end of the dive when we found a large orange frogfish.
Dive 8: Mainit Point, 4:00pm, 73min, 15.5m/9.7m, 27°C
Back at the resort, Edvin came down with a fever and skipped the afternoon dive to get some rest. Berting brought the rest of us out to Mainit Point, located at the southernmost tip of the peninsular where currents were often strong. There were many underwater rock formations whose tips broke the surface and we could see the waters swirling around them. We started off the dive in the calmer waters away from the tip and hid behind rocks whenever we felt the currents. For me, this was the most memorable dive site this trip. It had spectacular coral gardens and reef life. What made it special was that many of the cup coral polyps were open, their bright yellow tentacles feeding in the current. It looked like springtime underwater with yellow daisies covering the rocks! We saw many nudibranchs, colourful scorpionfishes, soft coral crabs and a painted yellow frogfish. The highlight was a large nembrotha milleri nudibranch that appeared to pose for the photographers amongst us. It crawled on top of a flat rock, then reared it's head high, lifting the front half of its body in the process and held that pose. From certain angles, it reminded me of the mythical horned griffin with its gills resembling wings.
Crab and mussel soup.
We returned to the resort for a great dinner comprising crab and mussel soup, lasagna and roast pork with mango. It was always anyone's guess what the dessert was, as they only served it after our meal. All we knew was that desserts were generally good, so there was always a certain amount of eager anticipation after each meal. A little like going diving without knowing what critters we would encounter.
I felt extra tired after dinner not from stuffing myself silly but probably due to the dives today. So I went to to bed early only to discover the room window aircon unit had broken down. We told the resort staff, who promptly carried a replacement aircon up the stairs into our hillside chalet and replaced it. Kudos to the resort for such good service!
Pygmy seahorse at Bebot.
Sunset on our final evening in Anilao.
Dive 9: Cathedral, 9:03am, 68min, 27.1m/13.7m, 27°C
Edvin had recovered enough to accompany us to Cathedral for our first dive this morning. Visibility was quite poor when we first descended but improved as we went deeper. We descended first to the miniature castle before going to the mounds where the cross was located. Someone had tied a bag of bread onto Joseph's first stage without his knowledge and it was a comic sight to see schools of reef fishes following him wherever he went. Hiding in the midst of the beautiful corals around the two mounds were many lionfish, scorpionfish and a pair of very large stonefish which looked very similar to the one I nicknamed "Grinch" on my last trip here. Cathedral was still as beautiful as I remembered it, despite the much poorer visibility today.
Dive 10: Bebot, 11:42am, 67min, 30.1m/11.9m, 27°C
Our second dive was at Bebot's rock. We came here specially to see an orange-yellow version of the h. barbiganti pygmy seahorse which was less common compared to the regular pink variety. The coral fan on which it was located was around 30m deep. To conserve air and not get into a deco dive, we waited around 20m depth for Berting to find the seahorse before taking turns to see it. Pam and I were the last to descend and by the time we arrived at the sea fan, my dive computer showed 2 minutes left to deco, so I hurriedly took some photos before ascending to shallower water. The corals here were nice with many colourful crinoids, soft corals and hard corals including large barrel sponges. Reef life was also plentiful We encountered leaf scorpions, mantis shrimps, schools of yellow-tail barracudas and other reef fishes. The dive was somewhat marred by the poor visibility, even worse than at Cathedral, with many particles floating in the water.
Dive 11: Mainit, 2:56pm, 70min, 20.1m/10.3m, 27°C
For our final dive this trip, we returned to Mainit Point in the afternoon, earlier than usual as Edvin's flight was in the afternoon the next day. I had wanted to dive at Sombrero, something which we missed the last time, but weather and sea conditions up till today had not been favourable for diving there. It looked like Sombrero would have to wait for a return trip. We enjoyed the beautiful coral gardens at Mainit Point, a good way to end our dives. We had initially planned to return and do a shore dive but gave up on that idea when we returned to rough surf in front of our resort. Although we had unlimited shore dives at Balai Anilao Resort, we never found the opportunity to do one. We were either too tired after three long dives each day, or we were stopped by rain and strong surf. We had witnessed run-offs from the land into the sea after the rains, creating an ever-widening patch of brown water off the beach, which would have meant very poor visibility on shore dives. So like Sombrero, shore dives would also have to wait till our next visit.
Dinner at the resort was a special affair tonight. Usually, the food would be placed at the buffet table. This time we had a special table laid out for us covered with white tablecloth, crockery and cutlery all set up and food served at our table just for our group. Perhaps this was the resort's way of celebrating our last evening with them. It was a good way to end our stay and with all the diving done, we had San Miguel beer to go with it.
Leaving Balai Anilao Resort.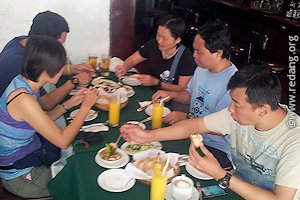 Spanish food at Casa Armas, Malate.
Manila Cathedral in Intramuros.
We awoke to clear and sunny skies this morning. The sea was calm and it looked like a great day for diving except we were all packed and ready to leave. Just like the beautiful sunset yesterday evening, it seemed like Anilao was putting on the best farewell it could muster in this rainy season, as if to beckon us to return again soon. And return we certainly would, hopefully during a neap tide in the dry season which happens during the first and third quarters of the moon, supposedly the best time for macro photography.
We left shortly after breakfast at 9:30am. We were thankful the resort staff helped to carry our bags and dive gear up the steep steps to our waiting van. We dropped Edvin off at the airport for him to catch his afternoon flight back to KL while the rest of us headed for White Knight hotel in Intramuros in Manila city where Pam, Low and Chee Faun would be staying on for 2 nights to sightsee around Manila. Joe, Ann Nee and I would catch our flight back to Singapore later that night. We got a taste of Manila traffic when it took us almost an hour to navigate the 9km from the airport to the hotel, a stark contrast to the 2.5 hours it took to reach the airport from Balai Anilao resort.
Manila
White Knight hotel claimed to be the best budget hotel in Manila. It was certainly good value for money, offering clean, spacious and comfortable rooms in the heart of Intramuros, opposite San Augustin Church, the oldest stone church in Manila, and the Manila Cathedral nearby. Definitely a few notches above what we had been sleeping in the past few nights!
After check-in, we headed for Casa Armas in Malate, one of the nominees for Best Spanish Restaurant in Manila's Best Kept Restaurant Secrets Awards 2010. It was just a 10-minute cab ride away and as there were 6 of us, we travelled in two cabs. That's when we encountered the darker side of Manila cabs - my group paid just under P100 according to the meter, but the other group was charged P200 by the driver who did not use the meter. Casa Armas was a small tapas bar on a quiet street. Photos on its walls showed her customers included local celebrities and even ex-president Gloria Arroyo. We ordered a selection of tapas and paella and came away with satisfied palates and stuffed waistlines. Definitely worth the 4 star rating on TripAdvisor!
Returning to Intramuros, we walked around the hotel's neighbourhood, taking in the sights of Casa Manila, Manila cathedral and the San Augustin church. We snuck into the Ristorante delle Mitre opposite San Augustin for coffee. It turned out to be an interesting cafe conceived as an outreach program of the Catholic Bishops' Conference and run by nuns. The word 'mitre' referred to the hats or headgear worn by Catholic popes and bishops. Service was a little slow but it's hard to rush a nun making drinks when one is surrounded by religious icons and bishop hats!
After our brief tour, Joe, Ann Nee and I took a cab to the airport, this time making sure the driver used the meter. Traffic was smoother heading out to the airport and it took just 20 minutes and P200 fare. We had ramen for dinner at the airport (not recommended) before catching our 8.30pm flight, arriving Singapore just past midnight.

Left: Balai Anilao Resort; Centre: Joseph, Edvin, Chee Faun, Low, Pam, Ann Nee & me; Right: San Augustin Church, Manila.