Cebu Pacific Air Airbus A320.
Anilao is located south of Manila on Luzon island.
Last year, I followed my Rescue buddy Joseph to Lembeh together with Anthony from KL. This year, Anthony had arranged a dive trip to Anilao in the Philippines through Edvin Eng of OceanXplorer. I had never visited the Philippines, so I thought this was a great opportunity to tag along with Joseph and Ann Nee, whom I'd met previously on a trip to Redang in 2003.
Cebu Pacific Air to Manila
Joseph, Ann Nee and I left Singapore on a Cebu Pacific Air budget flight at 10:35am and touched down at Terminal 3, Ninoy Aquino International Airport (NAIA), Manila, about 3.5 hours later. As Anilao is located on the island of Luzon, about 127km south of Manila, NAIA is the preferred airport as Clark airport, which some budget airlines use, is an additional 2 hours by road to Anilao. Like many budget airlines in the region, Cebu Pacific Air used relatively new Airbus A320 which was clean and comfortable. The airline also made use of NAIA's new Terminal 3, which had opened only a year earlier. Terminal 2 was used solely by Philippine Airlines while the rest of the international flights made use of the old Terminal 1, which looked like it was badly in need of upgrading.
Metro Manila from the air.
The van from Balai Anilao Resort was already waiting for us when we exited the arrival hall. We drove over to NAIA terminal 1 to await the arrival of Anthony, Nicole, Edvin, Linda and Mike who were flying in from KL on Malaysia Airlines. There was no waiting area within Terminal 1 and we had to wait in a separate run-down building opposite the main terminal. In the hot afternoon sun, we were glad it was at least air-conditioned with two local fast food outlets, KopiRoti and Jollibee. As we didn't eat on the plane, we had a quick lunch at Jollibee, which was the biggest fast food chain in the Philippines, akin to McDonald's in the US.
Anthony and the rest from KL arrived just before 4pm and our two vans left for Anilao, battling congested roads in the evening rush hour traffic filled with plenty of Jeepneys and tricycles. They were quite a sight, their exteriors often decorated with lots of shining chrome and all kinds of flamboyant designs and slogans, many with a religious slant, reflecting the predominantly Catholic faith among the country's population. These popular and affordable non-airconditioned modes of public transportation allowed passengers to get on and off anywhere instead of at designated stops, which probably contributed much to the congestion as other vehicles tried to avoid them.
The journey to Anilao was for the most part on the South Luzon Expressway (SLEX) and STAR highway, with the last 30km on small trunk roads. Along the way, we stopped to buy snacks as the resort only had limited snacks for sale. It was already dark by the time we reached the town of Anilao and Balai Resort was another 10km or so on a narrow dimly-lit winding coastal road. We couldn't see the surrounding scenery or the sea, though we knew it was nearby as we kept passing other beach and dive resorts. By the time we arrived at Balai resort, it was well past 7pm. We had taken over 3 hours to get to Balai resort by road. Interestingly, a Malaysian company is involved in the current SLEX upgrading project and when this is completed (expected 2010), the SLEX and STAR should be joined, providing smooth access all the way from Manila to Batangas. When this happens, the journey time to Anilao should be reduced to under 2 hours.
Balai Anilao Resort
Balai Anilao resort.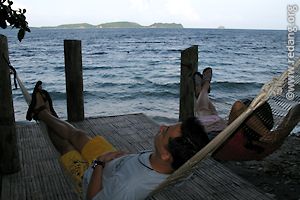 Maricaban and Sombrero islands across the channel.
The vans stopped at the side of the road and we found ourselves on a hilltop with dimly-lit stairs leading down to the resort. We were ushered into the main dining hall where we were given a welcome drink and keys to our chalet rooms. The wooden seaview chalets were built at different levels on the rocky hill slope and blended well into the natural surroundings with their thatched roofs, timber walls, bamboo flooring and stairs. The rooms were small and basic, equipped with a standing fan, air-con, a sidetable and a magazine rack. There was no wardrobe to hang our clothes and the 'blanket' was nothing more than a thin bed sheet which meant that it sometimes got too cold with the aircon on, especially in the middle of the night. Next time, I'll have to bring my sleeping bag with me.
Each room had an attached bathroom with hot water heater. The shower water pressure was quite weak, which was probably why a pail and water-scoop was provided as well. After leaving our things in the room, we went back to the dining hall for dinner. Looking at the number of tables in the dining hall, it was clear this was a small cozy resort with a capacity of about 20-30 guests. All our meals were served buffet-style here, rice with about 4-5 choices of dishes during lunch and dinner, in addition to a soup and dessert. It appeared that the local cuisine were mostly meat dishes with little or no vegetables, which made meals seem rather unbalanced. Only after some of us started requesting more greens did they provide some vegetable dishes later during our stay, though there were no fresh salad greens. Many of the dishes were also too salty. On the other hand, the local desserts were quite nice, especially the crispy fried bananas.
The dining hall had an open deck overlooking the beach and Maricaban and Sombrero islands across the bay. Guests could relax on deck chairs or sunbathe on mats and rattan pillows on the deck. Without a TV or entertainment in the dining hall, evenings were often quiet which was fine as we often retired early after 4 long boat dives each day. A self-serve drinks corner with a hot/cold water dispenser was available for guests to make their own tea, coffee or Milo though other drinks could be purchased from the resort. Mobile phone reception was strong but internet was not available. On this first evening after dinner, Joseph and I put the deck chairs to good use as we laid back and admired the starry sky with the Milky Way clearly visible and the occasional shooting star streaking across the night sky.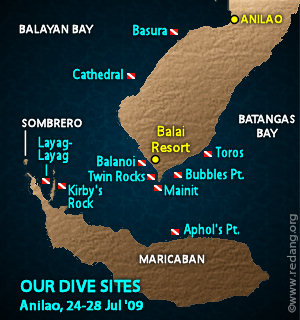 Anilao dive sites.
Argiope appensa spider.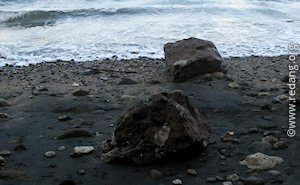 Black beach.
As expected, the air-con got too cold in the middle of the night and the bedsheet blanket offered little warmth. Without any digital controls on the air-con, it was left to trial and error adjustments to get the temperature just right, which meant waking up in the middle of the night to turn the temperature up or down. Being much further East but in the same timezone as Singapore and Malaysia, it was already bright at 6:30am and the sun's rays peeked underneath our door into the room. The chalet did not have any windows facing the sea, so we had to leave the door open to enjoy the view.
Stepping onto the verandah, I was greeted by a view of the calm sea framed by an opening in the trees. Our chalet #2 was located at the highest point of the resort and overlooked the thatched roofs of other chalets and dining hall below. A large spider web with its equally large owner, an argiope appensa, hung on a nearby branch. Small millipedes were crawling around on the stairs. No wonder there was a sign on the chalet door reminding guests not to eat in the rooms, unless one wanted even closer encounters with nature.
I wandered down to the beach and found black volcanic sand, similar to that in Lembeh. The beach was narrow and rocky. Across the Maricaban Straits was the large Maricaban island (which was much larger than Lembeh island) and the small Sombrero island at its tip. The scenery reminded me of Bitung looking across to Lembeh island though Maricaban was much further away. Balai resort was located in a sheltered bay, close to many of the dive sites.
Breakfast was served each day around 7:15am followed by our first dive at 8am. Over the next 3 days, we would be doing 2 dives in the morning, followed by lunch back at the resort, and then another 2 dives in the afternoon with surface interval on both morning and afternoon dives on the boat. We would be doing a total of 11 dives, with 3 dives on the last day. Our dive boat was a traditional banca boat that had outriggers on either side that provided stability and minimized roll even when the sea was choppy. We just had to be careful not to bump our heads on the outriggers whenever we descended or ascended from the water. The shallow draft of the banca allowed it to be beached and a narrow gangplank was used to allow us to get on and off without having to wade into the water. Powered by a diesel truck engine, the driver steered the boat using a long pole connected to the rudder. Pulling the pole forward or pushing it backward rotated the rudder to turn the boat.
As we prepared for the first dive, I learnt some useful underwater photography tips from Edvin, an experienced underwater photographer. In the past, I had shot most of my photographs using either shutter speed or aperture priority and allowed the external strobe to be triggered and controlled by the power of the camera's own strobe. This time, following Edvin's tips, I was going to go full manual on both the external strobe as well as on the camera, which would require some trial and error but which would give better control over the photo quality.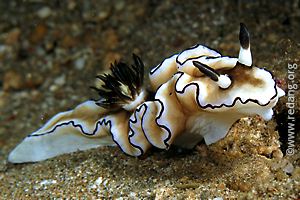 Glossodoris atromarginata nudibranch.
One-armed harlequin crab at Toros.
Hermit crab at Toros.
Dive 1: Twin Rocks, 8:45am, 75min, 17.7m/13.1m, 28°C
With Eddie and Edvin as our dive guides, we set off on our first dive to a nearby site called Twin Rocks, which was located in front of one of the dive resorts. As the name suggested, there were two tall submerged rocks covered with walls of coral. Even on this first checkout dive, it was evident why Anilao was sometimes considered the nudibranch capital of the world. We encountered a lot of nudibranchs, including the cute looking 'smiling' nembrotha lineolata nudibranch, so called because the markings on its face resembled a smiley. We also encountered ribbon eels, peacock mantis shrimps and colourful butterflyfish and lionfish.
After a long first dive of 75 minutes, we did our surface interval on the boat. While no snacks were provided like in Lembeh, the boat had a cooler box with ice-cold mineral water which was very refreshing after a dive. Hot drinks such as tea and coffee were also available.
Dive 2: Toros Point, 11:13am, 85min, 18.6m/9.4m, 28°C
The second morning dive was at Toros Point, also just a short distance away from Balai resort. This site reminded me of the TK dive sites at Lembeh, offering excellent muck-diving and encounters with more nudibranchs, seahorses, garden eels, boxcrabs, gurnards, a one-armed harlequin crab, giant mantis shrimps and other bottom dwellers. The highlight of the dive was a brief encounter with a mimic octopus. We were too slow to encircle it and prevent its escape. Probing the seabed with its tentacles, it found a hole and burrowed quickly into it. I only managed to get one shot before it disappeared but I wasn't too disappointed with the missed opportunity, having spent more than sufficient time with the mimic I encountered in Lembeh 2 months ago. A great site which turned out to be our longest dive of the trip at 85 minutes.
Dive 3: Balanoi, 3:05pm, 82min, 18.3m/10.6m, 29°C
After lunch, we set off for our afternoon dive to another nearby site called Balanoi. Compared to the earlier two sites, this place was a disappointment with fewer critters. Just a few mantis shrimps, eels, scorpionfish and squat shrimp.
Dive 4: Toros Point, 5:33pm, 74min, 10.9m/6.4m, 27°C
For our last dive today, we returned once again to Toros Point, hoping to see different critters emerging as the sun set. Descending to a shallow 11 metres, we found box crabs running on the seabed, their heavily built bodies looking disproportionate to their spindly legs. As expected, many crustaceans had emerged from hiding and we found shrimps, crabs and hermit crabs in addition to flounders, nudibranchs and other bottom dwellers. The biggest treat was an encounter with a small wonderpus octopus, completing a double octopus whammy as we had encountered the mimic here earlier. Midway through the dive, a dead flounder caught my attention with its blackened eyes and mouth. As I went in for a closer look, I noticed another motionless light-coloured head peering out of the sand next to the flounder's head. This turned out to be my first encounter with the crocodile snake eel. A row of small sharp teeth lined the side of its face, giving it a fearsome look. It must have caught and killed the flounder earlier.
It was already getting dark by the time we surfaced and returned to the resort. Our first day diving had been fruitful albeit tiring, with the shallow dives giving us more bottom time. In just 4 dives, most of us had clocked more than 5 hours in the water, which was equivalent to 6 normal dives elsewhere. No wonder we didn't miss TV, internet or other entertainment as we just retired early most evenings after dinner.
Giant frogfish at Kirby's Rock.
Dive 5: Kirby's Rock, 8:56am, 74min, 26.5m/13.1m, 28°C
Today, we hopped over the straits to Maricaban island, where some of the more interesting and deeper dive sites were located. Kirby's Rock was simply a rock that stuck out of the water. One side of the rock was a 20 metre coral encrusted wall going down to a sandy bottom and the other side was a shallow slope with pristine corals. The plan was to descend on the wall side to about 18m and wait for Eddie as he descended further to look for pygmy seahorses among the gorgonian fans. It was interesting to note that over the last year alone, at least 5 new pygmy seahorse species had been discovered in the Red Sea and Indo-Pacific waters. Previously, all the known species were found on coral fans, but 3 of the newly discovered species could be found anywhere on the reef on soft coral, hydroids or clumps of algae. It would be a real treat to see some new species here.
It wasn't long before Eddie signalled for us to descend one by one. Dropping to a depth of 26 metres, I knelt on the sandy bottom while Eddie pointed out at least 4 pygmy seahorses on the fan. Without reading glasses or my magnifying glass, I only managed to spot 2 of the tiny critters. As for identifying the species, let's just say the only species I saw were 'blur pygmies'. I took some photos of the general area in which the pygmies lay, hoping to review them later since I couldn't see them on the camera LCD either. That was when I found my shutter button had jammed halfway due to the water pressure and probably fine sediment (from Lembeh) clogging up the button. So I was left with a camera with focus locked on some unknown distance trying to shoot some pygmies I couldn't see. Talk about underwater photography being challenging!
My camera shutter button recovered as we ascended to shallower depths. As we circled the rock and went up the reef slope, we saw healthy, beautiful corals covering almost every part of the slope and teeming with colourful reef fishes. Black, yellow, red and green feather stars were everywhere. In ledges and crevices on the walls, we encountered nudibranchs, eels and 4 giant frogfishes of varying hues from black, purple, red to grayish blue. Kirby's rock was really an underwater paradise. Out here in Maricaban, the surf and currents were stronger than the sites we dived yesterday around the mainland. I felt nauseous after the safety stop and had to 'feed the fishes' before getting up on the boat. Good thing I had a very light breakfast.
Dive 6: Layag Layag, 11:16am, 73min, 21.9m/12.2m, 29°C
After doing our surface interval on a small stretch of beach on the island, we headed to Layag-Layag for our second dive. As this site was close to Kirby's Rock, the underwater scenery was similar with extensive coral growth all over the shallow reef slope with plenty of nudibranch, eels, frogfish, egg cowries, eels, porcelain crabs and colourful reef life.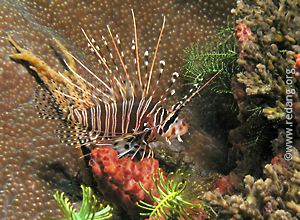 Lionfish at Aphols Point.
Dive 7: Aphol's Point, 2.54pm, 79min, 15.5m/9.4m, 28°C
After lunch, we returned to Maricaban island, this time to Aphol's Point which comprised two large boulders on a reef slope covered with coral. Once again, we found ourselves surrounded by colourful reef fishes, including schooling batfish, snappers, lionfish and trumpetfish. This site was also home to large barrel sponges, whip corals and fans. Among the more interesting encounters were ribbon eels and a cute looking cowfish.
During our surface interval, we went back across the straits to Bubbles Point, an area known for its hot springs. We got down on the beach to rest at a shelter with a well, fed with piping hot water from the ground. The strong smell of sulphur hovered in the air around it. The hot springs continued from the beach all the way into the water. I waded into the sea and found the water to be slightly warmer where the hot springs were present. With each dive in Anilao averaging about 80 minutes, I often ended up shivering at the end of a dive despite wearing two layers, so it was nice to relax in warm water for a change.
Bluering octopus at Bubbles Point.
Dive 8: Bubbles Point, 5:06pm, 82min, 19.5m/10.0m, 27°C
Our last dive was a beach dive. We waded into the water, waited for the boat crew to lower our BCs and tanks from the boat into the water, geared up and descended. It was soon clear why this place was called Bubble's Point. Various parts of the seabed were yellowish or whitish and there were bubbles streaming out from the seabed. The sand in these places were warm to the touch on the surface but became too hot to touch just a few inches below the surface when we dug our fingertips into the sand. We encountered many scorpionfish including a bluefin scorpionfish (there are blue streaks behind their pectoral fins), nudibranchs and flatworms, a painted or napolean snake eel, a tiny yellow frogfish and a large seapen. The highlight for me was an encounter with a bluering octopus as it was the first time I had seen one while diving. One of the most venomous creatures on the planet, it was not disturbed by our presence at all as it hunted on the seabed, probing rocks, crevices and rubble with its tentacles.
Red crocodile snake eel at Basura.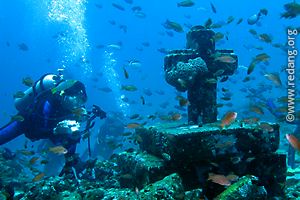 Abundant fishes around the stone cross at Cathedral.
Porcelain crab on soft coral at Mainit.
From today till our departure tomorrow, we were the only guests at Balai resort as all the other guests had left yesterday evening. With Anilao just 2-3 hours drive from Manila, many of their guests were just here for the weekend.
Dive 9: Basura, 8:53am, 82min, 16.7m/9.7m, 28°C
Today was our last day diving at Anilao and this morning we headed northwest along the coast, passing many dive resorts to get to a dive site named Basura. We started the dive close to the beach and followed the steep slope down, often encountering litter strewn about. The seabed comprised sandy patches with loose rubble and stones which would sometimes roll down the slope when touched. In the midst of rubbish we found beauty in the form of a very attractive cerberilla nudibranch, which looked like it was wearing a soft fur coat. We also found various chromodoris nudibranch species, coleman shrimp on fire urchins, ghost anemone shrimps, squat shrimps, a warty frogfish and an interesting red coloured crocodile snake eel.
Dive 10: Cathedral, 11:38am, 71min, 21.0m/11.6m, 28°C
I had heard much about the Cathedral from others in the group who had been here before, so I had high expectations as we arrived here for our second morning dive. This site got its name from a small cross that former Philippine President Fidel Ramos planted in 1983 and which was blessed by Pope John Paul II. Two large rocky mounds provided an impressive backdrop to the cross planted between the mounds at around 16 metres depth. The amazing thing was that the site was originally barren but was seeded with corals which had now flourished and was teeming with fishes. Being a Marine Park Sanctuary, this was the only site where fish-feeding took place. Some of us brought bread down to feed the fishes and were immediately swamped by schools of damsels, butterfly fishes, wrasses, parrotfishes and even one or two titan triggerfishes, all eager for handouts.
Just beyond the cross, there was a steep drop down to the base of the rocky mounds around 21 metres depth. At the base lay a small cavern with a tombstone in front of it with the inscription 'King of the Divers'. Obviously a well loved diver, this person was probably buried here according to his wishes. He couldn't have chosen a more amazing or beautiful underwater resting place. Feather stars, soft corals, sponges and anemones covered the top of the rocky mounds. Among the more interesting fishes were a large red scorpionfish and a stonefish that looked like the face of Jim Carrey's grinch (with a bit of imagination). Toward the end of the dive, while doing our safety stop, a school of silver mouth mackerel swam around us with their big mouths wide open filtering plankton from the sea. It was quite a sight to behold.
Dive 11: Mainit, 3:13pm, 84min, 15.2m/8.8m, 28°C
Our final dive in Anilao was at Mainit, another muck-dive site. By now, I had gotten a little tired of seeing nudibranchs as we had been seeing them every dive, and other than a beautiful porcelain crab, I found little else that excited me. Good thing too as my camera batteries ran low halfway through the dive.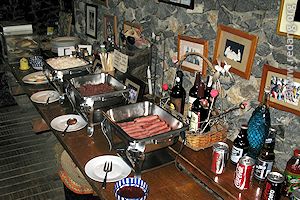 Breakfast at Balai resort.
Tucking into Yellowcab pizza at SM City Sucat mall.
The sun was out this morning as we had breakfast and packed up to leave. Though our flights to KL and Singapore were at 6:40pm and 8:30pm respectively, we left Balai resort at 10am to have sufficient time to do a bit of shopping and to make it to the airport on time. We bade Eddie and the rest of the staff goodbye and bundled into one van for the 3 hour drive back to Manila. This time we were able to appreciate the beautiful scenery around Anilao.
Approaching Metro Manila on the expressway, traffic slowed to a crawl. We stopped for a short while for refreshments and toilet break before resuming our journey, eventually reaching SM City Sucat mall near the airport around 1.45pm. It had taken us about a half hour longer to travel from Anilao to Manila. As with many other tourist areas in the Philippines, security was tight at the mall. Every vehicle entering its carpark was screened with undercarriage detectors while visitors were frisked and had their bags checked upon entering the mall. Even the highway rest stops had armed guards patrolling the building. We had pizzas at Yellowcab for lunch, then did some shopping until 4:30pm when we left for the airport, dropping Anthony and the KL folks first at Terminal 1 and arriving at Terminal 3 at 5pm with plenty of time to spare.
There weren't many shops open at Terminal 3, just a couple of eating places outside and inside the departure hall. We finished the leftover pizza slices from lunch for dinner, then paid our 750 pesos airport tax to get into the departure lounge where we chatted over coffee till our flight, arriving just minutes before midnight.
Before this trip, I knew little about Anilao. Now, having covered a small fraction of the total dive sites here, I was sufficiently impressed with the diversity of both muck-dive sites on the mainland and the beautiful coral encrusted reefs and walls at Maricaban. There were many similarities to Lembeh and comparisons between the two were inevitable. Each had its own strengths. To me, Lembeh offered more critter encounters, particularly due to the spotting and handling skills of the more experienced dive guides. Anilao offered not just muck dives but also the beautiful and pristine corals at Maricaban which were far superior to those at Lembeh and which could rival those in other popular coral reef dive sites. I was surprised to find that critters like the mimic octopus, wonderpus and pygmy seahorses could be found here as well, including those we didn't get to see, like the Rhinopias, Ambon scorpionfish and hairy frogfish. On top of that, sites like the Cathedral and Bubbles Point offered a whole new experience.
Many who have visited both places will agree that Anilao and Lembeh are among the best places for muck diving and macro photography. I shot just over 600 photos in 11 dives here, compared to 800+ photos in Lembeh over 12 dives two months ago. Anilao is an underrated place that I would certainly want to return to in future. Let's just hope the highway from Manila airport to Anilao is complete by then.
Many thanks to Edvin for his excellent photography tips, to Anthony for arranging the trip and to the entire group for making this one of my most memorable dive trips.
Left picture: Our group in Anilao: Me, Edvin, Joseph, Mike, Linda, Ann Nee, Nicole & Anthony