Anthony, whom I had dived with previously in Lembeh and Anilao, arranged this New Year's trip to Dauin, located on the island of Negros in the Visayas region of the Philippines. As I had not dived this year, this was a good opportunity to get into the water while experiencing a new place at the same time. I was joined by Joseph and Ann Nee, both of whom dived with me previously in Anilao and Bali, and Ken, Ann Nee's friend. The four of us would depart from Singapore and meet Anthony and Nicole, who were flying from Kuala Lumpur, at Mike's Dauin Beach Resort.
We flew Cebu Pacific Air from Changi Budget Terminal to Mactan-Cebu international airport and arrived just before 4am in the morning. After breakfast at Dunkin Donuts, we paid our P200 departure tax and caught our connecting flight to Dumaguete, the provincial capital of Negros Oriental, onboard a twin turboprop ATR72 aircraft, the same type of plane used by Firefly and Berjaya Air. The 40-minute flight arrived around 7am at Dumaguete airport, a small provincial airport with a short runway with one end at the water's edge. Sitting by the window, I thought the plane was going to land in the sea as the plane descended almost to sea level before the wheels touched the tarmac. We had to disembark and walk across the tarmac to the airport building which reminded me of Tawau airport in Sabah, where the small baggage carousel went out one hole in the wall to the tarmac outside and came in through another. We could just look out the holes to see when the baggage vehicle would arrive and unload the baggages.
The van driver was already waiting for us when we emerged from the airport. The 30 minute ride to the resort took us through the busy town centre streets filled with motorcycle taxi cabs. Although the area had been hit by typhoon Sendong two weeks earlier, with floods destroying properties and causing some fatalities around Dumaguete City, there was little evidence of that as most of the debris had been cleaned up.
Mike's Dauin Beach Resort
Lola on the beach.
Mike's Dauin Beach Resort guestrooms.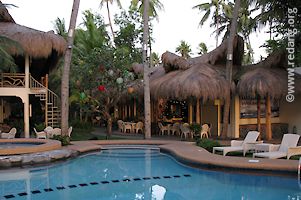 Resort pool, bar and dining area.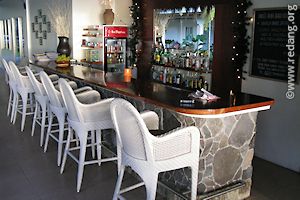 Bar counter at the dining area.
The van turned off what appeared to be the only village road into a mud road full of potholes. The resort was tucked away at the end of the mud road, a good 100-200 metres from the main road. Any thoughts we had of walking from the resort to the main street for shops and food quickly evaporated when we realized there were hardly any shops around that part of main road, and the mud road didn't look too welcoming on foot. If we thought Tulamben in Bali was a small town, this hardly qualified as a town.
Mike's Dauin Beach Resort (MDBR) is a small family-run resort with only 8 rooms. Owned and run by Mike Feeney, a friendly American dive instructor and his partner Joe Ann, it was clean and comfortable and had a warm, family feeling to it. Staff were friendly and because of the small number of guests, soon knew us on a first name basis. Even the resort dog Lola, a female black Labrador mix, made us feel like part of the family, appearing at our table during mealtimes or when it wanted a good tummy rub, usually lying on her back with all her legs in the air. We had booked rooms only and had all our meals ala-carte in the resort's dining area, though guests desiring a change of menu could also visit the neighbouring dive resorts. Prices were reasonable, around P100-200 for breakfast items and P150-250 for lunch/dinner items. Mineral water was P55 for 1L (P25 for refills), local beers at P50 and fresh juices for P70. My favourite juice was easily the mango juice. Philippine mangos are really sweet and tasty and in abundance - it seemed every village house we passed had a mango tree.
MDBR had free wifi internet access, so there was no need to buy a local prepaid mobile phone SIM card. Skype and Whatsapp proved invaluable here on iPhones and Android smartphones for overseas communications. The guestrooms had a spacious attached bathroom with hot water and the room itself was equipped with cable TV, a ceiling fan and airconditioner. Full length sliding glass doors provided lots of natural lighting while an inner sliding door with netting provided adequate protection from mosquitoes and other insects.
MDBR had a small pool and the black beach was just metres from the resort. We found out from resort staff that the area was also affected by Typhoon Sendong and dive resorts in the area lost a total of 12 boats. MDBR suffered the loss of 1 boat which sank due to strong waves which surged into the resort property all the way to the pool. The typhoon also caused power outage and dives were cancelled due to the dangerous conditions. While we were fortunate to miss the typhoon, much of the macro life which Dauin was famous for had also disappeared due to the storm, either retreating to safer waters elsewhere or were just simply swept away. It would take awhile for the dive sites to recover.
From the beach, we could see Apo island in the south, while traditional banca diveboats from MDBR and neighbouring dive resorts bobbed gently in the water. These were much larger than those we saw in Anilao but were just as stable in the water due to their long outriggers on both sides of the boat. There were platforms on both sides at the front of the boat for water entry, big-step style.
Anthony and Nicole arrived at the resort a couple of hours later. As we had all travelled through the night, we decided to just rest and relax the rest of the day. We met Hilary, a marine biologist from Ireland, who worked at the resort and who also mentioned that we could see whalesharks in Sumilon about an hour away from Dauin. Obviously, this got us all excited, especially after our initial disappointment when we heard that the typhoon had affected Dauin's macro life. Whalesharks were the last thing on my dive list of things to see (after checking off mantas in Bali and seeing a live mola mola in Monterey Bay Aquarium in June earlier this year - admittedly not the same as seeing one in the wild but good enough to check it off my list!). This entire trip would have been worthwhile if I could meet a whaleshark face to face. In fact, I was willing to sacrifice any number of macro encounters in Dauin to see a whaleshark! After all, there will always be Lembeh, Anilao and Tulamben for diehard macro fans but it's not every dive trip one gets to see a whaleshark.
We also met some of the resort's dive guides one of whom was kind enough to take my underwater camera housing for an immersion test on his next dive since I wasn't diving today. Prior to the trip, I had serviced the Canon WP-DC18 housing for my A650IS on my own to clean the shutter release button. This often became stuck when pressed at depths below 20 metres, probably due to fine volcanic dust particles trapped in the shaft from previous dives in Bali, Anilao and Lembeh. I had previously tried to get it serviced at the Canon Service Centre in Singapore and was disappointed that they did not service their underwater housings in Singapore or in Japan. After getting some tips from Ivan Choong at Oceanic Focus, where I bought an Ultralight arm for my Inon strobe to replace my 10-bar arm, I took apart the shutter button and cleaned it myself. The immersion test was to make sure the empty case did not leak under pressure and it passed the test. I was all set for tomorrow's dives!
Dive 1: Car Wreck, 29 Dec 9:18am 58min 28.6m/15.8m, 27°C
Dive 2: Pyramid, 29 Dec 11:31am 62min 22.8m/13.1m, 28°C
Dive 3: Dauin South, 29 Sep 3:23pm 56min 22.5m/14.0m, 28°C
Dauin dive sites (not to scale).
The largest of the three flamboyant cuttlefish we saw at Car Wreck.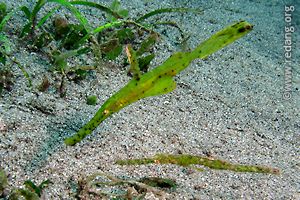 Green coloured ghostpipefish camouflaged amongst the seagrasses.
We hit our beds early last night and had a comfortable night's rest without any time-challenged cockerels waking us up in the middle of the night as I had experienced in Tulamben. I got up early to catch the sunrise and walked on the beach. Some stray dogs were playing, leaving behind trails of paw prints in the black sand. Lola the resort Labrador joined me for awhile on the beach and happily posed for photos. After downing a bacon cheese omelette and mango juice for breakfast, we set out for our first dive at Car Wreck nearby. Our dive boat crew had a creative way of creating a handrail for the plank that we used to climb onboard the boat from the beach. They simply held a long bamboo pole next to the plank, one end supported by one boatman on the boat and the other by another boatman on the beach.
Car Wreck was supposed to be one of the better macro sites at Dauin, although there were fewer critter encounters which our dive guide explained was due to the typhoon. Unlike the black beach in front of MDBR, Car Wreck had the usual light coloured sandy bottom. There were supposed to be two car wrecks at around 25m depth, which gave the site its name, though we only saw some some remnants of tyres and some pipes. We saw the usual crop of muck residents like ghostpipe fish, anemone crabs and shrimps, crinoid shrimps, cuttlefish, lionfish and gurnards. The highlight was an encounter with a small parade of three flamboyant cuttlefish, one tiny, one small and one medium in size.
After our surface interval time (SIT) on the boat, we hit the waters for our second dive at Pyramid which got its name from the pyramidal structure of the artificial reef. Some coral had taken root on the structures and we found frogfish, scorpionfishes and other smaller critters within the reef. The dive ended in a shallow seagrass area where we found seagrass filefishes and a pair of green robust ghostpipefish which looked exactly like the seagrass. This was the first time I had encountered robust ghostpipes of this colour and camouflage - usually they have a dark brown to maroon colouration.
We returned to the resort for lunch and a short rest before heading out for our third boat dive at Dauin South, which is one half of the Dauin Sanctuary dive site, the other being Dauin North. Lying adjacent to Car Wrecks, this site had large coral beds with the usual reef fishes and a sandy channel where we encountered a number of different nudibranch species, including the smiling nudibranch nembrotha lineolata.
Hungry after the dive, I tucked into some nachos before downing a mushroom and bacon cheese burger later at dinner. I had so far enjoyed all my meals at Mike's Resort. The spaghetti chicken pasta and linguini carbonara I had yesterday for lunch and dinner were great, and tonight's burger was just as good. Perhaps hungry divers aren't refined gourmets, downing just about anything offered to them, like Lola enjoying every scrap of food we fed to her! Tomorrow would be an exciting day as they would be bringing us to see whalesharks in Sumilon!
Dive 4: Oslob whalesharks, 30 Dec 10:10am 62min 8.2m/4.2m, 28°C
Dive 5: Sumilon island, 30 Dec 12:35pm 53min 30.8m/13.1m 27°C

We had flown to the island of Negros from the island of Cebu the day we arrived. This morning, we were headed back to the island of Cebu on our dive boat, to see the Oslob whalesharks near Sumilon island. The actual site is at Tan-awan village in the municipality of Oslob, located at the southwestern tip of Cebu. The boat journey to Sumilon took about 75 minutes in choppy waters, with the ocean spray drenching us thoroughly whenever the boat hit the water hard. Along the way, we passed Dumaguete harbour where we could see the half-sunken hulls of ships in the water, a grim reminder of the devastation caused by the recent typhoon. While almost all the debris had been cleared from the beachfront, the destruction caused by the typhoon and the loss of lives will continue to be felt by residents of Dumaguete, and even more so in northern Mindanao, which experienced destruction and loss of life on a much greater scale.
I was feeling rather queasy by the time our boat pulled into the calmer waters of Oslob. We could see Sumilon island nearby. Nausea gave way to excitement as we saw boats and people in the water, with many others watching from land. They were there to see the whalesharks, or 'butanding' as the locals called them. We were told that most of the whalesharks had appeared in Oslob since October and that local fishermen had kept them in the area by feeding them krill (tiny shrimps) which were plentiful in the waters around Sumilon. The fishermen even had names for these harmless gentle giants: 'Dodong', 'Lucas', 'Joaquin' and 'Fermin'. The sharks would appear from 6am till about noon daily to feed. Here was a great example of sustainable conservation: instead of slaughtering them for fins or food (which is prohibited in the Philippines where these sharks are protected), the fishermen turned the whalesharks into tourist attractions which generated revenue for themselves and the local communities. In addition to normal diving costs, we had to pay an additional P400 (about SGD12) each for diving fees and fishermen fees, and another P200 for camera fees. A small price to pay to conserve these magnificent creatures while sustaining the livelihoods of the local communities.
Fermin, the smallest of the whalesharks at about 3m length. Visibility was poor.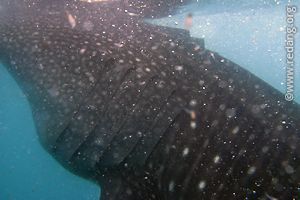 Whaleshark feeding on krill poured into the water by the fishermen.
Delicious chicken schnitzel dinner.
As we neared the shallow waters about 50m offshore, we could see the white-spotted gray bodies of the whalesharks just beneath the surface of the water, their large dorsal fins slicing through the water behind the wake of the fishermen's small banca boats. They were paddling around in large circles while pouring krill into the water. As we got ready to enter the water, we were asked to stay close to one another as a group as visibility in the water was quite poor due to the krill in the water and to wait near the bottom to avoid getting hit by the boats and other snorkelers in the water. We were also cautioned to stay away from the tails of these powerful fishes as an accidental swipe could easily knock a diver unconscious. Descending into the shallow waters about 8m deep, it was immediately apparent why we had to stay close. Our diveguide Gabby often had to surface to see where the whalesharks were and we often lost sight of him when he had barely swum 3m away. Each time a whaleshark passed by, we would surface to meet it. There were 3 whalesharks, the smallest which they called Fermin was about 3m long, with the next one about 5m long and the biggest about 7-8m long. Considering that whalesharks can grow to a length of 18m, these were probably still young animals. It was such a treat to be able to get so close to them. Sometimes, they would just swim past, other times they would hover stationary in a tilted, almost-vertical position while they opened their mouths wide to suck in the krill on the surface of the water. It was difficult to photograph the entire shark in such poor visibility and I eventually resorted to just taking videos. The constant ascent and descent in the shallow water made my queasiness worse and after awhile, I had to excuse myself from the group and descended to the sandy bottom to 'feed the fishes'. It was truly a memorable encounter, throwing up on your first date!
After swimming around with the whalesharks for awhile, we surfaced and had packed lunch on the boat which I hardly ate as my stomach was still churning. I had recovered sufficiently by the time of our next dive at Sumilon island. We didn't see anything particularly interesting at Sumilon Island. Perhaps the Oslob whalesharks were a hard act to follow, but there really wasn't anything spectacular about the coral reefs or marine life at this particular site in Sumilon Island. Just the usual nudibranch and regular bunch of coral fishes.
The boat ride back to the resort was a smoother affair and I was hungry when we arrived back at the resort, having barely eaten my packed lunch. I settled for banana pancake for tea, then wolfed down a chicken schnitzel for dinner later that night.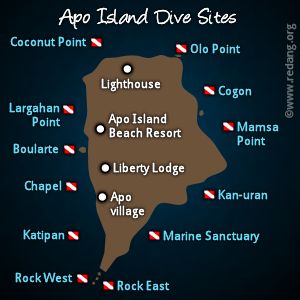 Liberty Lodge and Apo village.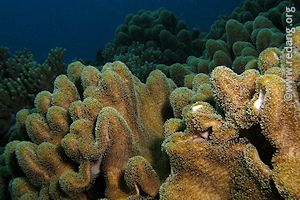 Coral gardens at Apo island.
New Year's Eve buffet spread.
Dive 6: Chapel, 31 Dec 9:55am 74min 24.4m/10.6m, 27°C
Dive 7: Rockwest, 31 Dec 12:21pm 70min 26.2m/11.6m, 27°C
Dive 8: Coconut Point 31 Dec 2:42pm 55min 26.5m/12.5m 27°C

Today, we visited Apo island, a small island just a 35-minute boatride away. Considered to be among the top ten dive sites in the Philippines, Apo boasts healthy coral reefs teeming with a diverse variety of hard and soft corals. It wasn't always like this. Dynamite and cyanide fishing had almost completely destroyed the reefs and fish stocks around Apo in the 60s and 70s. The situation reversed when a small no-fishing marine sanctuary was started by some fishermen families on the island in the early 80s. These same families managed the sanctuary and enforced the no-fishing rules. Soon, the entire community on Apo embraced the sanctuary when they saw how depleted fish stocks recovered and even set up a Marine Management Committee to manage the sanctuary. Today, Apo is a model of success for community-sustained marine sanctuary management and conservation, attracting tourists, generating jobs and additional revenue for the small island community.
As we set off for Apo, we could see rain clouds in the distance. We arrived at the village and made our first dive at Chapel where we saw firsthand some of the healthiest coral reefs in the world. It was the same situation at Rockwest and at Coconut Point. We encountered many different species of hard corals and soft corals, along with all the usual coral reef fishes, nudibranchs, green and hawksbill turtles, a banded krait seasnake and a pretty blue-striped lobster. During our surface interval on the boat after Chapel, some village women paddled up to us in their small banca boats and came on board, enticing us to purchase Apo T-shirts and beautiful silkscreen cloths with gecko and fish motifs. After diving Rockwest, our boat pulled up at the beach in front of Liberty Lodge, one of two resorts on the island. We had our packed lunch here while some of us went down to explore Apo village next to the Lodge which still had their Christmas decorations up.
Our last dive at Apo was a drift dive at Coconut Point. The currents here often attracted pelagics and larger fishes like sharks, trevallies, jacks and barracudas. Though we did see some black-tip and white-tip sharks, most of us weren't very enthusiastic, especially after yesterday's whaleshark encounter. There were large sponges, big enough to 'swallow' a diver of Joseph's size. I also saw what was perhaps the biggest giant trevally I had ever seen. Clinging on to a large rock while waiting for the others behind to catch up in the current, I saw Gabby our divemaster alerting me to something on the other side of the rock. I pulled myself over to peek behind and had a fright when this man-sized giant trevally darted out in front of me. Most giant trevallies I had seen were no more than 1m in length though these predatory fishes can grow to a maximum length of 1.7m, and this individual must have been close to that.
As today was New Year's Eve, MDBR had a special dinner buffet for P450 (about SGD13). As usual, the food was good but the highlight for most of us was the mango float, prepared by Joe Ann herself. I'm not usually into desserts (unless it's Secret Recipe's Durian cake) but I found myself having several helpings. We managed to convince Joe Ann to share with us her simple recipe, the key ingredient being the delicious Philippine mangoes. After dinner, Mike, his family and friends celebrated with fireworks on the beach.
Dive 9: Shipwreck, 1 Jan 9:22am 78min 27.7m/12.8m, 27°C
Dive 10: Masaplod Sanctuary 1 Jan 11:39am 77min 16.7m/10.9m, 27°C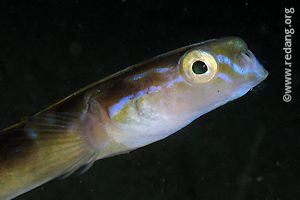 Snake blenny at Shipwreck.
We finished our last two dives today in Dauin. As we were flying off at noon tomorrow, there would be no afternoon dive for our group. At Shipwreck, which was just next to our first dive at Car Wrecks, we encountered a crocodile snake eel, leopard flounders, moray eels and a snake blenny, the first time we had seen one. It was just lying on the sandy bottom out in the open and we initially thought it was an eel or a snake. At Masaplod Sanctuary, we were greeted with expansive fields of garden eels, as far as our eye could see in the 5m visibility waters. There were also schools of snappers and catfish, a juvenile titan triggerfish, a mantis shrimp and nudibranchs. A storm was brewing when we ended our dive and the surf was quite strong when we returned from Masaplod. We could not use the gangplank so we had to jump into the water from the boat. Soon after our return, heavy rains fell throughout the afternoon. It was a good thing we had finished our dives.
In the evening, we spent some time to calculate our individual expenses as we were given a long itemized bill for our entire group. In addition to food and beverage items, the bill was further complicated by different dive fees, sanctuary fees and camera fees for Dauin, Apo and Sumilon, as shown in the table below.
Our accountant working hard on our bills...
| Location | Sanctuary fees | Camera fees | Diving Fees |
| --- | --- | --- | --- |
| Dauin | P150/dive | P50/dive | P3200/3 dives |
| Sumilon | P400/day | P200/day | P3900/2 dives |
| Apo island | P300/day | P50/day | P3500/3 dives |
Dive charges at Dauin, Sumilon and Apo. Diving fees are 2011 prices at MDBR and differ depending on resort.
Our group accountant, Ann Nee, decided to spare us the mental torture and crunched through the numbers on paper napkins, coming up with individual bills for us. Then, we went for a walk at night along the beach to check out the neighbouring resorts like Pura Vida and El Dorado, both Swiss-owned and popular with German and Swiss tourists. These were larger resorts which looked more up-market but lacked the warm, personal touch of MDBR.
Lola in her usual belly up position waiting for a tummy rub, and her two puppies.
Lunch at Cowan Asian Express.
Our final morning in Dauin allowed for a leisurely breakfast. As usual, for me, it was mango juice again together with my bacon, toast and sunny side up eggs. I will certainly miss the fresh mango juice here! We packed, settled our bills and bade farewell to Mike. He had arranged for our transport to pick us up at 11am for our 12:40pm flight to Manila. We arrived at Dumaguete airport with plenty of time to spare as we found out our flight had been delayed. We whiled away the time eating tidbits purchased from the sole shop within the small departure area and listening to a very talented visually-challenged busker singing and playing contemporary and gospel tunes on his guitar. As a musician myself, I was intrigued by his excellent, if slightly unconventional, guitar technique and was thoroughly entertained by his performance. No doubt many passengers shared the same sentiment, judging by the number who contributed to his collection box as they left to board the plane.
Sitting by the window seat, I noticed the Cebu Pacific A320 plane had to taxi to the very end of the runway, which was separated from the main road by a chainlink fence, to begin takeoff. It must be a short runway for planes to make use of the entire length. As the plane climbed into the sky after takeoff, I could see Sumilon in Cebu in the distance out my window, which was where we saw the whalesharks, the highlight of this trip for most of us.
After we arrived in Manila airport, we had lunch at Cowan Asian Express which was mediocre in comparison to the food at Mike's resort. We had many hours to kill at the airport as our connecting flights to KL and Singapore were at 8:30pm and 9pm respectively. We browsed the few shops at the airport terminal before ending up at a coffee joint which had free wifi, drank coffee and played cards until it was time for dinner at Kenny Rogers, which was better than lunch. Our flights took off on time and we arrived Singapore just after midnight.
This was supposed to be a macro trip which turned out unexpectedly to be a meeting with the gentle giants of the sea. Now that I've seen, not one, but three whalesharks in one single dive, and checked off all the items on my things-to-see dive checklist (which include mantas, hammerheads, devil rays, swirling barracudas, wall of jacks, mimic octopus, wonderpus, rhinopias, hairy frogfish, pygmy seahorses, flamboyant cuttlefish etc.), is this time to call it a day, hang up my fins and find another hobby? I guess I'll just have to make a new checklist, this time perhaps with great white sharks in it (viewed from the safety of a cage of course). Guess old divers don't hang up their fins, they find new fins to see!
Nicole, Gabby (diveguide), Ken, Anthony, Ann Nee, Joseph and me | Mike Feeney and Joe Ann | Our group with Hilary (standing, right)