Earlier in the year, I had arranged a 6D/5N sunfish safari with Tony Medcraft of Tulamben Wreck Divers (TWD) in Bali for our group of 8 divers from 24-29 September. Our Singapore group comprising Joseph, Ann Nee, Tango and myself were leaving a day ahead of schedule to take advantage of cheaper airfares by Jetstar. Originally, we had intended to fly Air Asia on the 24th morning but their fare was more than SGD100 above Jetstar's which meant it was still cheaper for us to fly this evening despite spending an additional night in Bali which cost us an extra USD20 each. The Malaysian group comprising my cousin Chee Faun, Pam, Low and Marco would fly out from KL on the 24th morning and rendezvous with us at the resort.
Our flight to Denpasar, Bali took off on schedule at 7:05pm. Onboard, we were each served a muffin and water, an unexpected surprise as we had expected nothing on this budget flight. The two and a half hour flight landed in a light drizzle. Wayan from TWD was waiting for us and before long we were on our way to Tulamben about 110km away. Though a highway ran almost half the distance, the journey was slow as there were potholes and bumpy stretches which sometimes slowed the vehicle to walking speeds. The last half of the journey was on a narrow dimly lit two-way road and passed villages with houses built right next to the edge of the road. We stopped for a midnight snack of ayam goreng (fried chicken) at a roadside warung in Amlapura which served delicious sambal with the rice and chicken, which we washed down with piping hot tea fragrantly scented with pandan leaves. This tasted a lot better than the mediocre Subway sandwich we had at Changi Airport earlier (I was told the Changi outlet was sub-standard compared to the other Subway branches in town). We finally arrived at TWD around 1am and were shown our ground-floor rooms by the night security staff.
Tulamben Wreck Divers Resort
Location of Tulamben and divesites.
TWD office and dive centre.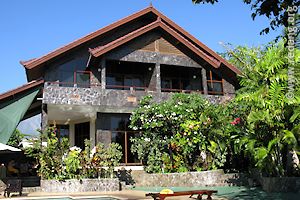 TWD bungalow rooms.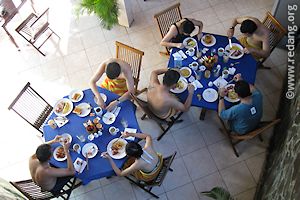 Breakfast at TWD's dining area.
I was awakened by the crowing of cockerels around 3am which continued at random intervals until daybreak which made going back to sleep almost impossible. Bali was in the same timezone as Singapore but the cockerels must have been in another. By the time the sun rose around 6am, all my dreary mind could think of was turning those cockerels into ayam goreng (fried chicken). Breakfast made me feel a lot better, with the refreshing blended mixed fruit juice a great way to start the day. TWD provided daily American breakfast as part of the package, prepared in a small pantry next to the dining area. We had a choice of cereal or fruit salad, eggs done any style we wanted (fried, scrambled, omelette), bacon, sausage, toast and coffee or tea.

Tulamben town centre.
Daylight gave us our first glimpse of the resort and Tulamben town, if it could be called a town. It's the sort of place that drivers would miss if they blinked or sneezed while driving through the only road that passed through it. TWD was a small, cozy resort with two separate locations. We were staying at their main premises in Tulamben town which housed the office, dive centre, a pool and 7 spacious rooms, 4 of which were located in a 2-storey bungalow with the rest in an adjacent single-storey block. These accommodation blocks were tucked right inside the premises around the pool area, away and hidden from the road, offering much privacy. The main road passed right in front of the office, giving us convenient access to shops, restaurants and warungs (local eateries), most of which were located within a hundred-metre stretch of road with TWD at one end of it. The beach was across the road about 100m away. The rooms on the upper floor of the bungalow provided great views of the sea on one side and the majestic 3000 metre high Gunung Agung volcano on the other. Each of the 7 rooms had a queen or king-sized double bed and a single bed, accommodating three persons comfortably. The rooms were clean and well-maintained, with an aircon, ceiling fan, attached bathroom with hot water, TV/DVD (only for watching DVD movies, no TV reception), in-room safe, fridge and tea/coffee-making facilities. Two sets of bath towels were thoughtfully provided, one for in-room use and another for pool use or for bringing on dives. Only bar soaps were provided, but shampoo was easily available in the town shops.
The office and dive-centre were fairly well-equipped and offered free use of dive gear and unlimited beach dives. We met Tony's partner in the office, another gentlemen named Wayan. The dive centre organized and ran things efficiently, employing local villagers as porters to transport dive tanks to the beach. Each time we went for a shore dive, our divemaster, you guessed it - another Wayan, would ring a bell located across the road to call the porters. It was humbling to watch some of the female porters carrying up to 2 tanks on their heads in typical Balinese style to and from the beach. Some were elderly women, and once, we even saw a young woman porter with her baby in one arm and a scuba tank on her head. Sometimes, the porters would transport the tanks by motorbikes. The dive industry seemed to be one of the major employers of local labour in Tulamben and the surrounding areas, and we would often see families comprising children and grandparents helping out with the loading and unloading of scuba gear and tanks. One thing we noticed was that these porters did not sometimes handle the BCs properly, using the BC hose to lift the load. To minimize the risk of damage, divers should remove the tank and wear their BCs back to the resort leaving the tanks for the porters.
TWD also had beachfront villas with 9 rooms and a pool about 1km down the road in quieter and lonelier surroundings. As TWD's dive centre was at our location in town, TWD provided complimentary transport between their beach villas and the dive centre. Motorbikes were also provided for guests at the villa.
Internet and mobile signals
Wayan restaurant.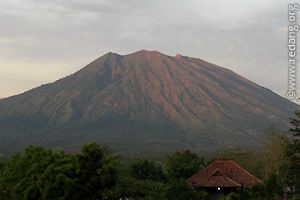 Gunung Agung volcano seen from the top floor rooms at TWD bungalow.
TWD didn't have wifi available when we were there but Wayan (there's that name again!) restaurant across the road had free wifi and internet access, so that sort of became our favourite eating place. Other restaurants like Sandya further down the road also had wifi access though I did not have the chance to test if the bandwidth was sufficient for Skype calls. Mobile roaming signals were strong but there was no Indosat signal. Visitors planning to use a prepaid card to call overseas should buy a Telkomsel Simpati in Bali or along the way to Tulamben as there were no shops selling those in Tulamben. Users should bring their mobile phones with them when purchasing the Simpati card and it is also recommended to buy as much top-up value as required at the same time. The Simpati card cost around IDR30,000 (around SGD4) which includes IDR5000 call value. Use the cheaper VoIP when calling IDD by dialing 01017+country code+area code+number.
A town of Wayans
This being my first trip to Bali, I was beginning to wonder whether Wayan was a real name, nickname or whether it meant the equivalent of 'mister', 'dude' or 'bro' since almost every guy we met seemed to be called Wayan. I learnt later that in Bali, there are only 4 sets of first names a child can have depending on the order of birth. 'Wayan' (or 'Putu' or 'Gede') is the name given to the first-born, 'Made' (or 'Kadek') the second, 'Nyoman' (or 'Komang') the third, and the fourth is 'Ketut'. The cycle repeats itself again with the fifth child, though such a naming system would probably discourage most Balinese families from having more than four children. This system is great for those who are bad at remembering names but has its problems. If I were to stand on the street in Tulamben and yell 'Wayan', I wouldn't be surprised if half the town's population answered! But then again, in local culture, maybe they don't yell each other's names in public...
USAT Liberty Wreck
Dive 1: Liberty wreck, 24 Sep 9:50am 51min 26.2m/14.3m, 29°C
Dive 2: The Wall, 24 Sep 1:06pm 57min 30.1m/15.5m 28°C
Gearing up at rocky Tulamben beach for wreck dive.
Black rocky beach at Tulamben.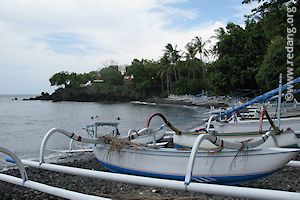 Jukung boats lining the beach at The Wall dive site.
Lunch at Sandya restaurant.
The USAT Liberty wreck is one of the most popular dive sites in this area due to its close proximity to the beach and its shallow resting place, ranging from 3-30m. Considered by some to be the best wreck dive in South East Asia, the 120m long ship rests on its side, parallel to the beach with the bottom facing the beach and the top deck facing the open ocean. The shallowest part of this wreck is just 3m below the surface of the water, while the stern is at 29m. The United States Army Transport (USAT) was crippled by a Japanese torpedo and beached here in 1942 while being towed from Lombok to Singaraja. Tremors from the last Mount Agung eruption in 1963 caused it to slip into the water, break up and tip on its side, giving rise to this famous dive site. It is said that about 400 species of reef fish make their home in the wreck, while many pelagics visit it.
We had to cross the road and walk about 150m to get to the beach for our first dive. The Balinese women porters brought our BCs and tanks on their heads, hardly showing any strain or stress. Maybe that's why the local women have such good posture since they have to keep straight backs when carrying loads on the head. Forget the book on the head method - use scuba tanks instead! More effective as we didn't see any hunchbacks in Bali! Looking at them, I'm sure many of the male divers must have felt a tad embarassed or had their egos humbled. We had to suspend any chivalrous thoughts since this was their way of making a living (and we certainly didn't want to deny them that) and more because we would have huffed and puffed or even broken our heads and backs had we tried the same thing!
Our introduction to beach diving at Tulamben was a painful one. The beach was made up of black stones which often rolled away beneath our feet, making walking on the beach a slippery and sometimes painful one, even with our dive boots on. There were benches at the entry point for us to sit and wear our gear. The surf was quite strong this morning which made walking into the water with our gear a tricky one. Most of us would have fallen and made a rolling entry into the water had it not been for our diveguide Wayan's firm hand of support. Wayan was obviously used to this and made getting in and out of the water look so easy.
After our surface interval back at the resort, we walked back to the beach, this time to the eastern end of the stony shoreline shared by the wreck. A line of local boats called jukungs were parked at the beach. Here was our beach entry point to the Wall dive site, also known as the Drop Off. Remnants of volcanic lava flows filled the scenery above and below water. The wall dropped off to about 60m, though we only ventured to about 30m depth. We saw lovely nudibranch and a pair of Clark's anemonefish aggressively protecting their eggs.
We had a late lunch at Sandya restaurant down the road. Chee Faun, Marco, Pam and Low arrived as we were walking back to the resort. Eager for their first dive, Joseph joined them back at the wreck for a sunset dive while the rest of us sat it out. Under a beautiful moonlit sky, we had dinner at the roof terrace of Wayan restaurant right across the road. Seems chicken cordon bleu was a popular menu item here, as we encountered it at both Sandya and Wayan restaurants.
Dive 3: Liberty wreck, 25 Sep 7:00am 42min 27.4m/14.9m, 28°C
Dive 4: Coral garden, 25 Sep 1:47pm 57min 23.4m/13.1m, 29°C
Dive 5: Coral garden, 25 Sep 4:44pm 50min 21.6m/12.8m 29°C
School of bumphead parrotfish at the wreck.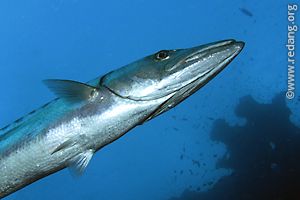 Solitary great barracuda at the wreck.
The time-challenged cockerels were at it again this morning, waking me up before the sun rose. We started off the day with a morning walk and dive at the Liberty wreck. This time we bumped into a school of about 16 bumphead parrotfish as well as a solitary 1.5m great barracuda hovering in mid-water. Great barracudas have a menacing appearance that seem to say "keep your distance or else" and we duly complied. For some reason, my strobe didn't function properly when we were at the wreck, although it behaved normally elsewhere. It was frustrating to meet all the beautiful wreck residents and not be able to take any nice photos.
For lunch, we decided to visit one of the local warungs (coffeeshop). Some in our group had a craving for Indo mee (Indonesian dry noodles) so we asked around until we found one. Warungs were the most economical places to eat out locally though we discovered that tourists and foreigners were given tourist menus which charged more, while locals paid lower prices for the same menu items.
Coral garden, also known as Paradise Reef as it was in front of Paradise Resort, was located between the USAT Liberty Wreck and the Wall. Over 150m in length, we spent the next two dives exploring this shallow dive site which was dominated mainly by acropora hard corals with patches of soft anemone corals, going down to a sandy bottom around 20m depth. Apart from the usual coral reef fishes and nudibranchs, we encountered a school of jacks, rare tiger shrimps, an octopus and robust ghostpipefish.
Returning to the resort after our last dive, it was nice to soak in the freshwater pool. It was quite a small pool with a shallow and deep end that allowed it to be used for training new open water divers. In the evening, we visited another warung for dinner, this time feasting on nasi campur (rice with meat and vegetables) which was a common dish for the locals.
Dive 6: Manta Point, 26 Sep 10:12am 59min 11.6m/7.9m, 27°C
Dive 7: Crystal Bay, 26 Sep 11:51am 38min 27.7m/14.9m, 26°C
Dive 8: Crystal Bay, 26 Sep 1:47pm 33min 34.4m/16.7m 26°C
Nusa Penida dive sites.
Padang Bai beachfront.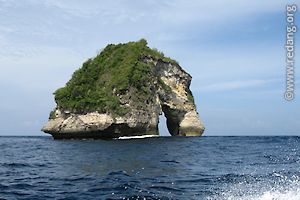 Rock arch pinnacle near Manta Point.
Graceful manta ray.
We had to wake up before 6am for an early breakfast as we were heading down to Padang Bai to catch our boat to Nusa Penida. With our feathered alarm clocks, waking up wasn't a problem. This was the sunfish safari part of our package and we hoped to be able to see mantas and mola molas (sunfish) later. We were advised to wear thicker wetsuits as the waters around Nusa Penida were much colder than Tulamben. I chose a 3mm shorty to wear over my 0.5mm wetsuit and thermal guard. We left around 6:45am for the 1.5 hour journey by road to Padang Bai, a small touristy town with many dive shops, boat charters and ferry services to Lombok. We were dropped off at Puri Rai Hotel restaurant where we waited for our speedboat for the 45 minute ride to Nusa Penida.
The original plan was to do our first dive at Crystal Bay as we would have to go deeper to try to spot the sunfish. Arriving at the edge of the drop off at Crystal Bay, we could see vortexes and visibly strong currents even on the surface of the water. Its location in the channel between Nusa Penida and Nusa Ceningan meant it often experienced unpredictable and strong currents. Our diveguides decided it was better to detour to Manta Point first and return later.
Manta Point, located along dramatic vertical limestone cliffs was famous for its strong surges and the manta rays that visit the cleaning stations here. There were already quite a number of dive boats here. Jumping in, we were struck by how cool the water was. The visibility wasn't very good, about 5m at best. As we descended, we heard excited banging on the tanks - a large manta had been spotted making a pass in the area. Being among the last in the water, I just managed to catch a glimpse of this large individual before it disappeared into the murky blue. With few corals and a sandy bottom at 12m, there was little else to do but to shiver and wait for the next rays to arrive. The water was much colder at depth, around 25°C, so we hovered in shallower water to wait. We could feel the up and down motion of the surge, though some of us who had dived here before remarked that today was calmer than usual. About half an hour later, another manta arrived and made large circling passes around the cleaning station. With so many divers in the water, we had to choose a position in its path to 'park' ourselves to get closer to it and to take pictures. It was simply amazing to encounter my first manta at close quarters, and even though this wasn't a particularly large individual, I still felt dwarfed by its almost 3m wingspan. Even though it was just this one close encounter, I felt really blessed by the experience since they are not guaranteed sightings on every dive at Manta Point. Towards the end of the dive, I got separated from the rest of the group who were heading back to the boat when I went to look for Marco, who was missing. I found him among the divers still waiting at the cleaning station. When we got back to the boat, we realized we had missed a truly amazing spectacle that the others witnessed. Just as they were about the ascend, a school of 4 mantas swam through their ranks in single file which Joseph managed to catch on video.
We returned to Crystal Bay later and found more dive boats than before. It was easy to see which dive groups had seen mola molas - they were the ones usually talking loudly and excitedly. We were told to stay close to the steep wall and stick together as there were sometimes downward currents as well as currents pulling divers out to the open sea. The water here was much clearer than at Manta Point but also colder. We didn't see any sunfish on our first try.
Ann Nee feeling the cold at Crystal Bay despite wearing two layers of wetsuit.
We had packed lunch on the boat while we waited for our second dive at Crystal Bay. The problem with diving these kinds of places, like trying to see hammerheads in Layang Layang, meant that we could end up with 'wasted' dives if we didn't encounter what we came to see. Because we were always looking out into the depths or the blue so as not to miss anything, we would miss seeing other stuff on the reef slopes as well. We went deeper on our next dive at Crystal Bay since this would also be the last dive of the day. This time the water felt noticeably colder. Glancing at my dive computer, I could see the temperature drop as we descended, hitting 22°C at my deepest point. Looking around, I could see most of us diving with folded arms. Obviously, everyone felt the chill despite the additional layers of wetsuit and hoods. Again, we came up empty, although another dive group behind us managed to see a sunfish.
We went back to Puri Rai to shower and change, before heading back to Tulamben. Along the way, we stopped for me to buy a prepaid phone card where I accidentally left my camera, still in its underwater housing, at the shop counter. When I realized it was not with me, we immediately turned around and returned to the shop, where I found it on the counter where I had left it, thanks to honest small town folk. On the way back, we discussed whether we should spend another day trying to see mola molas in Nusa Penida, since our package was flexible in that we could choose to dive in Tulamben or at Nusa Penida, and we still had two full days of diving left. Most of us didn't relish the 2 hour journey (by road and boat) to get there and shiver for a few hours in the cold waters without seeing anything. Guess by now, we were feeling a little less adventurous compared to this morning when we set out. We arrived back at TWD around 5pm and once again had our dinner at Wayan restaurant across the road before retiring early for the night.
Dive 9: Liberty wreck, 27 Sep 6:47am 47min 29.2m/15.2m, 29°C
Dive 10: Seraya, 27 Sep 10:35am 57min 25.0m/14.3m, 28°C
Dive 11: Seraya, 27 Sep 1:23pm 52min 23.7m/15.5m, 29°C
Dive 12: Coral Garden, 27 Sep 4:21pm 64min 21.3m/12.5m 29°C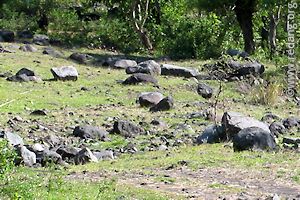 Volcanic boulders at Seraya.
Gearing up at Seraya beach.
Harlequin shrimps at Seraya.
We visited the wreck again for our first dive and I still had problems with my strobe which meant not having pictures of reef denizens within the wreck. Regardless of how I adjusted my strobe power (my camera was left on the same manual settings), I kept getting severe underexposure. The strange thing was that it worked fine in areas further away from the wreck. Agent Fox Mulder would say I was having an X-Files experience. Agent Dana Scully would probably say the metal structure of the wreck was acting like a giant magnet (since black volcanic sand can be magnetic) and that the magnetic fields somehow affected my strobe.
After breakfast, Joseph and I walked over to the field next to the resort to have a closer look at the kapok trees, which were full of cotton pods. We plucked a pod and opened it. This looked like something my pet hamster would enjoy snuggling in, instead of the expensive, sanitized, hamster cotton bedding sold in pet shops.
For our next two dives, we visited Seraya, a short car ride away and brought packed lunches with us. We went in the resort's 4-wheel drive as we had to turn off the main road into a field where a rough dirt track led to the beach. The field was littered with volcanic rock of different shapes and sizes, perhaps remnants of Mount Agung's 1963 eruption. The dive site was located next to a small village and it was interesting to see the village folk coming out to help unload our tanks and gear. We geared up under a shelter that appeared to have been constructed for divers, with raised flat benches for placing our gear (and for taking naps during surface intervals), water troughs for rinsing and even a pipe for showering. Seraya was one of the more interesting muck dive sites with crinoid shrimps, squat shrimps, scorpionfishes, frogfish, ornate ghostpipefish and nudibranchs. Without doubt, the stars of Seraya were the harlequin shrimps dressed in their pompous red and blue coats. They were feasting on a starfish when we saw them. Another popular attraction was the cleaning station, a small rocky area packed with cleaner shrimp, moray eels, catfish and groupers.
Our last dive at Coral Garden yielded encounters with many different species of nudibranchs, a peacock mantis shrimp carrying a load of bright red eggs, a giant mantis shrimp and ribbon eels. Enthused by our critter encounters today, we decided to stay on in Tulamben for our last day of diving tomorrow and explore the local dive sites instead of visiting Nusa Penida.
Dive 13: Liberty wreck, 28 Sep 6:29am 46min 30.1m/14.3m, 29°C
Dive 14: Alamanda, 28 Sep 9:35am 51min 22.5m/15.8m, 29°C
Dive 15: Alamanda, 28 Sep 12:33pm 59min 23.7m/12.2m, 29°C
Dive 16: Seraya, 28 Sep 3:59pm 53min 21.9m/15.8m 29°C
On the way to Alamanda in jukungs.
Pygmy seahorse hippocampus bargibanti at Alamanda.
It had become somewhat of a routine to begin each day with an early morning dive at the USAT Liberty wreck followed by a nice breakfast back at the resort. We often went deep at the start in the hope of seeing Mola Mola which were sometimes spotted in the waters beyond the wreck when the waters were still cold.
Our next two dives were at Alamanda 1 and Alamanda 2. To get there, we had to board narrow motorized jukung boats, which looked like a deep canoe with outriggers. Each boat could take up to 3 divers. When we reached Alamanda, we had to jump into the water while our BCs were lowered to us from the boat and we had to gear up in the water. These dive sites were named after the Alamanda flower and featured wall dives with gentle currents. We saw hard corals and gorgonion fans on the walls which sloped down to a white sandy bottom around 25-30m deep. We found pygmy seahorses amongst the fans, boxer crabs waving their pom-pom adorned claws, fire gobies, a hairy squat lobster, jawfish, bumphead parrotfish and large barrel sponges which could easily 'swallow' a diver.
When Wayan our diveguide asked where we wanted to do our final dive, we unaminously said Seraya, which was probably the best muck dive site at Tulamben. We had encountered so many different critters there previously, and we couldn't resist seeing the beautiful harlequin shrimps and stopping by the cleaning station again. No sooner had we entered the water when we met this octopus which looked like it was sitting upright exposed on the seabed. It didn't seem to mind our presence and happily allowed us to take pictures. We also saw ornate ghostpipefish and garden eels. At the cleaning station we witnessed a spotted moray getting a thorough cleanup while a school of striped catfish took shelter nearby, sharing a crevice with spotted groupers and banded coral shrimps.
Buffet dinner at TWD beachfront villas.
This last evening at Tulamben, we signed up for the buffet dinner held at TWD's beachfront villa, located about 1.2km down the road from where we were staying. We hopped onto their van for the short ride to the villa by the beach. From the turnoff at the main road, we had to travel a dark unlit road about 350m before we arrived at the villa, so it certainly did not have the same convenient access to shops and amenities compared to where we were staying though it was certainly quieter and the beach felt more exclusive. Tony's home was in the villa grounds and warmly welcomed us when we arrived. The buffet cost us IDR75000 per person (just over SGD10) excluding drinks.
Green fields on the way from Tulamben to Denpasar.
It was good to be able to sleep in later than usual on our final morning in Bali. I must have gotten used to those time-challenged cockerels as they didn't wake me up anymore in the middle of the night. We enjoyed a leisurely breakfast, one that we would miss especially the blended fresh mixed fruit juice.
After breakfast, we bade farewell to the staff and to Pam and Low who would leave later to catch an evening flight back to KL. The six of us had a comfortable ride to Denpasar, leaving TWD around 9:15am and arriving just before noon. Along the way, we passed scenic villages and lovely landscapes of rolling hills, green paddy fields and the sea, scenes we had missed as we arrived in the night. We opted for a last taste of local Balinese food for lunch at the airport before catching our respective flights, our Singapore group departing on the 2.15pm Jetstar flight to Singapore, and Chee Faun and Marco on the Airasia flight to KL which departed just 10 minutes later.
Diving in Bali, and particularly at Tulamben, had surpassed our expectations in terms of the variety of sites, convenient access and interesting marine life. For macro lovers like me, it was certainly a place worth returning to, like Anilao and Lembeh. I was satisfied to have encountered my first manta rays at Nusa Penida. Now all that remains on my dive checklist of things to see is a whaleshark. TWD Resort was a place worth revisiting, thumbs up to Tony and his staff which helped make our stay there a pleasant, comfortable and enjoyable one.

Marco, Chee Faun, Low & Pam, Joseph, me, Ann Nee and Tango | Our diveguides Wayan and porter | Our group with manager Wayan (front, stooping)