Tioman and popular divesites.
On my first trip to Tioman in 1997, I had taken a high speed ferry from Tanah Merah ferry terminal in Singapore direct to Tioman. Since then, direct ferry services had been discontinued and we now had to take a coach from Singapore to Mersing to board a ferry to Tioman. The only other alternative would have been to fly there on Berjaya Air which would have cost about SGD270 return. I had arranged for our group to stay at Berjaya Tioman near Tekek village. Michael, whom Tango, Jules and I met at Berjaya Redang last year, had since transferred to Berjaya Tioman while Khairil, Tango's open water instructor at Wisana Redang, was now at Berjaya Tioman dive centre. It was good to be able to see familiar faces at Tioman.
Just days before the trip, the Malaysian authorities announced the closure of some snorkelling and dive sites at various islands around the country, including Redang and Tioman. This was to protect the coral reefs from further destruction as they had already suffered widespread bleaching due to warm ocean temperatures. I had read reports that reefs from the Maldives to the Great Barrier Reef had experienced some of their worst bleaching since 1998. This being my first dive trip of the year, I was concerned and eager to see for myself how bad things really were.
Joseph had booked Ann Nee, Tango and myself on the 44-seater Five Stars coach for Mersing. At SGD45 for a return ticket, the coach was less comfortable than the normal VIP coaches we took to KT. Our 6:30am coach left Golden Mile late with almost a full load. By the time we cleared Johor Bahru immigration, it was well past 8am. A local Malaysian tour guide joined our coach to Mersing and informed the passengers that we would skip the usual rest stop at Kota Tinggi and proceed directly to Mersing and Tanjung Gemuk, the two main jetties used by boats heading for Tioman. He also explained that Tanjung Gemuk, being a deep water jetty, was unaffected by low tides which often disrupted boat schedules at Mersing. The two and a half hour ride to Mersing was smooth up to Kota Tinggi after which the winding trunk road to Mersing made it a more nauseating affair.
Mersing and Bluewater ferry
Mersing jetty.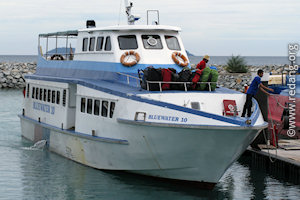 Bluewater ferry at Tekek.
When we stepped off the coach at Mersing, we were met by enthusiastic Bluewater ferry agents who led us to their ticket counter where we purchased our return tickets for RM70 and also paid the RM5 marine park fee which was compulsory for all visitors. Currently Blue Water Express is the only ferry service operating out of Mersing, as other boat services were stopped following a tragedy a few years back. We had to sign a passenger list at the jetty. This was probably used by the authorities to monitor the number of passengers on the ferry to ensure there was no overloading, a frequent problem in the past. With the next ferry scheduled to leave at 11:30am, we headed to a local coffeeshop nearby for breakfast. We should have taken our time. Like the tour guide had warned, the ferry finally arrived about an hour late. We had just experienced the infamous low-tide delay at Mersing!
The ferry crew boarded the passengers in groups, according to their destinations at Tioman. Unlike Redang, ferries to Tioman stopped at a few jetties at different villages, including Genting, Paya, Tekek and Salang. This manner of boarding allowed passenger baggage to be grouped by destination for more efficient unloading. This also meant visitors at Tioman could use these ferries to hop from one village to another for about RM10-15, more affordable than chartering private speedboats. The Bluewater ferry was full with all available seats in the air-con compartment taken. No one was allowed at the open air upper deck. Apparently, we heard that someone once fell overboard from the upper deck so it was now closed to prevent a similar recurrence. With Blue Water Express monopolizing the Mersing-Tioman route currently, there was little incentive to upgrade the boat's interior which looked quite run down with torn seats and missing armrests. The journey to Tioman took about one and a half hours and we arrived shortly after 2pm at the marina jetty at Tekek. The marina jetty was being used for now until the new jetty at Tekek, located opposite the airport, was completed.
Berjaya Tioman Island Resort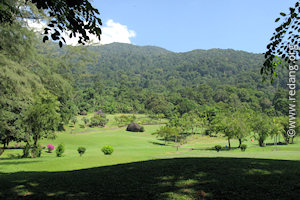 Berjaya Tioman's golf course.
As we disembarked at Tekek's marina jetty, we noticed juvenile staghorn corals growing on the sides of the jetty which was encouraging as the jetty and marina were upgraded only a few years ago. The Berjaya shuttle, which looked like an overgrown golf buggy, was waiting outside the jetty and brought us along a narrow hillside road to Berjaya Tioman in a jiffy. As we entered the entrance to Berjaya, we were greeted with a postcard view of the picturesque green hues of the well-manicured 18-hole golf course, the resort's outdoor fitness area, tennis courts and its sprawling grounds. With 268 rooms and suites in a variety of Malaysian-styled wooden chalets on a 200-acre plot of land, it was big enough that Berjaya even had bicycles for rent for guests to use within the resort grounds.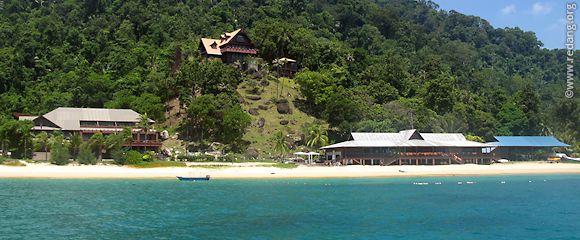 Berjaya Tioman with Shahzan villa perched on the hill overlooking the recreation and dive centre.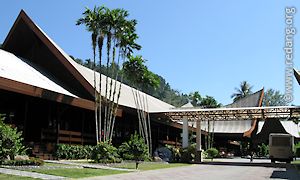 Reception and junior suites block.
Berjaya Tioman's junior suite.
Berjaya Tioman's dive centre.
The shuttle dropped us off at the reception block, which also housed the souvenir shop and internet access terminals. Michael met us at the reception and brought us for lunch at the Sri Nelayan coffee house and restaurant overlooking the main swimming pool and beach. This restaurant was one of four in the resort and offered a choice of buffet or ala-carte meals. We ordered off the ala-carte menu which offered western, asian and local fare and found the food to be satisfactory.
After lunch, we checked into our junior suites located near the reception. There was a small pool conveniently located in front of the suites for guests staying there as the larger main pool was located further away. The generous room layout and elegant furnishings were similar to what we had seen at Berjaya Redang last year and offered a high level of creature comfort befitting the premier resort in Tioman: 32-inch LCD TV with cable channels, in-room fridge, a walk-in wardrobe, a spacious bathroom with separate shower and bath areas with quality Grohe fittings, and one of the most comfortable beds I've slept on in a resort. I usually have trouble sleeping the first night away from home as I adapt slowly to a different matress and pillows but here, I enjoyed two nights of peaceful, uninterrupted slumber.
The dive centre, located in the sea-sports recreation centre, was a leisurely 10 minute walk away from our rooms and located just opposite Berjaya's imposing Shahzan Villa. This huge bungalow, perched on a hillslope, was the first thing that caught the eye of ferry passengers as they approached Tekek. The height of luxury accommodation on Tioman, this villa, which is open for rental to guests, counts the owner of Berjaya, members of the royal family and other VIPs among its distinguished guests. Apparently, it even has its own vernacular railcar to bring visitors up the hill.
With such expansive grounds, guests who preferred not to walk could hitch rides on Berjaya shuttles that plied the resort grounds regularly. As we had our dive gear, we caught a shuttle to the dive centre. While the shuttles operated within the resort grounds, occasionally there would be shuttles heading for Tekek jetty to send off or pick up guests. Other guests walking to Tekek village or returning from there could hitch a ride on these shuttles if space permitted.
Pulau Renggis
Bleached hard coral at Renggis.
Anemonefish in bleached anemone coral.
Dive 1: 24Jul 4:55pm 56min 11.9m / 9.7m, 28°C
At the dive centre, we were introduced to Nazri and his friendly dive crew. Khairil was out and would only be back later, so Francis led our group's first dive at Renggis island, a 5-minute boat ride from the dive centre. One thing that impressed us was the quality of the dive briefings here which were well presented and clearly articulated with good detailed instructions. Renggis island was among the sites recently closed to snorkellers and divers to protect the bleached corals. Actually, only a portion of Renggis had been cordoned off by buoys. Despite this, we still saw some snorkellers inside that area during our stay. Lack of local enforcement, as always, seemed to be the weakest link in the fight to protect our coral reefs.
During our dive, I noticed plenty of urchins which seemed to characterize Tioman's underwater seascape. I was also taken aback to see so many patches of bleached coral. The severity of this year's coral bleaching event was beyond what I had expected. No coral species was spared - there were white staghorn corals, lettuce corals, brain and ridge corals and even white soft coral anemones. It was strange to see brightly coloured clownfishes hiding in white anemone. If the bleaching persisted, the greatest loss would be the slow-growing corals like the brain and ridge corals which took tens or hundreds of years to grow. While affected parts of the reef can be supplanted by new corals, often these comprise the fast-growing species like staghorns, thus changing the diversity of the underwater landscape.
Authentic northern Indian dinner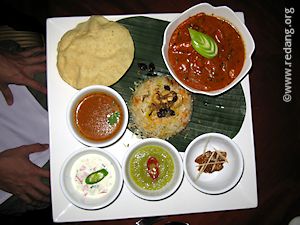 Indian cuisine at Coriander Seed restaurant.
We joined Michael for dinner at the Coriander Seeds restaurant, one of four restaurants at the resort. Coriander Seeds featured authentic northern Indian and Thai cuisine prepared by chefs brought in from India and Thailand.
For me, it was not important where the chefs came from. After all, when it comes to food, the test is always in the taste. In this area, Coriander Seeds did not disappoint. We went for the northern Indian dishes and came away impressed with the high quality of the food. Definitely highly recommended!
TAT Turtle Sanctuary
We ended our first day in Tioman with an after-dinner visit to the TAT turtle sanctuary located at Teluk Sri Intan, between Berjaya Tioman and Kampung Paya. The HRH Sultan of Pahang, Sultan Ahmad Shah Ibni Almarhum Sultan Abu Bakar, set up the sanctuary which was officially opened in May 2009, to oversee the protection and conservation of marine turtles at Tioman. The HRH graciously agreed to name the watch group TAT Turtle Sanctuary after his youngest son Tengku Arif Temenggong (TAT).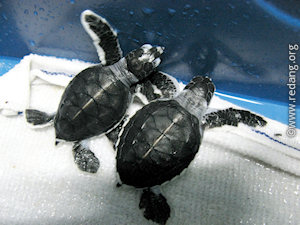 Green turtle hatchlings at TAT Turtle Sanctuary.
A batch of green turtle eggs at the sanctuary had hatched earlier and we were invited to watch them being released back into the sea. Michael drove us on what appeared to be a dirt track, illuminated only by the headlights from the vehicle. When we approached the sanctuary, he turned off the vehicle lights so as not to disturb any nesting turtles. A lone wooden building occupied by the caretaker and a fenced-off hatchery next to it were the only visible structures on an otherwise deserted beach. Each batch of freshly laid eggs were collected from the original nesting site, transferred to the protected hatchery and re-buried in the sand. A chicken-wire fence was then erected around it (to prevent hatchlings from wandering out) and details marked on a post.
The batch of baby green turtles were already in a tub. The caretaker removed the weaker hatchlings and put them aside. Hopefully they would be strong enough for release the next evening or so. We brought the tub to the beach, illuminated only by the moonlit and starlit evening sky. Turtle hatchlings naturally emerge from the nest at night and return to the sea in order to avoid natural day-time predators. They also instinctively head towards points of light. Scientists believe that the reflection of the stars and moon in the sea guide the hatchlings in the right direction. That is why turtles usually choose the darkest part of the beach to nest, away from artificial lighting. This is also the reason why human observers are asked not to use torchlights or camera flash. We took the baby turtles out and placed them gently on the beach. Instinctively, each one headed off towards the water. As they disappeared into the water, I felt a sense of relief that thanks to the efforts of TAT Turtle Sanctuary and others like it, at least all these young turtles made it into the water without being eaten by predatory animals or consumed by humans as eggs. While the chances of surviving the perilous journey to adulthood is slim, with only about one in every ten thousand hatchlings surviving to return to nest, it was worthwhile to be able to give them that extra helping hand. The rest is up to nature.
Morning at the bridge.
Clownfish.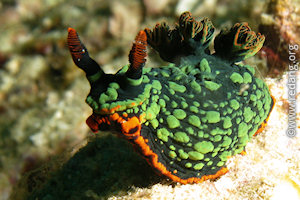 Nudibranch Nembrotha Kubaryarna.
With the resort located on the western side of Tioman, there was no need to get up early to witness the sunrise. We just had to be at the dive centre at 8:30am for our morning dives. Walking from our rooms to Sri Nelayan restaurant for breakfast, we had to cross a bridge across a small river. We could see mangrove jacks and other juvenile fishes in the brackish water. We also spotted water monitor lizards basking on the banks in the morning sun which slipped quietly into the water when we approached. The buffet breakfast spread at Sri Nelayan had something for everyone, from western style breakfast to local breakfast choices like porridge and nasi lemak.
Labas Island and Malang Rocks
Dive 2: 25Jul 9:59am 57min 15.8m/11.6m, 28°C
Dive 3: 25Jul 12:09pm 59min 14.0m/10.6m 28°C
For our morning dives, we visited Labas island and Malang Rocks. Unlike Redang where dive sites are just a short boat ride away, dive sites in Tioman are located much further out. As a result, we would do both dives before coming back to the resort and would have packed lunch on the boat during our surface interval stop. After an excellent and detailed dive briefing, we boarded the dive boat from the beach and headed out to Labas island, about 40 min away. Labas island is a small rocky island which shares the same underwater plateau as Sepoi island opposite it. The channel separating the two islands hosts the well-known dive site known as Tiger Reef. With strong currents at Tiger Reef, we would be diving at Labas island itself which was famous for its many caves, crevices and swim-through tunnels, a bit like Tunnel Point at Redang. Coral bleaching was also evident at Labas though not as extensive as those around Renggis. Visibility was about 5-8 metres at best with a lot of particles in the water.
We headed over to Malang Rocks for our surface interval stop. Packed lunch on the boat was supplied by the resort and consisted of simple fare like muffins, bananas and chicken wings. Malang Rocks consisted of a cluster of huge rocks, their tops visible above the surface with their submerged rocky walls home to many hard and soft coral species including fans. The wall dives here were more interesting compared to Labas with many opportunities to spot nudibranchs. As with our earlier dive, visibility wasn't very good. Also, fish life wasn't as abundant compared to dive sites at Redang.
Arriving back at the resort, we decided to skip the afternoon dive as they were going back to Renggis which we had already visited. We took the opportunity instead to explore the resort on foot and ventured outside the main gates to snack at one of the few coffee shops nearby. Prices were more expensive compared to the mainland as everything had to be brought in by boat. A pet macaque monkey chained to a post nearby was obviously delighted to have human company and provided us some entertainment on this quiet and lonely afternoon.
Night dive at Renggis and a spectacle of frigates
Octopus seen on night dive at Renggis (photo ©Joseph B.C. Lee).
Berjaya jetty and Renggis island in the background.
Dive 4: 25Jul 7:59pm 65min 12.8m/10.0m 28°C
Our last dive of this short trip would be a night dive at Renggis island. Khairil gave one of the best night-dive briefings I had heard and I even learnt a few new tips. As our boat neared Renggis island, we could see the silhouttes of thousands of frigate birds circling the top of the island dimly contrasted against the twilight sky. This must surely rank as one of Tioman's best natural attractions, a spectacle that happens every evening at sundown. Though not on the same scale, it reminded me of the 1.5 million Mexican free-tailed bats emerging each sunset from Congress Avenue bridge, Austin, Texas which blew me away the first time I saw it.
The night dive was uneventful with numerous urchins all over preventing us from going too close to the reef or sandy bottom. The only highlight came at the end of the dive when we met an octopus. After reading so much about octopus Paul which predicted the World Cup 2010 match outcomes, this must have been Paul's distant indecisive dim cousin. I first spotted it hidden amongst the branches of a small lone crop of staghorn coral surrounded by sandy bottom. After getting Khairil and the other divers attention, we surrounded it. Caught in the glare of our flashlights, it tried to move deeper into the coral branches. Realizing it could not go any further, it crawled right out of the coral into mid-water, squirted a cloud of black ink and accelerated away. We thought we had seen the end of it when surprisingly, after just half a metre or so, it changed its mind, reversed direction and clambered back down into the staghorn's branches. That was our cue to bid it farewell.
Barely a few minutes after we returned to the dive centre, the weather suddenly changed for the worse. Storm clouds had quickly rolled in and flashes of lighting lit up the sky, accompanied by strong gusts of wind. We could see white caps on the surface of the water which had become noticeably rougher and the dive boat which was moored to the jetty was being pummelled by the waves. If we had surfaced just 5 minutes later, we would have been caught in stormy waters. We heard later that the waves were so strong that the dive boat broke loose from its moorings and Khairil had to go out to rescue it. We ended the day with a late dinner at Sri Nelayan.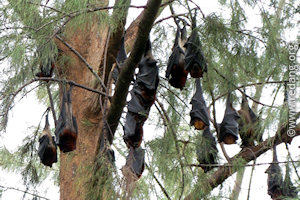 Flying foxes outside the ferry terminal.
Tekek jetty.
Quek's ferry at Tekek.
After a leisurely breakfast, we checked out to catch our 12:30pm ferry back to Mersing. Michael kindly offered to give us a ride and along the way, stopped for drinks at Tekek village. Arriving at the jetty, we had to sign in a passenger guestbook as we did at Mersing. We noticed a few trees just outside the jetty that were covered with flying foxes all hanging upside down, which was quite a sight. Good thing they weren't on trees in the carpark lot as they would have given parked vehicles below new paintjobs! This did make me wonder how they actually answered nature's call when hanging upside down - I found out later that they hung by their thumbs and not their feet while defecating and that they also defecate while flying so people are just as likely to be targets as vehicles.
As with our trip from Mersing to Tioman, the Bluewater ferry was late again. While waiting, we noticed a sleek boat from Quek's ferry services at Tg. Gemuk arriving at the jetty to drop off passengers. It certainly looked newer and more impressive than the Blue Water ferries. Our 12:30pm ferry finally showed up around 2:30pm which didn't give us much time to spare to catch our 4:30pm Five Stars coach at Mersing. Just outside Mersing, the boat slowed to a drift. We could see the tops of sand banks exposed by the low tide near the rivermouth. We called Five Stars to say we would be late and they assured us they would wait - in fact, their coach was still at Tanjung Gemuk and would be an hour late anyway. By the time we finally left Mersing, it was 5:30pm. With just a brief toilet stop at Kota Tinggi, we crossed over to Singapore around 8pm.
It had been a short trip but an eventful one, with the visit to TAT Turtle Sanctuary being the highlight of the trip for me as it was my first time releasing turtle hatchlings back to the sea. Blue Water ferry at Mersing was a huge disappointment as far as schedules went and our group agreed that we would try Quek's ferry out of Tanjung Gemuk the next time we visited Tioman. Berjaya Tioman certainly lived up to its reputation as the premier resort on Tioman, offering good service and comfortable accommodation amidst scenic surroundings.
Finally, there's the inevitable comparison with Redang. While Redang offered more variety of dive sites, all of which were easily accessible and more abundant in fish life, it lacked the terrestrial richness and diversity of Tioman. At about 39km long and 12km wide, Tioman was larger and still retained a certain charm from its 'Bali Hai' days in the original South Pacific movie. Perhaps it is because of her quaint little seaside villages and scenic mountains, the tallest being Mount Kajang at just over a thousand metres high. Or perhaps it is because of her inland rainforest, numerous trekking trails, waterfalls and rivers that offered terrestrial explorers opportunities to encounter a much greater diversity of flora and fauna, including rich birdlife. This mix of terrestrial and underwater attractions were enough to warrant future return visits to Tioman, as long as the reefs remained alive. The extent of this year's coral bleaching, which affected many coral reefs around the world, was a grim reminder of their fragility and an urgent call to action for ourselves and for the global community to take concrete steps to address global warming.

Dinner at Coriander Seeds with Michael | Tango, Joseph and Ann Nee with Khairil | Tekek coffeeshop with Michael