Beach hats at Merang souvenir stall.
Private boat charters at Merang.
We had just returned from a 25-day self-drive tour of the US barely 3 weeks ago, when Sarah suggested we visit Redang before the NUS (National University of Singapore) term started for both her and her brother Timothy. Having spent almost 2 months planning our US trip earlier, I left it to Sarah to arrange this family trip to Redang. It was a change for me to take the back seat and let someone else arrange our family vacations. The trip to Redang sounded like a good idea since we didn't include a beach holiday in the US, spending time instead at the national parks at Yosemite, Zion, Grand Canyon and Death Valley, and visiting friends and attractions in the Bay area, LA, San Diego, Vegas and Mammoth Lakes. Furthermore, it had been 2 years since my last visit to Redang and this website was sorely in need of updates.
Our overnight Konsortium VIP coach arrived at Merang jetty around 8am. Merang jetty was a colourful hive of activity, with various souvenir stalls decked out with colourful apparel, trinkets and other items, and many visitors waiting at the various resort check-in areas for their ferries. While waiting for ours, we had a nasi lemak breakfast at Laguna's waiting area. I also took the opportunity to specifically look out for carpark operators and private boat charters and found quite a few operating out of Merang. I spoke to Roslan and Azahari at RNR Budget Holiday and discovered that they were quite active on the Forum page, answering many questions posted by visitors. Like many other private boat charter and tour operators in Merang, their services include private boat charters to Redang, sale of ferry tickets, land transfers, tours and pickups and also booking of Redang resort packages.
We arrived at Redang around 10:30am, attended Laguna's briefing and had our welcome drinks in the lobby area. It was good to see that some things remained unchanged like the thirst-quenching sour plum welcome drink which was truly welcome in the heat of the morning sun. We checked into forest-view rooms at the back of the resort close to Redang Beach next door which was nice for nature lovers as we often got to see squirrels and macaques from our balcony.
This being our 11th family trip to Redang, we had learnt to relax and take things easy especially on the first day. Earlier trips had often been accompanied by a higher level of enthusiasm, often jumping into the water not long after arrival and joining the afternoon snorkelling session. Perhaps we had become too accustomed to Redang, like meeting an old friend we know too well, in whom there are no surprises but in whose warm and familiar company we can be comfortable, relaxed and totally at ease. Soaking in the vivid colours of beautiful Pasir Panjang, the whiff of the salty ocean air, and familiar faces at Laguna, where we have stayed on every visit since 2003, it felt like returning to a second home. And that was how we spent our first day, doing little except to relax, play pool, eat and sleep, just the way a tropical island holiday was meant to be!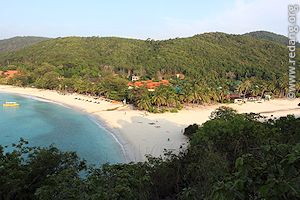 View of Pasir Panjang beach from Tanjung Tengah.
Angry tern swooping down to attack me.
The new road behind the resorts at Pasir Panjang.
The end of the new road emerging at Redang Holiday Resort.
I woke up early this morning to climb Tanjung Tengah while Timothy went for a run on the beach. Not that I was an exercise freak, nor was I a morning person. It was just a simple way of literally getting a bird's eye view of changes along both north and south Pasir Panjang beach before the sun got too hot, as part of my information gathering exercise for this website. The blue rope that was placed on the route to assist visitors to climb up the hill had become very frayed, so the climb without it was a little more challenging than usual, especially with the path being covered by vegetation made slippery by the morning dew, and shrubs, twines and sometimes thorns along the path. I was covered in perspiration when I got to the top with the morning sun beating down on me but the view was worth it. Standing on the north face of the hill, as I was taking pictures of north Pasir Panjang beach, I noticed birds flying very close to me and noisily. Looking up from my camera, I realized they were white terns and were trying to chase me away. A few of them took turns to swoop in very quickly from the sea toward the spot I was standing on, veering off just metres from my head before circling around to make another pass. Although I didn't see any nesting sites or chicks nearby, they were probably close by to induce such protective behaviour. After taking some pictures of the terns, I withdrew to the south face and they left me alone.
In the evening, we hiked along the new paved road from Teluk Bakau to Redang Holiday. The road had been built to allow resorts to ferry visitors and goods from the jetty at Teluk Bakau to the back of each resort, without having to cross the beach. We started from Teluk Bakau, where a sign listed the distance to each of the resorts, with Sari Pacifica the furthest at 1.5km away. The route led us behind Laguna's staff quarters, then past the back of each resort before ending at Redang Holiday and Sari Pacifica. Along the way, we encountered monitor lizards and a troop of macaque monkeys. We visited Sari Pacifica, which had already opened for business but didn't look busy or well occupied. We could hardly find any staff to talk to and the sole, disinterested-looking person at the reception seemed reluctant to entertain our questions. Certainly not a good first impression of what was supposed to be a premier resort. We walked around by ourselves, took some pictures and left, heading back towards Laguna by the beach, and stopping at each of the other resorts to look around. There were few noticeable changes, other than Coral Redang's renovation of its chalets.
What we did observe this year compared to our last trip to Redang two years ago was the large number of visitors from a certain foreign country who brought with them social habits and behaviours that made them stand out from others. They would hang their laundry out to dry from balconies and sometimes even in front of their rooms along common corridors, using laundry ropes tied between pillars which made for quite a sight. A few would spit on the floor in snorkelling boats (where many people were barefoot) while some would cut queues at the buffet tables and smoke in non-smoking areas (and continued to do so even when told they were smoking in non-smoking areas). The worst part was to see some of them standing or stepping on corals and ignore the whistles and warnings from boatmen and snorkelling guides to get off. Though most did not behave this way, given their large numbers, there were enough of them demonstrating such inconsiderate behaviour and disregard for the social and marine environment that it noticeably affected the mood of this particular visit to Redang.
Baby black tip reef sharks in the shallow waters in front of Redang Kalong Resort.
Redang Kalong Resort.
This morning, I walked over to Teluk Kalong to see what had changed along that stretch of beach. Along the way, I stopped to take a look at the dilapidated buildings of the former Redang Bahtera resort, its pink and yellow painted walls now peeling and its grounds overgrown with vegetation. It was operational for just a short while before closing, something that didn't surprise me given its poor location without a beachfront. Arriving at the beach at Teluk Kalong, it was refreshing to walk along such a quiet beach with hardly a soul in sight. Again, I passed the remnants of another resort, Redang Inn, that had closed down a few years earlier. Arriving at Redang Kalong resort, I noticed some people standing on the jetty throwing bread into the water. Moving closer to see what they were feeding, I was surprised to see about 8 baby black tip reef sharks swimming in the shallow waters. While there were also baby sharks at Shark Bay in Tanjung Tengah, they were more abundant here and easier to see in the clearer waters, and all without getting wet too!
In the afternoon, we followed the boat snorkelling trip to Pulau Kerengga which was disappointing as many of the corals there were either dead or dying and there wasn't a large diversity of marine life to see, just the usual sergeant majors, wrasses and other damsels that usually hang around snorkellers. Returning to Pasir Panjang, we went out to Shark Bay and spotted a few baby sharks. While corals in shallow waters here were no better than at Kerengga, at least the corals in deeper waters were in better condition, though they were mainly fast growing acropora species. Gone was the rich diversity of coral and marine life which we saw here just over a decade ago.
As we departed from Redang this morning, I decided to sit at the open-air deck at the back of the boat instead of in the air-conditioned cabin so I could get a closer look at the new Amannagappa Resort, formerly known as Wisana Resort, at Teluk Kalong. They had renovated and upgraded the old buildings and it now looked better externally.

Amannagappa resort.
Looking at the resorts at Teluk Kalong - Redang Kalong, Amannagappa and Mutiara - each on its own stretch of beach, I was glad that at least commercialization here had not kept pace with Pasir Panjang, whose housereefs had suffered as a result of the sheer numbers of visitors there. Seeing the baby black tip sharks at Kalong gave me hope that perhaps the coral reefs at Teluk Kalong were in better shape, and I hoped to be able to explore them in a future visit. Hopefully, the Redang of old that we once knew and loved over a decade ago was still preserved in the quaint little resorts and waters along Kalong.

Walking along the new road behind the Pasir Panjang resorts | The family at Redang 2011 | Talking with Peter Cheng, GM of Laguna.