I had never visited Dayang or its sister island Aur though I had heard of Aur's rich historical past and its popularity with divers from Johor and Singapore. Aur had played host to 16-17th century Chinese sailors and over the years, to many fisherman, traders, slaves and pirates. The island was most recently in the news again in April 1999 when an Australian Air Force F-111 bomber crashed in her thick jungle interior during a Five Power Defense night training exercise.
I had only managed 3 dives in Redang since getting my open water scuba diver certification in Pemanggil just over a year ago so I was eagerly looking forward to this dive trip over the long Vesak Day weekend, especially since the advanced diver certification required us to just eat, sleep and perform 7 dives over 3 days. And that included night dives and a deep dive too!
We departed from Tanjung Leman jetty just after midnight on a bigger and faster boat compared to last year's fishing boat. This dive boat was a lot more comfortable with a spacious cabin for those who preferred to sleep in air-conditioned comfort. For me, it was more fun to just sleep on the roof of the boat, feeling the rush of salty air and admiring the constellations in the night sky.

Dayang Blues resort and beachfront.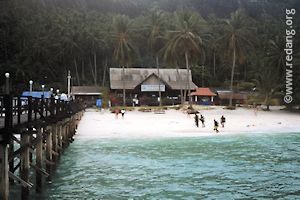 Dayang Blues Resort.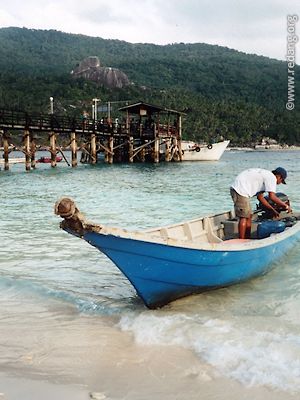 Dayang jetty.
Arrived at Kampung Pasir Putih ('White Sand Village') jetty around 4 am in the morning and checked into the Dayang Blues Resort, where we continued our slumber to prepare for a busy day ahead. We were up at daybreak for breakfast, and I was surprised to see how close we were to Pulau Aur just across the channel. Dayang is a picturesque little island surrounded by clear turquoise waters.
Our first morning dive was a shallow dive at Kador where we went through the basic open water skills. After lunch, we practised advanced navigation at Pulau Lang. This place should be called 'sea-cucumber' city rather than 'Eagle island' (that's what Pulau Lang means) as it had many different species of large sea-cucumbers in this area. During the dive, a titan triggerfish attacked one of the divers in our advanced group, nipping him on the left thumb. I witnessed the attack but it was too fast to do anything. I had encountered many similar triggers in Redang but had never seen one attack. The diver was lucky to escape with just a bleeding thumb. We discovered later that this trigger had also attacked other groups of divers, so it must have been guarding its nest.
After an early dinner, we went for our first night dive at Crocodile Rock. It was a bright moonlit night, a perfect introduction to night diving! Still, judging from the fact that most of us were all bunched up closely together, a number of us probably felt a little fearful and nervous about diving in the dark. Any fear I had was quickly dispelled when we started descending. I was too preoccupied with figuring out how to manage my equipment, operate my camera and two torch lights with just 2 hands (I was holding one while my own personal torchlight was attached to my camera in case the camera slipped out of my hand).
As I settled down, I was captivated by the richer colours of reef organisms in the light of our underwater torches, quite different from their appearance in the day. I was also fascinated that we could make out people, shapes and objects underwater when we turned off our torch lights. It was actually brighter than usual due to the full moon which illuminated the reefs in a sort of surreal, monochromatic way. Waving our hands in the water, we could see the bioluminescence of plankton and other microscopic organisms which was simply magical to look at! We encountered deep red sea stars, large hermit crabs, and a variety of crustaceans. I was just concentrating on trying to take photographs of the various sleeping fish and other nocturnal creatures and as usual ended up near the rear of the group when I heard a muffled cry near me. Turned out that one of the divers had suffered a leg cramp, and I went to assist him with some leg stretches. As we waited for him to recover, away from the other divers, it felt really tranquil, peaceful and quiet, the stillness broken only by our bubbles. The reef was a lot quieter at night than in the daytime.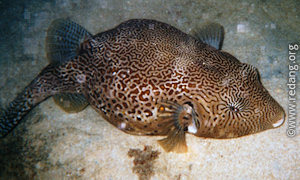 Map pufferfish.
Sleeping parrotfish.
This morning, we did our deep dive near Pulau Lang. The sea was choppy and there was a gentle drift current. While descending, we lost one of our divers. While our instructor went to look for him, the rest of us clung on to the sides of a rocky wall around 10 metres down to prevent drifting off in the current, looking more like spidermen in scuba gear. When Dennis returned with the other diver, we descended slowly to 39.3 metres (around 130 feet) then ascended - a 'bounce dive'. The scenery was noticeably different as most of the reef life disappeared below 30 metres, with mainly rocks and whip coral dotting the seascape. It was also darker and cooler.
The afternoon dive brought us to Teluk Jawa for navigation training. Some of us wanted to do a beach dive upon returning but the rains came down hard in the early evening and currents in the channel separating Dayang and Aur became stronger. As the rains subsided, we were treated to a beautiful rainbow over Aur.
With such cool weather, we weren't exactly looking forward to our second night dive, this time at Kador. However, the marine life we encountered more than made up for the chilly dive. We saw a number of puffers, lobsters, lionfish and other crustaceans. We also saw parrotfishes sleeping under crevices within the protection of their cocoons. It was really cold when we surfaced, and I was shivering in my 0.5mm wetsuit the whole journey back on the boat, perfect conditions for catching a chill...
Woke up with a slight fever and popped some paracetamol. Felt well enough later to accompany the group to our final dive at The Pinnacles, a place teeming with all kinds of fish species including yellowtail barracudas and napolean wrasse.
After lunch, it was time to return to the mainland. On the boat, my fever returned and I spent the long ride sleeping in the air-con cabin. I was to discover later that I had caught a virus infection that knocked me out the rest of the week. A number of us in the group had also fallen ill, so perhaps it was a virus going around, especially since four of us were sharing a room.
Fever aside, this had been a most interesting trip. Not just because of new skills learnt, but also an unforgettable experience to see the reef at night. And I certainly came away with a lot more respect for titan triggers!
Our HP Singapore NAUI Advanced Diver class participants in Dayang.