With 23 people in our group this year, comprising 5 families and two individuals, we almost had the entire 24-seater Transnasional coach to ourselves. I had to book the coach tickets early to ensure we would have tickets for everyone. We departed on time from Kallang Bahru coach terminal. Traffic was light at the Causeway and with the savings in time, we cruised at a more leisurely pace.
As usual, the coach made stops at Machap where we had our favourite steamed peanuts and mee goreng and at Kemaman. As I had done in previous years, I would stay awake after the Kemaman stop to catch the night panorama of the oil refineries at Kerteh (about half hour's drive after the Kemaman stop). Straddling both sides of the road, the refineries looked like brightly lit spaceports with huge exhaust fires lighting up the surrounding countryside with an orange glow. An unforgettable sight!
Resort speedboats at Merang jetty.
Public car park at Merang.
On arrival in KT, we were whisked off to Ping Anchorage's spanking new office 5 minutes away: modern, spacious and tastefully decorated, with travel services on one side and a batik gallery/souvenir shop on the other. Proudly on display were their awards including the trophy for winning the Malaysian Tourism Awards 'Best Domestic Tour Operator' 1991/1992. While having a simple buffet breakfast at their cafeteria (at a very reasonable RM5 per head), Wah Chai,our bubbly and jovial Ping Anchorage guide on previous trips, showed up to accompany us to Redang.
Merang jetty had expanded quite a bit with more wooden jetties than before. Each resort now had their own jetty. In keeping up with the times, some speedboats now carried resort web URLs painted across their sides. Carparks along the narrow road allowed owners to park their cars for RM5 per day in open air lots and RM10 per day in covered carpark lots.
As we boarded our speedboat, it was good to see the boatmen instructing passengers to wear the life jackets available on every seat - guess the enforcement authorities are finally getting through to the boat operators that passenger safety is a high priority.
We had read complaints in the Forum page about the ongoing construction, smell, dead flies and how it had affected the scenery at Pasir Panjang. As Pasir Panjang pulled into view, we were relieved to see that it was still as pretty and scenic, save for the large barge in front of the half-completed but very impressive Laguna Redang Resort. No smell and no dead flies, though we did notice more litter on the beach than usual.
Redang Reef upgraded
Redang Reef Resort.
Pulling up at Redang Reef, we noticed they had added a brand new dining area and upgraded the dive preparation area. This being our fourth visit to Reef, it was good to see familiar faces - Don from Leisure Divers, Rudy Liew from Redang Reef reservations (Elvis was away on leave) and some other resort staff.
Renovations aside, the more important issue was whether the marine life had suffered all the rapid commercialization taking place. We wasted no time exploring the housereef at the front and at the back. Certainly more coral rubble and dead coral out front including a large number of empty drink cans on the seabed in front of the dining hall and patio. Fish numbers and variety did not seem to be affected much. Out at the back beach, I encountered a turtle and baby black tip sharks. On the seabed, algae like sea grapes blanketed large parts of it, a possible indicator of nutrient-rich waters caused by organic wastes. Over at Shark Bay, the house reef seemed to have shrunk with most corals close to the beach either dead or dying. There were still quite a large number of fishes including a healthy number of juvenile blacktip sharks.
Snorkellers at the marine park centre jetty.
Snorkelling at the marine park.
The Marine Park Centre was not crowded this morning, probably due to the fact that it was a weekday (Tuesday). A gentle current dissuaded many from visiting the shipwreck, so we stayed around the jetty and also explored west of the jetty. It was good to see the giant grouper still hiding under his favourite table coral near the floating pontoon while another old friend, the giant moray, was hiding under another table coral on the other side of the jetty walkway.
Sneak peek of Laguna
I had the opportunity to visit the uncompleted Laguna resort this afternoon when Mr.Chan, the project manager, kindly showed me around. The buildings used a lot of high quality timber and other raw materials that were transported from the mainland by barges. Plans were also in place to reconstruct the More More Tea Inn which was torn down to make way for this development. The trail from Kalong beach to Pasir Panjang will continue to exist, though parts of it actually run through Laguna's land. During monsoon when seas are rough and boats are unable to come into Pasir Panjang, they will drop passengers off at Kalong beach and they will walk to Pasir Panjang using this trail. Seems the construction bug wasn't just confined to Laguna. Next door at Redang Beach Resort, there was also construction of some new accommodation blocks that will apparently replace the older ones when fully completed.
Snorkelling at Teluk Mat Dollah, we encountered a school of 9 humphead parrotfishes, each at least 3 feet in length, in shallow waters. One could hear them crunching table coral with their powerful beaks. Later in the evening, I accompanied some of our group members on a discovery dive at the house reef in front.
At night, all eyes were glued to the TV as we watched underdog Korea sink Italy 2-1 in one of the biggest upsets in World Cup 2002 after extra time.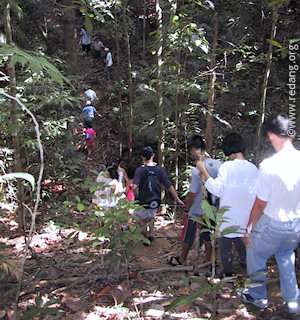 Trekking to Teluk Dalam.
Our family at Teluk Dalam beach.
This morning, our entire group decided to trek from Pasir Panjang to Berjaya Beach Resort at Teluk Dalam. With Wah Chai as our guide, our group, from the youngest aged 4 to the oldest aged 74, started off around 9:30am. We walked along Pasir Panjang until we arrived at Redang Bay Resort, then went through to the back of the resort and into the forest area where the trail began. Next to the trail was a large red tube carrying electrical wires along the ground. This red power line ran along most part of the trail which made it easy for trekkers to stay on course. We also noticed red paint on some tree trunks or stems to guide trekkers, and occasionally, some trees would have nameplates describing their species.
Moving slowly in single file, we didn't encounter much animal life along the way, except for some macaque monkeys, a bat that kept flying around those at the back of the line, and some large forest ants. We passed pools of stagnant water, small streams and a large dipterocarpus tree with a hole the size of a human head on one side of its massive trunk. Most parts of the trail were easy to follow, though there were 1 or 2 steep slopes which had ropes to hang on to while a few other parts required ducking under branches, climbing over fallen logs and small rocks. The trail eventually led to a mangrove swamp on our left, where we found a large hermit crab. Just beyond the mangroves, we were rewarded with the splendid panorama of Teluk Dalam Besar - with no resorts in sight, this beach was in pristine condition, probably one of the best beaches on Redang! We had trekked almost 2 hours in the humid forest to get here but that's because we stopped to look at things or to take photographs. It's possible to complete the trail in about 45 minutes of brisk walking!

Teluk Dalam Besar - probably the nicest beach on Redang.
Teluk Dalam Besar beach.
Relief was short-lived when we found out our journey hadn't ended and that we still had about 1 km to cover to reach Berjaya Beach Resort which was at Teluk Dalam Kecil, the next beach. It was really hot walking on the exposed beach - well, at least the scenery was nice. At the western end of Teluk Dalam Besar, a trail led uphill to a paved road. From the road at the top of this hill, we had a bird's eye view of Teluk Dalam Besar and Berjaya Beach at Teluk Dalam Kecil on the other side. It was clear from this vantage point that Berjaya Beach lacked a housereef and the corals were located fairly far out on both sides of this bay. It was almost noon when we finally arrived at Berjaya Beach Resort and we decided to hire a boat to bring us back to Reef in time for lunch. We had covered a total distance of about 3.5 km from Redang Reef to Berjaya.

Berjaya Redang resort's beachfront.
Village eateries and shops.
Discovery divers.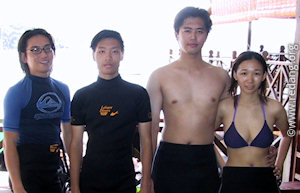 Tim Chia (2nd left) with instructor David (left) and PADI open water coursemates.
We headed for the local village (kampung) a short distance away, where Wah Chai helped to enquire about boats for hire while we took the opportunity to refresh ourselves at one of the shops. RM300 was the price, but the boat could only leave from the jetty at the southern part of Redang, facing the Marine Park Centre, and the price included transportation to the jetty. That was like taking the long way home. We decided to call Rudy at Redang Reef and he sent a boat to fetch us from Berjaya for a price that was more reasonable. So back we went to Berjaya Beach Resort, which gave us a good opportunity to check out the resort and its facilities. It certainly felt luxurious, given the quality of its decor and finishings, layout and facilities, complete with restaurants, bars, pool, and cabanas lining the beach. And yes, they do have one of the best beaches on Redang, almost as good as the one on Teluk Dalam Besar next door.
By the time we reached the beach, Rudy's speedboat had arrived and was waiting for us at the floating jetty. Walking along the jetty, we noticed a glass-bottom boat moored alongside - a great idea to observe the marine life without getting your feet wet. As our boat pulled away, one of the engine's propellors got snagged on a rope, causing it to stall. After the boatmen cut the rope away, we sped back to Redang Reef for a late lunch.
Holiday housereef
In the afternoon, some of us visited Redang Holiday's housereef at the other end of Pasir Panjang. The corals here were pretty healthy compared with those at Redang Reef and Shark Bay but there were noticeably fewer fishes. We did manage to see a Titan Trigger, a pufferfish and large schools of tiny fishes.
Another group of us went on a discovery dive and I tagged along. Visibility was not as good as yesterday. Might have had to do with the fact that the sea was quite rough today with big waves lashing southern Pasir Panjang beach. After dark, Don accompanied me on a night beach dive as I was the only diver in my group. It was the first time I had done a night dive in Redang and encountered a few cuttlefish, a trumpetfish, angelfishes, different species of sea-cucumbers, blue-spotted rays, crabs, squirrelfish and other nocturnal fishes, and many sleeping groupers. Towards the end of the dive, it was interesting to see the sea being lit up by lightning flashes overhead.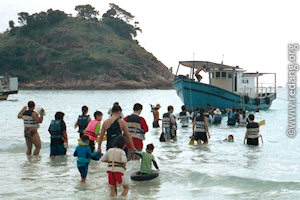 Boarding our snorkelling boat.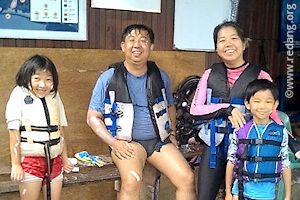 Peter & Helen's family.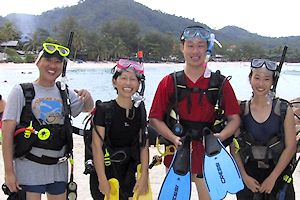 Edmund, Elsie, David & Debbie doing their discovery dive as a family.
Wooi Seng, Anton, Michelle & Amos.
It was back to the Marine Park Centre this morning, and I decided to explore on land instead. I wandered among the buildings, visited the baby turtles in the Exhibition Hall, then ventured out to the eastern shore and made my way to a little hill on the northeastern tip of the island near the shipwreck. To my surprise, the 'hill' was actually a big mound comprising dead and broken bits of coral!
On the way back, I was told by one of my group members that she had witnessed a snorkeller catching and killing a damselfish with his bare hands by vigorously shaking it until it literally came apart. Not only was this a cruel and irresponsible act, it was also against park regulations and to think it was committed at the Marine Park Centre itself! (Note: killing any marine life within the Pulau Redang Marine Park is against marine park regulations and offenders can be fined heavily - if you see this happening, please report to the park authorities).
'Tiger' fishes at Lima
With strong waves lashing southern Pasir Panjang beach, we had to board our snorkelling boat for Pulau Lima from the northern part of Pasir Panjang, in front of Redang Bay Resort. The boatmen warned us to be on the lookout for 'tiger fishes'. I had never heard of a 'tiger fish' and thought it was a new species. On further questioning, they described a fish that bit people - I had a good laugh when I realized they meant 'trigger fish'. Titan triggers were common in Redang and could be seen on almost every snorkelling or diving trip. But it seems there were quite a number of them at Lima today. Well, after witnessing one of my dive group members being attacked by a titan in Pulau Dayang last month, I had come to respect them a lot more as they do attack without warning, especially when guarding their nests. Sure enough, we encountered 2 titans but they were feeding amongst the corals so we felt less threatened. As expected, Pulau Lima did not disappoint, and we encountered a juvenile blacktip shark, a banded krait seasnake, a pufferfish, a porcupine fish and a barracuda. Coming back, the boat dropped us off in front of Redang Bay and we went to see the baby sharks at Shark Bay one last time before our departure the next day. Despite choppy waters, we managed to spot 8 of them.
Mad dash across Pasir Panjang
After dinner, we paid a visit to Tan and Diana at Redang Holiday. They showed us their brand new semi-detached and bungalow villa units built over the last monsoon. After a most interesting evening with them, we hurried back to Reef amidst frequent lightning flashes. Fearing being caught on an open beach in a thunderstorm, we ran back to Redang Reef which was really tiring as we were running on soft sand. Fear turned to awe when a lightning flash illuminated the darkened sea at Shark Bay, revealing it in glorious colour for a split second as if someone had just taken a photograph with a super bright flash. We made it back safely before the rain. That was certainly our fastest dash end to end across Pasir Panjang!
Aaron's dad, Aaron, Stephen & Doreen having breakfast at the outdoor patio.
Jerome and Daniel.
I woke up this morning wishing I could stay longer on Redang but then again, maybe the reason why Redang is special is because it comes in small doses only once a year! This morning, I went on a final leisure dive at Mak Cantik with one of our group members who had just completed his PADI open water training last night with Leisure Divers. The highlight of the dive was swimming together with a school of large humphead parrotfishes.
After lunch, we bade farewell to Elvis and his staff at Redang Reef and to David, Stephen and Don at Leisure Divers. As the speedboat made its way past Kalong beach, I realized I had left my fins and mask at the gear-up area to dry after the morning dive and had forgotten to pack them. The boatman kindly did a U-turn and after picking up my gear, we headed straight for the mainland. On second thoughts, maybe if I hadn't gone back for my gear, it would have given me a good reason to visit Redang again soon to pick them up!
Back at Ping Anchorage's Travellers Cafe in KT, we watched Brazil sink England 2-1 to move into the semifinals of the World Cup before heading to The Store department store downtown. This being a Friday, most shops were closed in town. After a seafood dinner at Tian Kee restaurant, we adjourned back to Ping Anchorage to board our chartered VIP coach back to Singapore (Transnasional was fully booked). Since we had the whole 32-seater coach to ourselves, we made a quick stop in Paka for some prawn crackers. A relative of one of our group members owned a prawn cracker factory there. At the next rest stop, some of us had a durian supper at a roadside stall selling durians. As for me I was already fast asleep, getting a much needed rest after 5 enjoyable and event-filled days in the sun, sea, sand and jungle, and dreaming of Redang 2003....

Our group in Redang 2002.