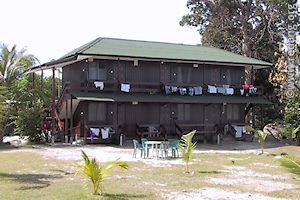 New accomodation block at Redang Reef.
The guest rooms we stayed in last year.
Our Transnasional coach left Singapore last night 2 hours behind schedule and arrived in KT at 7:30am this morning. With so little time to spare, our group of 20 rushed through breakfast at the Travellers Cafe, settled our payments at the Ping Anchorage office and was then promptly whisked off to Merang.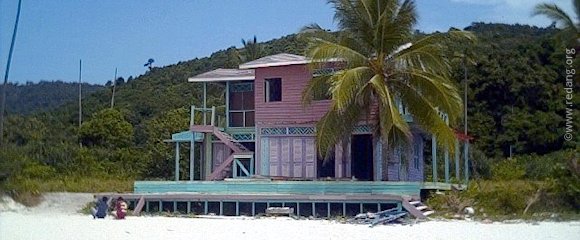 More More Tea Inn from the Summer Holiday movie.
As our boat pulled into south Pasir Panjang, we couldn't help noticing the More More Tea Inn, a colourful double-storey timber house built for the set of Summer Holiday, a Chinese romantic comedy shot in Redang last year. It stood out in stark contrast to its surroundings on Pasir Panjang beach between Redang Reef and Redang Beach resorts. This movie had popularised Redang overnight and we had heard news of big crowds at Redang this year.
This was our third visit to Reef. Elvis, the front desk manager, assigned us a top floor room in the newly constructed hostel block just behind the kitchen. This new block housed 6 new quad rooms, 3 on each floor, and faced the quiet private beach at the back - a real treat as the scenery was gorgeous! The quad rooms here were bigger and better than those at the rear facing the hillside.

Going for our first snorkelling session.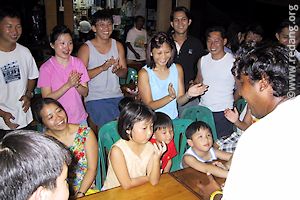 Wah Chai entertaining us with his card tricks.
As was our usual practice, we headed straight for the house reefs after we checked in. We wondered if the increase in number of visitors had taken a toll on the health of the house reefs. Coral cover at Shark Bay had noticeably declined compared to last year with more dead coral near the beach. Being in shallow water and so easily accessible, one possible cause of the damage was breakage by snorkellers standing on them or kicking them with their fins, something we had observed many times before. At least the housereef at Tanjung Mak Cantik was in better condition than Shark Bay.
It was good to see Anwar Abu Bakar or 'Wah Chai' as he was more affectionately known, at Reef. As Ping Anchorage's contact on the island, we had grown used to his jolly company the last two years as he helped look after us. This multi-talented individual spoke Cantonese, Mandarin, Malay and English and was also a polished entertainer, pulling off card tricks like a polished professional!
Joo Beng and his telescope.
Today our group size increased to 24 with Anthony's family joining us. They had left Singapore a day later. Our morning visit to the Marine Park Centre was an exercise in 'how not to bump into others' - we had not seen it so crowded before! Fishes were still abundant here despite being fed their unnatural diet of bread everyday by the hordes of visitors and the giant grouper was still living under the jetty. Across the Marine Park, Kampung Air had disappeared, its residents relocated further inland, its stilted walkways and wooden homes consigned to Redang's history book.
In the evening, 4 of us did a check-out dive at the housereef with Don Juan, the dive instructor at Leisure Divers, the dive centre operating out of Redang Reef. We saw more reef life during the shallow 10m dive than we ever did while snorkelling around this area.
Tonight was a clear night, perfect for stargazing. Joo Beng had come prepared and brought his telescope and star charts on his notebook computer to scan the myriads of stars. Mars was at its closest proximity to Earth in 2 decades and it was exciting to be able to see Mars so clearly. We even managed to spot one of its moons. Other constellations like the Southern Cross & Scorpio were easily identified with the aid of the star charts.
Sunrise seen from Pasir Panjang.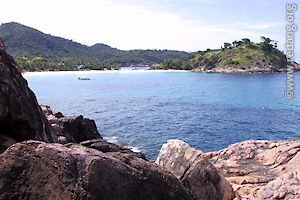 South Pasir Panjang and Tanjung Tengah.
Some of us woke up early to catch the early morning sunrise, which though marred by some clouds, was still beautiful. Currents at the Marine Park Centre this morning kept most visitors near the beach. We did a 'drift snorkel', entering the western end of the park where we spotted 2 large bumphead parrotfish, and just drifted slowly with the current past the jetty to the shipwreck, before finning towards shore.
In the afternoon, our dive group visited Mak Cantik, a beautiful submerged reef just 2 minutes by speedboat from Pasir Panjang. The coral garden was beautiful, with many varieties of hard and soft coral, anemone gardens and lots of fishes, including a nurse shark, schools of yellowtail barracuda, trevallies, a stingray and a small moray.
While snorkelling far out at the house reef, we encountered a stationary titan trigger about 10 feet ahead staring at us. Not quite sure whether it was guarding a nest, we stopped. Then it started to move directly toward us. We backed away but it kept on coming. Bracing myself for an attack, we continued to fin backwards. Finally, it flipped sideways, swam directly under us and away. What a relief! I was not an expert on trigger behaviour but it seemed to me to be behaving in a hostile manner. Or perhaps it was just waiting to be fed!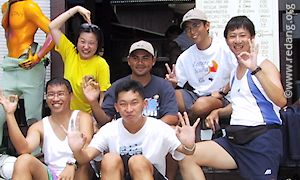 Dive group (clockwise from top left): Stephanie, Don & David (instructors), me, Chee Keat & Joo Beng.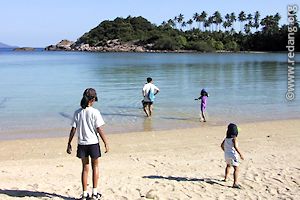 Teluk Bakau.
We completed our final dive this morning at Pulau Kerengga, a shallow 40 foot dive where we saw lots of rays. David, our divemaster, had initially intended to bring us out to Pulau Lima with a max depth of about 25m. As 3 of us were basic divers with relatively little experience, we decided not to risk diving deeper than the 18m we were certified for, especially with currents. So we got David to change the destination to something more appropriate for our level of training.
Hike to Kalong
In the afternoon, we hiked from Pasir Panjang to Kalong Beach Resort about 15 minutes away. The trail started to the left of the More More Tea inn. It was an easy hike as the dirt trail was wide, used by excavators to shift sand. Along the way, we stopped by Teluk Bakau, a sheltered cove with a sandy beach that looked very private. It seemed like a good place to snorkel but we were told the cove was full of dead coral which was exposed during low tide. The trail passed through fields of 'lalang' (tall grass) where we relived our younger days shooting 'lalang' arrows. There were many grasshoppers in the tall grass and we even spotted macaque monkeys.
Kalong Beach Resort.
Redang Holiday resort.
On our way back we decided to explore the house reef in front of Redang Holiday where we encountered a giant grouper, a large trigger and a good variety of other fishes and marine life. The corals here seemed healthier than elsewhere in Pasir Panjang. We also encountered a large school of tiny anchovy-like fish which was mesmerizing to watch each time they turned and caught the sunlight on their silvery bodies! We returned in the evening to Redang Holiday to visit Tan and Diana. They had upgraded the resort rooms and fitted them with hot showers. Over a calamari supper at the open air dining patio, Diana showed us photos of Sammi Cheng and Richie Jen during their stay there during the filming of Summer Holiday. We also talked about Holiday's expansion plans and the steps they were taking to protect the environment. It was encouraging to know that they were trying to run their resort in an environmentally responsible manner. The healthy house reef in front of Holiday was probably a testimony to their approach.
As we packed up to leave this morning, we wondered if this was our last glimpse of this island paradise as we knew it. With its popularity increasing thanks to 'Summer Holiday', the days ahead would see an increase in the number of visitors which would spur new developments on the island. Already, we've heard that the parcel of land on which More More Tea Inn stood would be developed to house a large, 200-room resort. That would certainly alter the landscape of south Pasir Panjang and threaten the house reefs in front of Redang Reef and at Shark Bay. With the wheels of commercialization already in motion, we would just have to wait and see the effects these would have on the island.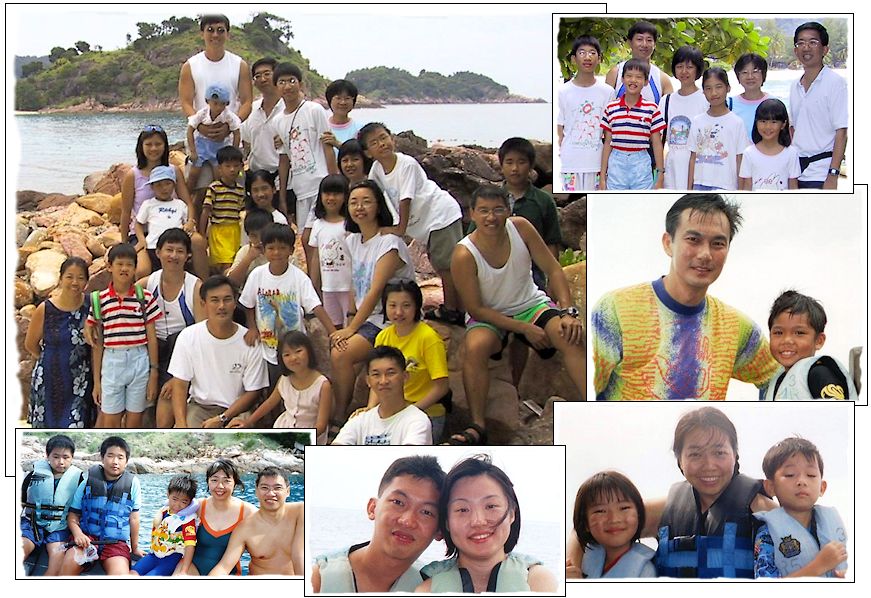 Clockwise from top left: Our group | Our family & Anthony's family | Leslie & son | Helen & kids | Chee Keat & Stephanie | Joo Beng's family.