It was 3:30pm when Seng Hock and I made our way to Senai airport in Johor Bahru. His friend had kindly offered to drive us there to catch our 6:20pm AirAsia flight to Kota Kinabalu (KK). After our wonderful experience at Kapalai last year, our same dive group was now headed to Layang Layang for 6 days and 5 nights of diving. My cousin Chee Faun had booked the trip many months in advance as there were limited seats available on the flight out to Layang Layang from KK. Chee Faun and his friends Marco, Pam and Low had flown out earlier this morning from KL. Seng Hock and I would rendezvous with them at the Casuarina Hotel near Terminal 2 (AirAsia terminal) where we would stay the night before catching the early morning flight to Layang Layang the next day. I was able to book the 0.00 Ringgit AirAsia promotion through the internet a few months earlier so our return flight to KK only cost us RM130 each!
The flight arrived 20 minutes ahead of schedule at KK Terminal 2 which had recently been renovated and now looked much better and more comfortable. We were promptly met on arrival by Chee Faun and friends who drove us downtown for dinner. After buying some snacks and other supplies for consumption on the island, we returned early to the hotel for a good night's rest. Casuarina had come under new management since we were here last year and there were noticeable improvements in the room quality.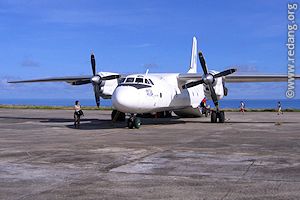 Layang Layang Aerospace's Russian-built Antonov AN26; notice the lack of windows.
Exit ramp of aircraft.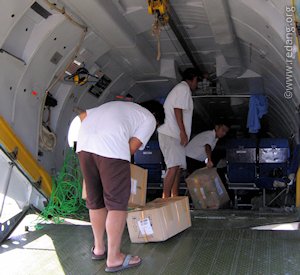 Dark interior of aircraft, a cargo plane with seats.
Woke up early at 5:30am to a wet morning. As the resort would provide breakfast upon arrival at Layang Layang, we didn't bother eating. The Casuarina owner kindly fetched us to Terminal 2 in his van for our 7am flight. The Layang Layang Aerospace check-in counter sign was obstructed by a bunch of newpapers but it was easy to tell from the queue comprising mainly foreigners lugging big dive bags. At check-in, each of us took turns to have both our baggage and ourselves weighed. From the departure gate, we watched AirAsia ground staff hand out umbrellas to passengers boarding their flights in the morning rain. The line of passengers holding bright red umbrellas stretching from the terminal building onto the tarmac and up the boarding stairs into the plane provided moments of visual relief from what was otherwise a boring wait on a dull gray morning.
Welcome onboard Layang Layang Aerospace!
We finally boarded the plane 20 minutes late with a mixture of curious excitement and doubt. Curious because this was the first time we were boarding a Russian-made Antonov AN26 twin-propeller plane, excited to be finally on our way to Layang Layang and a little doubt whether we would actually arrive there. The AN26 looked like a scaled-down version of a military Hercules C-130 transport aircraft, not surprising as it was originally built as a light cargo aircraft for the Soviet air force. As we walked up the steep ramp at the back of the plane, I half-expected parachutes to be handed out to each passenger. Inside the dark no-frills interior, 28 seats were arranged in 2x2 fashion. It was dark as there were only three windows and the seats next to these were quickly occupied. As Seng Hock and I settled into our seats somewhere in the middle of the plane, it began to feel a little claustrophobic. Without any view to the outside world, it felt like being in a stuffy tunnel. The wall panels of the plane were functional and non-decorative, revealing their rivets in all their glory. Length markings on the panels from front to rear hinted at the plane's former life as a cargo freighter. There were no overhead compartments but the wide seat-to-seat gap meant lots of legroom and space for our carry-ons. Our check-in luggage were simply placed at the back of the plane, secured by webbing.
With 4 Russian crew members in the cramped cockpit and one Filipino stewardess, it looked like our flight to Layang Layang would be an adventure in itself. Well, adventure doesn't come cheap. The flight between KK and Layang Layang cost RM726 and this was the only way to get to Layang Layang. There was no in-flight service - the stewardess didn't even try to sell us Layang Layang caps, T-shirts or souvenirs! She looked so serious that when she gave us the pre-flight safety briefing, the cabin was quiet to a whisper. For the first time on any flight I remember, all passenger eyes and ears were focused on the safety briefing which included the seatbelt and lifejacket but no parachute and oxygen masks. Flying at only 9000 feet above sea level, we wouldn't need oxygen anyway. Anyway, that was all we saw of her during the flight - she appeared again at the exit ramp to bid us adieu after we landed.
As the propellers spun to life, it was obvious it would be a long noisy 1 hour flight. With no outside view, we could feel the plane taxi-ing and accelerating down the runway but didn't sense when it lifted off. Only when we began to feel the pressure in our ears did we realize we were gaining altitude. With nothing to do in the aircraft, we slept most of the time. As we neared Layang Layang, we could sense the plane was descending from the pressure in our ears but there was no announcment that we were landing. We only realized we had landed when we felt the bump on the runway. As the rear exit ramp folded down, the blue sunlit waters of the South China Sea greeted us. It was 8:30am and we had finally arrived in one-piece on paradise island!
Layang Layang
Aerial view of Layang Layang. Photo ©Dr. Kurt Svrcula.
View of lagoon with dive boats.
View of runway and South China Sea.
Home to a Malaysian naval detachment and one resort (Layang Layang Island Resort), Layang Layang was a small island the length of the runway which was more suited for short take-off-and-landing propeller aircraft. Someone once described Layang Layang like an aircraft carrier on dry land as the runway was the most prominent feature on this long, narrow island and it did resemble a carrier from the air. This was probably the only dive resort located next to a runway where one could disembark from the plane and walk to one's room less than 50 metres away. All around us to the distant horizon, we were surrounded by open sea without a single land mass in sight. Lying 340km northwest of Kota Kinabalu, the man-made island was geographically flat and surrounded by a coastline of rocks and dead coral rubble. A tall white wind-powered electrical generator within the naval base was the tallest feature on the island. Unfortunately, it was not working when we were there.
As an oval-shaped atoll comprising 13 submerged reefs linked to one another with a shallow lagoon inside, the island was built on one of the submerged reefs. We were told that the one and only small beach at the western tip of the island next to the channel was the only original part of the island above water. The runway, resort and navy base were all built on reclaimed land. The naval base occupied one end of the island with the resort occupying the rest. As part of the disputed Spratly Islands claimed by Malaysia, China, Taiwan and Vietnam, the Navy had been here since the 1980s to protect Malaysia's claim to this part of the Spratlys. The Navy's presence did more than that; it protected the pristine coral reefs at Layang Layang from destructive illegal fishing practices such as dynamite fishing which have wiped out most of the coral reefs around other islands in the Spratlys, in particular the uninhabited islands. During one or two of our dives here, we could actually hear low-frequency 'booms' that came from dynamite fishing from neighbouring reefs far away. If not for such practices, many of the coral reefs around the other Spratly Islands could probably rival those in Layang Layang.
Lying not far from the eastern tip was a small rocky plateau called Bird Island. Layang Layang translated means 'swallow's island' and eventhough we didn't see many swallows, we encountered many different species of sea birds like egrets, cormorants, noddies and terns, many of which breed on Bird Island along their migratory route.
Flowering frangipannis, palm and fir trees that were planted years ago had grown sufficiently to provide much needed shade from the hot sun, while grassy patches completed the greening of the island. Layang Layang looked quite nice with its blue skies, azure seas, green grass and fir trees. From ground view, it was hard to tell the lagoon from the open sea as we could not see the submerged reefs. It was only from the air that the shallow reefs and shape of the lagoon were visible. We just had to remember the jetty was on the lagoon while the runway was by the open sea.
Layang Layang Island Resort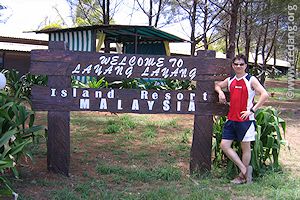 Layang Layang Resort sign.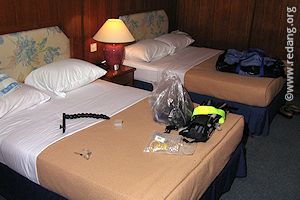 Standard resort room.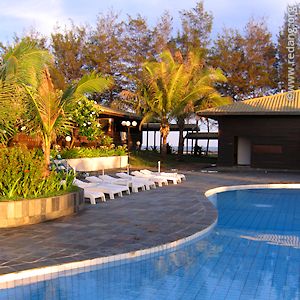 Resort pool.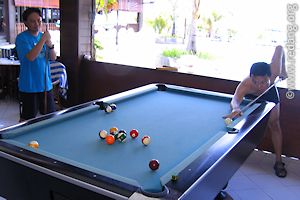 Pool sharks.
Upon our arrival, we were ushered into the air-conditioned lounge at the resort where we were briefed on resort and diving regulations and given our room keys. There were many framed photographs lining the walls of the lounge and elsewhere around the resort showcasing the marine life in Layang Layang, most of which were taken by renowned underwater photographers Andrea and Antonelli Ferrari and Dr. Kurt Svrcula. Our dive appetites whetted, we could only hope to catch glimpses of some of these wondrous sharks, rays and other pelagics during our stay. During the briefing, we were told that we had to strictly follow divemaster instructions or risk facing a ban on our next dive or worse, the next day's dives. With waters 2000 metres deep and wall diving all around the atoll, most of our dives would be deep dives especially if we wanted to see the larger sharks and pelagics. With strong currents at some of the dive sites, all divers had to have their own SMB (Surface Marker Buoy) or dive sausage - if we didn't own one, they would sell one to us. This was to allow divers swept away to be clearly seen by the boatmen especially when waters were rough with high swells. 'No chasing, no gloves and no touching' rules were enforced to protect the reef life. We were told we could walk around the island as long as we did not trespass onto Navy land or take photographs of the naval base which might get our cameras confiscated.
Layang Layang Island Resort had 86 rooms in 5 single-storey accommodation blocks. We found our rooms clean and comfortable, at least 3-4 star quality with 2 queen-sized beds in each air-conditioned room, a fridge, TV with Astro satellite channels, phone and bathroom with hot water showers. The room phone allowed us to make international calls but calls were charged by the minute - calling Singapore cost RM6 per minute. Forget mobile phones, there's no signal out here. However, the tech-savvy will be delighted to know that there's free wireless internet access in the lounge and reception area so it's possible to use Skype, GoogleTalk, MediaRing Talk or other VoIP (Voice over Internet Protocol) services to phone home. Connection speeds vary - from our experience, at best its like entry-level broadband; at its worst, like dial-up speeds. The only minor complaint I had about the room was the thin timber walls separating the rooms which meant we could sometimes hear conversations and snoring from the adjacent rooms especially in the quiet of the night. Sometimes the room cleaners would get creative and fold fresh bath towels in the shape of rays and hammerhead sharks, as some among our group discovered throughout our stay here.
The main resort building housed the lounge, dining hall, reception and small gift shop. The dining hall had an air-conditioned interior as well as an outdoor dining area by the swimming pool. I found it interesting that a resort on a small piece of reclaimed land far out in the South China sea could support a freshwater pool as well as provide fresh water for 86 rooms and a dive centre. There was obviously no ground water and it was simply too far to ship freshwater from the mainland - a boat or barge will take 2 whole days to reach the island. I discovered the resort used 2 reverse-osmosis desalination plants to convert sea water into fresh water while electricity was supplied using two electrical generators. They could have used the wind-powered electrical generator but it was probably too expensive to repair, run and maintain plus the fact that it was on Navy land.
We were well fed throughout our stay as 5 meals were provided daily. A good thing too as there was no sundry shop on the island where we could buy snacks and other tidbits. Quality of food was above average to good and comprised both local and western fare served buffet style. Food wastage was kept to a minimum as the chefs creatively used leftovers to create new dishes for the next meal. The only complaint were the presence of houseflies which meant that food had to remain covered or guarded by someone and not left in the open. It's surprising that there were so many houseflies hovering around the dining and pool area. It was common to find dead houseflies floating in the pool so anyone swimming breaststroke in particular had to be careful when they came up for their next breath. There were also a few stray cats that would appear around the outside dining area during dinner time, waiting for handouts from guests. Not part of the natural landscape, these were probably brought to the island by navy personnel years ago. Birds that used to frequent the island in the past but have now settled on Bird Island and other exposed rocks nearby were probably frightened away by these feral cats and by human activities.
Beer and other alcoholic beverages were served at the lounge with a discount offered during happy hour in the evenings. For recreation, guests could rent the pool table or foosball table for RM10 an hour. Other than that, one could also jog around the island and on the airstrip as long as one did not trespass into navy land.
First dives
Dive centre.
Dive boat at the jetty.
After checking into our room and a quick breakfast, we proceeded to the dive centre to rent our BCs and regulators and to prepare for our checkout dive at 11am. Located next to the jetty, the dive centre was efficiently run although the maintenance of rental equipment could have been better; some of us had leaky regulators which we had to change a few times while others encountered faulty gauges. Like other professional dive resorts, our group was assigned to a particular diveboat (Number 12) operated by Suharto, the boat captain. Paul would be our divemaster for both our checkout dives today. Like Kapalai and Sipadan, there were many foreign divers from all over the world at Layang Layang including Thais, Japanese, Italians, Germans and Americans but few locals from Malaysia or Singapore. Judging from their gear and camera equipment, many were obviously serious divers and underwater photographers. For me, this would be the first time using my Inon D-2000 external strobe which I had bought just a few days ago. Tired of backscatter and an internal flash on my Canon A95 that was often too weak for anything more than macro distances, I had decided to invest in the Inon as it worked very well as a slave strobe to many brands of consumer digital cameras. Connected by an optical sensor to the A95's own internal strobe, it would fire and adjust its exposure automatically according to the camera's own flash exposure settings which made it much easier to use. To minimize backscatter from the A95's own strobe, I covered it with a black velcro strip. The Inon D-2000 also had a powerful focus light which could be used to illuminate dark subjects to help the camera focus. I found it worked very well as a torchlight for night diving too!
Our 2 boat dives today were at Wrasse Strip and Wreck Point, areas with gently sloping coral reefs with depths of around 21 metres. As the dive sites were all located outside the lagoon, dive boats had to leave the lagoon using one of two channels to avoid damaging the shallow reefs. The channels were clearly marked by a line of tall markers which would be lit at night.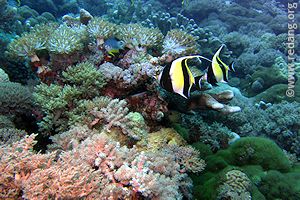 Pristine hard and soft coral fields at Layang Layang.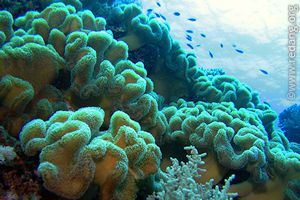 Leather coral field.
In many ways, diving at Layang Layang was similar to diving at Sipadan - both offer great wall diving. Layang Layang like other atoll reefs was probably once a volcanic island surrounded by fringing reefs which had since sunk beneath the waves, creating a lagoon in its place. Sipadan is an oceanic island built from limestone. While Sipadan's walls plunge 2000 feet into the ocean depths, Layang Layang's walls plunge 2000 metres into the abyss. Both places support many large pelagics as well as abundant corals and reef fishes. Schools of jacks, barracudas and various shark species are commonly encountered at both places. During our first two dives, we were very impressed with the pristine condition of the coral reefs, better than anywhere else we had seen including Sipadan. Almost every inch of the reef was covered by many different species of hard and soft coral. However, Sipadan appeared to have a greater diversity and abundance of fish life and turtles. We saw few turtles at Layang Layang and most were Hawksbills. However, most divers who visit Layang Layang come here primarily to see hammerheads, rays and other large pelagics which were usually found in the deep blue waters away from the coral encrusted reef walls.
At both Wrasse Strip and Wreck Point, red fire gobies or dartfishes were often seen in sandy areas while Moorish Idols and other schools of reef fish like pennant bannerfish, pyramid butterflyfish, redtooth triggers, pinktailed triggers, surgeonfish and unicornfish were commonly encountered swimming in the shallow reef areas. I used the checkout dives to familiarize myself with the workings of the external strobe which wasn't as easy as I had expected. The synchronization with the internal strobe worked well but learning to position the strobe's direction on its articulating arm was something entirely new to me. It was largely learning by trial and error as I experimented with different positions and different exposure modes on the camera to see which worked best. In the end, I just left it on underwater scene mode as that seemed to give the best overall results in terms of colour and exposure.
We retired early after dinner as it had been a long and exhausting day. For the rest of our days in Layang Layang, we would have to get used to an early bedtime as morning call would be at 7am each day with the first dive at 7:45am.
It was hard getting out of bed this morning. Must be age catching up; some say the older one got, the harder it was to adapt to unfamiliar beds and pillows. I found the bed and pillows a little too soft for my liking which affected my sleep throughout the night. Our daily routine from now on was a light breakfast at 7am, followed by our first dive at 7:45am, then on to a proper breakfast at 9:30am, dive at 11am, lunch at 1pm, dive again at 3pm, tea at 4:30pm and finally dinner at 7pm. As you can see, it's just a cycle of eat, dive, eat, dive, eat, dive, eat, eat and sleep! Non-divers must think divers have the most boring itinerary.
We had a new divemaster assigned to our group today. Asther would be taking care of us for the rest of our dives at Layang Layang. During the dive briefing, Asther showed us hand signals for hammerhead sharks (both fists raised to the side of the head) which hopefully we would get to see. The sharks love to congregate at both eastern and western tips of the island at the Point or the Valley so that's where we would be doing most of our dives. As our boat headed out from the jetty, we were told that dolphins had been spotted in the lagoon recently where they were mating so we kept an eye out for them each time we were in the lagoon.
Rendezvous with a gray reef shark at the cafe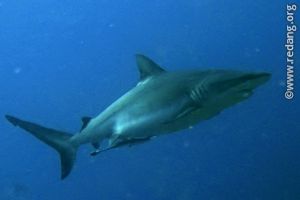 Gray reef shark at Coral Cafe.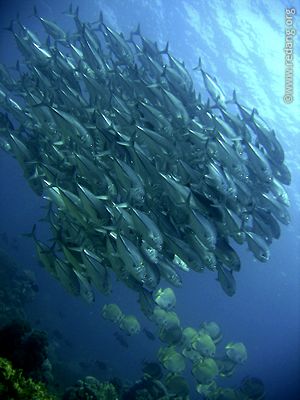 Schools of jacks and batfish.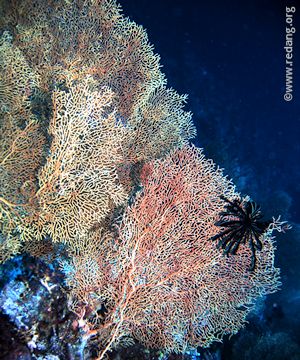 Beautiful Gorgonian fan coral.
We headed out to Coral Cafe where we encountered lovely large man-sized gorgonian fans. Not surprising as Coral Cafe was just next to the dive site called Gorgonian Forest. We saw many more of these fans over the next few days of diving and these were among the biggest and nicest fans we had seen. I couldn't help wondering if there were pygmy seahorses in any of them - given the size of the fans, it would have been difficult searching for them.
We easily hit 32 metres during this wall dive. It's easy to go too deep diving walls like these which plunge into eery blackness 2000 metres below, so we had to keep a close watch on our dive computers. Along the way, we encountered 2 schools of jacks, smaller than the 'wall of jacks' we saw in Sipadan. The second school was more interesting as they were trailing behind a school of batfish which in turn were trailing behind a school of chevron barracudas.
The highlight of the dive was an encounter with a gray reef shark which looked either fat or pregnant (not a question one would dare to ask a shark!). This made it look a lot bigger than other gray reef sharks and also more ferocious-looking. Among reef sharks, the gray reef is among the most likely to attack divers though attacks usually comprise a single non-fatal bite. No wonder some of us felt a little intimidated as it swam toward us. Trusting that I wouldn't be on its breakfast menu (after all there's lots of other fishes to eat on the reef), I swam towards it and got a few close ups. That was probably my closest encounter to date with a shark that size! Makes all the black-tip and white-tip reef sharks wimpy and puny by comparison.
On the way back to the island, our boat captain Suharto saw a fish on the surface of the water. As we pulled alongside, we noticed it was a single jack in a very odd position. It was not lying on its side but had its face, eye and mouth above the water line as if it had decided to come up and take a look at our terrestrial world, sort of like the little mermaid peering longingly at land from the water surface. Not knowing if it was dead or alive, we tried to scoop it out with a bucket and that's when it sprang to life and swam away nearby, still peering out from the water. For the next 10 hilarious minutes, we played a cat-and-mouse game with it, trying to catch it with buckets and dive bags, jumping on top of it, swimming underneath it. In the end, it evaded capture despite us using every trick we had. It was probably a dying or wounded jack.
Our second boat dive was at Gorgonian Forest, close to our first dive location. Diving to a maximum depth of 30 metres, again we encountered lots of large gorgonion fans but we also noticed there were a lot of big yellowmargin triggerfishes around in the shallower reef areas. It was nesting season and that meant aggressive triggers. The yellowmargins were as large as the titan triggerfish often encountered in Redang and we had to be careful over the next few days not to wander too near the shallower reef areas. We didn't see any hammerheads but we did encounter a shy octopus.
Those morning deep dives must have created deep appetites and we returned for a sumptuous lunch feast. The daily lunch and dinner spread comprised of soup, salads, main course, fruits and dessert. If we continued to eat like this everyday, we would soon be as plump as that gray reef shark we saw this morning. Lunch was followed by a short siesta before we headed out for our last boat dive of the day at Midreef. Once again, we had conformed to the daily diver's routine of 'eat, sleep and dive'.
Flight of the mobula devil rays
Mobula devil rays: mesmerizing, elegant and graceful.
At Midreef, we descended to a maximum depth of 28 metres. Not long after, we encountered a single mobula devil ray in the distant blue. Hoping to find a school, we continued on and were rewarded ten minutes later when we saw a school of at least a dozen mobula devil rays. The visibility was not good and at times they were like shadows playing in the distance. Still, it was mesmerizing to watch them swim playfully as a school, flapping their 'wings' like birds underwater. They were so elegant and graceful.
Hoping for a closer encounter, I whispered a silent prayer for God to bring these wonderful creatures closer to me so I could get a good shot of them. After all, if God could close the lion's mouth when Daniel was in the lion's den and cause the whale to spit Jonah out onto land safely, He certainly could lead them closer if He so desired. A few minutes later, two devil rays approached me above my head and they got so close I didn't even have to zoom in to take my picture. What an answer to prayer! He truly is the God of all creation!
This evening, a few of us went for a shore dive around the jetty. Visibility wasn't good so we explored the shallower areas underneath the jetty where we found lionfish, a lot of scribbled pipefishes, banded pipefish, small puffers and one large map puffer.
Scalloped hammerhead shark in the blue.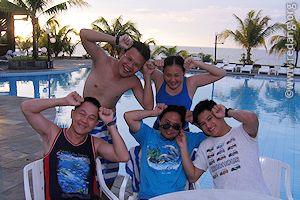 This is what 'hammerhead narcossis' looks like!
We awoke to a cloudy day. This morning we would be heading out to the Point which many consider to be the premier dive spot in Layang Layang. The Point to Layang Layang was like Barracuda Point to Sipadan. Both sites experience strong currents which large marine fishes like. If one only gets one dive at Layang Layang, this is the place to be. Due to the strong currents that often hit this area, Asther suggested we approach the Point from Gorgonian Forest.
Starting out from the shallower part of the reef, we could feel the thermocline as we descended past 30 metres. The water on top was relatively warm, around 28-29 degrees Celsius but just below the boundary, it plunged to about 22 degrees. This was hammerhead territory as previous sightings had taken place near the thermocline where the sharks enjoyed the colder water. We went out into the blue and waited. The poor light and below average visibility made it easy to imagine shapes in the shadows. Suddenly, we heard excited banging of tanks - someone in our group had spotted them! Slowly, we saw them emerge out of the darkness, a school of about a dozen or more sharks. The 'leader' of the school appeared lighter in colour. They kept their distance from us and I often found myself resisting the temptation to go deeper. I had set my dive computer to warn me when I went below 33.5 metres and it had beeped at me several times when I went below 34 metres. My camera marine case was rated to 40 metres and I didn't want to risk flooding it in deeper waters as I was the only one with a camera in our group - Chee Faun had flooded his Olympus housing yesterday, ruining his camera. The sharks stayed for about 3 minutes then disappeared back into the blue. A brief encounter but one that was enough to make my heart pound with excitement. I'm sure many in our group were just as excited. As we headed back towards the reef, we hoped to bump into them again but that was the one and only encounter we had with this school of beautiful, gentle sharks throughout our stay.
White leaf scorpionfish.
Our second dive found us descending from Dogtooth Lair to a maximum depth of 29 metres at the Point, hoping to see the hammerheads once again. We headed out to the blue but gave up after a while, spending the rest of our dive time among the pristine corals instead. The overcast sky and mediocre visibility of about 10 metres today did not help as 'the blue' appeared very dark, almost black, and we couldn't see very far. There were a lot of particles in the water which made the poor visibility even worse. On the reef slopes, there were huge barrel sponges and Gorgonian fans with feather stars clinging onto them. We also found a whitish leaf scorpionfish under a rock and encountered a large school of batfish.
We returned to the jetty happy to have had the brief opportunity to dive with hammerheads. Another leisurely lunch and it was time for a hammock siesta. Several hammocks were hanging from the fir trees next to the runway near the masseur hut. It was nice to just lie down, relax and stare up at the fir tree branches silhoutted against the blue cloudy sky.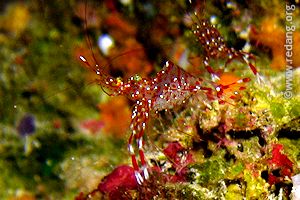 Cleaner shrimp.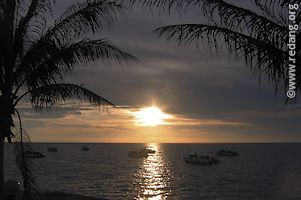 Sunset over the lagoon.
The afternoon dive brought us to Crack Reef with a maximum depth of 28 metres. Asther pointed out a small crevice along the reef wall filled with cleaner shrimps. Anyone putting their hand inside the crevice would get a free cleaning. The shrimps were thumbnail sized and semi-transparent, making them quite hard to see and even harder to focus and photograph. Slightly further ahead along the wall, Asther called our attention to a medium-sized gorgonian fan growing out from the wall. Amongst its branches sat a similarly coloured orange pygmy seahorse which was even tinier and harder to see than the cleaner shrimp (it was smaller than the one we saw at Kapalai last year). To make things worse, it had its back towards us as if it didn't want to be photographed. I almost gave up trying to spot the blob that was a seahorse on my camera display. My eyesight certainly wasn't improving, so perhaps it was time to upgrade to one of the newer camera models with a much bigger display or find a bigger pygmy seahorse! Later in the dive, we encountered a lone mobula devil ray which seemed to have lost its tail. In its place was just a short stub. Perhaps that was why it wasn't in the school and had to swim alone. Poor thing!
Returning to the resort, it felt refreshing to jump into the pool and relax after a day in the salty sea. With nothing but open sea all around, the unique thing about Layang Layang is the ability to enjoy unobscured views of sunrise and sunset. This evening was no exception and as the sun set on the horizon, we were treated to another beautiful spectacle. A group of Thai divers enjoyed the sunset by doing choreographed yoga exercises on the runway which was another spectacle in itself. Maybe they were feeling 'high' from too much nitrogen in the blood or perhaps yoga helped the nitrogen to outgas more quickly from the bloodstream! Hmmm....
Another cloudy day, this time with rainclouds sweeping towards the island. By the time we reached Gorgonian Forest for our first dive, it was drizzling and the surf was stronger than usual. Today, we were accompanied by a Scubazoo videographer who would make a DVD of our dives and attempt to sell it to us at the end of the day. As usual, we headed out to The Point dropping to 31 metres but did not find the hammerheads. With the number of aggressive nesting yellowmargin triggerfish around, we ended up doing our decompression stop above 2 giant clams lying next to each other, their shells encrusted with coral. They were about a metre across each and must have taken a long time to reach that size. We headed back to the island just in time to see the Layang Layang Aerospace plane taking off.
School of mobula devil rays in the deep.
Broadhead flathead at jetty night dive.
Seng Hock decided to sit out the rest of the dives today to rest from his painful reverse block. Leaving him back at the resort, we went on our second dive to Dogtooth Lair towards the Point. This time, a school of mobula devil rays appeared and seemed to be playing with us, diving deep below us and then coming up a distance away. Even when I was at 35 metres they were deeper still, passing below as blurry graceful shadows. With little sunshine on a rainy day like today, it was dark on the reef and darker still out in the blue. Even if there were larger pelagics around, it was easy to miss them with the kind of visibility we were having. The only other large fish we encountered were 3 giant trevallies racing past us.
At Midreef for a leisurely afternoon dive with a maximum depth of 23 metres, we encountered whitetip reef sharks resting on the sandy bottom, beautiful black soft corals, a gray reef shark and a small school of chevron barracudas. Like the whitetips at Sipadan, the ones here seemed quite unafraid of divers and were willing to allow me to get quite close to them before moving off. Before surfacing, our entire dive group held hands and formed a circle for the Scubazoo videographer.
A few of us went on a night dive at the jetty having informed the dive centre much earlier in the day. This was because they had to notify the Navy folks that there would be night divers so they wouldn't get alarmed and think we were illegal immigrants, spies or saboteurs when they saw lights under the sea near their base. Neither did we want to surface and find ourselves staring down the barrels of a gunboat! The navy jetty was not far from the utility jetty which we used for our dive entry and exit so it's possible for divers to stray to the navy side. We did a simple to and fro sweep of the jetty area and found lionfish, flatheads, banded coral shrimp, juvenile cornetfishes and 2 large sleeping puffers - a whitespotted puffer and a map puffer, probably the same one we saw during our shore dive earlier.
Inspired by the Thai group of divers we saw last night who left this morning, we decided to have our own activities on the runway - stargazing. After dinner, we walked along the runway until we were well away from the resort lights, laid down flat on our backs on the tarmac and glanced up at the sky. When our eyes had adjusted to the darkness, we were amazed by the magnificent view on this cloudless night. Stars carpeted the sky from horizon to horizon. The cloud-like Milky Way, constellations and even planes high above were all clearly visible with the naked eye. This was by far the clearest sky all of us had seen, made possible by the fact that being so far away from the nearest land mass, there was no reflected light, haze or pollution to dim our view.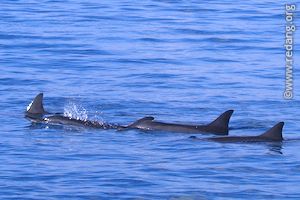 A pod of dolphins playing on the surface of the lagoon.
We awoke to our first bright morning sunshine since the day we arrived. It had been cloudy, overcast and even drizzling the last few days that it was nice to just bask in the hot sunshine once again. Even the lagoon was a picture of perfect blue calm. As we geared up for our last dive in Layang Layang, we were hoping we could see the hammerheads or rays one last time. Instead we were rewarded with something else we had not yet encountered - dolphins in the lagoon! As our dive boat was leaving for Gorgonion Forest, we saw the dolphins playing near the surface of the still waters in the lagoon. There was a pod of about 8 to 10 dolphins. Each time our boat drew near, they would swim away. We were advised not to jump in as we would end up frightening them away. Besides, we had also been warned that they could exhibit protective or aggressive behaviour during mating season. It was a perfect day to see them as they liked to play near the surface during sunny, bright and calm water conditions, their wet gray bodies glinting in the morning sunshine each time they arched out of and back into the water.
After a couple of minutes with the dolphins, we proceeded to Gorgonian Forest. Descending 33 metres into the blue, we waited a while and peered into the inky depths and dark blue waters surrounding us, expecting to see shadowy shapes emerging out of the darkness. After waiting as long as we could at that depth without going into a decompression dive, we headed back to the reef. It looked like the schools of hammerheads had gone away for now. Fortunately, we had managed to catch the tail end of sightings during our first few dives. Many dive groups who were here the week before us had encountered them nearly every day while dive groups which arrived later than us had yet to to witness these majestic creatures. As with other pelagic marine life, they come and go and no one knows the exact season or time.
We heard that some divers became angry and upset with divemasters when they did not see hammerheads during their stay. While we empathise with these divers, it's unfair to take it out on the divemasters as they don't have control over the marine life and cannot guarantee sightings. That's like folks on this website forum asking whether they'll have good weather when they visit Redang at a particular time - no one can predict that nor guarantee good weather. What's more important is that divemasters take good care of divers and ensure their safety. For that, we were thankful to Asther for her good guidance and care, and thankful for the opportunity to witness the rich diversity of pristine marine life here. The hammerheads and rays we encountered were simply an additional bonus, icing on an already beautiful cake! Perhaps those involved in promoting the island should not overinflate diver expectations to the point of 'hammerhead madness'. There is much else to promote in Layang Layang - the pristine corals, the beautiful sea fans, the lovely wall dives, all of which are guaranteed experiences. Hammerheads? Not every visiting diver will encounter them here. Fact is, hammerhead sharks can also be seen in Sipadan and other tropical dive locations but nobody hypes them up at those places.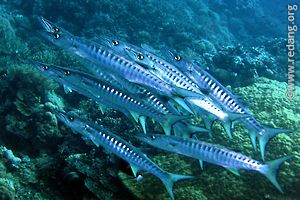 School of barracudas.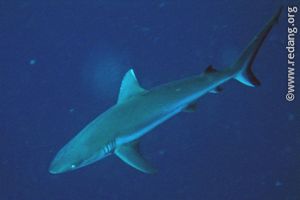 Gray reef shark, one amongst many diverse species of marine life that visit Layang Layang.
Just on this final dive alone, we saw whitetip reef sharks, a gray reef shark, a bumphead parrotfish, giant grouper and a hawksbill turtle - each of which could have been the highlight of a single, exciting dive at Redang, Tenggol or some other dive destination. With so much to see, there really are no bad dives here in Layang Layang unless one spends all the dives 'in the blue' and nothing happens. The greater one's expectations, the greater the disappointment when the 'star' attractions are not seen. For me, the only disappointment was not being able to pay closer attention to the smaller marine life among the pristine coral reefs as they were literally 'mined' with nesting yellowmargin triggerfish. We encountered the most yellowmargin triggerfishes during our decompression stop - no fewer than 8 large triggers hovering around the sandy bottom while another small school of juvenile triggers swam nearby. We could see the nesting adults aggressively chasing anything that dared to venture into their territories, including other triggerfishes. When a bumphead parrotfish appeared at the back of the group, I swam over to catch a few photos but decided not to pursue it once it headed towards the reef. I was surprised when Mituhiro, the Japanese diver in our group, decided to go after it for his photos. To his credit, he finned quite quickly and managed to negotiate past a few triggerfishes but we did see one or two triggers going after him. Fortunately he wasn't hurt but through his 'brave' act, we were treated to a live demonstration of the aggressive behaviour of nesting triggers towards divers!
Our last dive over, we had the rest of the day free to relax. We had to observe the 24-hour no-fly requirement as our flight would be leaving the next day around 8am. After putting our names up on the whiteboard at the dive centre for the Bird Island visit, we had a leisurely breakfast then rinsed and hung out all our diving equipment to dry in the hot sun. In a way, we were glad that the last few days were cloudy as the sun was really hot out here in the middle of the ocean which made us feel lethargic. It would probably have been worse had it not been for the number of trees planted on the island. We cooled ourselves occasionally in the swimming pool and whiled away the time playing pool and foosball.
Bird Island
Thousands of great crested terns, brown noddys and sooty terns and their young.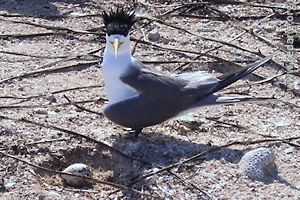 Great crested tern guarding its egg.
Another highlight of this trip was our visit to Bird Island in the afternoon. We had passed Bird Island from a distance many times during our visits to Gorgonion Forest, The Point and Dogtooth Lair and we had noticed it was always full of birds but it was too far to hear much noise. This time, as the boat carefully manouvered across the shallow reefs nearer to Bird Island, our ears became increasingly filled with the incessant squawking of hundreds or even thousands of seabirds which sounded like they were protesting our arrival on their small island which was roughly the size of 2 tennis courts.
When the boat pulled up on the shores of Bird Island, it was such an impact on the senses. The sensation of being surrounded by so many birds in the air and on the ground and being enveloped in their noisy cacophony was like nothing I had ever encountered before. It was one of those rare 'National Geographic' moments - the kind of stuff one sees on National Geographic Channel on TV but never imagined one would ever encounter in real life. There were birds flying, hovering, swimming, resting, incubating their eggs, feeding and taking care of their young, all going about their affairs as if we weren't even there.
It was easy to be overwhelmed by so much action happening all at once and it was only when I learnt to observe specific individuals that I could appreciate them further. There were 3 species of seabirds: the great crested tern, the sooty tern and the brown noddy. Each individual had their own story to tell: the mother teaching the chick how to swim, the father feeding fish to the chick, protective parents chasing away other birds from their nests, parents sitting on their eggs to incubate them. And then there were also the sad stories - a dying newborn chick on the beach gasping for air, dead and partially decomposed chicks, abandoned by parents for healthier, stronger siblings or simply victims in nature's game of 'survival of the fittest'. We had to tread very carefully on the beach and not wander into the nesting area lest we disturb or frighten off the birds.
After spending about half an hour on the island, it was time to leave the birds and return to the tranquility of our resort. For me, Bird Island was the highlight of this trip to Layang Layang. Diving in different locations offers opportunities to view different marine life but the diving experiences become similar after awhile. Unlike diving, Bird Island was a unique first-time experience of this kind and it certainly left a deep, indelible impression on me (and I'm not talking about bird droppings either which surprisingly, considering the number of birds flying over our heads, none of us actually got bombarded!).
Last night at Layang Layang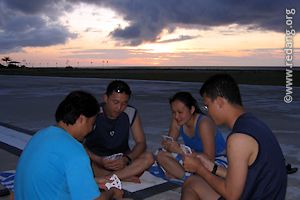 Nocturnal runway card sharks.
Runway exercises - our method of outgassing nitrogen from our bloodstream...
As the sun went down, I went for a walk to the western end of the island, near the channel, while the others sat on the runway and played cards. There was a pavilion at the far end just beyond the airplane tarmac and a small beach next to the channel. Looking around, I couldn't help thinking how boring it would be for non-divers or families with kids to be on Layang Layang. There were no snorkelling sites, no beach to lay on, no shops to browse and no entertainment other than the TV in the room. This is strictly a diver's island!
After dinner, we were back on the runway, lying face up on our towels on the hard tarmac in one of the darkest spots, to admire the night sky. We were rewarded with a few sightings of some small meteors burning up in the atmosphere, leaving a greenish trail. It reminded me of the Leonid meteor showers I observed about a decade ago. Without any mosquitoes or bugs bothering us and with a gentle soothing breeze, it was easy to fall asleep out here on the tarmac. The peace was disrupted when a fire truck from the Navy base showed up and announced on its loudspeaker to clear the runway for planes that may be landing. We found out later that this was just a silly prank as there were no planes scheduled to land that night. If there were military planes landing, they would have lit the beacons along the length of the runway. Looked like even the Navy personnel on Layang Layang were bored!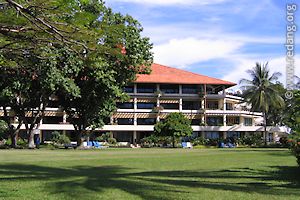 Shangri-la Tanjung Aru Resort, Kota Kinbalu.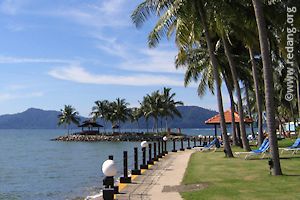 Shangri-la beachfront.
We checked out of our rooms at 7am, had a light breakfast and waited for our plane. It touched down around 8:30am and before long we were onboard and headed back to Kota Kinabalu. This time, we made sure we were among the first to board so we could get seats nearer the window which made it a less claustrophobic flight back to the mainland.
Upon arrival at Terminal 2, we checked-in to the Shangri La Tanjung Rhu resort nearby where Michael, my local friend Flora's husband, worked. Compared to the resort at Layang Layang, this was really very luxurious and comfortable. We took a cab to Jalan Gaya in the heart of town for some simple local noodles - a welcome change after 5 days of sumptuous dining on the island - before doing some shopping at Warisan Square shopping centre. We returned to the hotel to cool off in the pool and enjoyed a bit of pool volleyball. Chee Faun, Marco, Pam and Low left soon after to catch their 6pm flight home to KL while Seng Hock and I joined Flora and Michael for a lovely dinner at Seafood Garden before catching our 9pm flight back to Johor Bahru. Arriving 10 minutes earlier than scheduled, we caught a taxi back across the Causeway to Singapore (Ban San road) Rochor terminus for RM80. With no jams at the Causeway, it was smooth sailing and I arrived home around half past midnight.
Even before we parted company at KK, we were already thinking about next year's diving destination. Layang Layang had set such a high standard it would be hard to top it if we were looking for pristine coral reefs and large pelagics. Perhaps muck diving and macro life might be a good change. Manado/Lembeh Straits anyone? Or Lankayan?
Wth Asther (DM), Mituhiro & Hiroe from Japan | Lunch at the resort (top), Shangri-la pool (bottom) | Low, Pam, Marco, Asther, Chee Faun & me