It was 8pm when we boarded the coach at Seng Hock's place in Woodlands. We had all driven and parked our vehicles there as it was more convenient. The 44-seater coach made its way via the Second Link to the Malaysian Immigration where we changed to a more comfortable 28-seater VIP coach. As planned, we arrived in Gelang Patah just before 9:30pm for a late dinner at a roadside Chinese restaurant. The good thing about having our very own chartered coach was the flexibility of stopping as often as required for toilet breaks and refreshments. Without a fixed schedule, it also meant driving at a safer and more leisurely pace, a less bumpy ride and a more restful journey.
Laguna Resort boats at Laguna's jetty in Redang.
Dermatobranchus ornatus nudibranch.
Hawksbill turtle at Terumbu Kili.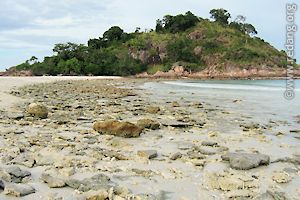 Exposed rocky beach at Shark Bay.
We reached Merang jetty at around 9 am and didn't have to wait long to board Laguna's first boat to Redang, a large and comfortable boat capable of taking over a hundred passengers. There was an even newer and bigger boat beside it with a capacity of over 140 passengers. It seems each year the boats get bigger and bigger - at this rate, we'll soon have cruise ship size passenger boats at Merang! These large boats were definitely designed for greater comfort with supportive seats, air-conditioning, video entertainment and a smoother, more stable ride to the island, something that those prone to getting sea-sick would appreciate. The trade-off was that it was slower, taking about an hour to get to Redang. Though I appreciated the comfort, I also missed the wind-in-your-face, wetter, bumpier and more exhilarating ride on the small, fast open speedboats operated by some of the smaller resorts - the sort that left one's face numb upon arrival in Redang.
Unlike recent reports in this website's Forum about stormy weather at Redang, this morning was picture perfect with bright morning sunshine, blue skies and very clear weather - so clear that Lang Tengah and Perhentian islands appeared much closer to Redang. I had encountered a similar situation in Kapalai earlier this year when overnight storms cleared the haze and pollutants in the air, leaving the mainland clearly visible from Kapalai when we could hardly see it the day before. I concluded there must have been a storm the night before in Redang which staff members confirmed after we arrived at Laguna. In fact, the weather at Redang the last 2 weeks had been quite bad for this time of year - there were strong waves at Pasir Panjang and it had rained quite often especially during the evenings. Hopefully we would have better weather during our 4D/3N visit.
While the family rested in the afternoon, Seng Hock and I took the chance to join the afternoon dive at Terumbu Kili where we encountered a large white nudibranch as well as a tame Hawksbill turtle. Later in the evening, Sarah and I snorkelled at Shark Bay to see if we could spot the baby black-tip sharks. We saw 3 of them, but what caught my attention were some large patches of green algae at various parts of the housereef which I had not noticed on previous visits. While green algae is commonly found on coral reefs, their presence and rapid growth in areas where they were previously absent could indicate water polluted with organic wastes.
It was also sad to see large areas of dead coral - the housereef at Shark Bay was now just a pale shadow of its former self years ago when it used to cover a much larger area. At the beach in front of Shark Bay, large slabs of exposed rock and dead coral littered the once-sandy beach. I was told that the rocks and coral slabs had always been there but were exposed during spring tides when the low tide was lower than usual (and high tides were also higher than usual). Though this might be partially true, I suspected these may have been exposed when strong waves experienced the last two weeks eroded the sandy beach. It was also possible that the gradually shrinking coral cover at Shark Bay over the years due to both natural and human causes had reduced the natural protection offered by coral reefs and made the beach more susceptible to erosion.
Berjaya Air plane over the Marine Park Centre.
Snorkellers from Laguna arriving at the Marine Park
This morning, we joined the snorkelling session at the Marine Park Centre. Just as we got into the water, a Berjaya Air plane took off from the nearby airport, headed straight for the Marine Park centre and flew directly overhead while gaining altitude. While this offered some dramatic photo opportunities, I couldn't help wondering what would happen if they had to ditch in the sea in an emergency since the often crowded marine park centre was right in its path. Perhaps they should shift their flight path away from the park centre as a precaution.
Sea conditions were calm with no currents which made it safe to swim out to the shipwreck and explore it at leisure. Judging by the number of snorkellers present at the wreck, it was a popular place for taking underwater digital portraits. After all, it's not often that snorkellers get to have their photographs taken at shipwrecks since most are in deeper water accessible only to divers.
As usual, the ever-hungry sergeant majors and damsel fishes were present in large numbers with a few wrasses and parrotfish joining in the feeding frenzy whenever bread was thrown into the water. A pair of trevallys and a baby black-tip shark were also spotted near the shallows east of the jetty. Over at the visitor centre, a few baby green turtles were on display.
It was good to see the resident giant grouper and giant moray eel still at their usual hideouts underneath the jetty - it's a nice feeling to come back to the Marine Park Centre year after year and see the same pair of familiar faces, like visiting old acquaintances. It is these recognizable individual marine residents that help make Redang special - others include the resident bread-eating titan trigger at the Marine Park, the resident orange-lined trigger fish at Shark Bay, the resident stingray near the Redang Reef housereef and the resident Hawksbill turtles at Terumbu Kili.
Stonefish at Mak Cantik.
In the afternoon, I joined the dive at Mak Cantik with Saiful leading the group. There were hardly any currents which meant few pelagics and other large fish - even the usual school of yellowtail barracudas were absent. Only thing of interest was a large stonefish hiding under a coral boulder.
The evening saw members of our group taking to the water in Laguna's banana boat. Scheduled from 5:30-7:00pm daily when there is less boat traffic around Pasir Panjang, the yellow inflatable boat required a minimum of 4 riders and could seat up to 6 riders. With 10 riders, we split into two groups. At RM20 per head, the 15-minute ride took us around Pulau Paku Besar and Teluk Kalong. As there were younger children in our groups, the ride was toned down a few notches from 'hang-on-for-dear-life' to 'sit-back-and-relax'. Not quite as thrilling - we didn't suffer any spills - but it was a unique way to enjoy the scenery.
A day full of activities meant bigger appetites and so it was a nice way to end the day with a leisurely dinner feasting on delicious satay (marinated meat on wooden skewers served with spicy peanut sauce), grilled squid, lamb, beef, chicken wings, jacket potatoes, buttered corn cobs and many other items at the barbeque dinner. Those of us with energy left to spare wound up the day in the karaoke room.
Ramly burger stall at Redang beach.
Algae-infested surface runoff at northern Pasir Panjang.
We woke up to another fine morning with clear skies and bright sunshine and were grateful for the fine weather we had been experiencing since we arrived. As the family was not keen on snorkelling this morning, we had a more leisurely breakfast after which we went for a walk along Pasir Panjang beach together with Seng Hock's family.
As usual, I took the opportunity to visit the various other resorts to see if there were any changes. After reading about Ramly burgers in the Forum, I managed to find the stall tucked away in Redang Beach's outdoor-style 'kopitiam'. It was closed but at least I knew where to get greasy burgers if I ever needed a late-night snack. Ayu Mayang resort remained closed and looked like it had not opened for business this year. Elsewhere, things looked much the same as they did when I was last here in April.
During the walk, I noticed the surface run-off between Beach and Lagoon had covered the sand with green algae. During heavy downpours, this run-off becomes a small flowing river leading to the sea at Shark Bay. My primary concern was whether the run-off was also carrying organic wastes and other pollutants into the sea which may explain the algal blooms I had seen earlier in Shark Bay. Though it was now dry, the green algal mats left on the beach along its path to the sea and a small pool of dark green stagnant water rich with algae further upstream suggested the possibility of higher-than-normal levels of nitrates and phosphates. Though these are naturally occuring, detergents and organic wastes can also contribute to increased concentrations of nitrates and phosphates which in turn fuel the growth of algae. It was the same story further up the beach at the run-off between Pelangi and Coral which had some rather polluted-looking water. It was not possible to draw any conclusions without testing and monitoring the water quality at various points along these run-offs. Perhaps this is something the authorities and environmental groups can consider doing as part of the marine conservation effort around the heavily populated Pasir Panjang area.
With the late morning sun cooking the exposed beaches, it got really hot walking on the beach so we decided to cool down with some iced tea at Redang Bay's coffeeshop. The wooden jetty in front of Redang Bay was present again this time - looked like it was not a permanent fixture on the beach but was something that could be easily dismantled and assembled when needed. Other than that, this northern side of Pasir Panjang beach looked much nicer than the southern side which was visually marred by the eye-sore at Shark Bay.
An almost completed Desagreen resort.
Phyllinopsis cyanea nudibranch
Interesting sea slug known as a sea hare.
We continued our walk till we arrived at Desagreen, the new 4-star resort which was nearing completion. Wandering around the resort grounds and the almost-completed chalets, we were quite impressed with this classy looking resort. The main building was fronted by a nice looking pool or fountain while next to it stood a 4- or 5-storey observation tower of sorts. Single-storey seaview facing chalets lined the long beach front while double-storey accommodation blocks were arranged around a central courtyard inside. With its impressive facade, it will visually dominate the northern side of Pasir Panjang when it opens next year, just as Laguna visually dominates the southern side of the beach.
We followed the afternoon snorkelling trip to Teluk Kalong in front of Mozana and Redang Kalong resorts. The corals here appeared healthier than those at Shark Bay, Tanjung Tengah and Tanjung Mak Cantik, not surprisingly because they were in deeper water. Visibility was good which allowed us to swim at the edge of the reef and easily spot any sharks, rays or turtles coming into the reef from the sandy bottom. There wasn't as much marine life compared to the housereefs at Pasir Panjang but we still managed to see a school of squid and an adult black-tip shark which we chased but lost sight of when it swam towards shallower waters where visibility was not as good. We saw it again later as it headed out of the reef over the sandy bottom and disappeared into deeper waters.
Returning from our snorkelling trip, Seng Hock and I geared up for one last dive with James, who brought us to a new uncharted dive spot which turned out to be a macro photographer's paradise. Scattered around the sandy bottom at 18m depth, we encountered a number of marine species I had not seen previously at Redang including my very first encounter with a sea hare. There were well-camouflaged small filefish, sea-slugs, juvenile cuttlefish, flounders and numerous species of gobies and their shrimp housemates.
This being our final night in Redang, after dinner, we sat in front of the More More Tea gift shop listening to the live band belting out covers of popular hits of yesteryears at Laguna's Tupai Beach Bar while the younger children played with sparklers. Our 4D/3N at Redang had passed too quickly - time always flies when one is having fun. Perhaps we should plan a longer trip next time.
Our group in Redang 2006.
We got up early for breakfast as we had to catch the 9am boat out of Redang. Arriving an hour later at Merang jetty, we didn't have to wait long before our chartered coach showed up for the long ride back to Singapore. We whiled away the hours playing games and having sing-a-longs on the coach. Along the way, we stopped at Kuantan for lunch and at Air Hitam for dinner. It was a smooth journey right until we neared Johor Bahru - instead of using the Second Link, the coach driver headed for the Causeway, thinking there would be no jam as it was already 10pm on a Monday night. As it turned out, we were caught in a long jam just out of Skudai due to a police roadblock and checkpoint, and later hit an even more massive traffic jam near the Causeway. There were many Singapore-registered vehicles trying to get across which was a surprise as it was a Monday night and not a weekend. By the time we got across to Singapore, it was already 12:30am. This was probably the longest coach journey I had ever been on - almost 14 hours! Still, I was thankful that this was the only hiccup on an otherwise memorable and enjoyable trip made possible by the great company and perfect weather at Redang.
TOP: Our family | Sarah on the roof of the boat | With Daisy and Andy from Hong Kong
BOTTOM: Timothy, Christopher and Sarah | With Seng Hock, Nancy, Nicholas and Natalie | Sarah and Joyce with Natalie