Five Stars 18-seater Executive coach
It was 10:20pm when the Five Stars coach left Golden Mile Centre for our overnight journey to Merang jetty. All the passengers had arrived and boarded early which allowed us to leave 10 minutes ahead of schedule. This time, I was travelling with Tim Chia and his family. Tim last accompanied me to Redang for his PADI Advanced in April last year. The five of us had paid S$73 each for the return journey and it looked like we would have a really comfortable journey ahead.
Compared to last year's coach, this 18-seat Executive coach was a few notches up in terms of spaciousness and comfort. With only 6 rows of seats, the amount of legroom was very generous. The electrically-operated snoozer seats reclined within a fixed rear shell by sliding forward so that they did not eat into the legroom of the passengers behind. The rear shell of each seat held an adjustable footrest and a personal entertainment system with a 12-inch screen, offering a selection of English and Chinese movies, cartoons, video games and music. A remote control was built into the right armrest and the supplied headphones allowed passengers to be entertained without disturbing other passengers. Three sets of switches built into the left armrest controlled the recline, leg support and footrest, allowing passengers to find a comfortable sleeping position. As usual, the geek in me couldn't resist the temptation to explore the controls and entertainment system and it wasn't until we were well past Yong Peng that I finally succumbed to the comfy seats and snoozed, even before the action movie Sahara had finished - Matthew McConaughey and Penelope Cruz were no match for the snoozer seat!
Wreck dive
Map pufferfish at the Wreck dive.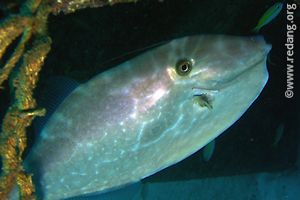 Unicorn filefish.
School of orangelined cardinals.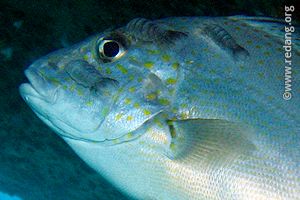 Spotted sweetlips with parasitic isopods on its face.
For once, I actually managed a decent 4-5 hours sleep on the coach and only woke up when the coach arrived at Merang jetty around 7:30am. Tim's family had dropped off in Dungun earlier to visit some relatives and would join us in Redang the next day. After a leisurely nasi lemak breakfast at Laguna's waiting area, we boarded the 9:30am ferry to Redang together with Chin Heng who was Tim's dive instructor on his Advanced course last year. It was a smooth ride on a calm but cloudy morning. Tim and I stayed outside on front deck to catch the salty air and Chin Heng later gave us a demo of the boat's sonar equipment. It was interesting to be able to 'see' the changing profile of the seabed and larger fishes on the sonar's colour monitor as we entered Redang waters. More interestingly, it could actually be used as a tool to locate new dive sites.
Arriving at Laguna's jetty, we headed straight for the dive centre. Jimmy and Hitomi had left Laguna earlier this year - we heard they may have moved to Tioman, where Jimmy grew up. The dive centre staff now comprised instructors Chin Heng ("Ah Boy"), Eaing and Desmond (formerly from Leisure Divers at Redang Reef but now working as a freelance instructor) and divemasters Chin, Ling, Linda and Saiful, who was away on leave during our visit. After getting acquainted with the staff, we headed to the reception where we met Elvis and many other familiar faces among the staff. It was good to be back!
Pasir Panjang looked beautiful and calm, bearing none of the scars of the last monsoon that saw much of the beach eroded due to high tides and strong waves. Then, many of the resorts suffered damage to their beachfront facilities and Laguna was no exception. It had to rebuild its Tupai Beach Bar extension and put up concrete retaining walls in front of it to prevent further damage. The sandy beach was naturally restored and now it looked picture perfect.
In the afternoon, we headed for our first dive at the Wreck, a new dive location where 3 wooden trawlers had been sunk a few months earlier to create an artificial reef on a sandy bottom area around 24 metres deep. Considering that the wrecks were only a few months old, there was an impressive array of fish life present. Lionfish and puffers had made their residence on deck while sweetlips, groupers and snappers hid beneath the hull. Large schools of orange-lined cardinal fish, fusiliers and damsels swam around the largely intact wrecks and trawler nets. I even encountered a large unicorn filefish, a relatively uncommon pelagic species compared to its cousin, the scribbled filefish which is often seen in Redang waters. The wrecks seemed to be a bigger magnet for fish life compared to the reef balls and it'll be interesting to see what else they attract over time.
After dinner, we went down to the tideline to look for 'blue sand', the tiny bioluminescent ostracods that glowed blue when pressed. We found only a few at the corner of the beach in front of Laguna but more on the front beach of Redang Reef resort and at the corner of Tanjung Tengah in front of Redang Bay. There was also an interesting display of jaw bones from white-tip, black-tip and smaller reef sharks at Leisure Divers in Redang Reef. They assured us these did not come from Redang waters but were bought from elsewhere.
Declining reef cover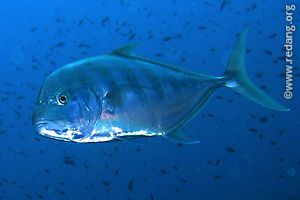 Yellow dotted trevally at Paku Kecil.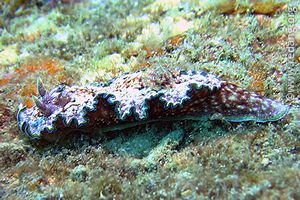 Nudibranch glossodoris cincta at Paku Kecil.
Healthy corals at Terumbu Kili.
With Laguna now running 3 dives a day, two in the morning and one in the afternoon, we had to be up at 7am to be on time for the first dive at 8am. Not a problem if one had a good night's sleep. Unfortunately for me, as in Layang Layang Island Resort, I found the pillows too soft. Perhaps they should make firmer pillows available for guests either upon request or as spare pillows in the room's wardrobe.
Strong currents at Chek Isa this morning saw us start off the day's dives at Pulau Paku Kecil instead where we encountered trevallies, pipefish, shrimpfish and nudibranch. It had been a long time since I last dived here but it seemed that coral cover had declined with quite a number of areas that had been reduced to rubble. Perhaps this was due to its close proximity to Pasir Panjang. With Layang Layang still fresh in my mind, it was such a vast contrast comparing the corals here to the lush coral gardens at Layang Layang which carpeted almost every inch of the reef.
Our second morning dive was at Terumbu Kili where the corals were in much better condition compared to Pulau Paku Kecil. I've always enjoyed seeing the wide fields of lettuce coral and brown acropora hard coral. It was also common to encounter hawksbill turtles here but we didn't see any this time round.
Tim's family arrived in Redang just as we were leaving for our afternoon dive at Pulau Lima southern tip. They were last here as part of my group in June 2002 when we stayed at Redang Reef. It would be interesting to see whether they would notice any changes underwater since their last visit, especially since they were on a snorkelling package. Seng Lip had also arrived earlier in the day and his son Daryl joined us for the afternoon dive, having obtained his PADI open water certification earlier in the year.
While past visits to southern tip at Pulau Lima had always yielded encounters with black-tip sharks and other interesting marine life, this dive was particularly uneventful and uninteresting. It was as if the larger pelagics and sharks were on vacation. Once again, I was disappointed to see areas that had been reduced to coral rubble. Perhaps we were beginning to see the impact of climate change on the health of the reefs here. We were told that this year there was no clear sign of the tail-end of monsoon which typically occurred sometime in the first 2 weeks of March. Usually the tail-end was marked by rough seas and rain but for the first time in many years, it had not happened this year. It had also been a wetter-than-usual July and today was no exception with the rains coming down hard during dinner time and overnight. Even the live Filipino band performing at the Tupai Beach Bar had to move inside the reception area to continue their performance.
Resort updates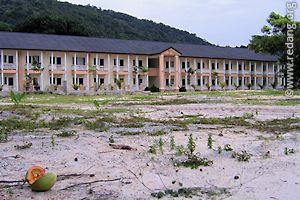 Redang Beach's super quad rooms.
This evening, I did my usual beach trek to see what was going on at the other resorts. While most looked the same as they did last year, Redang Beach resort had a nice new building housing their 36 super quad rooms which could accommodate 4 to 6 persons per room. The vacant ground in front of the building would be used to house their family suites which would be ready next year. Apart from the additional rooms, Redang Beach had also built a pretty mini-mall behind their reception area which housed their gift shop, a mini-mart and the La Patisseria bakery/desert shop selling cakes and ice-cream. Redang Beach has certainly grown up and moved slightly upmarket, distancing itself from the rest of the budget resorts. With a good variety of food outlets (Summer Palace ala-carte restaurant, Summerpoint and Kopitiam food courts and La Patisseria) in addition to a beach disco and facilities like the Bamboo Inn reflexology centre and an internet cafe, they will continue to be a hit with the younger crowd and with the foodies.
Seahorse!
This morning we went out to Tanjung Tokong. Situated at the entrance to Chagar Hutang where SEATRU is located, this site had some of the healthiest corals in Redang including many lovely gorgonian fans, thanks largely to the protected beach which is out of bounds to visitors. After the dive, I found my stomach churning which caused me to share my breakfast with the fishes. I decided to skip the second morning dive to Tg.Cina Terjun and rested right through lunch before rejoining the group for the afternoon dive at another new dive site called Sandy Bottom.
Nudibranch armina sp.4 at Sandy Bottom.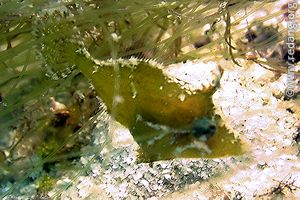 Seagrass filefish at Sandy Bottom.
Like the Highway where I encountered the seahare last September, Sandy Bottom comprised a flat sandy bottom about 20 metres deep but with seagrass growing in isolated patches. Early in the dive, Linda, one of the divemasters, found a seahorse on a patch of seagrass, which was quite exciting for me as it was the first time I had encountered a seahorse in Redang waters. We also found a nudibranch, a tiny seagrass filefish well camouflaged in a patch of seagrass and patches of anemone with saddleback anemonefish, a species less frequently encountered in Redang. It was strange to see the anemonefish swimming in open water in the featureless area high above their anemone patch, aggressively trying to chase us away, their strong dark and light colours contrasting with the blue water. Once again, after the dive, my stomach acted up again, so this time I was sure it wasn't anything I ate - probably a sign of a weak stomach...
Back at Pasir Panjang in the evening, I watched the dive crew take Laguna's 3-seater towable tube out for a spin. Like the banana boat, the disc-shaped inflatable tube was towed by a speedboat. Unlike the banana boat, the tube looked much more exciting, bouncing and skimming over each wave, sometimes lifting the riders up into the air. This also meant that it was easier to get thrown off - perfect for adrenalin junkies!
We joined Seng Lip and his family for a steamboat dinner at the Sri Serai ala-carte restaurant on the ground floor of the reception block. It was nice to dine here for a change, away from the noise and crowds at the buffet restaurant upstairs. Many of the other guests dining here were foreigners, some probably on Laguna's premium package which included meals at this ala-carte restaurant instead of the buffet restaurant. For fans of steamboat, Summer Palace restaurant at Redang Beach next door also offered steamboat meals. Usually, I find local weather too hot for steamboat but with all the rain and cloudy skies we had been getting in Redang, this was quite comfortable.
Woke up early at 6:30am to catch the sunrise and pack. Unfortunately, it was a very cloudy morning and all we saw was a gradual brightening of the sky with only a pale tinge of orange. The overnight rain had just stopped momentarily and we soon found ourselves hurrying back from the beach towards cover when a drizzle started. After breakfast, it was time to say goodbye as we left on the 9am ferry back to Merang, where the Five Stars coach was waiting for us. The trip back to Singapore took a lot longer than the trip up to Redang, clocking around 11 hours from Merang to Golden Mile Centre at Beach Road with stops at Kuantan for lunch and Yong Peng for dinner. At least it was a comfortable ride in the snoozer seats and the personal entertainment system made the journey seem shorter.
Riding the ferry back to the mainland, I couldn't help feeling a little sad and disappointed at the deterioration of the corals at many of the dive sites we visited. Even Tim's family members were able to notice the much poorer state of the corals at the housereef in front of Redang Reef and at the Marine Park, compared with what they had experienced 5 years ago. It had been 10 years since my first visit and given the rate of change in the underwater landscape, I can't say I'm very optimistic about the next 10 years. Yet, there were encouraging signs too such as the surprise encounters at the new dive sites - the rich marine life around the wrecks and marine species I had not previously encountered in Redang like the seahorse, unicorn filefish and saddleback anemonefish. It's good to know that Redang still has much to offer in terms of new undiscovered dive sites and along with that, encounters with species of marine life not previously seen here. Hopefully, all these will be able to survive the natural and human threats that have already claimed a significant proportion of the reefs over the last few years.

Me, Linda, Chin, Ling, Daryl, Tim Chia, Chin Heng, Desmond and Eaing | Tim Chia and his family