After trying out a discovery dive in Redang last year, I had signed up for a NAUI scuba diver course at the office. We had to demonstrate we could swim 200 metres in the company pool, followed by 15 minutes treading water at the deep end and finally a 20 metre underwater swim on one breath before we were accepted into the course. Then, we had to sit through 4 evenings of lectures and 2 pool sessions before heading out to Pulau Pemanggil for the final 'open water' part of our course. By then, we were really eager to experience our first open water dives!
Arriving at Mersing around midnight, any thought of tucking in early for the night disappeared as it was low tide and our boat could not leave. By the time the tide came in and we set off, it was already 4am.
It would be a long, slow ride on this fishing boat, a far cry from the fast speedboats in Redang. We slept on whatever space we could find on the wooden benches and damp open deck which smelt rather fishy, positioning ourselves away from the diesel fumes at the rear of the boat. It was an experience riding in the dark of night, accompanied only by the sounds of the diesel engines and waves, the rocking of the boat lulling us to sleep under a canopy of stars staring at us in the clear night sky.
Pemanggil island.
Elephant rock or Batu Gajah
I awoke to the sound of excited voices. We had arrived at the jetty at Kampung Buau. I was surprised that I had slept right through the journey and even missed the beautiful sunrise! Looming ahead of us was Batu Buau (Buau Rock) which resembled an elephant, and the local village of Kampung Buau where we would be staying. Any thoughts of Pemanggil being a laid-back, undeveloped place vanished when we saw the Astro satellite TV dish on the village school and solar-powered street lamps. Ahhh, the wonders of modern technology in a rural and remote setting...
After unloading and checking into our chalet rooms, we tucked into breakfast before heading out for our first dive on the fishing boat that brought us here. It would also serve as our dive boat throughout our stay.
Our first dive was at Lanchang Bay which was a suitable place for newbies like us. Sandy bottom, good visibility of more than 10 metres and shallow waters just 8 metres deep. We practised all the basic skills we had learnt during the pool sessions: mask removal, BC removal, weight belt removal, regulator removal and retrieval, buddy breathing, CESA and others. It was certainly more interesting going through all the procedures here than in the pool - at least we got to admire fishes swimming around while waiting for others to finish their turn!
After lunch, we headed out for our second dive at Gua Sarang, where we did a leisure dive. The evening was spent exploring the beach and snorkelling around the jetty area, which had some hard corals but mostly coral rubble and few fishes. As night fell, we were treated to a beautiful view of the moon over Batu Buau.
Fishing boat doubling up as our dive boat.
The next morning, we went back to Lanchang Bay for navigation and rescue, where we had to surface with an 'unconscious' diver whom we had to tow back to the boat while simulating mouth to mouth resuscitation. One of the more interesting and useful exercises which I discovered later was part of the Rescue Diver course and not normally taught at open water certification level.
The afternoon dive was at Pontianak, where we encountered a giant moray eel. Later in the evening, we had to sit for our theory test. No open book examination here. We had to rely on the mental notes we had taken during the lecture sessions and the things we had learnt during our 4 dives here. Looked like no one slept through the lectures as everyone passed!
Chee Keat and me during our first open water dives.
Our final morning in Pemanggil and our batch of newly qualified open water divers were brought to Kador Bay for our last leisure dive where we got to admire coral-encrusted walls and caves, and the opportunity to swim through some small tunnels. After lunch, it was a slow boat back to Mersing under a hot afternoon sun...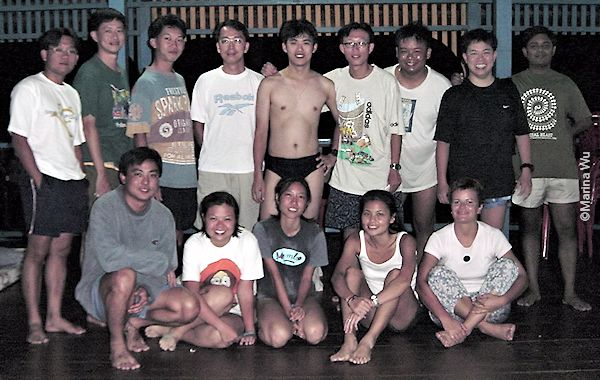 HP Singapore & Mako Divers NAUI Scuba Diver class with instructor Dennis Ho seated at left. Photo ©Marina Wu.
The beginning of new adventures underwater
It had been a memorable weekend largely due to the camaraderie with fellow course mates, our instructors Dennis & Marina and my dive buddy Chee Keat. And not least because Pemanggil heralded for me the beginning of a new chapter of scuba diving adventures...

Kampung Buau resort's dining hall | Resort chalets | Moon over Elephant Rock | Sunset at Pemanggil.