Rainbow seen from Tg. Mak Cantik.
Once again, our family reunited with Angela and Min Chuen and Joo Beng's family for this trip to Redang. Our group of 11 arrived in Kuala Terengganu after a fairly comfortable overnight journey on the Transnasional coach from Singapore. Ping Anchorage's van picked us up and dropped us off at their new Travellers Cafe, where we had breakfast before leaving for Merang.
We decided to stay at Reef again this year. Perhaps familiarity does breed fondness, especially when it comes to places and surroundings (though not always with people!). Sure, the rooms may be a little run-down and basic but since we're spending most of our time outside, it didn't matter as much. We loved everything else about the place - its privacy, location, coziness, the friendly staff and the excellent housereef both in the front and in the back. It was also good to return to familiar faces. Even the speedboat driver was the same one who tried to outrun the Coast Guard last year, except it looked like he had learnt his lesson. This year, we arrived at Reef without incident, and it felt great to be back!
As we explored the housereef over the course of the next few days, there were noticeably fewer fishes compared to last year, and more coral rubble on the seabed. Apparently, they had a bad monsoon where strong waves had caused some damage to the reef. To make matters worse, there were quite a number of Crown of Thorns starfish at the housereefs in Pasir Panjang - not good news as this starfish eats coral and a lot of them can decimate large areas of coral reef. Over at Shark Bay, we were glad to see more blacktip shark pups. We counted about 16 of them. We also managed to see barracudas and a well-camouflaged octopus at the housereefs around Tanjung Tengah and Tanjung Mak Cantik.
With my uncle Kevin at the Marine Park Centre.
On the way to the Marine Park Centre, we saw small schools of jellyfish in Teluk Kalong near Pulau Kerengga. In our previous two trips, we had seen small, translucent jellyfish. These were different, being reddish-brown in colour with long tentacles, and also much larger, measuring up to 20cm across at the bell. Fortunately, there were only a few of these around the main snorkelling destinations and they were easy to avoid as they were clearly visible with their reddish-brown hues contrasting with the turquoise waters.
Things at the Marine Park Centre looked pretty much the same as last year. The corals did not seem to be as badly affected by the monsoon and it was still teeming with reef fishes. It was a pleasant coincidence to meet my uncle Kevin Hiew at the Park Centre as he happened to be in Redang for a conference. The giant grouper was still under the jetty but the giant moray eel had moved out to the shipwreck - at least we were told it was the same one that used to be under the jetty. We found another smaller giant moray in a rocky outcrop between the jetty and the shipwreck about 5 metres away from the wreck itself.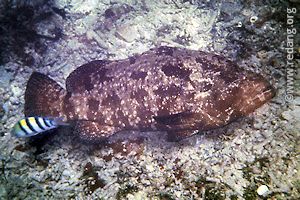 Giant grouper at Marine Park Centre.
The highlight of this year's trip must be the discovery dive. Min Chuen, Angela and I signed up with Leisure Divers at Redang Reef for the 'discover scuba' experience, which cost us about RM130 per person. As we were already pretty familiar with snorkelling and skin diving, it was quite easy to adapt to scuba. Each of us had an experienced dive guide as buddy to ensure we wouldn't run into any trouble, especially with buoyancy control. We explored the house reef and it was great to be able to stay underwater and observe the reef life without worrying about running out of air.
During the dive, we encountered the reddish-brown jellyfish that we saw earlier but they didn't look as scary underwater as they did on the surface of the water. We also got to stroke a sting ray and swam with a turtle. The whole experience lasted about 45 minutes underwater at a maximum depth of about 30 feet. Other than a really dry throat, I really enjoyed the dive as it enabled me to get much closer to the marine life than just snorkelling or skin-diving. The experience made me seriously consider getting certified before next year's trip!

Our family with Min Chuen & Angela, Joo Beng & family and 'Wah Chai' from Ping Anchorage.