My initial 'recce' (local slang for 'reconnaissance') of Perhentian last month was a prelude to this family trip. This year, we were joined by Michelle's family who had accompanied us to Redang twice previously. We also had our youngest member on record when Michelle decided to bring her 14-month daughter Andrea along. To make the coach ride more comfortable for her, they brought along a child seat which they placed facing the rear for safety, then reclined the seat in front to wedge the child seat securely between 2 seats. I'm sure she slept better than most of us on the overnight trip!
Compared to last month's trip when there was a long jam at the Causeway, it was a breeze to get through the Causeway and immigration tonight. As expected, we were served boxes of pastries and mineral water on the Transnasional VIP coach to Kota Bahru when the coach stopped at Larkin in JB. We even had dinner entertainment tonight as they showed the movie 'Hellboy' on the coach - certainly helped some of us to get to sleep earlier...
Tuna Bay office in Kuala Besut.
We got down at Jerteh around 6am and waited for Tuna Bay's van to transfer us to Kuala Besut. The van showed up about half an hour later and sent us for breakfast at a local coffee shop in Kuala Besut near the jetty where we had nasi lemak. After that, we were transferred to Tuna Bay's office where K.K. Lee was waiting for us. As he was nursing a stiff neck, his brother Jimmy was on the island instead. We left Andrea's car-seat in the office as we didn't need it on the island and went to the provision shop next door to buy our own supply of mineral water as it's cheaper here than on the island. After purchasing our marine park tickets at the jetty, we boarded Tuna Bay's own speedboat and set off.
Tuna Bay Island Resort
Tuna Bay Resort restaurant.
View from our seaview chalet room.
As the boat drew alongside Tuna Bay's floating jetty, we were pleasantly surprised to find the beaches much less crowded than Redang was in June. During our 4D/3N stay, the resort's 44 rooms had about 50-80% occupancy but the beaches and snorkelling sites were free from crowds. We had booked 2 beautiful family rooms, each family room comprising a sea view room with a king sized doubled bed interconnected with a garden room with 2 single beds. The sea view rooms were among the best at the resort, providing a full view of the beach and sea through the full-length glass sliding doors. With the interconnecting door open, the family room looked really spacious and had the benefit of 2 clean and separate bathrooms which satisfied the ladies! Guys are usually easier to please when it comes to bathrooms and male divers are probably at the easiest-to-please end of the scale - perhaps all that narcossis makes them oblivious to their surroundings...
With more guests at the resort this time, group-seating was pre-assigned at the restaurant during mealtimes for those on the full-board package. While we still had to queue to get our food from the buffet spread, at least we didn't have to worry about finding seats when the place got crowded.
The package we were on included all meals: breakfast, lunch, tea and dinner except for day of arrival which did not include breakfast and day of departure which only included breakfast as guests checked out at noon. Hungry guests needing a change of diet could also order food from the restaurant as they had an ala-carte menu. We didn't try the ala-carte items but with all the kids in our group, the ice-cream freezer sure was popular!
Snorkelling
Beach near Teluk KK.
Quiet bay at Teluk KK.
Malayan flying lemur.
Only 2 snorkelling trips were provided in Tuna Bay's package, 1 trip for each of the first 2 days. We did not realize that snorkelling was not included for additional nights stay as our experience with Redang resorts usually included snorkelling for each extra night of stay. We were not explicitly told we would be charged when we went on the snorkelling trip on our additional day. So we had a rude shock on checkout day when we found we had incurred an additional RM240 just for that snorkelling trip (they charged RM30 for adult, RM15 for children and we had 6 adults and 4 kids) which was really pricey considering the snorkelling trip would have proceeded even with fewer guests. It would have been fairer to charge groups a fixed price for chartering the boat instead of charging per head or to have tiered pricing depending on the number of passengers. Fortunately, K.K. was kind and understanding enough to waive the charges for us.
The best part about snorkelling here was the use of speedboats to ferry snorkellers, a common practice in Perhentian. We spent less time getting to the snorkelling destinations and less time waiting for snorkellers to get on or off since each boat could only take up to about 15 passengers. All that savings in time meant we could visit 3 different snorkelling sites each trip and smaller boats also meant the snorkelling sites were less crowded. In Redang, there are usually so many snorkellers that they have to use larger and slower boats which incurred longer travel times and even longer waiting times for guests to get into the water and come up.
Big green turtles
For our first snorkelling trip in the afternoon, we covered Turtle Bay, Teluk Pauh in front of Perhentian Island Resort and the house reef in front of Coral View resort. Of the three, Teluk Pauh was the most interesting. A sandy bottom covered with sea grass made it an attractive feeding ground for turtles, a few of which could be spotted from the boat grazing on the seabed 5-6m below. These large green turtles reminded me of those I saw in Sipadan with their carapace (top shell) measuring up to 4 feet long. Some even had remoras attached to their bodies. They were not shy and allowed me to dive down to the seabed to get up close and personal next to them.
This evening, we trekked south all the way to the quiet bay at Teluk KK. Along the way, we saw a Malayan flying lemur (also called Malayan Colugo) on a coconut tree, the first time I had seen one in the wild. They glide from tree to tree in search of food. We ended the day by walking along the beach after dinner under the canopy of a night sky filled with myriads of sparkling stars.
Blue spotted ray at Teluk Kerma (top).
Anemonefish at Shark Point.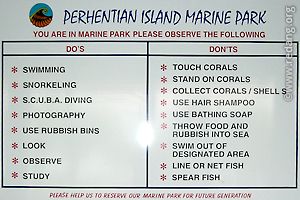 Marine park rules at Perhentian Island Resort.
The buffet breakfast spread offered both local and western selections. The morning snorkelling trip at 9:30am brought us to another 3 different sites, Shark Point (Teluk Dalam) and 2 other sites on Perhentian Kecil. I had specially requested the boatman to bring us to Shark Point where I had seen the adult black-tip reef sharks last month while diving and hoped we would encounter them again while snorkelling. Sure enough, we spotted 3 of them swimming near the big rocks at the corner of the bay. They were rather shy and kept their distance. Pursuing one to get a closer look, it headed towards shallower waters near shore forcing us to abandon our pursuit as we didn't want to risk damaging the corals or getting cut by them. The other two sites at Perhentian Kecil were not as exciting as Shark Point, comprising mainly hard coral with few fishes.
After lunch, I went over to Steffen Dive Centre. I had hoped to meet Sebastian the divemaster who led our dives last month, but he had gone back to KL for a short holiday and would only be back in 5 days time. I was introduced to Andrew who was running this branch of Steffen's in Sebastian's absence, and he introduced me to Ken, the divemaster who would be leading me on both my dives this trip. For our dive this afternoon, we went to Teluk Kerma near D'Lagoon. It was a simple and shallow dive, nothing really of interest other than a blue-spotted ray under a rock that allowed me a real close-up shot. To set my expectations right, Ken explained that the 5 sites Sebastian brought us to last month were the best Perhentian had to offer and it would be hard for any of the other sites to surpass those.
In the evening, we trekked north through beaches and jungle all the way to Perhentian Island Resort and back. At Perhentian Island Resort, a large sign at the reception area stated the do's and don'ts to protect the marine environment. What caught my attention were the items 'Do not use hair shampoo' and 'Do not use bathing soap' in the Don'ts column. Most marine park signs in Redang and Perhentian do not caution against the use of detergents that can can be hazardous to coral reefs when discharged into the ocean. While resorts were aware of this and sent their laundry back to the mainland to be washed, some visitors may be ignorant of this and washed their own laundry, not in the bathrooms but using the fresh water pipes outside the chalets. We had observed this back at our resort. Unlike the water in the bathrooms which were channelled to the resort's waste water treatment facilities, the water from these outdoor pipes were discharged directly into the ground and any detergents used would end up in the sea. It was thus encouraging to see Perhentian Island Resort reminding their visitors about this.
School of monos at Shark Point.
Titan triggerfish eating a sea urchin.
For our snorkelling trip this morning, we requested the boatman to bring us to Tanjung Basi, which was recommended to us by another guest we met at the resort, Cindy, who runs Asian Overland Tours in KL. There were quite a lot of colourful hard and soft corals here and we encountered an adult black-tip reef shark as well as a hawksbill turtle. For our next site, we headed back to Teluk Pauh for another rendezvous with the large green turtles before concluding our last snorkelling session at another site opposite Coral View Resort's house reef. Like Tanjung Basi, this site also contained a large variety of colourful hard corals, as well as many hungry fishes.
Returning to Tuna Bay, we visited the house reef to observe the gobies with their shrimp mates busy keeping house. They seem to be at their busiest in the mornings, with gobies all over the sandy bottom. One thing I liked about the beach in this part of Perhentian Besar was the calm waters. Facing the mainland and partly shielded by Perhentian Kecil, there were hardly any waves apart from those brought about by passing boats. In the evenings, I'd just put on my goggles and swim from one end of the house reef to the other. It was like swimming laps in a pool, except instead of a boring pool floor, you have fishes and corals underwater for scenery.
For my afternoon dive, we picked up a few other divers from Steffen's dive centre at Teluk Dalam before proceeding to Shark Point. We had originally planned to go to Terumbu Tiga but the visibility there wasn't good. The dive plan took us on a slightly different route from the one I covered last month. There was a large pillar that was covered with colourful soft coral while around it circled schools of fishes, most noticeable of which were diamond-shaped monos. Towards the end of the dive, I came across an unforgettable sight of a titan trigger making a meal of a sea urchin. Using its powerful jaws, it simply flipped the urchin upside down and attacked its soft underside. Other smaller fishes took advantage of the situation to grab a few morsels of urchin flesh. I would usually keep my distance from titan triggers but this trigger was so preoccupied with its meal that I dared to venture close enough to take a couple of shots. In just over a minute, there was nothing left of the urchin but broken spines.
Our last morning in Perhentian began with a leisurely breakfast, after which we just whiled away the morning enjoying the relaxed and peaceful atmosphere. Soon, it was time to say goodbye and we boarded the noon boat to leave. On the boat, we met Paul, the owner of the resort and older brother of K.K. and Jimmy. We took the Ping Anchorage van from Kuala Besut to KT where we spent the rest of the day with Seng Lip and family before leaving on the night coach for Singapore.
Concluding impressions
As we discussed among our group our impressions of Perhentian, we agreed that it was worth visiting again in future, perhaps even alternate between Redang and Perhentian for our family trips each year. We loved it for its quiet, laid-back atmosphere, lack of crowds and the snorkelling sites especially Shark Point and Teluk Pauh, though we all agreed Redang had much nicer beaches and better house reefs.
As for Tuna Bay Resort, our group gave it a high 8 out of 10 points for clean and comfortable accommodation, friendly service especially from K.K. and Jimmy and a quiet, relaxing environment. It had that cozy small resort feel where everything was just a stone's throw away. We weren't so enthusiastic about the quality of the food though. I thought last month's cooking was much better - perhaps preparing food in quantity for the larger number of guests affected the quality somewhat. Still, it didn't stop us from having a really relaxed and enjoyable vacation at Perhentian!
With Michelle & Wooi Seng's family | Cute Andrea | With Seng Lip's family in KT