Sarah had just completed her Primary School Leaving Exams (PSLE) and we took advantage of the short primary school break for PSLE marking to visit Redang. I was eager to put my new Canon A95 digicam with its underwater housing to the test, especially since it now had an 'underwater' scene mode, which was absent on my previous A40 camera.
Sometime this year, Transnasional raised its ticket prices from Singapore to KT by S$10 from S$26 to S$36 while the KT to Singapore fare remained at S$15.10. The S$10 was classified as 'Service charge' on the bus ticket. The only service we had was that each passenger was given a 'foody bag' containing bottled water, a can of drink, a slice of cake and a bun after we boarded the coach which was only worth half that amount. Guess even coach companies have learnt how to make a quick buck...
The coach was fairly new with 10 rows of 3-seats-across, a bit like the 24-seater VIP but with 2 extra rows. Legroom was adequate as there was no toilet on board, so the seats stretched all the way to the rear. In terms of comfort, it was somewhere between the 24-seater VIP coach and the economy coach. The coach left Kallang Bahru almost empty. We breezed through the Causeway and stopped at Larkin in Johor Bahru (JB) where many other passengers boarded. For those looking to save some money, book JB to KT instead and take alternative buses (SBS170, Causeway Link etc.) to Larkin to catch the same coach.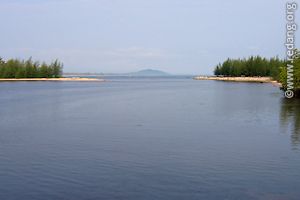 Merang rivermouth.
Merang jetty.
Laguna resort at Pasir Panjang beach.
Characters from the Summer Holiday movie.
The coach arrived in KT around 6:15am. We had expected a wet arrival as the Malaysian Meteorological Service (MMS) had forecasted rain and thunderstorms in KT and Redang the last 2-3 weeks. What we got was fine, dry weather - at least we were glad the forecast was wrong! After breakfast, we hopped on the Laguna van for Merang.
Merang jetty, a hive of activity during peak months, was like a ghost town. Locked and boarded-up waiting areas and wooden frames which were once bustling souvenir stalls and coconut drink stalls were stark reminders that this was end of visiting season. Most resorts had closed for the monsoon by this time with only Laguna, Reef, Coral and Berjaya resorts still open for business. There were only a few guests at Laguna's waiting area. Even public toilets in Merang were all closed and padlocked. Fortunately for ladies, the Laguna boats had toilets onboard. For the guys, bushes were in abundant supply all around...
The sun was shining brightly as we headed out into the open sea. At Merang river mouth, the muddy colour of the river contrasted with the greenish-blue hues of the sea; the usually white foam of waves breaking at the shallow sandbars now tinged with brownish hues. We were told that the more brownish the foam, the closer the start of monsoon season. Not sure why but perhaps it's got something to do with changes in ocean currents or river water levels. Looking around the river banks, we didn't spot any snowy egrets or other migratory water birds. Again, we were told that a large presence of migratory water birds is another indicator that monsoon was about to start. The last indicator of the coming monsoon was when a number of reef fishes normally found in deeper waters start coming into sheltered bays in areas like Pasir Panjang. We were unable to verify these observations but the part about changes in animal behaviour could be true. Birds, fishes and other animals seem to have a sixth sense about weather and natural phenomenon.
The air-conditioned cabin inside the Laguna speedboat made it a more comfortable 45-minute ride to the island though the sea was the roughest I had ever experienced. I made my way to the top deck in the open sun which allowed me to see when large waves approached. At times, even the large boat felt like a slow roller-coaster train riding up and down the crests of large waves. For those in the cabin below, it must have been rather unpleasant as Joyce and another passenger had to resort to barf bags!
The sea remained choppy even as we entered Redang waters cruising past Pulau Pinang and Pulau Kerengga. Only when we entered the sheltered bay of Teluk Bakau and approached Laguna's jetty did we finally encounter calm waters. We walked to the resort instead of taking the tram which helped Joyce to recover. On the way, we passed Laguna's new recreation centre which housed the massage room and gym above and a small food court which sold cooked food and refreshments till about 11pm at night. Recreation equipment like snorkelling equipment, archery, oars for kayaks, darts, pool tables and board games could be rented or borrowed from the counter on the ground floor.
As expected, Pasir Panjang was quiet and almost deserted, a postcard-pretty picture of lovely white sand glistening in the sun. Only the waves crashing on the beach brroke the stillness and tranquility. What a delightful change from the madness of hundreds of visitors thronging the beaches during peak season...
Early morning before sunrise.
Praying mantis outside our room door.
After a whole day resting and relaxing yesterday, I coaxed myself out of bed at 6am to catch the sunrise. Weather looked fine and it did not rain last night. With the unpredictable weather, it was better not to procrastinate as there might not be another opportunity to witness and photograph a sunrise over the next 2 days. It was still dark when I stepped out on the balcony. Mars was shining brightly in the sky as the planet was at its closest distance to Earth this year. The last time the orbital paths of Mars and Earth brought them so close to one another was over 50,000 years ago! I was mesmerized by the brightness of the red planet - it did not appear bigger or redder to the naked eye but it was unmistakably brighter.
Opening my door to go outside, I found a small mantis which willingly posed for some macro shots. Going down to the beach, I wasn't optimistic about catching a nice sunrise as it was cloudy. As the sky brightened, there was no sign of the sun until just past 7am, when it finally peeked out from behind a cloud.
Plenty of fishes at the Marine Park.
We joined the morning snorkelling trip to the Marine Park Centre. As there were only 8 of us, they used the diveboat to ferry us there which was faster and more comfortable. It had been 2 years since we last visited the Marine Park Centre - we gave it a miss last year. Things hadn't changed much above the water except that the crowds were missing. Only a few snorkellers were in the water around the jetty, others were near the beach. At least in October, the fishes weren't outnumbered by snorkellers! We learnt that resorts were not allowed to bring visitors to the park during low tide to avoid damaging the corals.
Beneath the sea, only the corals in deeper water including those around the jetty were in fair condition though many of the table corals exhibited broken edges. Fishes were still in abundance. The striped sergeants must have missed human company (and handouts) seeing how they swarmed around us, even nipping at our fingers hoping to find food but I was strongly of the opinion that it was time for the poor fishies to use their natural instincts to forage for food to survive the coming monsoon...
It was encouraging to see familiar faces too. The resident giant grouper was still under the same table coral underneath the jetty near the eastern steps while the resident giant moray was nearby among the PVC pipes. We explored west of the jetty and discovered another giant grouper hidden inside a large coral mound, about 15-20m away from the jetty. Through openings on the surface, we could see its large body silhouetted against the small cavern entrance on the opposite side. It was about the same size or slightly larger than our old friend under the jetty. I took the opportunity to try out the A95's underwater scene mode at snorkelling depths. It was an auto-white balance setting that increased the red content and reduced the bluish hues often associated with underwater photos. As could be seen in the underwater shots here, the results were quite acceptable with more natural colours.
In the evening, we went over to Redang Reef Resort next door as it was still open for business. Their accommodation blocks had been renovated and looked much cosier than when we last stayed there in 2002. There was new landscaping and the old reception area had moved to allow access to their new rooms built over the rocks. We also met up with Jeffrey Koh of Leisure Divers who shared with us that there were opportunities to dive during the monsoon as it did not rain every single day. Typically, rain would fall for 6-8 days followed by dry weather the next few days, and then the cycle would repeat itself. The best time to dive was after heavy rain the night before - if the rain stopped the following day, the sea would be calm with great visibility. The only problem was not knowing when the rainy part of the cycle was going to end...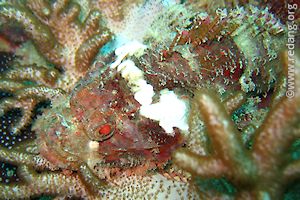 Well camouflaged scorpionfish.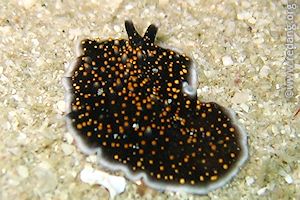 Flatworm thysanozoon.
Since the family was not keen to go snorkelling today, I decided to go on a morning dive to Pulau Lima South with Hitomi as divemaster. Saiful, one of the dive centre staff, was assigned as my buddy. According to Jimmy and Hitomi, visibility had not been good the last few days. My eagerness to get into the water especially since I've not taken the A95 for a dive got the better of me and I decided that good or bad visibility, I wasn't going to pass up the chance. Like yesterday, it had not rained today though there were some dark clouds in the distant sky. I might not have another chance to dive if a storm hit later on.
We set out on a small speedboat over choppy waters towards the southern tip of Pulau Lima. Getting into the water, I was surprised at the good visibility which clearly revealed the coral reef about 40-50 feet below us. Halfway through the dive, Saiful and I were alone out of sight behind the main group of divers. I was busy taking photographs when I glanced behind and saw Saiful peering into the distant murky blue. As we watched, an adult black-tip reef shark appeared out of the blue swimming straight towards us. It turned away only at the last moment when it was uncomfortably close. It all happened so fast I didn't have time to take a photograph.
The afternoon dive saw us visiting the coral mounts at Chek Isa but visibility had deteriorated down to about 15 feet. To make matters worse, there were some 'tumble-dry' currents. It felt like swimming in a large and slow invisible washing machine which left Hitomi and I feeling a bit sick at the end of the dive. Nevertheless, there were good opportunities for macro photography with assorted nudibranches, flatworms and scorpionfishes.
So how did the Canon A95 perform under diving conditions? As with other underwater digital cameras using onboard strobes, it was difficult to get satisfactory colours on subjects more than 3 feet away especially when visibility was poor. The 'underwater' scene mode worked fine for macro subjects but auto exposure for macro with strobe was highly unsatisfactory at minimum range - subjects were often overexposed. I discovered that it was best to have the camera slightly further from the subject and to zoom in a little to prevent autoexposure. When using at minimum range it was better to use fully manual settings.
Deserted Pasir Panjang beach.
In the evening, I ventured out to Shark Bay to check out the house reef. Similar to the marine park, much of the coral nearer shore had been reduced to rubble. It was depressing to see this beautiful house reef gradually disappearing over the years. I didn't dare venture out too far as I was alone and the sea was rough with poor visibility. Back at the beach, we had a fun time playing in the waves which were quite big at this time of year. Standing in waist deep waters, we would have the occasional large wave crashing down over our heads. It was also interesting to catch glimpses of goatfishes or needlefish caught in large waves rolling in to shore.
At night, we tried out the food centre at the new recreation block. They had an ala-carte menu where one could order cooked food and hot or cold drinks. I couldn't resist the 'cempedak' goreng, one of my favourite snacks since my childhood days in KL. 'Cempedak' (artocarpus integer) was a local fruit related to jackfruit and in this dish, each flesh-covered seed was coated in batter and deep-fried. The cooked seeds could also be eaten.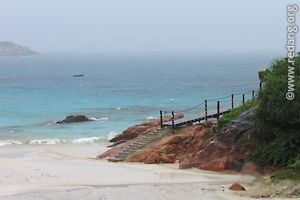 Stormy morning with Pulau Lima completely obliterated from view by the downpour.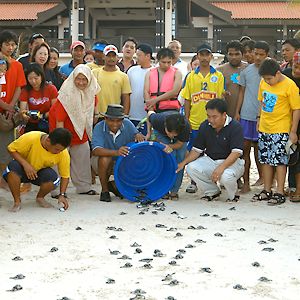 Release of baby green turtles back to the sea. Photo ©Laguna Redang Resort.
I had planned to walk the entire stretch of Pasir Panjang to take photos this morning before our 11:30am departure but that was dashed when it rained cats and dogs the most part of the morning. The rain was so heavy that it obliterated Pulau Lima from view. When it finally stopped the sea was much much calmer, so our boat ride back to Merang was more comfortable.
During our stay, we had the opportunity to talk to Peter, the general manager at Laguna who shared about various improvements at the resort. We visited the Laguna gym which was fairly small but had a good range of equipment such as Kettler elliptical trainer, treadmill, power station, weights, bench press, stepper and bike. We didn't try out the massage centre which was open for both guests and non-guests to use. The food centre below was open to all visitors as were the other food and beverage outlets at the resort. Back at the resort, there was an Internet room near the clinic next to the Koi pond which charged by the hour for visitors to surf the Internet or to access their email.
Outdoors, park authorities and resorts had cooperated to zone off snorkelling areas with small white buoys especially around the house reefs to minimize threats to snorkellers from boats. There was a rather unfortunate and tragic incident earlier this year when a British girl was killed after being hit by a boat while snorkelling.
Some time earlier, I wrote about a green turtle that laid its eggs on the beach near the Laguna jetty. Due to some local regulations to control and protect the turtles, only licensed egg-collectors were allowed to collect turtle eggs. Many of these used to make a living collecting and selling turtle eggs for local consumption. To protect their livelihoods, these collected eggs were bought over for incubation by conservation groups like SEATRU of KUSTEM and Ma' Daerah Turtle Sanctuary which then released the hatchlings back into the sea. This was a costly business (RM100 per nest) which was why these groups run 'Adopt-a-nest' programmes to raise funds to protect these creatures. In this particular case, the eggs were purchased and 'adopted' by Laguna resort. Working in conjunction with SEATRU advisors (Laguna cooperates with SEATRU and KUSTEM marine biology staff and students on conservation issues), the eggs were safely and naturally incubated. Out of 103 eggs, 98 baby turtles hatched and were released back into the sea in early July. Considering that only 1 out of thousands of hatchlings ever survive to adulthood to return to nest, this is just a very small but nevertheless important step to help protect and preserve our endangered sea turtles.
Our two October visits to Redang have been as enjoyable as our June visits. We learnt that the beginning and end of monsoon season were marked by a few days of continuous heavy rain and rough seas which usually take place around mid to end November and around end Feb to mid March. To avoid getting stranded due to rough seas, it was probably safer to visit in October than in March. April and October seemed to be the best times to avoid crowds and have the whole beach (and the entire Laguna pool) to yourselves!
As for the Canon A95 and underwater housing, the picture quality was a lot better than my old Canon A40 and I was optimistic that I would get better results once I had familiarized myself with the camera's operation. Battery life was also very good with one set of 4 rechargable Sanyo 2300mAH AA cells lasting the entire trip.
Our family with Peter Cheng and Elvis | Laguna's pool | Beside the recreation centre