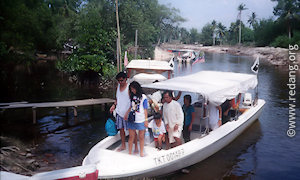 Redang Reef Resort speedboat at Merang.
This year our group had grown to 13, comprising 8 adults and 5 kids. Together with Angela and Min Chuen from last year's trip, 2 of their friends and Joo Beng's family would also be coming along. We had booked a 5D/4N package through Ping Anchorage and also chartered a boat for a day-trip to Lang Tengah island. We left on the 8:30pm Transnasional coach to KT and arrived in KT at 6:15am. Shortly after, the van from Ping Anchorage picked us up from the bus station and we requested to be sent to the same coffee shop in Chinatown that we had breakfast in last year where we had the famous Terengganu toasted mini-buns with butter and kaya (a local jam made from coconut and egg). After breakfast, we stopped by Ping Anchorage's office to settle the payments.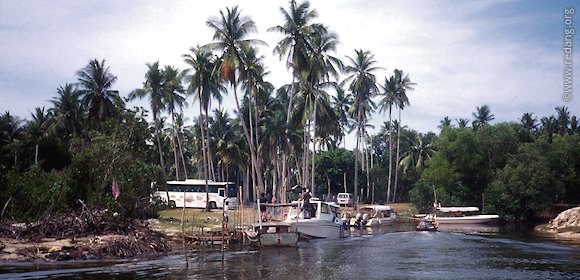 Merang jetty.
At Merang, the van dropped us at Redang Reef's jetty further downstream from last year's jetty. As the twin-engined speedboat sped out of Merang into the open sea, the driver pushed the boat hard, straining the engines until they packed in about 300 metres off Pasir Panjang. As he tried to revive the engines, a Malaysian Coast Guard patrol boat drew alongside. We suspected the driver was attempting to outrun the coast guard as the boat was slightly overloaded. Anyway, after questioning the boatman and examining his documents, the coast guard departed and we were left wondering if we should have asked them to tow us to shore since we still had problems getting the engine started. A couple of anxious minutes later, the boatman managed to start up one of the engines, and we slowly limped the last few metres to shore.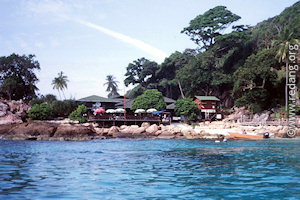 Redang Reef resort.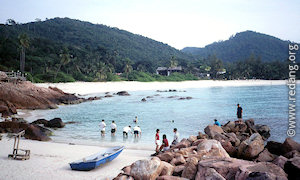 Front beach at Redang Reef resort.
Breakfast at the outdoor patio.
Barbeque dinner.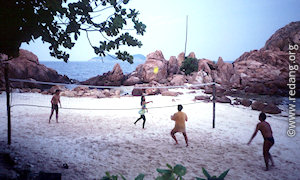 Volleyball at Redang Reef's rear beach.
At 10:30 am, our boat finally pulled up in front of Redang Reef Resort. We were once again excited to see the clear emerald waters and white sandy beaches of Pasir Panjang. Redang Reef had its own small private beach out in front and we did not have to do a water landing as they had a portable wooden stairs which they moved up alongside the boat.
Seeing that our rooms wouldn't be ready until noon, we seized the opportunity to explore the house reef while the kids played on the beach. We saw a banded krait sea snake hunting for food on the reef floor, looking amongst the rocks and corals and occasionally coming up to the surface to breathe. It was not disturbed by our presence and ignored us completely. We also saw a school of squid and plenty of fish. The abundance of reef life in the waters right in front of this resort was amazing, better than those we visited last year at Tanjung Tengah. Redang Reef Resort stood on top of a rocky cape known as Tanjung Mak Cantik and the house reef stretched from the front beach right around the cape to the back of the resort. This meant the resort had its own private front and back beaches and we could snorkel all the way from the front to the back of the resort.
After a buffet lunch in the crowded dining hall, which also hosted the reception and TV area, we checked into our rooms in the double-storey timber building near the back beach. The quad room we had looked a bit run down, especially the toilet. Still, everything was clean and worked properly. Like Redang Bay Resort, the room was sparsely furnished with only beds - no cupboards, tables or chairs. There was a quaint, cosy atmosphere with a back-to-nature feel about this resort. Our rooms were at the foot of a hill, lined with tall trees whose canopy stretched high overhead, typical of the rainforest in the island's interior. Inquisitive squirrels would sometimes scamper along the tree branches, roof or clothes lines, looking for handouts.
Other than its excellent house reef and private beaches at the front and back, we also loved Redang Reef's elevated outdoor dining patio overlooking Pasir Panjang beach. Built on top of rocks, the wooden patio was a great place for breakfast and other meals as it offered a spectacular unobstructed view of southern Pasir Panjang all the way to Shark Bay. At night, the resort was lit by coloured lights mounted on the tall trees surrounding the resort, giving it a surreal fairytale-like atmosphere. Very charming!
Over the next 2 days, we encountered more variety of marine life in the house reef around Redang Reef Resort as we snorkelled around Tanjung Mak Cantik from the front beach to the back beach. We saw giant groupers, rays, turtles, squid, porcupine fishes, a small scorpionfish and large sea cucumbers. Similar to last year, we also encountered baby jellyfishes in the water which lasted about a day but we were more prepared this time dressed in half-length or full-length bodysuits, so no one was stung.
Compared to Redang Bay, Redang Reef was smaller and did not feel as crowded. The itinerary at Redang Reef was similar to that of other resorts, with two snorkelling trips a day, one in the morning after breakfast and one in the afternoon after lunch. We were well fed with 4 meals provided daily: breakfast, lunch, tea and dinner. Every alternate evening we would have a BBQ dinner. Food was local style cooking with soup, meat, fish, vegetables, rice and fruit every lunch and dinner. Breakfast was the usual toast and spreads, nasi lemak or fried noodles. For tea, we were served hot deserts like barley or green bean soup, or local banana fritters and keropok (fish crackers). We also enjoyed the 24-hour free-flow of self-serve hot drinks, toast and spreads.
An interesting resident that provided much entertainment was the resort's young pet macaque monkey. It loved playing in the sea. When we brought it out to the sea in front of the resort, it would climb onto our shoulders, dive in, swim around, climb back up and repeat its antics again.
On the morning of 8 June, we boarded our chartered speed-boat for a day-trip to Lang Tengah. We would have the boat for the day until 5:30 pm. Though Lang Tengah was only a half hour away, we couldn't wait to get off as the sea was choppy and the ride bumpy which was sometimes painful on the posterior!
On the boat to Lang Tengah.
Beach at Square Point resort.
Upon arriving at the first snorkelling stop, we jumped into the water but found it a little too choppy for comfort so we headed for calmer waters in front of the Blue Coral Resort. The resort had its own beach front since the other resort was situated on the neighbouring stretch of beach. There seemed to be a lot of dead coral rubble on the seabed, but there were 2 or 3 small rocky outcrops where most fish and other marine life were concentrated. A lot of needle fishes were swimming just below the surface and there were also urchins around the outcrops. The damsel fishes here must have been used to handouts from snorkellers as they often followed us closely, sometimes swimming right in front of our masks and nibbling our bare fingers hoping for a tasty morsel or so. I found myself snorkelling with my arms folded, fingers tucked out of sight!
With Joo Beng's family after snorkelling.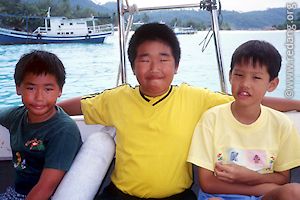 Jordan, Jared and Timothy.
After snorkelling around for awhile, we boarded the speedboat for a short ride to Square Point Resort where we had lunch and fresh coconuts compliments of our boatman who had plucked them from the tree out front. He easily scaled the tree, stood at the top and kicked the coconuts down onto the beach. It was nerve-wracking watching him as we feared for his safety and were relieved when he descended safely. Square Point Resort looked new, cosy and comfortable and the people who ran it seemed very friendly. Snorkelling at the house reef here was more exciting as adult black-tip reef sharks were often spotted in the shallow waters here. Dominated primarily by staghorn coral, the shallow part of the reef extended to about 40 metres from shore before plunging into deeper waters. Buoys marked the reef edge and it was exciting just snorkelling along this edge. A little while later, we spotted a pair of adult black-tip reef sharks swimming towards the shore and gave chase. The graceful pair easily outmanouvered us and disappeared into the shallows.
Returning to Redang in the evening, we stopped at the Marine Park Centre minus the crowds. We almost had the whole park to ourselves. For once, we could really enjoy the marine life here without jostling for space with other snorkellers.
We checked out in the afternoon and took the boat back to Merang. Although this was our second trip, we were just as awed and fascinated by the diversity of marine life that we had encountered right at the doorstep of Redang Reef Resort. Therein lies the attraction of this wonderful island that keeps us coming back for more.
Our group in Redang 1999.