If anything, 2003 will probably be known as the year of SARS (Singaporeans Avoiding Redang Syndrome due to Severe Acute Respiratory Syndrome). With June school holidays shortened to make up for the extended school closure earlier in the year, we cancelled our June family trip to Redang. Instead, Seng Hock and I left tonight for a 3D/2N dive trip with the new Laguna Redang Resort which had opened a few months earlier. It was easy to get coach tickets for our weekday trip. Transnasional fares were cheaper this year: S$26 to KT and S$15 back to Singapore. The cheaper return fare meant it was no longer necessary to purchase the KT to Singapore ticket in KT.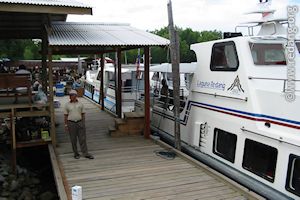 Laguna's ferry at Merang
Seng Lip, Seng Hock's brother, picked us up at KT bus station. We had 'nasi dagang' for breakfast before heading for Merang jetty. Merang seemed to have grown bigger and busier. Laguna Redang had their own 'check-in' building where guests could wait and order refreshments. The diesel-powered Laguna speedboats were big with a seating capacity for about 40-60 passengers. It was more stable and comfortable but travelled slower, taking about 45 minutes to get to Redang. Accompanying us to Redang was Seng Lip and S.H. Liu, Laguna's dive consultant and instructor.
On arrival, the boat made a detour to allow us to view Southern Pasir Panjang before pulling up at the Laguna jetty in Teluk Bakau. Laguna was so big, it visually dominated that stretch of beach. It was good to see that Pasir Panjang beach was clean and the waters free from barges and boats. Having the jetty certainly helped to clear the water of boats that would otherwise have been moored in front of the resort.
Laguna Redang Resort
Laguna's impressive timber architecture.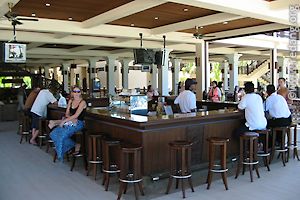 Bar at the reception area.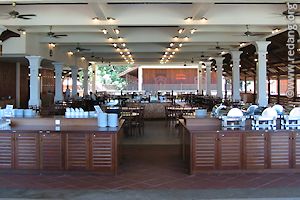 Laguna's buffet restaurant.
Liu, Seng Hock and Hitomi at the dive centre.
Scorpionfish.
Arriving at the jetty, we headed immediately for the dive centre located just in front of the jetty where we were introduced to Jimmy, the resident instructor, and Hitomi, the resident Japanese lady divemaster (or should that be 'divemiss'?). The dive centre had only just opened for operations in June and all the equipment were new. The dive centre was operated by the resort itself, with dive centre staff being full-time employees of the resort.
As the baggage truck transported our baggage to the resort, we walked from the jetty to the main reception. Laguna's passenger trams would begin operation in the next few days to transport guests to and from the jetty. Along the way, we passed the reconstructed replica of More More Tea Inn which housed Laguna's gift shop on the ground floor and a karaoke bar above it. Arriving at Pasir Panjang, I was once again reminded why I fell in love with Redang. Without the crowds, the beach was simply beautiful, the fine white sand contrasting with the blue sky and turquoise sea!
The main building at Laguna which faced the beach housed the restaurant, clinic, reception and dining area. The tall orange roof, modelled after local Terengganu Malay architecture gave it a grand and stately appearance. Another building behind the main one housed conference and meeting rooms on the top floor, with a disco and karaoke bar below. A full-time doctor on the Laguna staff manned the clinic. About 140 rooms out of the 212 were open for business while the pool was still under construction.
At the reception, we saw a familiar face. Elvis, who used to work at Redang Reef, was now working at Laguna. Seng Hock's brother, Dato' Toh Seng Tat welcomed us to the resort and also introduced us to Peter Cheng, the general manager. Knowing that I was more concerned about the environmental impact of such a large resort, we spent the morning discussing the various measures they had put in place to protect the environment. During a guided tour around the resort, we were shown the large wastewater and sewage treatment plant, diesel storage tanks with leak containment facilities and industrial grade fuel lines to allow direct pumping of diesel from the boat to the tanks (eliminating the use of diesel drums which may leak). We were shown the soundproofed power generator building, where diesel residue from the generators was collected in proper containers for shipment back to the mainland. In the kitchen, a large freezer was used for temporarily storing food and kitchen waste to prevent decomposition and minimize odour until collection by boats which shipped the waste back to the mainland.
After the tour, we checked into our room - a seaview facing unit on the ground floor. Each air-conditioned room had a wet area near the entrance with pebbled flooring, a washbasin and separate cubicles for the toilet and hot/cold shower. The room itself was large and spacious with timber flooring, 4 single beds, TV, fridge, kettle, in-room safe and a balcony, very comfortable by most hotel standards. Leaving our things in the room, we proceeded to a buffet lunch at the large and spacious dining area upstairs above the reception. The elevated view overlooking Pasir Panjang was lovely, with Tanjung Tengah and Pulau Lima breaking the monotony of the blue sea. The view itself was half the pleasure of dining here. The other half was the food - good local style cooking, though with the amount of dishes with chilli in it, I thought it was more suitable for local folk. There was also an ala carte restaurant at the reception level.
First dives
Our first dive was at Tanjung Cina Terjun and the second evening dive at Chek Isa. Tanjung Cina Terjun was the Redang equivalent of a 'muck' dive. We spotted an interesting assortment of scorpionfish, lionfish, eels, rays and nudibranch, but with my recent Mabul & Sipadan trip still fresh in my mind, this was tame by comparison. Similarly for Chek Isa. Maybe next time, I should plan Sipadan & Mabul to be the last dive of the season, instead of the first.
After dinner, Seng Tat brought us to the gift shop on the ground floor of Mo Mo Tea Inn, and then to the karaoke bar upstairs for drinks. This always used to be a peaceful and quiet part of Pasir Panjang when we stayed at Redang Reef the last 4 years. Well, not any more! With more and more resorts having karaoke (including Redang Reef itself), it looked like the only quiet, karaoke-less part of the beach is at the northern tip where Redang Holiday is located. Our last stop for the day was the disco and bar which also contained a few private karaoke rooms inside. Not being a real fan of either, I left shortly after to catch up on some much-needed sleep as I had slept less than 3 hours on the overnight coach.
Housereefs at Tanjung Bertigi.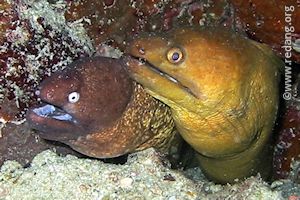 Pair of moray eels at Tg.Cina Terjun.
With such a comfortable room and beds, it was no wonder we woke up late and missed the morning boat dive. We ended up going out to explore the reefs at Tanjung Bertigi at the entrance to Teluk Bakau and worked our way back towards the jetty to check on the state of the corals. We were told the area between the back housereef of Redang Reef Resort and Tanjung Bertigi was home to a few resident adult blacktip sharks but we didn't get to see them. Coral cover was quite good with a lot of staghorns and table coral even in shallow waters. Visibility was also better than expected and we encountered a curious turtle.
For our afternoon dive, we were joined by 7 ladies from Singapore as we went to Big Mount at the northern tip of Pulau Lima. The dive boat was spacious enough that even with all of us onboard, it didn't feel crowded.
We ended the day with a night dive at Tanjung Cina Terjun which was probably the best dive of the trip. We saw many eels, lionfish, tiny crocodile fish, bamboo sharks and sleeping titan triggers. I managed to pluck up enough courage to approach one close enough to get a snapshot of those large menacing teeth. It was interesting to see how the titan trigger wedged itself into the crevice using its erect trigger on its back to avoid being pulled out by predators. We also found a pair of moray eels sharing the same hole, next to another hole with a crab and sleeping fish partly visible. Between the holes on the rock walls were tiny red cleaner shrimp. Such a tiny area packed with so much marine life! A small leopard shark, surprised by Liu, darted towards Seng Hock and me as I was trying to take photos of the pair of eels. Fortunately, it hit Seng Hock's torch first, startling him and alerting me sufficiently to catch a glimpse of it darting right past me.
Seng Hock, Hitomi and me.
Our last day at Redang, we woke up early so we could squeeze in 2 morning dives. We did our first dive at Tanjung Lang, after which we proceeded to Chagar Hutang for some snorkelling, snacks and rest. Chagar Hutang is the location of the turtle sanctuary run by SEATRU but we didn't get to see any turtles. Liu had brought a compact underwater scooter with him and Seng Hock and I had a go at it. Turned out to be quite fun to have motorized transport underwater. It was easy to steer - just point in the direction you wanted to go. Very useful to have when fighting currents.
Our final dive was at Tunnel Point. By the time we returned to Laguna, it was around 1pm and we had to hurry to shower and pack to catch the 2pm boat back to the mainland. This had been my shortest stay at Redang but considering the 7 dives we did, the diversity of marine life encountered and the people we met, it was one of my most memorable trips.
As for Laguna, I was glad that they had proactively planned for and put in place a number of good environmental protection measures, together with backup systems should the main systems fail. Of course there are areas for further improvement but I came away relieved that the owners are committed to protecting the environment. This is important because proper environmental protection is a long-term commitment requiring proper maintenance of equipment, training of people and continual improvement of processes, all of which requires time, money and effort. As for the resort itself, it's very comfortable and good value for money. When the resort is fully completed, it will definitely rate among the best resorts in Redang in terms of quality of accommodation and facilities. At least I know for sure the wife will have no complaints about the bathroom!
Clockwise from top: Dive group | With Seng Hock | With Elvis | With Jimmy, Liu and Hitomi | Liu, Seng Hock, me, Seng Tat & Seng Lip.