Sipadan dive sites.
Sipadan's famous drop-off jetty.
Borneo Diver's Sipadan Dive Lodge.
Rooms at Sipadan Dive Lodge.
After an early continental breakfast, we bade farewell to Lio and the rest of the staff at Borneo Divers Mabul and got on the 8:30 am speedboat to Sipadan. Along the way, we passed Kapalai resort. Built on top of a sunken reef without any visible land or beach, it looked like a resort built on stilts in the middle of the ocean. Like Mabul, Kapalai is also famous for macro diving.
As we approached Sipadan, we could see it was smaller than Mabul, about 17 hectares, with white sandy beaches fringing the entire island and thick vegetation in the interior.
Located 35km south of Semporna in the Celebes or Sulu sea, Sipadan is probably Malaysia's only truly oceanic island (not connected to the mainland by a land shelf), a unique and pristine limestone coral sea mount or pinnacle rising 650m from the seabed. Jacques Cousteau once called it 'an untouched piece of art' and the 'jewel of the sea' because it has one of the richest marine habitats in the world, boasting over 3000 species of fish alone. It is also rated among the top 5 wall dive sites in the world, not surprisingly, since the wall drops 650m to the ocean floor with visibility on good days reaching up to 40m.
Borneo Divers Sipadan Dive Lodge
We arrived in Sipadan at 9:00am at the famous 'Drop-Off' and checked into Borneo Diver's Sipadan Diving Lodge, the first and probably most well-known resort on Sipadan. Borneo Divers discovered and developed diving at Sipadan and had built their resort at the narrowest part of the reef. Their 'Drop-off' cafe was built at the edge of the reef with a wooden walkway leading out to it. Just standing at the cafe and looking down into the 650m drop was an experience in itself. From the beach in front of the resort to the drop-off was a mere 6-10m depending on tide, earning Sipadan the title of 'best beach dive in the world'!
Herman, one of the resort staff, briefed us about the island and resort facilities. We were told not to walk around the island unescorted between 7pm and 7am, partly for security reasons and partly to avoid disturbing nesting turtles.
Facilities at the resort included the island's only hyperbaric chamber and an imaging centre that offered film, video and digital/CDROM burning services. For RM290 per person, one could have one's dives professionally recorded on video. There was an air-conditioned TV room with cable TV, coin-operated pool table, 24-hour self-serve hot drinks, toast and spreads. At the end of the jetty was the Drop-Off Cafe and bar from which one could witness the diverse marine life swimming along the edge of the drop-off.
The dive centre was systematic and well-organized, with separate fresh water tubs for cameras, wetsuits and regulators. We could go on shore dives anytime we wanted without a divemaster, as long as we observed the minimum 1-hour SIT (surface interval time) and recorded our names and time-in on the whiteboard hanging outside the dive center (and remembered to erase it after we came back).
We were told to advance our watches 1 hour to 'Sipadan time', something Borneo Divers came up with to avoid crowds at dive sites. All schedules at the resort were based on 'Sipadan time'. We were then assigned to divemaster Bryan Robert. After the briefing, we checked into room 2 on the ground floor of a 2-storey chalet unit. The room came with air-conditioning, fan and bathroom but was less spacious and not as comfortable as those on Mabul, but it didn't bother us - our package came with 3 boat dives per day and unlimited shore dives and we intended to spend a lot of time in the water.
While waiting for our morning dive, we went snorkelling at the jetty. Underneath it was a large school of jacks and a large Napolean wrasse. It was exciting to snorkel over the edge of the drop-off and peer into deep blue nothingness, with schools of batfish and the occasional white-tip shark swimming below. A rope was strung across the part of the reef wall directly in front of the dive centre at the 5m decompression stop, which served as a useful location marker.
The famous Barracuda Point
Our first dive in Sipadan was at the famous Barracuda Point. Our group comprised Germans, Americans and British divers - we were the only locals on the boat (and probably one of the few local guests at the resort). Some of them were obviously very experienced divers having dived at many other dive sites around the world.
Sharks, batfish and other fish swimming along the drop off.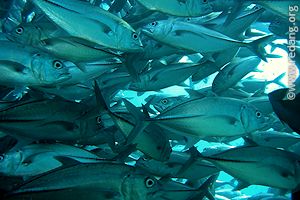 School of jacks at Barracuda point.
Harlequin sweetlips.
Green turtle.
As with our usual practice, Chee Faun and I entered the water and waited for Bryan. The other divers had started descending while Bryan was still on the boat. Not quite sure whether we should wait, we decided to descend with the others and waited for Bryan below. Visibility was about 10m. As we hit 20m, we realized the others weren't waiting as some continued descending into the deep blue until we lost sight of them, while others drifted off in the current. We decided to level off rather than go deeper and waited awhile, admiring the vertical wall of coral in front of us. After a few minutes, we spotted a divemaster whom we thought was Bryan because he was wearing a bandana around his head so we tagged along with him & his group.
Whoever said Sipadan had 3000 species of fish was probably right. Everywhere we looked up and down the coral wall, were not one or two but schools of all kinds of fishes: surgeons, triggers, wrasses, banners, moorish idols, butterfly and angels. Camouflaged amongst the corals were leaf scorpions, shrimps and other small marine life. As for turtles, Sipadan should be called 'turtle island sanctuary'. I'd never seen so many turtles before. A mixture of mainly green and hawksbills turtles, these were either swimming gracefully or resting on ledges, in caves and flat areas of the reef. We encountered turtles on every dive until we almost tired of looking at them.
Towards the end of the dive, the current brought us over a flat area of reef filled with rubble and sand where we saw more turtles and a number of 1.5-2m long white-tip reef sharks resting on the bottom. Further on, we encountered the famous 'tornado of jacks', thousands of jacks swimming densely in a circular fashion. Close to them, a smaller school of barracudas. And all around us, schools of bannerfish and redtooth triggers.
When we surfaced, we realized we had joined a different group of divers! We noticed later that almost all the divemasters wore bandanas around their heads probably for easier identification underwater. The friendly divemaster and his group had come from a Mabul boat and we waved to our own BD boat to pick us up. Bryan later explained to us that divers were free to follow their own dive plan if they wanted (and most did). This flexibility accorded to divers coupled with the deep dives was probably one reason why only Advanced divers could dive in Sipadan (and they actually checked our C-cards on check-in). Some divers had gone deeper in pursuit of hammerheads, while one actually went on a solo dive plan without a buddy which we thought was rather dangerous!
Hanging Gardens
Our afternoon dive was at Hanging Gardens. As the name implied, the vertical wall was covered with plenty of soft coral, black coral, fans, whips, anemones, sea squirts, sponges and and all kinds of reef fishes. This was probably one of the more memorable dives. The current was sufficiently strong to sweep us past coral-encrusted walls and it was easy to feel more like we were floating stationary and vertically upright in space while the walls rolled by from right to left. We could see the top of the wall reaching to the bright sunlit surface, while the wall below us disappeared into the deep blue. We just enjoyed the ride until the end of the dive. Looking at the turtles, white-tip sharks and other fishes swimming effortlessly against the current all around us was a humbling experience. With all our sophisticated diving equipment, we were still such inefficient intruders into the watery world of these reef denizens.
Shore dive to Turtle Cavern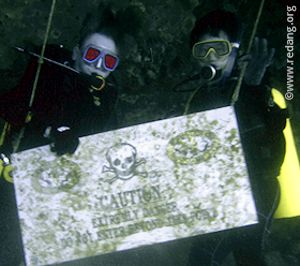 Leo and me at the entrance to Turtle cavern.
Sleeping bumphead parrotfish at night.
Our first shore dive was to Turtle Cavern, accompanied by 60-year old Leo from Kentucky, USA. It was fascinating to just walk out from the beach and plunge over the drop-off a stone's throw away. Going left along the wall, we swam until we reached the entrance to the famous cavern about 19 metres deep. The deep cavern had become an underwater graveyard for many trapped turtles and other marine life and contained their skeletal remains.
At the entrance, the side of the reef wall gave way to a large dark cave with a sandy bottom. A white signboard with a skull and crossbones and the word 'CAUTION' was placed at the entrance to warn divers not to enter. Divers wishing to enter the long cavern had to do so with a trained divemaster. I shuddered as I peered in as it looked quiet, eerie and foreboding, especially as it was late in the day and the light was fading. On our return to the resort, we encountered many turtles resting in small caves and holes in the wall. Some of these were the biggest green turtles I had ever seen, reaching about 1.5m in length. At the 5m decompression stop where the rope was, lionfish could be seen clinging to the wall, while batfish and jacks cruised by.
Night shore dive
A quick light dinner, and we were back again at the Drop-Off for a night dive with Turlough from England. We descended to about 20m and then worked our way up. A large fish kept following us, the light from our torches revealing smaller food fishes which it pursued with gusto. We found many large bumphead parrotfish and turtles sleeping in holes, caves and ledges on the wall. Some of these giants even shared the same sleeping quarters, and it was a sight to behold these strange bedfellows side by side.
Our first dive this morning brought us to South Point. The sea was quite rough here, supposedly quite normal for this site. Another drift dive with plenty of marine life - lobsters, nudibranchs, lion fish, harlequin sweetlips, many species of triggers including the lovely clown trigger. A turtle resting in a small cave allowed us to get really close for some nice macro shots.
Return to Barracuda Point
White tip reef shark at Barracuda point.
Resident giant monitor lizard.
Our second boat dive took us back to Barracuda Point where we managed to get real close encounters with more turtles and white-tip sharks resting on the bottom. The thing that amazed me most about Sipadan was how unafraid the turtles and sharks were of divers. They would go about their normal routine as if we were just part of the underwater scenery. There were times when turtles would swim barely inches from our faces.
As we approached the white-tip sharks, we could see their eyes following our every movement. When we got too close, they would reluctantly heave themselves from the seabed, swim away and rest on another part of the seabed. Still, they allowed us to get up to about 1.5m which made for some really nice shark photos.
Lunch today was another enjoyable affair. Perhaps it had to do with the fact we were diving so much which made us perpetually hungry, but I thought the food at Borneo Divers was quite good, both in Mabul and here in Sipadan. There was always a mixture of eastern and western food and today we had sashimi for lunch.
We were interrupted briefly when the resident giant monitor lizard made an appearance outside the dining hall. We had seen this 'monster' earlier in the day, and it measured at least 2.5 metres long from head to tail. As the dining hall was raised on stilts, the lizard would often crawl underneath the building for cover. Another 'resident' that would sometimes appear at mealtimes and announce its presence loudly was a ginger tabby cat.
Around Sipadan in 30 minutes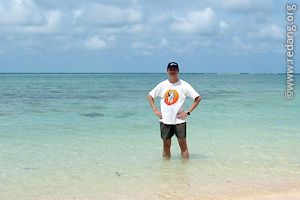 Eastern shoreline of Sipadan.
After lunch, we went for a quick walk around the island. We started at BD Sipadan and worked our way clockwise, passing neighbouring resorts until we reached the southern end of the island where the sandy beach became lined with more coral rubble and debris. Thick vegetation lined the island interior to our right. To our left, we could see the reef edge far out marked by white-capped waves. We knew we had reached the halfway mark when we saw the lighthouse. Going around to the wide western shore where Turtle Beach was, the beach reverted once more to white, powdery sand. Soon, we were back at BD Sipadan. It had taken us just over half an hour to walk around the island.
The afternoon dive was at Coral Garden with plenty of hard and soft coral formations: leather corals, staghorns, boulder corals and others. Even the corals in Sipadan seemed to come in L and XL sizes. Some of the sponges here, especially the barrel sponges, were among the biggest I had seen.
Trigger happy
Our final dive in Sipadan was an evening shore dive, accompanied by Lynn from the US. As before, the plan was to go all the way to Turtle Cavern and turn back. Halfway through, I had a fright when a Titan Trigger suddenly appeared in front of my face and I instinctively used my left hand to ward it off. I missed and it swam around and attacked again. I quickly flipped on my back with my fins facing it and fended off its attacks with my fins while finning away out of its territory. It stopped later and turned its attention on Lynn, who was some distance behind me, and only stopped when she too had moved out of its territory. It must have been protecting its nest somewhere along that wall. We found out later that other divers doing a shore dive along that route had also been attacked. First time I had been attacked, and probably ran down a few tens of bar of air pressure in the process...
Turtle watching
White crab.
We signed up for turtle watching tonight as we had to avoid diving for 24 hours prior to our flight out of Tawau the next evening at 6pm. Though the sign-up list was full, only Kent and Karen from Canada and the two of us showed up, together with our 3 guides. We were told not to use flash photography and to turn off our flashlights when turtles were spotted on the beach. After signing us in at the local police 'hut', the guides took us to Turtle Beach and we covered the entire island anti-clockwise but did not encounter a single turtle. At least the guide did manage to show us a coconut crab and white crab.
Kinabalu at sundown.
After 4 days, 14 dives and over 10 hours in the water, we finally took a much needed rest today, waking up later than usual. We spent the morning taking photos, had lunch, then left on the 2pm speedboat (1pm mainland time).
The van was waiting at Semporna jetty and transferred us to Tawau airport where we caught our flight back to KK. Seated on the right side of the aircraft, we passed Mt. Kinabalu again, this time bathed in the evening sun, and later caught our AirAsia flight back to KL. With so much natural beauty in the land of Sabah, I was already making plans to return, not just to explore the depths of her oceans, but also to explore the heights of Kinabalu mountain's national park and maybe scale her summit.
As for Sipadan and Mabul, such an abundance of marine life warrants a longer visit than just 5D/4N. And if you throw in Kapalai too, it'll be even longer. Well, maybe next year. The memories of all the people we've met, the marine life we've encountered, and the experiences we went through have all made this one of my most unforgettable trips. What a way to start off my 2003 diving season!
Epilogue
The first thing we learnt about budget airlines was that they use budget terminals. Our Malaysian Airlines flight from Tawau landed at KKIA Terminal 1 but we had to go to Terminal 2 to check in for AirAsia. We had to take a RM14 cab ride to Terminal 2, which was actually at the other end of the runway. So much for saving money. As names go, we expected Terminal 2 to be newer than Terminal 1, but turned out it was actually a few steps further back in time than Terminal 1. We queued at the lone check-in counter outside the building and was served by a lone ground staff manning the check-in counter. He was also busy tagging baggages and running to and fro along the conveyer belt. We later found him ushering guests and checking boarding passes in the departure lounge. Then we saw him in the plane after we boarded. Just when I was wondering whether he was going to fly the plane too, he stepped out before the door closed.
We couldn't find dinner in Terminal 2 and had to walk 15 minutes to Tanjung Aru hawker centre, a popular local haunt. Flora, a university friend of mine who lives in KK and whom I last met over 15 years ago, met us and drove us around Tanjung Aru and Sutera harbour before sending us back to Terminal 2.
As with most budget airlines, everything other than the flight is extra. Air-hostesses double-up as salespersons, selling food, refreshments and souvenirs. I bought a can of Coke for RM3 and the air-hostess asked me: "would you like some ice with your straw?" Maybe they did hire former sales reps! Anyway, the flight was smooth and we landed safely in KL. With AirAsia now flying direct from KL to Tawau and from Johor Bahru to KK, it's never been more affordable to get to Mabul and Sipadan. And you get chilled straws with your drinks too!
With divers from our dive boat group | With Flora in Kota Kinabalu aiport | With Karen and Kent from Canada, and Hiro from Japan