I decided to join Seng Hock and his family as they drove up from Singapore to KT to spend 4D/3N at Redang. This was a new experience for me as I had always gone by night coach which meant missing out on most of the scenery along the way as it was both dark and I was asleep most of the time.
Leaving my home at around 11am, our route took us through the 2nd link onto the North-South Expressway before exiting at Yong Peng, then through Segamat, Kuantan and the coastal highway 3 to KT via Kemaman, Kerteh, Dungun and Paka. Seng Hock and I took turns driving at a leisurely pace, stopping at Gelang Patah for lunch, Segamat for tea and Cukai for a dinner of baked crabs before ending up at his brother Seng Lip's house in KT around 10pm. Traffic along the coastal route was quite heavy and slow-moving though the scenery made up for it. The oil refineries at Kerteh don't look as impressive in the day as at night when these behemoths are transformed to look spectacularly out-of-this-world with their bright lights and orange plumes of flaming gases.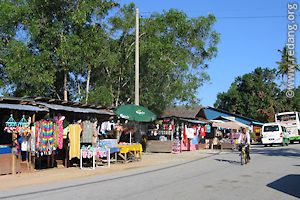 Beautiful morning at Merang jetty.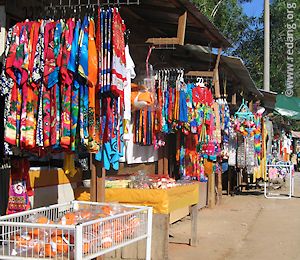 Souvenir stall at Merang.
'O what a beautiful morning, o what a beautiful day'... I could almost hear Curly belting out this song from the musical 'Oklahoma' when the Laguna van pulled up at Merang jetty this morning. The cloudless sky was such a beautiful shade of blue while the morning sunshine brought out all the hues and colours of the natural surroundings. The souvenir stalls were open for business with their colourful clothes and items on display, brightening up the mood and environment around the jetty. However, the crowds were noticeably absent. I had expected more people as today was Friday - the day when weekend visitors usually check in for a 3D/2N package on the island.
As I found out later, business at most resorts in Redang had taken a dive this year compared to the same period a year ago. With memories of last year's tsunami still fresh in people's minds and the jitters about recent earthquakes in Sumatera, Indonesia, some visitors had cancelled their bookings or may simply be avoiding islands and beach resorts in the region. Such fears were largely unfounded as Redang's location off the east coast of peninsular Malaysia facing the South China Sea meant it was unaffected by seismic activity along the western coast of Sumatera and in the Indian Ocean.
While waiting at Laguna's check-in, I met Mr. Liew Hock-Chark from the Institute of Oceanography at KUSTEM (a university at KT) who was also visiting Laguna with a colleague and another friend. Mr. Liew used to be involved with turtle conservation at SEATRU (Sea Turtle Research Unit at KUSTEM) and now worked on other marine projects, including playing an advisory role in Laguna's marine conservation efforts. The management at Laguna Resort actively supported and hosted marine science staff and students from KUSTEM doing projects on Redang and at SEATRU's Chagar Hutang site. They had allocated space in a new building under construction behind the dive centre to be used as a marine lab by KUSTEM.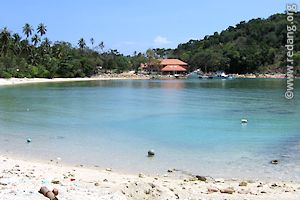 Laguna jetty at Teluk Bakau.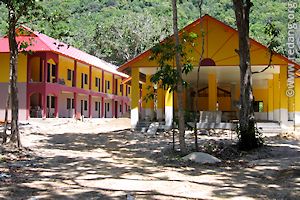 The almost-completed Redang Bahtera resort.
It was such a clear day that the islands of Lang Tengah and Perhentian were easily visible in the distance as the boat sped smoothly towards Redang. As the boat entered Teluk Bakau where Laguna's jetty was located, I noticed Redang Bahtera resort, one of the 2 new resorts on Redang, nestled among the trees on the other side of the small bay. It was hard to miss with it's colourful pink and yellow buildings standing in stark contrast to the surrounding forest. After stopping by the dive centre to say hello to Hitomi, I trekked over to see it. There was still some construction activity going on but the main buildings had all been completed and looked like it could be open for business in a month or two. Located inland, there was no beachfront though it had easy access to both the beaches at Teluk Bakau and Teluk Kalong some 50 meters away.
Since I was at Kalong beach, I decided to visit Redang Inn and Redang Kalong resorts which were located on this stretch of beach. Redang Inn with its conspicuous white tent-like huts was deserted and did not appear open for business. Some of the huts looked like they were in need of repair with their awnings in tatters. A little further down, Redang Kalong resort was a hive of activity with divers just returning from their morning dive. With its 5-star PADI dive centre (Diver's Den), Redang Kalong remained a popular diver's resort, judging by the number of divers present this morning.
The noonday sun was getting unbearably hot as I trudged back to Pasir Panjang. In just a short while, I had gotten sunburnt around the back of my neck exploring Kalong beach! It was a relief to finally arrive at Laguna's reception with the beautiful sight of Pasir Panjang beach out front. Chatting with Elvis at the bar, I was introduced to Laguna's unique new welcome drink made of preserved plum ('sng boey') and lime. This concoction from their resident chef proved to be a real thirst quencher and was delicious too.
Checking my mobile phone, I was surprised to see 'Laguna Redang' displayed as CELCOM's cell name with maximum signal strength. I was told that Celcom/TMTouch had activated their cell station located on Laguna's grounds sometime last year, hence the cell name. Finally, clear mobile communications on this side of Redang! No more standing on rocks or high places to get a signal - which also meant no more excuses about not being contactable...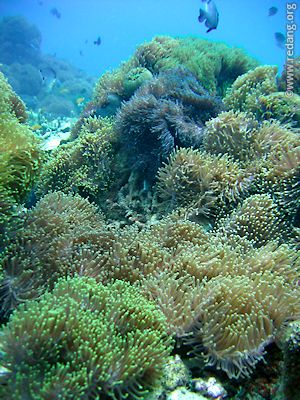 Beautiful soft and hard corals at Black Coral garden, Pulau Lima.
After lunch with Hitomi, Jimmy and Elvis, Liew and I prepared for our afternoon dive at Black Coral Garden, Pulau Lima. Just behind the dive centre, a new building was taking shape. When completed at end of April, it would house 10 standard rooms upstairs to accommodate up to 30 guests (targeted at divers). On the ground floor was a large comfortable hall where arriving guests would receive briefings and departing guests could wait for their speedboats. Next to the dive centre, a small room was used as a marine lab for KUSTEM staff and students.
There was little rainfall during the last monsoon while the last 2 weeks of March had seen its fair share of rain and choppy waters. With today's fine weather and calm sea, visibility at Pulau Lima was good and we were treated to schools of snappers and other coral fishes, beautiful lush garden landscapes of hard lettuce coral and soft anemones.
Later in the evening, Seng Hock joined Liew and I on a beach dive at the house reef in front of Redang Reef resort to check out the condition of the reefs there. Much of the reef was in waters less than 10 meters deep and were reasonably healthy except for a flat barren patch near Redang Reef resort filled with coral rubble.
Before this trip, a visitor had posted an entry in the Forum about blue sand at the back of Redang Reef resort. As I had the opportunity to dine with marine scientists that evening, I mentioned this to Liew and we decided to check it out ourselves after dinner. We found Elvis in the reception area and he led us out to the corner of Pasir Panjang beach near the walkway to Redang Reef. Elvis had seen it many times before when he used to work at Redang Reef. Using his feet to brush across the sand near the waterline, we saw bright blue specks of light which faded after awhile. We could actually pick up the specks of light and place it in our hands. When the light had faded out, we could press or squeeze it to make it glow again. When we scrutinized it under our torchlight, we could see a tiny brownish organism no more than 0.5mm in diameter. Liew thought they were most likely tiny crustaceans called ostracods (also known as 'sea fireflies'). Coming to Redang with a marine scientist can be an educational and enlightening experience! We found more ostracods at the front beach of Redang Reef. We scoured Pasir Panjang beach from Laguna to Redang Bay but did not see them elsewhere. It seemed the best place to observe these bioluminescent ostrocods was at Redang Reef front and back beaches or at the corner of Pasir Panjang where the walkway to Reef is located.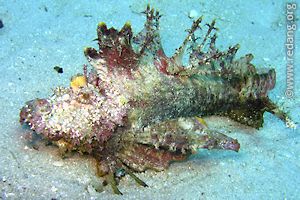 Spiny devilfish at Chek Isa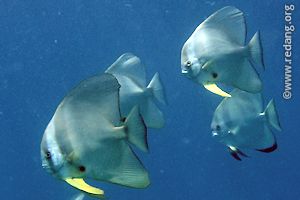 School of batfish at Chek Isa.
It looked like another fine day today when the morning sunshine flooded my room. After a hearty breakfast of nasi lemak (coconut rice), it was time for our morning dive at Chek Isa. A number of squirrels were up and about at the dive centre looking for handouts and were bold enough to venture close by just out of arm's reach. They were used to being hand-fed by divers and would sometimes even scamper onto the whiteboard while dive briefings were in progress! Jimmy was my dive buddy this morning and had mentioned the possibility of seeing devilfish, pipefish and crocodile fish on this dive. I was glad to have him as my buddy since he could help me to spot some of these fascinating subjects.
Visibility was better than yesterday at about 15-18 meters and we were rewarded at the start of the dive with sightings of a large stingray and a large giant grouper. It wasn't long before Jimmy started pointing out the peculiar spiny devilfish which 'walked' across the sandy bottom on a pair of 'feet' resembling spiny claws. Belonging to the scorpionfish family, the devilfish often remained motionless and well-camouflaged on the sandy bottom. As expected, I came away with a bumper crop of photographs of crocodile fish, pipefish, lionfish and nudibranch, thanks to Jimmy's observant eye. To cap off a great dive, we found a school of about a dozen batfish circling the buoy line at our safety stop which occasionally swam so close I had to use macro to photograph them.
The afternoon dive saw us at Terumbu Kili at the southwestern corner of Pulau Pinang. This was definitely one of the best dive sites in Redang especially when there was strong currents in the channel. Today the current was mild and we didn't get to see many pelagics though visibility was good and the place teeming with fish and coral. There was a school of snappers so large they formed a dark swirling 'mini-tornado' cloud, reminding me of the 'tornada of jacks' in Sipadan. There were wide fields of acropora hard coral which completely covered the slopes of the rocky outcrop. Toward the end of the dive, we also encountered 3 friendly Hawksbill turtles.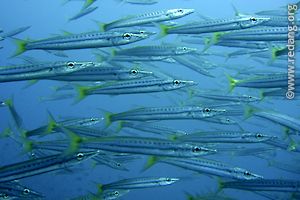 Yellow tailed barracudas at Mak Cantik.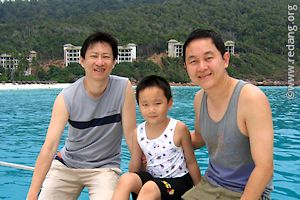 With Seng Hock and his son Nicholas at Teluk Dalam and Berjaya resort's new hillview apartments behind.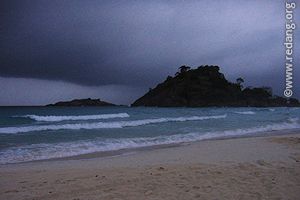 Storm clouds over Redang.
It was a cloudy day as we headed for Mak Cantik for our morning dive with Hitomi as my buddy. Having encountered the spiny devilfish at neighbouring Chek Isa (Mini Mount) yesterday, it was quite easy to spot them on the sandy bottom. There were quite a number and I quickly tired of them, especially since I had taken more than 20 photos of various individuals. I decided to look for nudibranchs instead and found quite a number, including a pair of Risbecia tryoni that were engaging in 'chasing' behaviour. Toward the end of our dive, we came across a school of yellow-tailed barracudas which circled us just out of arm's reach. For some reason, this particular dive trip to Redang provided many opportunities for close encounters with schools of batfish, snappers and yellow-tailed barracudas, which kept me busy with the camera.
With Hitomi and Jimmy away on leave, Liu, my PADI Rescue instructor, had arrived to take over the afternoon dive at Black Coral Garden, Pulau Lima. We were joined by other divers who had just arrived today. After descending, we found the current stronger than expected and it pushed us into deeper water away from the island. We headed towards the reef, staying as close to the seabed as possible where the currents wouldn't be as strong. Some of us had to help hold on to the others as we fought the current, hanging on to the few rocks available to catch a breather. By the time we made it to the shallower part of the reef where the currents were milder, some of us were already low on air so we surfaced after just half an hour in the water. This was the only dive where I didn't even have time to admire the scenery or use my camera!
In the evening, we went on a round-island cruise which was a good opportunity to visit the western coast of Redang, something I had never done before. At the northern end of Pasir Panjang, a new luxury resort was under construction between Redang Holiday and Coral Redang. At Teluk Dalam, Berjaya Resort's new accommodation blocks were still under construction along the hill slopes to the west of the main resort. As we started down the rocky shoreline of the western coast, it began to rain. Still, it was a relief to be in the very calm waters off the western coast as the sea off the eastern coast had been quite rough. It was not surprising there were no resorts along the western coast as there were only a few short stretches of narrow sandy beaches at Mak Kepit and Mak Simpan.
Stopping at the Marine Park Centre, we found we were the only visitors there when a small group of snorkellers from Berjaya left soon after we arrived. On the way back, we stopped at Teluk Kalong near Wisana and Mutiara resorts to spot turtles which were often found swimming in the shallow channel here. We saw a few from the boat, their dark carapaces silhouetted against the sandy bottom, coming up to the surface at times to breathe.
Back at the resort, the skies over Redang had turned ominously dark and by late evening, heavy rain lashed the island while strong waves pounded Pasir Panjang beach, giving a taste of what monsoon season was like.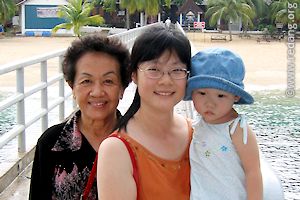 Seng Hock's mom, wife Nancy and daughter Natalie at the Marine Park Centre.
We took the early 8:00am boat back to the mainland as we had a long drive ahead of us back to Singapore. As we headed out to sea, we could see white capped waves in the distance which indicated rough waters ahead. Due to low tide conditions, the boat we were in could not enter Merang river. We waited just outside the river mouth as one of Laguna's smaller boats pulled up alongside and we transferred over. Hopefully, excavation works that were in progress at Merang would help to solve this problem in a few month's time. It was a relief to be on solid ground again when the boat pulled up at Merang jetty.
After an early lunch at Seng Lip's home, we left KT around 12:45pm. This time we avoided coastal highway 3 and took highway 14 to Kuantan instead. There was much less traffic and we reached Kuantan in time for tea and a change of drivers. Then it was all the way to Yong Peng for dinner and another change of drivers before getting back on the North-South Expressway and crossing the 2nd Link into Singapore. I reached home at 9:45pm, so it took only 9 hours for the return journey, thanks mainly to highway 14.
For those with time to spare and who wished to enjoy the scenery, driving to KT was a good alternative to taking the coach as it offered the flexibility to stop anytime, anywhere. Those driving from Singapore would have to spend almost 2 whole days travelling. I enjoyed the experience but I don't think I would be doing it again anytime soon... I would rather sleep on an overnight coach!
KUSTEM's Mr. Liew and friends | Dive group: Seng Hock, Iffah, Liu (seated), Kit, Angie, Sue Sinn and me | Peter, Seng Tat, me and Seng Hock.