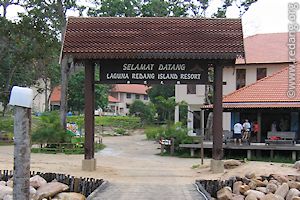 Welcome sign at Laguna jetty.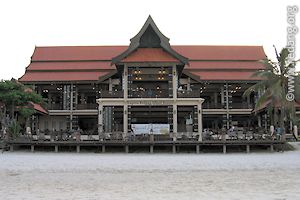 Laguna resort.
Today was U.S. Independence Day and also the first time I made a trip to Redang alone. As it turned out, I wasn't alone as I met Boon, his wife and a friend on the Transnasional coach going up to KT. I had met them on my dive trip to Pulau Dayang three years ago. They were headed for Redang Kalong Resort while I was headed for Laguna where I had left my dive booties. I had also informed Khairil at Wisana Resort through email that I planned to visit him sometime during this trip.
Laguna Resort updates
At Laguna's jetty, a big welcome sign had been erected. Just behind the dive centre was the completed accommodation block housing 10 standard rooms upstairs with a waiting hall and a marine science lab downstairs for visiting scientists from KUSTEM. These were the most affordable rooms at Laguna as they did not have the same level of in-room amenities but nevertheless still hosted 3 guests per room comfortably. It's location at the jetty in Teluk Bakau meant that guests staying here would have to walk a bit further to the main dining hall but it also meant a very quiet and private environment away from the hustle and bustle of Pasir Panjang. It's proximity to the dive centre made it an especially convenient place for divers.
Over at the main reception and lounge area, it was good to see posters had been erected to educate guests about 'Saving Our Seas' (S.O.S) and to read about various marine conservation efforts in Redang by groups like Raleigh International - their recent expedition in Redang showed the coral cover at various sites to be quite good. However, there were no comparisons with historical data at those same sites so nothing was known about whether coral cover had increased or decreased over the last 5-10 years.
It was also nice to see that Laguna now offered more variety of food at the mealtime buffet. When it first started, many of the dishes were spicy. Now there was a good balance of western and local choices. I had always loved pasta and was delighted to see a pasta dish offered every lunchtime - in fact, I just ate pasta and salads for lunch throughout my stay here!
'X' marks the DIGI spot
I had recently purchased a local DIGI prepaid card for use in Malaysia which was more economical than using roaming on my Singtel mobile line. Worked well in KL so it was disappointing to realize that I couldn't get a signal at Pasir Panjang. There was no problem getting MAXIS and CELCOM but DIGI was non-existent though I heard there was strong DIGI coverage at Berjaya. After searching around, I finally found one particular spot on the way to the Laguna jetty at the hillslope next to the helipad site. The signal here was weak but sufficient to call or send SMS. A few paces in front and behind and the signal disappeared. Perhaps someone should mark this spot by spraying a 'DIGI available here' logo on the ground! Anyway, I heard that DIGI would soon be available on this eastern side of Redang but until that happened, DIGI users would have to get in line for this spot!
Check Isa and Tanjung Tengah housereef
Interesting tubeworm at Tanjung Tengah housereef.
Going over to the dive centre later, I was glad to see my booties still in one piece. At least the monkeys or squirrels didn't get to them! There seemed to be more squirrels hanging around the dive centre waiting for handouts. I joined Hitomi and others for the afternoon dive to Chek Isa, one of my favourite places for photography and encountered a friendly Hawksbill turtle. On our return, 3 of us went for a dive at the Tanjung Tengah house reef and found it a pleasant site with resident giant morays, black-tip sharks, nice corals and a brown colour version of the 'blue dragon' (flabellina) nudibranch. The corals in deeper water were in much better condition compared to those nearer shore as they were not so easily accessible by snorkellers. However, as we surfaced near the beach in front of Redang Bay, we found ourselves covered in an oily slime that was floating on the water surface which smelt like petrol. These could have come from boats at the nearby wooden jetty or from leaking oil drums during loading or unloading. I had not noticed the wooden jetty during my last visit in April so it was either a new or temporary one that was built at northern Pasir Panjang near Tanjung Tengah. Whichever it was, the jetty spoilt the natural scenery somewhat; an artificial structure sticking out like a sore thumb across the beach into the water, especially during low-tide.
Returning to my room, I was so tired I fell asleep and slept right through dinner so had my supper at Laguna's Food Court nearby. They served quite good local hawker-style type food and I had 2 large pieces of freshly made roti canai (a local pancake) and teh tarik. A great place for those who need a late-night supper, the food court opened till 11pm.
Star pufferfish.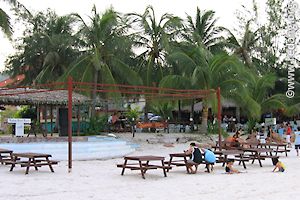 Summerpoint cafe at Redang Beach.
We visited Black Coral Garden at Pulau Lima for our morning dive. I buddied with Sai Ling who was taking her PADI open water certification. It was a gentle drift dive that brought us through lovely fields of soft and hard coral. We also encountered razorfish that bobbed vertically up and down on the seabed. After lunch, we visited Terumbu Kili where we saw a bumphead parrotfish and a star pufferfish. We also came across an old truck tyre that had probably been lying on the bottom for some time. Not sure how it got there - it might have been used as a bumper on a boat and fell off. What was interesting was that it had become an artificial reef with some corals adhering to it as a base and growing from it.
What's new at Pasir Panjang
As was my usual practice each time I was in Redang, I went for a walk along the whole of Pasir Panjang to see what was going on at the other resorts. Redang Beach next door had a beach disco complete with a dance stage which came alive each night, filled with young crowds. Together with the Summerpoint outdoor cafe/food court, it was a popular night spot at Pasir Panjang with a beach-club type atmosphere. Definitely not the place to be near if one was looking for peace and quiet.
On the beach at Tanjung Tengah near Shark Bay, some enterprising fellow (probably from the local village) had set up a stall selling T-shirts, drinks, snacks and snorkelling packages including a 5-hour round island tour which included 5 stops with lifejacket, mask and snorkel provided. Though no prices were stated (and I guess that meant one had to bargain), this would be a welcome addition to guests at Pasir Panjang as it provided additional snorkelling trips for avid snorkellers or to simply function as water taxis to transport guests from one beach to another (like those found on Perhentian).
I stopped at Ayu Mayang to visit Mr. Yap Chuan Bin but he had returned to the mainland so I spoke briefly to the chef instead. He mentioned they were planning to renovate the resort at the end of the year.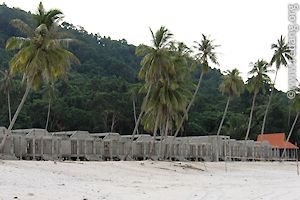 Desagreen resort under construction.
The new resort between Coral and Holiday was called Desagreen Redang Beach Resort. According to the sign in front, it would have 6 bungalow chalets, 2 family chalets, 12 double-storey twin chalets and 6 single-storey twin chalets when completed. It would also have a clubhouse, pool and spa. Nothing was mentioned about the proposed date of completion.
Last stop was at Redang Holiday. Met a lady there (Florence?) who informed me that Tan and Diana were managing the mainland office in KT now and spent less time on the island. Holiday had also undergone some renovations. The dining hall had moved and what used to be the dining area was now used as a multi-purpose entertainment area. They had also built a few new double-storey chalets.
With Chee Faun and Steven.
Our morning dive saw us changing sites to Kerengga after we found the currents at Mak Cantik too strong. Kerengga was supposed to be 'sting ray city' but they must have gone on holiday as we only saw one ray. We returned to the dive centre to find my cousin Chee Faun waiting for us - he had arrived this morning to join me in Redang for a night before heading out to Tenggol.
In the afternoon, we visited Black Coral Garden at Pulau Lima, my second time this trip but I didn't mind as it was one of the better sites for underwater photography. We were joined by Steven from England whose son was taking the PADI open water certification. We encountered many different species of hard and soft coral, including one that had branching coral growing inside a sponge which reminded me of a bouquet of flowers.
Wisana Redang Resort
Wisana resort dining hall.
I had called Khairil earlier to let him know I was free to visit Wisana this evening. Unfortunately Khairil himself was back at the mainland so he sent John to pick me up at Laguna jetty and to show me around the place. When I went to the jetty I saw a few people waiting. They said they were guests at Wisana and were waiting for John to fetch them so I joined them when John arrived. Arriving at Wisana in Teluk Kalong, I was immediately impressed with the beautiful private beachfront. Wisana was the only resort on that beach which was separated from neighbouring beaches by rocky outcrops. It was a small, basic, 'back-to-nature' resort with only 4 chalets and 5 rooms in a terrace block (all air-con with bathroom attached). A dive centre provided facilities for snorkelling and diving. Electricity was shut off from late morning until evening when most guests would be out snorkelling or by the beach.
Being a small resort, they were flexible to accommodate guest requirements such as mealtimes or shuttling them to Pasir Panjang or other parts of Redang. The best part of Wisana was the privacy and quiet as there were no neighbours, beach discos or karaokes, and guests had the beach all to themselves. There was no house reef off the beach, just pure white sand with no coral rubble.
After an early breakfast, we both walked over to Teluk Bakau to check out the new resort called Redang Bahtera. It appeared completed when I first saw it in April but still had not opened for business. Walking out to Kalong beach along the path leading from Bahtera, we found that end of the beach was littered with debris, plastic bags and discarded plastic bottles. The beach was much cleaner as we headed towards Redang Inn, which was closed. At Redang Kalong resort, we met Boon, who had travelled up to KT with me on the same coach.
Mozana Redang Resort
Mozana resort's seaview rooms.
As we walked toward the southern end of the beach, we passed another resort next to Redang Kalong called Mozana Redang Resort. We stopped to talk to some people at the reception and learnt that it had been in operation for the last 3 or 4 years. This budget resort had 24 rooms available in Malay-styled wooden garden-view chalets and a seaview terrace block. We didn't get to see the rooms, all of which were air-conditioned with attached bathroom. They also had a dive centre called 'Gipsy Divers'.
For our final dive this morning on Redang, we headed for Pulau Lima South accompanied by a few other divers. With moderate currents and poorer than average visibility, we were soon separated from Hitomi and the leading divers and ended up taking care of some newer divers at the back of the group. This site was popular with adult black-tip sharks and I had the opportunity to witness one fairly close when it suddenly appeared less than 4m to my right and swam parallel with me for a short while before disappearing ahead. The others in the group were looking the other way and missed it. As one of the newer divers had experienced some breathing difficulties, we decided not to head for the rendezvous point but to surface earlier.
Tanjung Jara Resort
Beach at Tanjung Jara resort.
We headed back to KT on the afternoon boat to spend the night in KT before leaving for Dungun the next morning. As we had the rest of the day to relax, Seng Lip kindly brought us to visit Tanjung Jara Resort about 45 min south of KT. Owned by the same people who manage the world-famous Pangkor Laut resort, Tanjung Jara was a beautiful, upmarket resort that had played host to international and sports celebrities like Michael Schumacher. Located by a stretch of beautiful beach with natural orange-coloured sand, its exquisitely decorated surroundings and luxurious rooms were designed to offer guests a quiet, relaxed and peaceful vacation. It's certainly not a place for noisy kids!

Tanjung Jara Resort near Dungun.