Dungun jetty.
Tenggol island.
Tenggol Aqua Resort's dining hall.
Tenggol Aqua Resort's hillside chalet.
Having dived at Redang the last few days, I was more prepared to handle the often rough and challenging dive sites that Tenggol had to offer. It was my second trip to Tenggol and a first for my cousin Chee Faun, who was now a NAUI instructor. We had stayed the night in KT as there was no way to be in Dungun to catch the 10am boat to Tenggol even if we took the earliest speedboat out of Redang. We had booked a 4D/3N diving package at Tenggol Aqua Resort through Ping Anchorage. Their van dropped us off at Tenggol Aqua's office which had moved to Molek Inn in another part of Dungun town. The inn is run by the same family who also run the island resort offering a convenient place to stay and rest for those wishing to spend a night in Dungun or for those arriving early morning on the coach. Tenggol Aqua also provides chartered van transfers between Dungun and other towns - for example, groups from Singapore can charter their van from Dungun all the way into Singapore for RM550 with drop-off at each guest's doorstep.
The old jetty was under renovation so we left from another jetty. As there were only two of us checking in at the resort today, we got onto a small boat that transferred us to a larger boat waiting in deeper waters. Unlike the small fast speedboat that drenched us with sea-spray last time, this boat was bigger and slower, taking about 1 hour 40 minutes to reach Tenggol. Manja, Razak and Abdul Mutalib's sister, was on the same boat with us. She was going there to assist in the cooking and running of the resort as there was a large group of divers arriving the next day. Her brother Jamil was running the island resort now as Razak had returned to KL.
Tenggol Aqua Resort
The sea was calm today and we had a smooth ride to Tenggol. Arriving around noon, it was good to see the familiar bay of Teluk Air Tawar again. There were still only 3 resorts at the bay occupying the small stretch of beach. Tenggol Aqua resort looked the same as it did 2 years ago except for some face-lifted beach chalets. The next door resort looked new. We found out later that new management had taken over the resort 2 months ago and it was now called Tenggol Island Beach Resort. Even Tenggol Aqua Resort now called itself Tenggol Island Resort which was sometimes confusing.
The most significant change at Tenggol Aqua was the dive centre. In my last trip report on Tenggol, I had mentioned the dive centre run by the resort was a little run-down and equipment not well-maintained. Now it was professionally and efficiently run by a third-party comprising Michael, a dive instructor and retired ex-Malaysian Coast Guard commander and Christy Yin Yin, an athletic and bubbly female instructor who used to work at Tioman. Equipment was new and well-maintained with a bigger and more comfortable dive boat. Michael and Christy had been running the dive centre for about 2 months.
Eager to get into the water, we quickly checked into our seaview facing hillside chalet. The room wasn't as nice as I remembered it and looked a little run-down with a double bed and a single-bed. One ceiling light was literally just a bulb suspended from bare wires from the ceiling. There was no dustbin and an empty can of insect spray was on the floor. The bathroom had a electric hot water heater but was dark as it's small windows faced the forested hill slope at the back. As electricity was shut down between 10am and 6pm each day, we couldn't turn the bathroom light on. Not having hot water was fine but this also meant we couldn't charge our batteries in the day. Good thing I had 3 sets of 4 rechargable AAs for my Canon A95 and underwater torch. On the plus side, we did have a good view looking out over Teluk Air Tawar bay.
First dives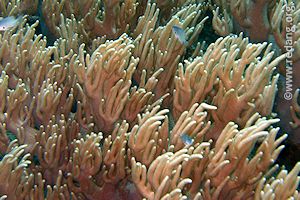 Pristine soft corals at Turtle Bay.
Eel in a tide pool at night.
The highly venomous cone shell in a tide pool.
Shortly after 1pm, Michael brought the two of us to Turtle Bay for our checkout dive with Christy as 'boatwoman'. We were amazed at the pristine, unspoilt condition of the corals here, considering that this place was located within the bay near the resorts. Perhaps this was what the housereefs at Pasir Panjang looked like a long time ago before the resorts were developed. There were so many varieties of soft coral that it looked like a huge underwater garden. We encountered a very tame hawksbill turtle, a pair of large beautiful cowries and a few nudibranchs but there didn't seem to be as many as before in terms of species and numbers. Perhaps it just wasn't nudibranch season.
For our second dive, we headed for Gua Rajawali. Right after descending, we encountered a lone bumphead parrotfish that curiously approached us and provided us with some nice photo opportunities. As with Turtle Bay, there were lots of beautiful soft corals but again, few nudibranch.
Over dinner, we met Chandra and Gail from Britain who had arrived a day earlier at Tenggol and were avid snorkellers, spending hours each day in the water, sometimes snorkelling right out of the bay. Found out that Chandra's cousin was an ex-colleague of mine in Singapore. We were the only 4 guests that night at the resort and it was really quiet and peaceful. As at Pasir Panjang in Redang, we could hardly receive any DIGI signals on our mobile phones while CELCOM and MAXIS signals were much stronger.
Tide pools
After dinner, the four of us went for a walk on the beach as the tide was much lower than normal probably due to a spring tide. We wanted to explore the tide pools as well as look for 'blue' sand. We didn't have to search long. Standing at the water's edge, we could see blue spots of light each time the waves rolled in. Some were really bright and sometimes there were so many, they looked like twinkling blue stars at the water's edge. Scooping up some of them in our hands, we turned on our torches and were surprised to see that some of these ostracods were 2-3mm in length and easily visible, running about and trying to escape!
Scouring the tide pools in the light of our torches, we had rich pickings. There were a lot of sand gobies with their tiny shrimp mates, small juvenile coral fishes, slugs, larger shrimps and sea cucumbers. We even found a small moray eel, a small scorpionfish masterfully disguised and even the highly-venomous cone shell.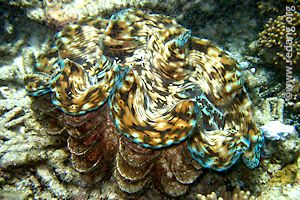 Giant clam in Teluk Air Tawar bay.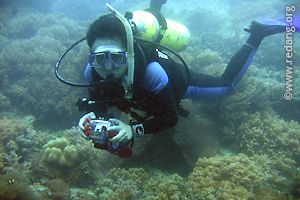 Chee Faun at Turtle Bay.
With Christy and Michael away this morning to fetch the large group of Singapore divers from Dungun, the dive centre was closed. They returned around noon and seeing that they were not ready to go out on a dive yet, Chee Faun and I decided to do a beach dive by ourselves to visit the wrecks in the bay and Garden Eel city.
After getting some directions from Christy, we snorkelled to the black mooring buoy about a hundred metres out then descended by the buoy line. A few feet below the surface, we encountered 2 cute baby cuttlefish which I tried to photograph. One of them squirted ink in my direction as if to say 'buzz off' before they both fled. We continued our descent by the line until we hit the wreck lying on the steeply inclined seabed. We circled the net-covered wreck and found the rear to be in about 30m of water. Behind it, the seabed continued to slope away into the depths. This was one really deep bay! At the top of the wreck, we encountered a giant moray and a giant grouper. We still hadn't found our garden eels and the water was noticeably colder at 26 degrees so we decided to head for for warmer, shallower waters. Heading northeast from the wreck, we soon came upon another wreck and found Garden Eel city in front of it. From afar, the eels looked like whip coral sticking out from the seabed. Disturbed by our bubbles, the eels would dart back into the safety of their burrows. So we sat quietly on the seabed, held our breaths and waited for them to reappear to photograph them. We didn't stay long as the visibility wasn't good, the water was cold and it was too deep. Returning to the shallow part of the house reef, we came across an artificial reef made up of PVC pipes shaped liked tents and found a large giant moray hiding in a nearby coral mound.
Tokong Timor
Fluorescent bubble-tip anemone at Tokong Timor.
Our second dive took us to Tokong Timor at the southern side of Tenggol. This time we were joined by the large group of Singapore divers and had to go in 2 boats. Tokong Timor was a rocky strip buffeted by currents that would split and swirl around it. Dropping off at the centre where currents were weakest, we descended to a maximum of 26.5m and found plenty of blue dragon nudibranchs. The drift dive brought us past beautiful underwater landscapes and pelagics like trevallies and a school of chevron barracudas. We also saw bubble-tip anemone with fluorescent pink tips that looked like they were glowing.
Night dive
Sleeping parrotfish at Rajawali Reef.
We decided to skip the sunset dive and went instead on a night dive at Rajawali Reef with Christy and five others. The reef was beautiful at night and we encountered crabs, scorpionfish, filefish, a butterflyfish and plenty of sleeping parrotfish hiding in the staghorn corals. I learnt later that I had given Christy an eerie scare underwater when she mistook my additional torchlight for an 'extra' diver (divemasters count the number of lights in the water to make sure no divers are missing). Divers on night dives usually carry only one torch but I had two, one in the hand and one attached to my camera so I could locate it easily if it slipped out of my hand. Lesson learnt: inform the DM when carrying additional lights to avoid unexplained extra divers!
Late at night, the power generator at the resort failed and we were left without power for about an hour as there was no backup generator. Apparently, this was due to the greater demand for power due to the large number of guests at the resort today. Though power was restored, the generator packed up again near dawn. Good thing we had spare charged batteries for our cameras and torches.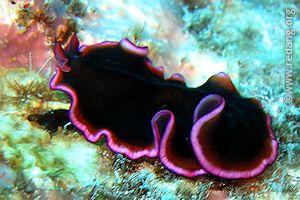 Beautiful pseudoceros flatworm.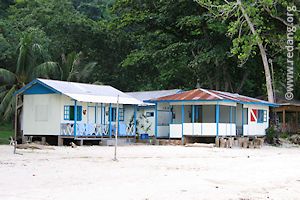 Tenggol Island Beach Resort.
We were left without power this morning, so we had to forego toasted bread. The power was only restored in the evening. Fortunately, all the tanks had been charged for our dives. This morning we visited Coral Garden and Tanjung Api, nicknamed 'the washing machine' due to the swirling currents. Michael led one group to Tanjung Api while we stayed with Christy to do some photography at Coral Garden. Today, as it had been the last 2 days, the water was calm and we heard from those who went to Tanjung Api that the washing machine felt like it was on a slow spin cycle. We didn't have such a great time at Coral Garden either - there wasn't anything interesting to photograph except for a single lobster. While we were doing our 5m decompression stop, the mouthpiece on Chee Faun's regulator dislodged, causing the regulator to fly out of his mouth. Fortunately we had finished the 3 minute stop, so he simply ascended to the surface. We didn't bother looking for the mouthpiece, so it's still lying amongst the corals somewhere at Coral Garden. Well, that's one additional equipment part to check on in future dives.
Returning to the resort, we bade Chandra and Gail farewell as they left Tenggol for KT. The second dive was at Moonraker off the northwest tip of Pulau Nyireh, a place I had visited on my last trip here. Then there were a lot of species of nudibranch. Not this time. Many of those we saw were of the same species although we did see some large ones as well as an interesting flatworm. The final dive brought us to Amazing Grace. This was one of the loveliest dive sites in terms of the diversity and richness of its marine life. We encountered more species of nudibranch and coral fishes here amidst beautiful hard and soft corals.
Breathtaking sunset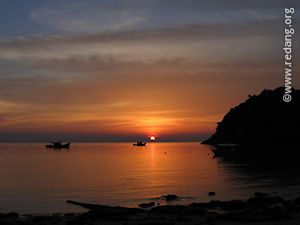 Beautiful sunset on our last evening.
We returned to the resort in time to catch the sunset. Teluk Air Tawar faced west and the best place to watch the sunset from the beach is at Tenggol Island Beach Resort (TIBR) next door. It was spectacular and a fitting spectacle to our last evening at Tenggol. Since we were already at TIBR, we took the opportunity to introduce ourselves to Charlie Lee whom I think runs the resort and is also a dive instructor there. They have only been running the resort for less than 3 months and currently have 7 non-air rooms with fans accommodating up to 28 guests. They plan to have air-con rooms by next year.
Walking back to our chalet this final night at Tenggol, we were treated to a clear, beautiful night sky. Unlike Redang, there were few resort lights on the beach so the sky looked much clearer than on Redang. The cloud-like Milky Way was easily visible stretching over the sky with myriads of stars twinkling at us and occasional shooting stars streaking across the sky. Witnessing such majestic beauty, it was easy to identify with the psalmist David's proclamation that 'the heavens declare the glory of God, the skies proclaim the work of His Hands'.
Meng and Christy.
We decided not to go for the final morning dive to the Highway as Chee Faun was flying back to KL that night from KT. From what we heard from the few who went, we didn't miss much. The calm spell in Tenggol had made the Highway more like rush-hour traffic crawl with few pelagics.
As I went about packing my things, I discovered that ants had found their way into my backpack and clothes and I had to spend the entire morning removing everything and shaking them all out. These were the larger ants that were black and red in colour with a nasty bite and I wasn't going to bring any home as souvenirs! By the time I finished repacking, it was time to leave on the slower boat back to Dungun. The only other guests at the resort were the large group from Singapore who also left together with us, some on the slower boat, the others on the dive boat. So, as we pulled away from the beach, all was peaceful and quiet at Tenggol Aqua Resort again, for the moment...
We had experienced a very different Tenggol this time, with calmer waters, milder currents and much fewer nudibranch species. It wasn't the diving experience we had hoped for but then such is the unpredictability that's part of leisure diving - sometimes you're there at the right time and right place and you see stuff that other divers diving there for years never get to see. Despite that, we still enjoyed our dives amidst beautiful coral gardens. 2 years ago, the resort was comfortable, food was great and the dive-centre was a let-down. This time round, it's the reverse - thumbs up to Michael and Christy for running an efficient dive-centre operation. Tenggol Aqua Resort is still a cozy, friendly family-run resort but its age is showing - food quality was average and it could definitely do with better maintenance and housekeeping... and a standby power generator would certainly help!
Playing cards with Jamil, Gail and Chee Faun | Gail and Chandra | With Chee Faun before Coral Garden dive.