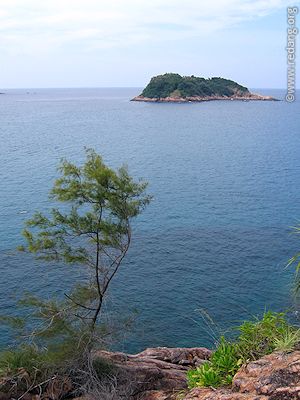 Pulau Paku Kecil seen from Tanjung Tengah.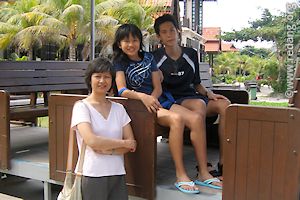 On board Laguna's passenger tram.
Snorkellers from a neighbouring resort boarding their boat at Shark Bay.
As most parents with school-going children know, planning family holidays can be a complicated task with holiday co-curricular activities and examination schedules. With crowds everywhere in June, our last two family trips to Redang had been in mid to late October close to monsoon season, taking advantage of the PSLE marking holidays. Since both our kids were now in secondary school - Sarah in Sec 1 and Timothy in Sec 4 (no 'O' levels as he is in his school's IB [International Baccalaureate] program) - there were no major exams to worry about. So here we were in KT for a 4D/3N vacation in Redang during the 1-week September school break. We had arrived on the 8pm Transnasional coach from Singapore as the later coach was full. Migratory whale sharks were sometimes spotted in August and early September in Redang and it would definitely be a highlight if we could see one this trip.
At Merang, there were many souvenir stalls open, displaying their wares ranging from T-shirts to ornaments made from sea-shells. Some resorts had also upgraded their boats. Redang Pelangi had a spanking new big boat with a two-tier seating capacity of at least 80-100 passengers while Laguna had a new boat that was even bigger and capable of taking more than a hundred passengers. With petrol and diesel prices being what they are these days, these larger diesel-engine boats would be more economical to run in the long-term as more passengers could be transferred in a single journey.
Arriving at Laguna's jetty after a choppy ride, we were ushered into a waiting hall at the new block behind their dive centre for a 20-minute introductory presentation to Redang and the resort, followed by a short tram ride to the reception lobby. As always, it was nice to be greeted by the beautiful sight of blue skies, deep turquoise waters and white sands at Pasir Panjang with Pulau Lima in the distance.
After lunch, we joined the afternoon snorkelling session at Pulau Lima. Each snorkelling trip was preceded by a 10-minute briefing about the destination, marine park rules and underwater photography service where photographers would be present to take digital photos of snorkellers underwater. These photos could be viewed and purchased later at the recreation centre for RM5 a photo - a good way for guests to bring home a memorable souvenir of their snorkelling experiences.
During our snorkelling session at Pulau Lima, we were reminded once again that rules without enforcement was of little value. A group of snorkellers were standing on a coral mound in shallow water. One of the snorkelling guides called out to them not to stand on the coral. No sooner had they come down when another group stood on it. It really irked me that despite the constant reminders, some snorkellers just do not seem to care and continue to act irresponsibly. Helpless to do much more, the guide kept quiet after that. It's difficult to handle such situations since resorts do not have the authority to enforce park regulations or to take action against offenders, and resorts also do not want to offend their guests unnecessarily.
Rules and regulations are of no use if the relevant governing authorities lack the will, power or resources to enforce them. Perhaps the vast majority of nature-loving resorts and visitors might see fit within their own conscience to impose those rules on themselves and behave responsibly but there will always be the minority who will only respond under the very real threat of heavy fines or jail terms. These individuals simply do not care and want to have their own irresponsible kind of fun at the expense of damaging the corals and other marine life. Without the will and determination needed by the governing authorities to lead, drive and enforce effective protection of the marine parks and without the cooperation of resort operators and visitors, there can only be greater deterioration of the marine life around Redang in years to come, especially in built-up areas and sites that come into contact with a lot of snorkellers.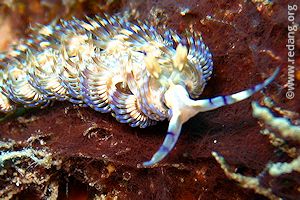 Flabellina nudibranch at Tanjung Tokong
As the family wasn't keen on snorkelling this morning, I took the opportunity to join the morning divers at Tanjung Tokong with James as my buddy. I had first met James 2 years ago at the coral spawning seminar and as we were the only photographers, it was natural that we paired up. The visibility was quite good and James and I had a long and leisurely one-hour dive following our own dive plan. As in Tenggol, there were quite a number of flabellina nudibranch around, including very tiny juveniles. We also encountered two giant morays, puffers, rays, snappers and yellow-spotted trevallies that kept circling us at our decompression stop.
Our dive group to Tanjung Tokong. My buddy James is next to me (front, 3rd from left).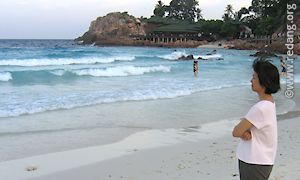 Bigger waves in September at Pasir Panjang beach.
Playing in the surf at Pasir Panjang.
In the afternoon, we tried our hand at canoeing in a 2-seater canoe. It was fun initially but found it tiring especially when the waves got bigger. Like yesterday, the sea became rougher and the waves bigger towards evening, a little unusual for this time of year. It reminded us of the waves we had in October the last two years. The strong waves had deposited a lot of broken coral at the tide lines which made walking anything but pleasant. No one was seen snorkelling at the house reefs but many guests were in the water playing with the waves instead.
After dinner, we went out looking for 'blue sand' at the water's edge at the corner of the beach in front of Laguna and at Redang Reef Resort's front and back beach. After seeing the dazzling display of these tiny bioluminsecent crustaceans in Tenggol, it was quite disappointing to encounter only one or two tiny specks of blue light. The bright lights of the nearby resorts also made it harder to spot them.
Back at the Recreation Centre, we saw the photographs taken by the underwater photographers during the snorkelling trips. There were many guests viewing their pictures on PCs set up in an area next to the pool tables. The picture quality was quite good and judging from the number of guests who bought photos (burnt on CD-ROM) at RM5 per photo, it was certainly a popular service and a good revenue generator.
Yellowmargin triggerfish at the Marine Park.
We followed the morning snorkelling session to the Marine Park Centre. It wasn't crowded as there were only guests from Laguna and Berjaya. As usual, one of the first things we did was to look for our old 'friend', the resident giant grouper. We found him in his usual hideout under the table coral beneath the jetty. There was no sign of the giant moray. We visited the shipwreck but turned back when we found there was a moderate current pushing us out eastwards into the channel. We decided to explore west of the jetty instead and encountered two different giant groupers, smaller than the one under the jetty, at a large coral outcrop located about 30-40 meters away from the jetty.
Walking along Pasir Panjang after lunch, I found Ayu Mayang had closed for renovations and would only reopen in March 2006. They were adding a number of new rooms at the back of the resort. Over at Desagreen, the new resort between Coral and Holiday targetted to open in 2007, roofs had been added to the chalets. The jetty in front of Redang Bay was still there though it did not look like a permanent fixture.
Redang Bay's jetty, Redang Pelangi and Coral Redang resorts seen from Tanjung Tengah.
Timothy climbing Tanjung Tengah.
Timothy and I took the opportunity to climb to the top of Tanjung Tengah to see the view. We had climbed it two years ago but this time was much easier. Someone had tied a blue rope around trees and boulders along the trail which extended all the way down to the starting point at the foot of the hill at one corner of Shark Bay. Still, with the hot weather and sun beating down on us, I was drenched with perspiration by the time we reached the top. A small concrete marker 'GPS station 312', placed by the Dept. of Survey and Mapping lay at the top. The view from the top was marvellous and certainly worth the effort getting there. Returning to the resort, we refreshed ourselves with iced teh tarik ('pulled tea') and fried 'chempedak' at the Food Court, one of my favourite snacks which happened to be in season.
After munching through two plates of the sweet fried fruit, we decided to try out Laguna's archery range located beside the recreation centre which could host two archers at any one time. We had tried archery before at Singapore's Indoor Archery range in Marina Bay (which had since closed down) but here, it felt more natural shooting arrows outdoors surrounded by the trees. Although it wasn't Sherwood Forest, one could still imagine being Robin Hood or Legolas from the Lord of the Rings except there were no Sheriff's men or orcs to shoot at, only the possibility of downing wild monkeys with stray arrows should they be silly enough to be sitting on the trees behind the targets! Mr.Chan, one of Laguna's staff and known to the local staff as 'Robin Hood' for his sheer accuracy of hitting the bulls-eye with almost every shot, was on hand to give us some friendly tips and shooting advice.
Happiness is a simple cup of teh tarik...
This morning, we found the sea had turned choppy with waves bigger than usual lashing the beach in front. It was like the waves we had the last three evenings we were here which were considered a little unusual for September. Not sure if this was an indication that monsoon might begin earlier than usual this year. As we packed our things, we found a cute squirrel lazing about on our balcony where we were drying our swim-wear. Obviously used to humans, it went about its own business, scratching, yawning and stretching itself out on all fours on the balcony railing. It was only when we collected our swim-wear later that we realized it may have taken a 'leak' onto our drying clothes as they smelt funny. So beware of relaxed sunbathing squirrels on your balcony especially when you have clothes hanging out to dry!
Leaving on the 1pm boat, we had a 'bumpy' ride back to the mainland and later in the afternoon, the rains came down. We were told that the overcast sky and rain was reminiscent of the monsoon season except that the real monsoon rains did not have the lightning and thunder we were experiencing today.
We were just glad to have had 4D/3N of fine weather on Redang. We didn't get to see our whale shark, though Jimmy at the dive centre said there were two sightings of a whale shark at end July and mid-August in Redang waters. Well, we'll just have to leave that for our next visit...

Our family at Redang 2005 | Tim and Sarah at Laguna's archery range | At Pasir Panjang