It was 10pm when I arrived at Golden Mile Complex to catch the Five Stars Tour coach to KT, or more specifically, to Merang jetty. It was my first time travelling with Five Stars as my previous coach trips were on Transnasional. At S$78 for a round trip (including fuel surcharge), it cost about 40% more than Transnasional but offered a more comfortable VIP coach, shorter journey time using the Second Link instead of the Causeway, and direct drop-off and pick-up at KT Shahbandar jetty and Merang jetty. The coach left at 10:30pm and arrived at KT Shahbandar jetty around 7:30am and at Merang jetty an hour later, in time for the morning ferries.
Accompanying me on this trip was my friend Timothy Chia who was taking his PADI Advance Diver at Laguna Dive Centre. Seng Hock, one of my regular dive buddies with whom I drove up to KT in April last year, had left earlier in the day with his family, driving up to KT. We would rendezvous at Redang the next day.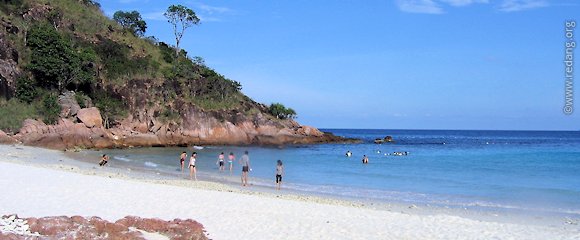 Snorkellers at Shark Bay, Pasir Panjang.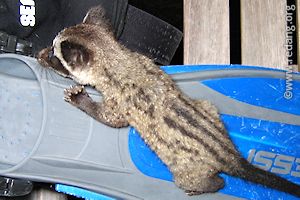 Baby civet cat at Laguna's dive centre.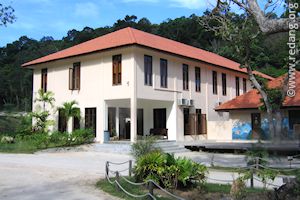 Laguna's standard rooms next to the dive centre.
Reefball - symbol of conservation efforts at Redang?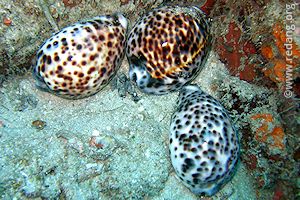 Three large cowries at Paku Kecil.
I awoke as the coach pulled up at Shahbandar jetty in KT around 7:30am to let some passengers off. About an hour later, we arrived at Merang jetty and caught the 9:30am Laguna Resort boat to Redang. As the boat passed Teluk Kalong, I focused my attention on Redang campsite and chalets, part of which was torn down just 1-2 days ago by the authorities who claimed that certain portions were built illegally on government land. It didn't look as bad - many of the buildings were still standing. [I learnt after this trip that the campsite was torn down completely on 4 April].
Upon arrival at Laguna's jetty, we immediately went to the dive centre where we met Liu, my Rescue instructor and many other familiar faces except Jimmy and Hitomi who were away on leave and would only return after we had left Redang. Other than Jimmy, Hitomi and Chin Heng (better known as 'Ah Boy') had also become resident full-fledged dive instructors. A new furry friend was also present at the dive centre, a cute and cuddly orphaned baby civet cat that was rescued and was being hand-raised by one of Laguna's boatman.
Checking into Laguna's standard room by their dive centre, I was pleasantly surprised that it had a TV, hot water shower and in-room safe especially when I had expected a 'no-frills' room. Compared to the deluxe rooms, it was about 25-30% smaller with 3 beds instead of 4, ceramic-tiled flooring, a less luxurious bathroom, no balcony and no fridge. A normal sized wardrobe, 2 chairs, bedside table, ceiling fan and split aircon unit completed the furnishings. Clean and comfortable, its proximity to the dive centre made it suitable for divers and I would certainly choose to stay in the standard rooms over the deluxe rooms if I'm at Laguna for dive trips again. The downside was having to walk further to the dining hall and Pasir Panjang beach but its location away from the main beach meant more privacy and quiet.
The other pleasant surprise was seeing a full-strength DIGI signal on my mobile phone. Gone were the days having to hunt for 'hot-spots' to make and receive calls and SMS, or having to switch to my roaming Singtel line just to scan for any weak signals from the local mobile service operators. Gone also were the days when one could take refuge on Redang and be non-contactable by one's bosses... I was told that the transmission tower at Teluk Bakau was now fully operational, providing good coverage to DIGI, Maxis and Celcom subscribers on Pasir Panjang and Teluk Kalong.
Walking over to Pasir Panjang, a Reefball was on display between the More More Tea gift shop and the reception building. Inscribed on a plaque below it were the names of sponsors who had helped to finance the purchase of Reefballs, about 70 of which were laid in mid-March in a sandy bottom area near Mak Cantik. It would be interesting to visit the artificial reef on one of my dives over the next few days.
Our first dives in the afternoon were shallow affairs at Pulau Paku Kecil and Mak Cantik with maximum depths of about 18 metres. At Paku Kecil, it was interesting to see 3 large cowrie shells lying next to each other and a pair of risbecia nudibranch engaged in a snail-speed chase, one after the other. At Mak Cantik, the usual schools of yellow-tail barracudas, damsels and other reef fish greeted us as we circled the beautiful submerged reef. What was less common was a chance encounter with a single large spiny lobster tucked away in a crevice, waving its long antenna at us as if to check us out.
Seng Hock at the artificial reef.
Juvenile fishes taking refuge in the reefball.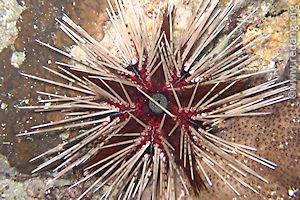 Sea urchin seen on a night dive.
During breakfast, I couldn't resist the nasi dagang - a local Terengganu dish comprising tuna fish curry served with fragrant rice and pickled vegetables. During the first morning dive at Tanjung Tokong, the strong surf at the safety stop made me queasy which promptly made me empty my breakfast in the dive boat's toilet after I ascended. Feeling better, I joined the second morning dive at the artificial reef near Mak Cantik to see the Reefballs.
As we descended, it was interesting to see the hemispherical balls dotting the sandy bottom. Deployed only about 2 weeks earlier, they were already home to schools of tiny juvenile fishes darting in and out of the numerous openings in the walls of the Reefballs, which offered them protection from predators. On the surface of the Reefballs, tiny algae had started to grow. It would be some time before we knew if the Reefballs were successful in attracting coral larvae (planula) to settle and develop into coral colonies. In the sandy bottom around the Reefballs, we found a lone anemone with numerous tiny and well-camouflaged translucent ghost anemone shrimps hidden among its branches, a well-hidden spiny devilfish and a large cowrie. Not far from the Reefballs lay a small submerged reef with the usual marine denizens.
Back on the boat, I felt a little sick again and once more ended up emptying what was left of breakfast. Perhaps I should remember from now on to stay away from nasi dagang before a dive! Back on land, I decided to skip lunch and the afternoon dive and just rested. I woke up later in the evening and felt well enough to go for a walk around Pasir Panjang. I was glad to see no sign of the unsightly jetty in front of Redang Bay near Tanjung Tengah. All the other resorts were open for business as usual except Ayu Mayang which was still closed and looked like it was undergoing some renovation. Construction at Desagreen resort located between Holiday and Coral was still in progress with many of the seaview chalets nearing completion.
After an early dinner, we went for a night dive at Mak Cantik where we encountered a large, solitary great barracuda, a big map pufferfish sleeping on the sandy bottom and a variety of shellfish, urchins and crustaceans actively feeding on the reef. During the dive, some of us witnessed a large fish head, it's body cleanly cut off and nowhere to be seen, sinking to the seabed with blood still oozing out of its freshly decapitated head. It was probably a little alarming to those who never saw the predator and could only guess its size and what it was. Those of us who had seen the large barracuda during the dive thought it was the prime suspect as it was probably the only predator big enough to have cleanly separated the fish's body from its head.
Close encounters with a black tip reef shark at Chek Isa.
Sargassum weed covered in oil washed up on Chagar Hutang beach.
Clumps of oil covered weed.
With yesterday's nasi dagang episode still fresh in my mind, I wondered if I should tuck in to the delicious looking roti canai (or 'roti prata' as it is called in Singapore) with its spicy curry sauce at breakfast. I convinced myself that I should as the only way to prove if spicy food made me throw up during dives was through experimental repeatability of outcomes - actually, I was just being greedy!
Our morning dive at Chek Isa went smoothly so perhaps spicy food wasn't the problem. Or perhaps an adrenaline rush caused by a close encounter with a pair of blacktip reef sharks counteracted the effects of spicy food. I had encountered these adult sharks at least 4 times during the dive, usually one at a time. On one occasion, I swam over to 2 divers who were looking at something in the distance. Swimming over and in front of them, I didn't see anything and gestured to them to ask what they were looking at. Before they could answer, I turned around and saw a pair of sharks swimming toward me barely 10 feet away. My first thought was 'take a photo' but they were gone by the time I turned on my camera. Missing a close-up opportunity, I went after one of them and almost mentally wished it to come back. It did. And this time it came even closer than the first time, giving me a chance to photograph it as it swam past barely 5 feet away. What a wonderful experience to be so close to these majestic, beautiful creatures!
After our dive, we went over to Chagar Hutang where SEATRU (Sea Turtle Research Unit) was located. We were told there was a minor oil spill at the protected turtle-nesting beach. We accompanied Prof. Chan Eng Heng from KUSTEM who headed the SEATRU program, a Star newspaper reporter and photographer and some Laguna staff to assist in its clean up. An American volunteer worker at SEATRU showed us sargassum weed washed up on shore stained black by the oil and small black clumps of coagulated oil that dotted the tide line. Under Prof.Chan's directives, the workers were split into two groups to comb the beach and pick up the coagulated oil pieces, which felt like soft clay or plasticine. We had to don gloves as the oil stains were difficult to wash off. It seemed this happened because a passing ship had discharged oil into the sea during cleaning and maintenance. While this was usually done in international waters, in this case, the ship might have done it illegally within Malaysian waters close to the islands and the currents had washed them onshore.
After spending about an hour assisting in the cleanup in the hot sun, we left Prof.Chan and some workers (among them villagers from the local village) at Chagar Hutang and returned to the resort. Fortunately, the pollution was minor though it could still have caused some problems for turtle hatchlings making their way to the sea. It was also more of a nuisance as it would stick to shoes or bare feet and was hard to come off. Even on this small scale, the effort to clean up the beach required many volunteers working for hours under the hot sun. It's a sombre reminder that everyone must play their part for conservation efforts to succeed. Any progress made in conservation could easily be set back many years by just one single careless action.
Returning to the resort, I found Khairil Anwar, dive instructor at Wisana Redang and a regular contributor to the Forum page, waiting for me at the dive centre, together with John, the boatman from Wisana who had fetched me to their resort last year for a visit. It was good to finally meet Khairil face to face. As we searched for a place to have lunch, we found Laguna's Food Court, Redang Beach's Kopitiam and Summerpoint were all closed. Relying on Khairil's familiarity with Redang, we eventually ended up having lunch at Redang Bay's food outlets which comprised a cooked-food shop serving Western and local fare and a local-styled coffee shop. We just ordered our food downstairs and proceeded to the upstairs dining area which offered a view overlooking northern Pasir Panjang beach. The quality of food was quite good by local standards and we had a nice chat over lunch exchanging information and tips.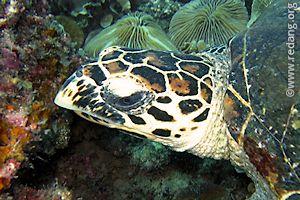 Hawksbill turtle at Terumbu Kili.
For our last dive of the trip, we visited Terumbu Kili in the afternoon. One of the best dive sites in Redang, with beautiful pristine coral gardens and an abundance of marine life, it was also home to resident hawksbill turtles that graze on the soft sponges and corals. We encountered lionfish, puffers, rays, nudibranchs and of course, hawksbill turtles. Just as Timothy and I were about to ascend after our safety stop, I glanced down and noticed a hawksbill feeding below us. Eager for one last photo opportunity, we both went down to see it. As if to bid us farewell, this very friendly Hawksbill turtle gladly posed for the camera unperturbed by our presence. It didn't make any effort to move away and allowed us to stay right next to it, even allowing us to stroke its shell. Certainly one of the more memorable experiences!
We got up early for breakfast before leaving on the 9am boat. As expected, we arrived at Merang jetty to find the Five Star Tours coach already waiting for us. It was convenient to be able to just hop on and return to Singapore. The coach stopped to pick up more passengers at Shahbandar jetty in KT and at some resorts at Cherating along the way. We got down for lunch in Dungun town and for dinner at Yong Peng before arriving back in Singapore around 9:30pm.
This first experience with Five Stars had been a good one. It was one of the most convenient ways to get to Merang jetty or Shahbandar jetty from Singapore due to the direct drop-off and pick-up at the jetties, saving a lot of time and hassle of having to switch to other land transfers in KT. That convenience costs a bit more but was worth it. Those interested should also check out other similar coach services that head directly to Shahbandar/Merang jetties. As for my friend Timothy, he completed his PADI Advanced Diver course with flying colours. Another diver to add to my growing list of dive buddies! :)
Tim Chia after completing his PADI Advanced | ST, May, Nicole, Timothy, 'Ah Boy', me and James | With Khairil at Redang Bay