Kapalai dive sites.
At Senai airport with friends.
Dinner with Flora and Tania in Likas, KK.
When I dived with my cousin Chee Faun at Tenggol months earlier, we had discussed the possibility of returning to Sipadan. Three years had passed since our last visit. Then, we stayed at Borneo Diver's Sipadan Dive Lodge on Sipadan island itself. Since then, the government had closed down all the resorts at Sipadan in order to protect the marine environment. As a result, visitors to Sipadan had to stay at either Mabul or Kapalai. Since we had visited Mabul, we decided to stay at Kapalai. We had passed Kapalai on our way from Mabul to Sipadan and I remembered it as an interesting resort that appeared to rise up from the middle of the ocean. Chee Faun, who arranged this trip, had booked us into Kapalai Dive Resort for 5D/4N of diving. Seng Hock and I would fly out of Senai while Chee Faun and his 6 friends would fly from KL. Our plan was to rendezvous in Semporna the next day.
As Joyce drove Seng Hock and me to Senai airport in Johor Bahru, accompanied by a few friends, it was hard to contain my excitement and eager anticipation to return to one of the top dive spots in the world. AirAsia direct flights from Senai to Tawau were sold out, so we had to fly to Kota Kinabalu first this evening, then catch the first flight out to Tawau tomorrow morning. My friend Flora in Kota Kinabalu had helped to book a night's stay at the Casuarina, a 2-star boutique hotel at Tanjung Aru close to the airport. Having waited overnight rather uncomfortably at Kota Kinabalu airport last time, I decided it was better to rest at a hotel even if it was only for a few hours.
Flying from Senai was a pleasant experience. It took just under an hour to arrive at the airport from my apartment in Singapore via the Second Link. The 6:20pm AirAsia flight to Kota Kinabalu departed five minutes earlier and arrived 2 hours later at Terminal 2, Kota Kinabalu International Airport. We bought a RM15 taxi coupon at the taxi counter and hopped into a waiting cab for the short 5 minute drive to the Casuarina. The hotel was conveniently located about 15 minutes walk away from Terminal 2 and was just 5 minutes walk from Tanjung Aru seaside hawker centre. At RM115 for a deluxe room, it was clean and comfortable.
Flora came over a short while later with her younger daughter Tania and brought us out for supper at beautiful Likas bay on the outskirts of KK, where we enjoyed satay, ABC (local version of 'ice kachang') and other hawker fare under the starry sky by the sea. Returning to Casuarina around midnight, we quickly settled down for the night. We had requested a taxi at 4:45am to get us to the airport to catch our 6:10am flight.
Mount Kinabalu from the plane.
Kapalai resort office in Semporna.
Sipadan Kapalai dive resort from a distance.
Sipadan Kapalai dive resort.
Resort restaurant with coral reef viewing area in the foreground.
The morning call woke us at 4:20am. Soon, we were on our way to Terminal 1 to catch our Malaysia Airlines flight to Tawau. With the early morning surcharge, the short 10-min cab ride cost us a hefty RM25, expensive when compared to the RM66 per person we paid for our flight from KK to Tawau! As we checked in our dive gear, we specially requested seats on the left side of the aircraft to get a good view of Mount Kinabalu. Then we went over to the same cafe where Chee Faun and I waited overnight 3 years ago for a light breakfast.
Our flight took off punctually at 6:10am. The sun was already quite high above the horizon. Any chance of seeing Kinabalu bathed in the warm golden colours of sunrise evaporated away as the plane climbed to cruising altitude. By that time, it had become rather bright and glaring and I had to severely underexpose the shot to capture a reasonable photo. As expected, Mount Kinabalu was a breathtaking sight.
We were met upon arrival at Tawau airport by the resort representative and ushered into their waiting van which promptly left for Semporna 70km away. We drove past hectares of oil palm estates and small villages before finally arriving at Semporna jetty. The Kapalai Dive Resort office was right at the end of the road. Built on stilts over the water, it was amazing to see such clear water at the jetty off this mainland town. A large pen in the water in front of the office had many large groupers and other fishes, most likely destined for the resort's dinner table.
As planned, a short while after we arrived, Chee Faun and his 6 friends arrived at the office from Tawau, where they had spent the night. Two of them were non-divers while the rest, including 2 of his students, were open-water divers. After a quick introduction, we boarded the speedboat for the 40 minute ride to Kapalai.
Sipadan-Kapalai Dive Resort
The twin-engine speedboat sped south in the calm and sheltered waters of the channel separating Semporna and Pulau Bum Bum, past picturesque water villages, night fishing boats decked out with rows of powerful spotlights, small sampans and kelongs (lines of wooden beams piled into the sea used for fishing by local fishermen). Leaving the channel for the open sea, the water became more choppy. As the boat passed Mabul island with its unusual but instantly recognizable landmark, the former oil-rig now known as Seaventures Resort, pleasant memories of our stay at Borneo Divers Mabul came flooding back. In the distance, Kapalai resort appeared to rise up from the ocean, like a scene from the Kevin Costner movie, Waterworld.
As we approached Kapalai, we could see the entire resort was built on top of the shallow sandbanks of a large submerged reef known as the Ligitan Reefs. The water changed dramatically from deep blue to shades of emerald and turquoise at the reef edge. The boat slowed down as we entered the shallow reef and finally pulled up at the main building where the restaurant and reception were located. As we got down and surveyed the environment, it was clear we had stepped into a tropical ocean paradise.
Surrounded completely by crystal clear waters teeming with marine life, all the timber buildings and chalets were connected by about a kilometre of long wooden walkways raised 2-3 metres above the water and adorned with pretty bougainvilleas on both sides. Everywhere in the water were starfishes together with patches of hard and soft corals and all kinds of marine fishes swimming freely about. It felt like we were living on top of a very large natural marine aquarium where the fish exhibits were constantly changing. Every chalet and every building offered beautiful vistas of the open sea with Mabul and Sipadan islands clearly visible in the distance.
The large beautiful restaurant where we ate all our meals had a unique viewing gallery in the middle which allowed guests to look down into the water below while making refreshments or toasting bread. A small coral reef lay at the bottom. Lights underneath the building illuminated this reef day and night while different fishes visited it. Once in a while, we would see an eel, ray or cuttlefish. Sometimes, guests would toss bread (or burnt toast) into the water. Compared to the fishes in Redang which always seemed to be hungry, the fishes here were a little more choosy and sometimes ignored the bread.
Resort chalets and amenities
Kapalai resort chalets.
View from our chalet room balcony.
Each twin-sharing chalet was roomy with fridge, ceiling fans, a large balcony and a large attached bathroom that had hot showers and a long bath. In some units, the bath lay next to a wall that had been extended out over the water, so that guests could soak in the tub while admiring the fishes below. There was no air-conditioning but the chalet was cool and breezy once we opened the slatted timber windows and doors. Every chalet here was a seaview unit, surrounded by water on all sides. With no land or beach except for a sandbank at one end of the resort, there were hardly any insects. The only terrestrial animals were birds - mainly egrets and other water birds that would fish and then perch among the stilts underneath the chalets or walkways - and an excessively overweight black daschund dog that would sometimes stand at the jetty to welcome new guests or bark at departing guests as if to bid them farewell. At night, each chalet had a spotlight shining down into the water below which attracted different kinds of fishes.
Many of the chalets on the west were built on top of a seagrass area while those on the east had sandy bottoms with small patches of soft and hard corals. These were connected by sturdy wooden walkways to the dive centre, the restaurant and the Kapalai lodge - a sort of large hall to relax and unwind with steps leading down to the water for those intending to snorkel.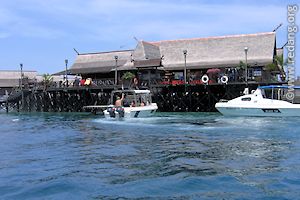 Kapalai Resort dive centre.
Kapalai Resort dive centre.
Deck chairs with Mabul island in the background.
The dive centre on the northern edge of the reef had 4 small jetties with stairs leading down to the water where divers could board their boats or use as a launch pad for beach dives. Divers were organized into groups and assigned to different dive masters and boats. A large whiteboard showed the assignments and dive destinations clearly. Other whiteboards were provided for divers to register themselves for sunset beach dives at 5:30pm or night dives at 7:45pm. These allowed dive centre staff to monitor diver movements and also to prepare dive gear with full tanks for the next dive. BCs and regulators were tagged with room numbers for easy identification. For the 3 daily boat dives, the staff would place the dive gear into the assigned boat so divers only needed to carry their masks, fins and weight belts.
Sundecks were available at the restaurant, lodge and dive centre. In addition, a large sundeck was available on the western end of the walkway to allow guests to relax and admire the sunset. At night, all the walkways and sundecks were lit with spotlights shining into the water. Other facilities included an internet terminal which cost RM40 per hour, a games room with pool and table-tennis table, and a bar counter. There were no phones in the chalets but guests could purchase prepaid phone cards to call out from the office phone or from their mobile phones, if they managed to get a signal.
At one end of the resort near the sandbar stood the utility buildings (power generators, stores, sewage and wastewater treatment plant), lodgings for the staff and for the military personnel guarding the resort. Ever since the Sipadan and Pandanan kidnappings a few years back, the Malaysian army had posted soldiers on all of the Semporna islands. The soldiers on Kapalai could be seen routinely on patrol armed with Steyrs and M16s and at night they would patrol the waters surrounding the resort on their high-powered patrol boat. It was certainly comforting to know that guests were well-protected.
As we waited in the restaurant to check into our rooms, one of the dive masters, Ann, came to brief us on the resort facilities, operational procedures and regulations. Mealtimes were 7-8am, 1-2pm and 7-8pm. Regular boat dives would be at 8:30am, 11am and 3pm with the morning dives at Sipadan and the afternoon dive in Kapalai. We could go for our own beach dives anytime as long as we observed the 1 hour SIT (surface interval time) and we did not go alone. There was also a special boat dive at 5:30am for those who preferred to complete all their 3 daily boat dives in the morning and spend the afternoon doing their own dives off the jetty. Boat dives at different destinations like Mabul could also be negotiated if there were sufficient divers.
Park regulations were similar to other marine parks in Malaysia: no collection of marine life, no littering and no stepping on corals. In addition, divers were not allowed to wear gloves to protect the marine life. However, the biggest change as a result of closing down the resorts on Sipadan meant no more night diving in Sipadan. We could only do night dives at Kapalai. We were also informed that Sipadan was now a restricted area - visitors were only allowed onto the beach at the Drop-off jetty area and were not allowed to wander around the island for security reasons.
First dives
Giant grouper at the wreck near the jetty.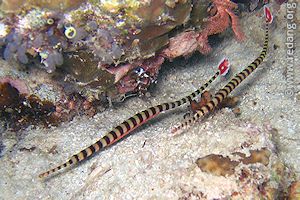 Pair of banded pipefish.
After we checked in, we immediately proceeded to the dive centre to sort out our gear and to get ready for our checkout dive at the house reef in front of the dive centre known as Mandarin Valley. Ann brought our group of 7 divers to visit the 4 wrecks sunk at the house reef at depths between 18-23 metres. Descending from the middle jetty, the reef sloped quickly to a sandy bottom at 14 meters. Like Mabul, most of the dives around Kapalai were muck dives - no gardens of beautiful coral but plenty of well-camouflaged marine life in what appears to be lifeless rubble and sand. As we approached the first 2 wrecks, we were surprised to see many large groupers on the sandy bottom and hiding within the wrecks. Our dive was cut short after just 18 minutes when one of the open water divers in our group had some buoyancy problems and ascended to the surface. Ann decided to abort the dive in order not to split the group and to ensure the safety of those who had ascended. Safety consciousness was very much on the minds of staff here as one of their guests, an open-water diver from Singapore, had died just a week before we arrived when he got into difficulties in Sipadan.
Our second dive in the afternoon was at Gunard Ground a short distance to the east of the jetty. Immediately after descending to about 15 metres, I encountered a large cuttlefish about 2 feet long. It was so well camouflaged against the sand that Seng Hock, who was right above it, didn't see it even though I kept pointing at it. Only when I started taking photos did he notice it near him. It was more obvious to me as I was looking at it sideways while Seng Hock was looking down at it where it appeared to blend in with the sandy bottom. Further on in the dive, Jinky pointed out the crab-eyed goby which had 2 spots on its fins looking very much like crab eyes. Also a first for me was an encounter with the small colourful mantis shrimp and a much larger giant mantis hiding in its sandy burrow.
Our appetites tickled, we eagerly went on our own sunset dive later at the jetty to see what else Kapalai had to offer. We encountered a number of pipefishes, crocodile fish, scorpion fishes and trumpet fishes, very similar to those we saw at Mabul last time. When we came up, we found the weather had turned a bit chilly and I found myself shivering. It was good to be able to slip under a hot shower back at the chalet. After dinner, I tried to call home on my mobile but could not get any signal. Since Seng Hock was going to use the internet later, I asked him to send an email to our spouses to let them know we were alright. For me, it was time to get some much needed sleep after a long day.
"Sipadan island army post.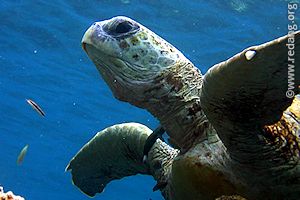 Green turtle.
Clown triggerfish.
I had set my alarm for 7am but was woken up by the bright sunshine streaming into the room. I looked at my watch - it was only 6:15am! Being so much further to the east than Singapore or peninsular Malaysia yet within the same time zone, the sun rose much earlier than we had been accustomed to.
I felt warm and a little feverish. Perhaps I had caught a chill after coming up from yesterday's sunset dive. At breakfast, I popped 2 paracetamols together with my daily dose of 1000mg vitamin C (which I found very effective at preventing colds and flus from developing whenever I went on diving trips). If I didn't feel better after breakfast, I would have to skip the morning dives and rest. Better to miss today's dives than to fall sick and miss the next few days of diving.
After a hearty breakfast, I felt a lot better and the slight temperature had come down, so I joined the other at the dive centre to gear up for our morning Sipadan boat dives. Jinky, a very experienced divemaster, would be leading our group for the rest of our dives. She not only took very good care of our group but was invaluable in helping us spot all the well-hidden marine creatures.
Shortly after, our boat 'Kapalai III' set out for Sipadan for our two morning dives. As we neared the island, we could see some of the old resort buildings were still there. Our boat pulled up at the drop-off jetty for Jinky to hand over a list of names of visitors - this was required by authorities to keep track of all visitors as well as to collect the RM40 daily conservation fee from each visitor. After that, the boat went around to the eastern side of the island for our first dive at Midreef, which was an easy, gentle introduction to wall diving at Sipadan.
Typical of most dives at Sipadan, the moment we got into the water, we found ourselves looking at a never ending wall of coral on our left that stretched all the way down until it disappeared into the dark ocean depths below us. On our right, it was just the deep blue of the open ocean while all around us were schools of fishes like red-tooth triggers, bannerfish and surgeonfish. And of course, the famous Sipadan turtles were all around us, either resting in small caverns and ledges on the wall, or swimming freely by. It's probably safe to say that two things are certain at every dive in Sipadan: great wall dives and turtles. And not just one or two turtles but by the dozens, large and small, young and old (judging by the wrinkles on their skins). Colourful coral fishes of all kinds swam amidst the corals on the wall, while white- and black-tip reef sharks would sometimes cruise below us. With the sheer variety and overwhelming numbers of fish and other marine life, it was easy to look at the wall and miss the bigger and more exciting pelagics out in the blue away from the wall, such as large trevallies, sharks and barracudas. We had to keep reminding ourselves to look left, up, down and right so as not to miss anything. It was also important to regularly check our depth on our dive computers as it was too easy to be too deep without realizing it, since there was no reef bottom as a visual reference.
Returning to Sipadan island for our SIT (surface interval time) before our second dive, we disembarked at the drop-off jetty and waited on the beach, sipping drinks and tidbits which Jinky had brought over on the boat. We were only allowed to stay on the beach where the old Borneo Diver's resort was located but seeing it brought back good memories of my stay there. It was a pity to see that some of the building structures had been torn down while others were simply wasting away due to lack of maintenance. Armed soldiers now use part of the accommodation block as their barracks and a sign at the beach proclaimed "Selamat datang pos Pulau Sipadan" (Welcome to Sipadan Island post) complete with the crest of the army division or platoon stationed there. Moored in the shallow reef nearby were other dive boats from Kapalai and Mabul resorts.
Famous Sipadan wall of jacks.
Ghost pipefish.
Our second boat dive was at Southpoint. I remembered this site as being one of the roughest during my last visit. This time, it was a shallow 9 metre dive amidst beautiful coral gardens on the gently sloping reef flats. There were even more turtles than the earlier dive. The only 'wall' we encountered here was a living, constantly moving wall of hundreds or thousands of jacks. This was the highlight of our dive and we, along with many other divers from other boats, spent quite a long time in the company of these jacks.
We returned to Kapalai for lunch and a short siesta before heading out for our afternoon boat dive at Cleaning Station in Kapalai. As the name implied, there were many types of cleaner wrasses here. Larger fishes would hover stationary while the cleaner wrasses picked off parasites or decaying tissue from their mouth and bodies. There was an interesting looking dark green flatworm which I hadn't seen before. As I went in to take a photo, I didn't realize there was a triggerfish nearby. After taking my first shot, I saw it hover menacingly above my camera and decided not to risk a second shot. Thanks to Jinky's sharp eyes, we also managed to see a crab and tiny shrimps hiding in bubble anemone.
Returning to the dive centre, it was a surprise to bump into Clement, an ex-HP colleague. We had done our NAUI Open Water together at Pemanggil 5 years ago. He had just arrived with another group of divers. Small world!
During our sunset jetty dive, we decided to search for mandarin fishes which we were told were located around 11 metres depth below the left jetty. They usually appeared between 5:30-6:30pm. Chee Faun and I did a systematic search starting from 12m heading west before heading back east at 11m, then back west at 10m. We did this a few times but failed to locate them. All we saw were banded pipefishes, cornetfish and trumpetfish. I'm sure they didn't call this site Mandarin Valley for nothing and we were determined to see our mandarins before we left Kapalai.
While I was out taking some night photographs of the resort, I bumped into a few off-duty soldiers using their mobile phones near the lodge and was told that it was possible to get a weak Maxis or Celcom signal. I couldn't get a signal at the lodge and was directed to stand at the top of the bridge near the dive centre. After trying various orientations, I found I could get a weak Maxis signal and managed to call home.
Later in the night, I was awoken by the sound of the opened windows slamming against the window frame. A strong wind was blowing and it had started to rain. This was to be the first of 3 stormy nights in a row.
White-tip reef shark at Barracuda point.
School of chevron barracudas.
Although it had stopped raining by the time we awoke, the waters looked choppy. Jinky wasn't sure what the dive conditions were at Sipadan and we were also not prepared to take the risk as we had 4 inexperienced open water divers among us. The other dive boats left as usual at 8:30am. Soon after, the weather cleared up and the sea became calmer. Following Jinky's reassurance, we finally left for Sipadan about an hour late. To make up for lost time, we would do our surface interval on the boat and try to make it back in time for lunch.
Our first dive at Barracuda Point saw us face to face with schools of surgeonfish, triggerfish, batfish, unicornfish, bannerfish and countless other species. A large Napolean wrasse swam by as if to check us out. The dive became a drift dive when we were caught up in the current. Gliding past beautiful coral walls, we soon found ourselves in the channel where we encountered white tip reef sharks, more turtles and Barracuda Point's most famous residents, a large school of chevron barracudas. We didn't see the famous swirling tornado of barracudas but this was still a visual treat. It was hard work to fight the current and swim with the school to photograph them but it was worth the effort to see them up close. We also encountered a pair of harlequin ghostpipes.
After the dive, our boat moved over to calmer waters near Whitetip Avenue. A few of us jumped into the water to snorkel back to the reef while the boat went ahead of us to shallower water. Finding myself in deep blue water with no visible landmarks, I was glad to see a green turtle swim by below me. Using it as my only visible reference, I stayed with it as it swam slowly towards the reef edge. As the reef came into view, we were met by a welcoming party of 8 other turtles!
After having snacks and drinks on the boat, we did our second dive here at Whitetip Avenue where we encountered large schools of colourful purple anthias, moorish idols, nudibranch and many turtles resting in beautiful coral gardens.
Mandarins and moonlight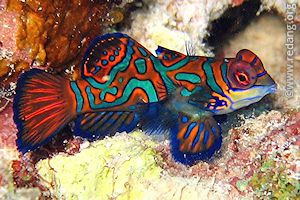 Mandarin fish near Kapalai jetty.
Moonlight over Kapalai.
Back in Kapalai, we arranged with Jinky to bring us out on the sunset dive to look for mandarin fish. We did not want to waste another dive by ourselves looking for them so we agreed to skip the afternoon boat dive. We would do our own jetty dive instead to visit the 3rd and 4th wrecks that we missed during our checkout dive. With Chee Faun leading our group, we saw a number of large groupers resting on the sandy bottom and on the hull of the wrecks, many large common lionfish as well as crocodile fish, stonefish, scorpion fish and moray eels. Under the jetty were a school of harlequin sweetlips and some trumpetfish. Occasionally, a lone resident great barracuda would visit the jetty area.
With Jinky leading us for our sunset dive, we descended to the same general area we were at yesterday evening, except Jinky knew exactly where to wait for the mandarins. As there were too many of us crowding around her, I waited nearby at another patch of dead staghorn coral rubble. After a short while, I noticed something moving within the rubble. It was difficult to see clearly as it was always partly hidden - appearing for a little while then disappearing, only to reappear a short distance away. Finally, it poked its head out and I recognized it as a shy mandarin fish, smaller than those I had seen at Mabul last time. Around the same time, Jinky's group also found some mandarins at their patch of coral rubble. I stayed still, all the while surveying the patch of coral not much larger than 2 square feet in front of me. There were at least two or three individuals in that patch, and they would appear only momentarily before disappearing from view, as if playing peek-a-boo. Without Jinky's help, it would have been almost impossible to spot them as we would not have known the exact place to wait.
After dinner, we made our way to the large western sundeck, a quiet and beautiful place to relax, unwind and enjoy the sunsets. Later, some of us ended up in the games room to play table tennis. The full moon was out and it bathe the entire resort in its glow, creating a wonderfully romantic ambience and plenty of photo opportunities. Alas, even picture perfect settings don't last forever. Rain clouds soon rolled in and we had another wet and rainy night.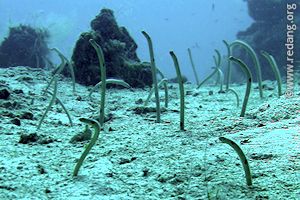 Garden eels.
Resting white-tip reef sharks.
We woke up to cloudy skies once again. After last night's rain and rough weather, Chee Faun's group had decided to skip the morning dives at Sipadan. It was the last day of diving for me and Seng Hock as we were flying tomorrow. So rain or shine, rough or calm seas, we were determined to follow Jinky to Sipadan as long as they deemed it safe to dive there. With only 2 of us, Jinky was able to bring us deeper and could concentrate more on showing us things.
With such a small group, this morning turned out to be our most enjoyable dive despite the poorer visibility due to last night's storm. At Barracuda Point, we hit a maximum depth of 28 metres and encountered more white and black tip sharks (although these were much smaller than those I had seen 3 years ago) including a gray reef shark. Jinky kept me busy with my camera, pointing out blue and red fire gobies, a long-nosed hawkfish, a colony of garden eels, a giant mantis shrimp, a harlequin ghostpipe, a flounder, a leaf scorpion fish, great barracudas and some shrimps.
At Midreef once again for our second boat dive, we encountered a large clam as we were descending. Halfway through the dive, I was dismayed to see 'change the batteries' on my camera. I had left the camera on all the time with just the display turned off to get a faster start-and-shoot time. Looked like that sapped the battery power faster than I thought. For once, I had to be content to just enjoy a dive without taking any photos. As it turned out, I did miss some great photo opportunities during the end of the dive, when we encountered two giant sweetlips each about a metre long, a pair of large great barracudas and plenty of resting turtles.
Our afternoon dive saw us at Midreef again but this time in Kapalai. I guess even dive masters run out of creative names for their dive sites. As this was my final boat dive, I literally begged Jinky to show me a frogfish, which I hadn't seen before. She couldn't guarantee it but would try to find one for me. If Forrest Gump had been a diver, he would have said "life is like scuba-diving, you never know what you're going to see". I think most divers would agree that diving yielded more surprises than a box of chocolates.
Well, the dive started off like any other muck dive. Not much to look at except for white anemone eels hiding in anemone. There were quite a number of dark, black sponge corals and it was at one of these that Jinky circled with her pointer. The other divers all crowded around her to look at what she was pointing at, thinking it was some small animal on the black sponge. I took a peek and missed a heartbeat - the outline was unmistakable: a frogfish! I had seen them in photos but not in real life and did not expect it to be so big - this was a giant frogfish, largest of the frogfish species. While the others kept trying to figure out what Jinky was showing them (it really does look like a sponge), I decided to look around the area and found another frogfish, perfectly camouflaged and just a shade lighter than the one Jinky had pointed out. Satisfied that I had finally found my frogfish, little did I know a bigger surprise awaited us further on.
My first pygmy seahorse
Pygmy seahorse Hippocampus bargibanti.
Kapalai resort housereef.
We came upon a fan coral that looked kind of gray and uninteresting. Suddenly, Jinky started gesturing and shrieking excitedly. She had found a pygmy seahorse, perfectly disguised within the branches of the fan! It was tiny, around 15mm tall, and so well camouflaged that simply taking our eyes off it momentarily meant visually having to search for it again. Chee Faun, Seng Hock and I were so absorbed with it that we spent the rest of the dive trying to photograph it, a task made more difficult as our cameras could not autofocus on the creature in the maze of coral fan branches, and it was difficult to distinguish on the camera LCD. Meanwhile, Jinky had brought the others and continued on the dive after we agreed that the three of us would surface by ourselves. To get good shots, I had to resort to manual focus, setting it first at the minimum distance, then placed the camera lens in front of the seahorse and just snapped away until it was time to ascend.
While we were doing our decompression stop, a free swimming remora circled nearby and looked suspiciously like it was checking me out. Usually, these fishes would hang onto sharks, turtles or other large fish using the sucker pad on top of their heads and get a free ride. Chee Faun had shown me a photo last year which he took of a remora hanging onto one of his fellow divers without the latter's knowledge. I certainly wasn't going to let it hitch a ride on me and kept a close eye on it until we ascended. On the boat, the others mentioned that they had also encountered ribbon eels. We may have missed the eels but I had no regrets - I was fully contented with my frogfish and pygmy seahorse!
Returning to the resort, I followed the others to do a bit of snorkelling at the house reef around the lodge. The water was shallow, about 6 to 8 feet deep and there were starfish, damsels, parrotfish, groupers, clownfish, scorpionfish, triggers, porcupine fish, puffers, a baby crocodile fish and other small fishes.
As we were not doing the sunset dive, I sat at the outdoor patio of the restaurant and waited, hoping to see a beautiful sunset. Alas, it was not to be. There were too many clouds. This being my last evening, there would be no further opportunities to witness a sunset this trip.
Night dive and typhoon
Well camouflaged scorpionfish at night.
After dinner, Seng Hock and I went for our only night dive at the jetty. This was our last dive at Kapalai. We encountered a moray eel swimming on the sandy bottom, a large crab that appeared to be carrying a cone-shaped shell on its back, a scorpionfish and a sleeping bumphead parrotfish.
Around 10pm at night, the wind picked up speed quite suddenly, knocking over flower pots and other objects and sending guests and staff scurrying for shelter. I was out trying to make a phone call and had planned to go over to the games room after that but now found myself running all the way back to the chalet and reached it just shortly after Seng Hock, who had run back from the games room. It was just in time too, for the rains came down in a torrential downpour. The storm was so intense that the entire chalet swayed and trembled when buffeted by very strong winds. It was hard to try to sleep through the din of the rain and howling wind outside and the thought did cross my mind that we might wake up to find ourselves in the water. Not a comforting thought so it was good that I was already feeling exhausted from the day's activities and fell asleep while the storm raged on outside.
Seng Hock, divemaster Jinky and me.
Seng Hock at the sandbar.
We awoke to find our chalet still intact and we still in our beds! The storm had subsided and calm had returned once again. The cloudy morning had dashed my last chance of catching the sunrise. Looked like sunrise and sunset on Kapalai would have to wait for a future return visit. While Chee Faun and the others went on the special 5:30am dive to Sipadan, Seng Hock and I could finally relax at leisure today. As we strolled into the dining hall for a leisurely breakfast, we caught up with the others who had returned and heard that we had missed seeing a huge school comprising a hundred or more bumphead parrotfish, another of Sipadan's attractions. Such is the unpredictability of diving, that every dive affords an opportunity to encounter something truly memorable - just that a diver needs to be at the right place at the right time.
With the whole morning to spare, we washed our dive gear and hung them out to dry, then Seng Hock and I went to explore the rest of the resort, wherever the wooden walkways led us. We headed out to the tip of the southern walkway past staff and military quarters to where the utility buildings were located. Seng Hock also wandered down to the sandbank where a large circular structure was being constructed which looked like some kind of viewing gallery. Sipadan was clearly visible, lying southwest of Kapalai.
At the tip of the eastern walkway, we found a few soldiers resting in the shade with their weapons, their patrol boat moored at the jetty. Striking up a conversation with them, we learnt that their base was at Tawau and they were posted to the islands for a 3-month tour of duty each time. Life was slow and boring for them on Kapalai. When they were not on patrol, they probably only had Astro satellite TV to entertain them as well as home karaoke which explained the enthusiastic singing we heard at night coming from the direction of the staff and military quarters whenever we walked nearby. Borrowing a pair of binoculars from them, we could see clearly the mainland, Sipadan, Mabul and even Mataking island.
As we browsed the souvenir shop and talked to staff, we found out that the storm last night was due to a typhoon that had hit the southern Philippines. It was the worst storm that the staff had experienced on Kapalai so far. For us, it was certainly an experience we would not forget easily.
After lunch, it was time to say farewell to Kapalai. The boat left at 1:30pm and shortly after arriving in Semporna, we bade Chee Faun and friends farewell as Seng Hock and I were whisked off to Tawau airport. Chee Faun's group would only be flying back to KL the next day and would stay overnight in Tawau. Reaching the airport around 4pm, we had dinner there while waiting for our AirAsia flight to Senai which was delayed an hour till 8pm. The plane took off just as a thunderstorm was about to hit Tawau and there were some tense moments when flashes of lightning illuminated the cabin and the plane shook from heavy turbulence. There was noticeable relief when the seatbelt sign was finally turned off.
Touching down at Senai, we paid RM80 for a white airport cab to Singapore and was caught in a massive jam at the Causeway. There were many people returning to Singapore after the Wesak day long weekend. Our resourceful cab driver managed to save us some time by going through some small back alleys to rejoin the queue close to the immigration. Despite this, it was 1:15am by the time I arrived home. The last 4 days of diving at Kapalai and Sipadan had been an overwhelming assault on my visual senses, one that would take me many days to recover from. Talk about getting 'high' on fishes...
Sipadan memories.