A faulty zipper! The timing couldn't be worse, just before baggage check-in. Not a wardrobe malfunction but a baggage malfunction on my check-in bag containing my dive gear. The zipper of the main compartment had split just behind the zip handle, leaving a 3-inch gap. Not a convenient place to find a last-minute replacement bag and certainly not the cheapest place to get one either. Finding nothing suitable in the shops at Terminal 2, I had no choice but to check it in. Since it was padlocked and there was an inner wet bag holding all my dive stuff, nothing should fall out of the gap. It should survive the journey to Manado but forcing the zip open to retrieve my dive gear later might mean not being able to zip it close. Hopefully bags are cheaper in Manado.
Two months earlier, my Rescue buddy Joseph Lee had invited me on a trip to Lembeh. His friend Anthony Mah was arranging this 6D/5N trip to NAD Lembeh Resort. There would only be 4 of us together with Joseph Ung, Anthony's friend. On learning they were all underwater photographers, I jumped at the chance - a small group, with no chance of getting left behind by impatient non-photographers, a weak US dollar (USD1=SGD1.35) which made the USD503 dive package price very attractive, and not just any dive site but Lembeh... THE muck dive capital of the world!
So here we were now at Terminal 2 to catch our flight to Manado. Anthony and Joseph Ung had flown down from KL the night before to join us on this flight, something they wouldn't have to do in future as AirAsia just started flights direct from KL to Manado. At just RM440 (S$191) return fare inclusive of taxes and surcharges, SilkAir's promotional S$369 return fare was expensive by comparison.
Singapore to Manado
The three and half hour flight went smoothly and we touched down at Sam Ratulangi airport, Manado, just after 1pm in a light drizzle. We were met on arrival by our pickup, arranged by the resort for a small additional fee. The 45-minute land transfer took us past coconut plantations and modest village homes with less-modest church buildings every half kilometer or so, reflecting the predominantly Christian population in Manado. Honking and negotiating our way past bikers, horse-drawn carts and other vehicles along the narrow roads, we soon arrived at the port city of Bitung.
View of Bitung jetty and the fishmarket on the right.
Located 47km away from Manado on the northeastern coast, Bitung is a busy commercial port halfway along the 12km long Lembeh straits This made it a convenient jump-off point to get to the resorts at Lembeh island. The drizzle had become a downpour and while waiting for our boat to arrive, we took shelter in what appeared to be an empty wet market that reeked strongly of fish. Lembeh island loomed large just across the narrow straits and reminded me of Pulau Aur seen from Pulau Dayang. The water looked dark due to the black volcanic soil, but was clear and clean despite the many commercial activities around the jetty. Another boring wait before we finally hopped onto a slow boat for the 15-20 minute journey to NAD Lembeh resort. It was nearly 4pm when we set foot on Lembeh island.
NAD Lembeh Resort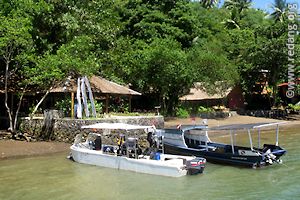 NAD Lembeh resort.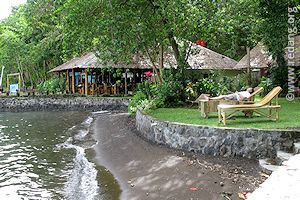 Front beach and dining hall.
Upon arrival, we were warmly welcomed by Stefan and Sandra and the other resort staff. As we hadn't had lunch, they whipped up simple fried noodles for us. Attracted by the smell of food, the resort cat, a young gray and white feline, warmed up to us quickly. We were told the past week had seen its fair share of rain and we hoped for better weather ahead.
NAD Lembeh Resort is among the newer resorts at Lembeh island. Located in a small cove on the western side of Lembeh island, flanked by sea in front and forest behind, it housed only 10 rooms and 2 Minahasa-style bungalows, offering plenty of peace and tranquility in a warm, cosy environment. The rooms had full-length glass sliding doors which offered a view of the garden, sea and mainland, which was dominated by 2 volcanoes with cloud-shrouded peaks. The dining area had seating for only about 24 people with a beverage area for self-served water and hot beverages. Next to it was a reading lounge with a small library of books, including useful reference books of marine creatures found in the area. A TV with a collection of DVD movies was the only source of entertainment. Beer and other alcoholic beverages could be ordered over the reception counter. There was no sundry or souvenir shop though orders could be placed with the staff who would purchase and bring it back from the mainland. Upon learning that there was mobile reception on the island, I had the staff purchase for me a local Indosat prepaid SIM card which would be cheaper calling overseas compared to roaming charges. One of the thoughtful provisions for guests was a room for charging batteries and other electronic devices which had a constant stable power supply and many charging sockets.
Checkout dive
Sunset over the straits and volcano on the mainland.
Lembeh was in the same time-zone as Singapore and Malaysia but being so much further east, the sun started to set around 5:30pm while sunrise was well before 6am. This meant that although we had unlimited shore dives, by the time we completed our two morning boat dives and one afternoon boat dive, there wasn't much daylight left for other shore dives. By the time we finished our late lunch, checked into our rooms, unpacked and prepared for our checkout shore dive, it had started to get dark. I was using my new Canon Powershot A650IS underwater housing for the first time and it would have been easier to check for leaks in brighter conditions. Not daring to risk a flooded casing and camera, I brought the empty casing with my Inon strobe for the checkout dive. I had forgotten to take an extra weight to compensate for the empty case and its very positive buoyancy made it tiring to hold with one hand after awhile (I was holding my torch with the other hand). It didn't help that the shore dive was shallow, in less than 3m of water with below-average visibility and with many urchins and tall seagrass to avoid. I was glad to get out of the water at the end of the dive. All I saw were some shrimpfish, a number of crustaceans and juvenile fishes.
The dining hall was full during dinner as the resort was almost at full capacity. Lunch and dinner comprised mainly rice or noodles with 4-5 choices of meat, seafood and vegetables cooked local style, with fruits such as melons, pineapples and jackfruit for dessert. We retired early after dinner to prepare for the next day. For the next few days, we had to be up at 7am for breakfast to be in time for the first boat dive at 8:30am. Joseph Lee and I had requested for an aircon twin-sharing deluxe room but we were instead given a room each. My room was comfortable with a king-sized bed, fan, aircon and attached bathroom with hot water. A mosquito net hung over the bed from the ceiling. In terms of standard, it was similar to the better budget resorts at Redang.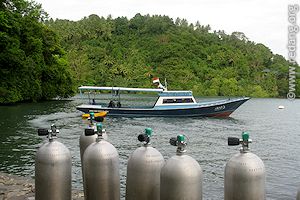 Our dive boat, Stargazer.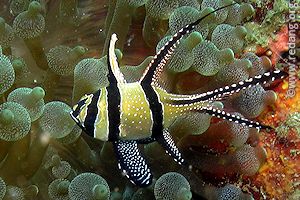 Banggai cardinalfish at Nudi Falls.
The Wonderpus octopus.
We were introduced to our divemaster, Meikel, during the morning dive briefing and assigned to diveboat Stargazer, and her crew Marnes and Oldy. Joining our boat were two divers from Austria, Paul and Reinhold and their divemaster Angu. Meikel would be taking care of the four of us throughout our dives here. The dives were well organized. We were each provided with dive towels and assigned a drying rack and basket for our dive gear. The boat would leave for both morning dives and only return for lunch before going back out at 3pm for our afternoon dive. The boat had a freshwater tub in which to place our camera equipment and a small cabin where food, water and hot beverages were available.
Our morning dive kicked off at Police Pier located directly across the straits from the resort. Descending to a maximum depth of 23 meters, we saw quite a few species of nudibranchs. As it was the first time I was using my A650IS underwater, I used this dive to experiment with all the different exposure, white balance and focusing modes to see what was the best setting to use underwater. I also tried covering the onboard strobe with soft travel night shades which wrapped itself quite well on the curved lens housing, using its elastic band to secure it onto the protruding lens area. The dark cloth on the shades allowed it to block out the internal strobe completely. This arrangement allowed me to compare the onboard strobe performance with the external Inon strobe. The problem with switching digital cameras is that even with the same brand of camera (in my case, it's always Canon Powershot series), there's always a lot of experimentation required as the same settings that used to work on the older model do not always work well on a newer one. In addition, there are always new functions and features to try out.
The service by the boat crew was excellent. Whenever we finished a dive and climbed back on the boat, we would immediately be served water, followed by hot coffee, bananas or other snacks. We just had to sit back and relax while they switched our tanks for the second dive. Our second dive was at Nudi Falls with a maximum depth of 20 meters where we saw more nudibranchs, cuttlefish and the beautiful Banggai cardinalfish, an endemic species found only in this region. There was excitement when Meikel came across a Wonderpus octopus. Initially I thought it was a Mimic octopus but the stripes on a Wonderpus are much clearer, more uniform and well-defined. It was a real treat to encounter this rare creature on just our second dive. Although close in appearance to the mimic octopus, it is not clear if the Wonderpus has the gift of mimicry.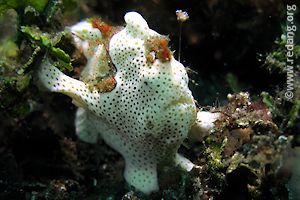 Painted frogfish.
Commensal crab on sea cucumber.
The afternoon dive saw us at Jahir 1 where we descended to a maximum depth of 20 meters. This site had many fascinating bottom-dwellers. It took me awhile to get used to their excellent camouflage against the dark volcanic sand but they couldn't escape sharp-eyed Meikel. Every now and then, we would hear a tank banging and we knew Meikel had found something else. We encountered painted and juvenile hairy frogfishes, porcelain crabs, scorpionfish, cockatoo waspfish and a large cerasotoma nudibranch. At one point during the dive, Meikel and I came across a large sea cucumber. First, he pointed out an emperor shrimp on one side of the giant slug, then he whipped out his plastic magnifying glass and showed me a tiny well-camouflaged crab on the other side. This was when I realized I was going to have problems seeing the really tiny stuff in Lembeh. My near-distance focusing had deteriorated in recent years and I could only focus on objects when they were about half a meter away (a common problem amongst folks in their forties). At that distance, it's hard to make out details on tiny objects. When Meikel left to find something else, I was left trying to locate this well-camouflaged blob without any magnifying glass, and ended up 'shooting blind' - I focused the camera on where I thought the crab was, took the photo and then used the camera's zoom function to see what I had captured. Sometimes it worked, other times I captured nothing. I would sometimes peek at my buddies' camera displays to see what they were taking, especially when I couldn't see the tiny object of interest. It helped that my other 3 buddies were all using Canon G9s with big 3-inch screens.
One thing I noticed about diving in Lembeh was the noticeable lack of currents or swells. Visibility for a muck dive site was quite good, averaging 5 meters or more. Many of the interesting encounters with marine life were at relatively shallow depths of less than twenty meters. Coupled with the fact that we weren't moving around that much meant we could conserve air and stretch our bottom times. In fact, my first three dives today clocked bottom times of 59, 70 and 67 minutes. With many of the creatures being bottom-dwellers, we just had to be careful not to stir up sediment when photographing them near the sea bed.
The hairy ambon scorpionfish.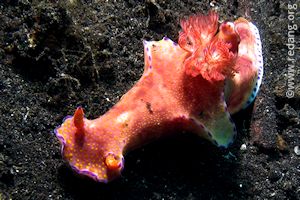 Cerasotoma tribolatum nudibranch
We awoke to an overcast morning but the weather didn't dampen my spirit. After yesterday's experiences, I was looking forward to the dives today. My buddy Joseph had left his diffuser for his G9 housing back in Singapore, so I loaned him mine as it fitted his housing. I figured I could still use just the Inon strobe for macros, though I discovered later that using both the external strobe and the internal strobe with diffuser was the best combination. (On later dives, we ended up taking turns to share the diffuser.)
At Coral Garden for our first dive, we descended to a maximum of 32 meters, the deepest dive of our trip. With gorgonian fans, hard and soft corals, this site looked similar to other dive sites in coral reef areas. We saw a few pygmy seahorses (the same species that I saw in Kapalai), leaf scorpions and a large notodoris minor nudibranch that was at least 12cm long.
We did our surface interval on the boat at the TK dive sites just off the beach a little further north from Coral Garden. There were 3 shallow dive sites here called TK1, TK2 and TK3, all in close promixity to each other. There were several attap huts on the beach and floating huts in the water which were probably used for fishing. The black beach contrasted sharply with the greenery of coconut palms and trees. For our second dive, we covered both TK2 and TK3 with a maximum depth of just 14 meters. This was really black sand diving and it was here that the sands revealed many well-hidden creatures like the shaggy Ambon scorpionfish, gunards and seamoths which could be seen 'flying' across the seabed, juvenile frogfishes, a giant red frogfish which seemed almost out of place against the black sand and a large red cerasotoma tribolatum nudibranch with a commensal emperor shrimp hitching a ride on it. In a commensal relationship, the nudibranch is neither harmed by nor derive any benefits from the shrimp, while the shrimp benefits by getting a free ride.
Margined octopus on a seashell.
I followed a cuttlefish which tried to elude me by constantly changing its colouration to match whatever it happened to rest on. During the chase, it found itself next to a green coloured coral which was too small to blend into. The result: a half green cuttlefish! It was amazing to see this cephalopod control the chromatophores (pigmented cells) in its skin to match the textures and colours of its surroundings. Chromatophores are found on some fishes like flounders, certain amphibians and on cephalopods like octopus, squid and cuttlefish but it is the latter group that are so skillful at using it that they have elevated it to an art form, as can be seen in the pulsating psychedelic colours of an agitated cuttlefish.
We came across a margined octopus resting comfortably in an open clamshell, unperturbed by our presence. It seemed to be more interested in jealously guarding its pearly white home. Only when it stepped out momentarily and a diver took the clamshell and moved it out of reach, did it seem insecure and lost, not knowing where to go or what to do. When its clamshell was moved back within reach, it climbed right back in and settled down.
Encounter with a master of mimicry
Mimic octopus.
When we heard Meikel banging his tank excitedly, we knew he had found something significant. From a distance, I thought it was a Wonderpus like the one yesterday but soon realized he had found the most talented octopus of all, the elusive Mimic octopus. Before long, it was surrounded by a horde of photographers queuing to take photos of it. While octopuses often change colours and appearance to blend with their surroundings, only the mimic octopus has been observed to mimic the appearance, body shape and behaviour of other marine creatures to fool and confuse its predators. Discovered only a decade ago, the octopus routinely mimics flounders (sole fish), lionfish and seasnakes but has been observed to impersonate eels, crabs, cuttlefish and jellyfish as well. While many of the creatures it impersonates are poisonous, perhaps as a warning to keep away, it is unclear if the octopus itself is venomous. Maybe one day it'll learn to mimic a diver with a camera to escape notice! For me, this was my longest dive ever at 93 minutes!
Purple Rhinopias.
The afternoon dive brought us to Air Perang 2, next to Jahir 1 which we visited yesterday. Like Jahir 1, the maximum depth was about 23 meters and offered abundant encounters with crinoid shrimps, mantis shrimps, ghost pipefish, banded pipefishes, waspfish and different kinds of scorpion fishes. One of the usually dull-looking scorpionfish decided to open up its pectoral fins, dazzling us with its bright yellow colours and markings, looking more like butterfly wings than fins. However, it was another strange member of the scorpionfish family that took the cake for weirdest looking creature on this dive. The rare purple Rhinopias, slightly larger than a paperback book, looked like something from another planet. With its leafy purple appendages, it reminded me of a purple cabbage as it 'walked' across the seabed, flopping from side to side like a leaf scorpion being pushed by currents. If this was meant to be a leaf in disguise, it seemed completely out of place to find purple cabbage leaves floating underwater. It's walking style looked more like a clumsy drunkard stumbling home. With so many things to see, the 62 minute bottom time seemed to pass very quickly. With such rich pickings today - the Mimic octopus and Rhinopias were clearly the aces in the pack. I wondered what tomorrow would bring...
The weather was bright and sunny today with clear blue skies. Everything looked great today and even the volcanoes on the mainland looked majestic with their peaks exposed when usually they were covered by clouds. About half the resort guests checked out today, so the resort would be much quieter today. We decided to put our names on the whiteboard for the sunset dive to see mandarin fish.
Hairy frogfish.
Octopus imitating a flounder.
Our first dive at Rojas lasted an hour with a maximum depth of 25 meters. We encountered a large hairy frogfish which looked like someone who had just woken up with a bad hair day - another bizarre looking creature which quickly became my favourite photography subject. Frogfishes make such nice photo subjects as they rarely moved. Whenever we came across a frogfish, Meikel would catch a small fish and attach it to end of his pointer. He would ask us to get our cameras ready and then hold the fish in front of the frogfish. In a split second, the frogfish would open its huge mouth and suck the fish in completely. It all happened so fast I didn't have the chance to photograph the event.
In another area with soft coral, we found a seahorse that blended into the soft coral within which it was hiding. Elsewhere, transparent anemone shrimp blended into their host anemone. In these waters, being good at camouflage was essential for survival. I caught sight of a sand-coloured octopus that had just burrowed itself into the sand. Following what I had learnt from Meikel, I used my pointer to gently probe under the sand and an annoyed octopus popped out and swam away. I was puzzled when I saw it swimming like a flounder, with all its arms trailing behind it. I pursued it and when it settled down again, it spread out its arms in a wavy manner, looking just like a sand anemone (with a little bit of imagination). It didn't look like a mimic octopus though it did seem to behave like one. Mimic octopus have been known to change their colouration to a pale sandy colour so it was possible this was actually a mimic octopus or a very close relative. Another possible explanation is that perhaps other octopus in Lembeh have also learnt such survival techniques since octopus are very intelligent creatures.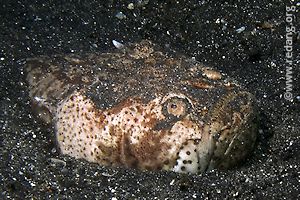 Stargazer half buried in the sand.
Our second dive at Hairball also took us down to 23 meters maximum depth. Here we spent quite a bit of time observing a school of ornate ghost pipefish. There were at least 3 individuals hiding in soft coral that looked just like them, right down to the spiky appearance. When they rested close to the coral, they just blended in completely. We also saw ribbon eels and a stargazer, the fish our diveboat was named after. When Meikel first saw the stargazer, it was fully buried in the sand with only the eyes exposed. I had occasionally seen him stop above a patch of sand and either slowly probed it with a thin metal rod or lightly and gently sweep across the surface of the sand using a longer, thin metal probe to expose hidden marine creatures. Meikel first marked a spot near the stargazer without disturbing it and waited for all of us to gather round him. Using his probes, he slowly and very gently lifted up the stargazer from its hiding place, exposing it completely. It was quite remarkable. Before long, the stargazer would burrow itself once again underneath the sand, exposing only its upward-looking eyes.
In the afternoon, we visited Pantai Perigi with a maximum depth of 21 meters. We saw a decorated crab, cuttlefish, juvenile batfish, painted snake eel and two types of frogfishes, a black frogfish whose distinguishing features were difficult to see and photograph as it was completely black all over, and a white painted frogfish with brown patches.
Mating mandarins and the Lembeh dragon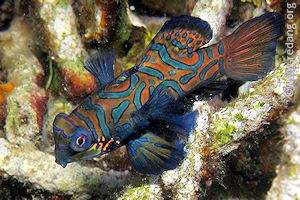 Mandarin fish.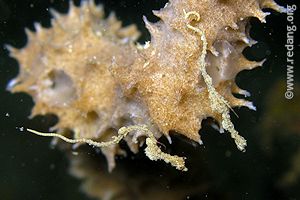 A pair of Lembeh dragons (photo ©Joseph B.C. Lee).
After returning to the resort and resting a while, we were out again at nearby Tanjung Kusu Kusu for our sunset mandarin dive. It was only 5:30pm when we left but the sunset dive was quickly turning into a night dive. The site was shallow at just 8 meters with a small coral mound and a small field of staghorn coral next to it. The mandarins would make their appearance at these two places and we just had to wait for them to come out. Right after we settled down, as if on cue, the mandarins started their show. Initially, it was just one or two fishes but more joined in later. I had seen mandarins during a similar dive in Kapalai but there seemed to be a lot more mandarins here. They darted in and out of sight, never staying long in any one location, so we had to guess where they might appear and focused at that spot in order to photograph them. There were mandarins big and small and mating pairs. As I was watching them, Meikel gestured for me to follow him to an outcrop nearby. Inside a little underhang, he pointed his torch at something but as his torch had a red filter (so as not to scare the fishes), it wasn't very bright. As I squinted and peered at a coral branch, initially I saw nothing. Then something tiny moved. Then another. They were whitish, thin, elongated and looked like short lengths of string. I used my own torch to get a clearer view but Meikel waved for me to put my torch away. I learnt later that the heat and intense light from my torch could harm them which was why they preferred to dwell in dark places. Say hello to the Lembeh dragon or pygmy pipefish. I did not manage to get a good look at them as they were too small and my eyes couldn't focus on them in the dim light. I just aimed my camera in their general direction and snapped away but did not get good results. Fortunately, my buddy Joseph managed to capture some very clear shots of it and I'm using his pictures here (in exchange for borrowing my diffuser!).
After dinner, the resort was much quieter as most of the guests had left. The remaining guests had retired early. Most of the resort staff returned to the mainland after work each day only to return in the early morning. The only signs of life seemed to be the numerous crickets serenading us with their loud chirps and the resident cat catching geckos. With the lounge area to ourselves, we decided to watch Borat on DVD, which was a hilarious and sometimes irreverant documentary-drama on life in the US.
Juvenile hairy frogfish.
'Electric' fire clam.
With nice sunny weather and blue skies, we decided to return to the black sands at TK3 today hoping for another encounter with the mimic octopus. It eluded us this time but the site provided many other critters including a large ceratosoma seaslug, filefish, ambon scorpions, a blacksaddle snake eel, cockatoo and wispy waspfishes, octopuses, a juvenile frogfish and a cute boxfish. The shallow waters at this site gave me a full 79 minutes of bottom time to enjoy myself. Towards the end of my dive, I found a stonefish which I nicknamed 'grumpy' because it appeared to have a nose which helped to give it a very grumpy facial appearance.
The crew parked the Stargazer in a shady spot in front of a small picturesque cavern at Nudi Retreat where we would be doing our last dive. After our surface interval, we descended to 25 meters. This was the closest thing to a wall dive here at Lembeh and as the name implied, we found quite a number of different species of nudibranchs in addition to a winged pipefish, crinoid shrimps, octopus and an orangutan crab. The crab was covered with reddish hair which did resemble that on an orangutan, hence its name. Towards the end of the dive, Meikel showed us another bizarre Lembeh resident, the electric flame scallop, also known as the electric file clam. Wedged tightly in a vertical crack in a dimly-lit underhang on the wall, the mantel and tentacles were deep red in colour and there appeared to be bright bluish-white electric arcs shooting back and forth across the red mantle. This was not electricity but more likely due to the presence of a bright blue phosphorescent membrane in its mouth cavity. It was quite mesmerizing to watch and a fitting climax to end our last dive in Lembeh. Surfacing above the clam's location, we found ourselves in the small cavern. This made it easy to find the electric clam in future, provided it stayed at the same location.
With a 24-hour no-fly restriction, we had the whole afternoon to rest and relax around the resort. We noticed the garden had a number of crab holes and we explored some of them to try to get a glimpse of their owners, which we suspected were coconut crabs. We also noticed smaller crabs in a small pool used for rinsing feet near the steps going down to the beach. Upon trying to pick them up, we realized they were soft-shelled crabs which had probably sought refuge in that pool during the moulting process. There were also other crabs on the beach. Seeing how the resident cat loved to catch geckos and crickets, we wondered if it ever chased down the crabs. We caught a small crab and put it on the floor in front of the cat. The cat was curious but kept its distance and allowed the crab to walk off freely with its claws lifted defensively in front of it. Perhaps the cat had a painful experience in the past interacting with crabs.
The friendly resort kitten.
Green whip snake.
When we got up to pack this morning, our dive gear had all been neatly arranged according to owner on the drying rack to dry overnight, which made it more convenient for us. It was another example of the excellent service from the staff. One of them found a green whip snake which turned out to be a gentle and patient photo subject. After taking some shots of it, I released it on the tree in the middle of the garden.
Soon, it was time to say goodbye to Sandra, the rest of the staff at NAD Lembeh Resort, and our Austrian friends Paul and Reinold, who would be staying on for another week or so. We made it back to the airport just to discover that our 1:30pm Silkair flight had been delayed by 2 hours due to mechanical trouble. We paid our Rp75,000 airport tax, went into the departure lounge and had a long lunch at one of the airport cafes where I tried the local 'bakso' (beef ball noodles) and coffee. We made it back to Singapore with just enough time for Joseph Ung and Anthony to catch their connecting flight back to KL.
Though I didn't get to see some other Lembeh residents like the flamboyant cuttlefish and peacock flounder, I'm thankful that in just 12 dives, I got to see many of the top attractions like the mimic octopus, ambon scorpionfish, wonderpus, rhinopias, hairy frogfish and Lembeh dragon. The calm and shallow waters allowed long dives and I clocked 810 minutes bottom time in 12 dives, an average of 68 minutes per dive. To me, Lembeh certainly lived up to its claim as the muck dive capital of the world. It will be a place I would want to return to but not before correcting my vision and bringing a magnifying glass to help me see the myriads of tiny creatures. Not forgetting a much larger memory card for my A650IS. With so many photos to take, the 12-megapixel Canon A650IS quickly gobbled up my 3GB of memory cards and I found myself having to delete unwanted photos (and especially videos) during one of the dives to make room for other photos.
As for my bag, the zipper held on and it made the trip back home in one piece. But that was its last trip. After years of useful service, it was finally retired to the waste heap. Time to get a new dive bag.

Me, Joseph Ung, Joseph, Meikel (DM), Anthony with Reinold and Paul from Austria | Josephs at lunch | Our group with Sandra, Meikel and other resort staff.