Of all my trips to Redang, this was the earliest in the calendar year, taking advantage of the March early-bird promotions. Tango had booked all three of us on the Five Stars VIP coach. Being a Friday, Golden Mile Complex was full of people travelling to various parts of Malaysia for a quick weekend getaway and our coach to Kuala Terengganu was full. We left a little behind schedule at 10:15pm and had a smooth trip all the way to KT, with rest stops at Yong Peng and at a petrol station near Kuantan. It was comfortable enough that I managed a few hours of sleep, even missing out my favourite night lights of the Kerteh oil refineries.
After my dive bag zipper malfunction during my Lembeh trip last year, this time I was lugging a spanking new black duffel bag which Timothy had bought for me from the army store. Like most army stuff, it was of good quality and value for money; an innocent-looking black bag with a single large compartment that easily swallowed my dive gear with room to spare. I had always avoided getting dive bags which prominently displayed their brands, thus giving strong hints about their contents. I've also seen many owners paste dive-related stickers or badges on them, be they souvenirs from dive destinations or from their dive clubs.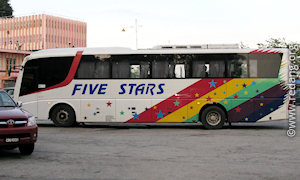 Our Five Stars coach at Shahbandar jetty.
With dive equipment running into thousands of dollars, these prominent dive bags can be targets for thieves looking for valuables at coach stations and airports. Call me paranoid, but nothing ruins a dive trip more than losing one's gear. Coaches are especially vulnerable since most passengers place their bags in the luggage compartment below and then board the coach before the luggage door is closed. I had heard of folks losing their luggage this way during boarding at the bus station or reboarding at the immigration checkpoints. The risk was greater during peak periods when there were many coaches and passengers at such venues, making it easy for bags to be swiped. My usual habit was not to board the bus until the luggage compartment was shut.
Shahbandar jetty.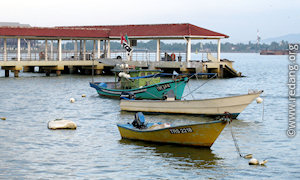 Shahbandar jetty.
Restaurant next to Shahbandar jetty.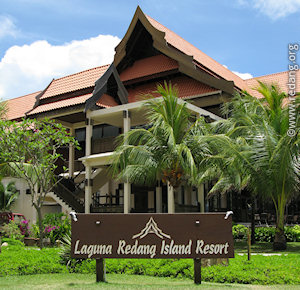 Laguna Redang resort.
Breathtaking southern Pasir Panjang beach.
Only March and the beaches were thronging with activity like this beach volleyball game in front of Pelangi resort.
I was woken up by the morning sunlight streaming into my window seat. A short while later at around 7:30am, the coach arrived at Shahbandar jetty in KT. This was my first visit to Shahbandar jetty. I had always taken the boat from Merang jetty but this time, the Merang rivermouth had silted up, making it too shallow for the large Laguna boats to use, so we had to use Shahbandar instead. Instead of the large comfortable check-in area at Merang, Laguna was using two makeshift booths at the entrance as check-in points. As we had to wait for Mike to arrive from the airport, we opted for the later 11am ferry, sending our luggage first on the earlier 9am ferry. We spent the morning having breakfast at Chinatown with Seng Lip at the Homemade Cafe just below the entrance columns into Chinatown. I remembered having breakfast here on my first visit to Redang in 1998. Their specialty was the small buns eaten with kaya (a local coconut and egg spread) and butter, and the local wanton mee. It still tasted as good today as it did back then. After breakfast, we stopped by at Ping Anchorage to say hello to some old friends, then returned to the jetty where we finally met up with Mike.
The ferry from Shahbandar took about an hour and forty minutes to arrive at Redang, twice the time taken from Merang jetty. The route took us past the eastern coast of Bidong and in between the channel separating Bidong and Gelok islands. Tango, Mike and I spent much of the journey on the deck outside, enjoying the salty air and wind in our faces. The morning was clear and we could see Lang Tengah and Perhentian islands in the distance.
Arriving at Laguna's jetty, we were ushered into the briefing room where guests were educated about marine park regulations and introduced to resort facilities and procedures. I was glad to hear about Laguna's support for Earth Hour that night where guests were informed that non-essential lights would be switched off for one hour. Arriving at Pasir Panjang on the tram after the briefing, we were once again awed by the beautiful colours and scenery at southern Pasir Panjang beach, the blue sky contrasting both with the white sandy expanse of the beach and the inviting calm waters with its shades of turquoise and azure. No matter how many times I'd seen this, it was always refreshing and breathtaking.
At the reception, we were warmly greeted by Hung, one of our Forum members whom we were meeting face to face for the first time. There were many warm, familiar faces among the staff and it felt good to be back. Even the sour-plum welcome drink, a house concoction, tasted the same - good till the last drop. We checked into our rooms, a garden view unit at the northern end of the resort adjacent to Redang Beach, then went for a quick lunch before our afternoon checkout dive.
At the dive centre, we met Shurain, a dive instructor who had just recently joined the team at Laguna and Sangi, a divemaster working at Laguna temporarily. Then there were the familiar faces of Saiful and Eaing. Chin and Liu were back on the mainland that week. All the dive and recreation staff were wearing red dri-fit T-shirts which looked smarter and helped to brighten up the place.
Our shallow checkout dive was at Kerengga. As it was the first time diving with Jules and Tango, who were fairly new divers, I didn't bring my camera with me. As if it recognized a photographer without a camera, an adult blacktip reef shark swam past and came back to check me out at the back of the group. I felt it was taunting me when it came straight toward me and turned off to one side barely a shark-length away, as if to say 'see what happens when you don't bring your camera with you?' I bet if sharks could smirk, it would have done just that as it swam away.
Earth Hour at Redang
In the evening, as Jules, Tango and Mike went snorkelling at Shark Bay and Tanjung Mak Cantik, I took a stroll along Pasir Panjang to see if I could catch my cousin Chee Faun, Pam and Low (my dive buddies in Kapalai/Sipadan and Layang Layang previously) on the beach. By coincidence, they had arrived in Redang a day earlier and were staying at Pelangi Resort. We managed to find each other and agreed to rendezvous at Summerpoint during Earth hour that night. As Earth Hour began at 8:30pm, many resorts along Pasir Panjang turned off their non-essential lights, including the beach-front lights, plunging Pasir Panjang into darkness and making it easier to see the stars in the sky. In the horizon, we could see bright spots of lights from squid-fishing vessels and the glow from their lights reflected off the clouds. We had to use our torchlights to make our way to Summerpoint, where we sat at a table beneath the coconut trees, like boy scouts and girl guides huddled around the dim flickering light from the sole candle on the table. Many people were enjoying the beach and some released glowing red lanterns into the sky, which looked more like UFOs than lanterns as they floated up out of view. After chatting a while, we decided to look for blue sand on the beach. It wasn't long before a storm started to brew and we had to abort our attempt. We could see the storm rolling in from left to right across the horizon, blanketing the glow and lights from the squid fishing vessels one by one, like a stage curtain being drawn across the seascape. Dramatic flashes of lighting lit up the sea as we adjourned indoors to Laguna and made it there just as the rains started to fall. The climax of Earth Hour appeared to be angry protests from Earth about the careless, abusive and destructive treatment from her occupants.
Bloated pufferfish at Terumbu Kili.
Green turtle at Tunnel Point.
We awoke just before 7am to a beautiful morning. As we were early to breakfast, we were assigned a table at the front of Laguna's buffet restaurant upstairs overlooking the beach. There's nothing like having breakfast on front row seats to what is arguably the best seaview in Pasir Panjang.
Our first dive brought us to Terumbu Kili where I had an interesting encounter with a fairly large puffer. It had a bloated stomach on which was hanging a remora. I wasn't sure whether it was just half-puffed up, fat or maybe just ate a big meal or something else ('pregnant' did cross my mind but a puffer like most fish does not carry live young; it laid eggs which were fertilized externally). I thought the remora chose a fine place to hang onto. Our second dive was supposed to be at Mak Cantik but the currents there were a little strong so we diverted to Pulau Paku Kecil instead where we saw lionfish, black pipefish and spiny devilfish. The afternoon dive took us past Teluk Dalam to Tunnel Point. Soon after we descended, I caught sight of a Napolean wrasse and went after it. Many years ago, it was quite common to see a Napolean in Redang waters, even while snorkelling but their numbers had diminished significantly in recent years that it was no longer a common sight, perhaps due to overfishing as it was a prized food fish, popular in many seafood restaurants in the region. No sooner did I begin my chase when a large green turtle suddenly appeared in my field of view, swimming across my path. It was a treat to see it as most turtles encountered in Redang were Hawksbills, and even the green turtles seen were usually quite small.
In the evening, Tango and I went for a walk on Pasir Panjang all the way to Redang Holiday to see what had changed. We dropped in at Pelangi resort to visit Chee Faun, Pam and Low and had a peek into their rooms - basic but clean and comfortable with hot water heaters (a common thing on Redang these days, even at the budget resorts). Redang Holiday went one step greener with solar powered water heaters on the roofs of some of their accommodation blocks. Desagreen looked fairly complete but workers we spoke to didn't seem to know when it would open. Until then, that part of the beach between Coral and Holiday still remained the quietest part of Pasir Panjang.
After dinner, we met up with Chee Faun's group again at Summerpoint and had a great time discussing spooky diving stories where the stuff that happens on land can also happen underwater, though I think it may just be due to too much nitrogen in the blood or narcossis playing tricks on the mind. Anyway, it was interesting enough for me to start a thread on it in the Forum page under Miscellaneous topics.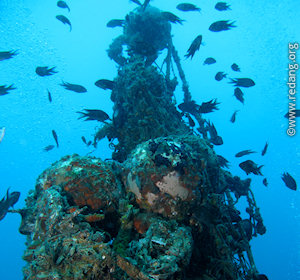 Coral growing on the mast of the wreck.
School of yellow tail barracudas.
Jules, Tango and I completed our last two dives this morning (Mike had his last dive in the afternoon). I had requested going back to the Wreck which I first visited on my last trip to Redang a year and a half ago. Dive conditions at the Wreck were usually not good with either poor visibility or strong currents but today we had moderate visibility with little current. Last time I dived here, there were three wooden wrecks sunk 6 months earlier. There wasn't much coral growth then but there were a lot of fishes. Today, after two years lying on the sandy bottom, only one wreck was left. The other wrecks had disappeared, perhaps washed away by strong currents over the last two monsoons. The remaining wreck was a metropolis of marine life. Quite a lot of coral had adhered to the wooden structures, attracting schools of yellow-tail barracudas, fusiliers, snappers, cardinals, puffers and other fishes. Early in the dive, I heard Sangi banging on her tank and I peered over the top of the wreck to see what she was pointing at. At first I saw a large dorsal fin and thought it was a shark. As I went over the top, I was surprised to see a large fish on the other side of the wreck, as big as a adult reef shark. I was told later it was a kingfish or cobia, and when more than one is encountered, it often indicated the presence of larger marine vertebrates nearby such as whale sharks. Turned out it was a loner but I was still glad for this opportunity to see a cobia for the first time.
During our ascent, we encountered stronger currents nearer the surface and had to hang onto the buoy line for our safety stop. The entire line was completely covered with barnacles and we had to scrape some off to expose some line to hang on to. It started the engineer in me thinking that perhaps wooden wrecks and ropes were much more conducive to coral growth than the concrete reef balls that had been planted a few years ago, especially when placed in areas exposed to currents which would be rich with free-floating coral larva (planula). The problem was that wooden wrecks were easily washed away or broken up, so if their structure was reinforced with metal beams and wire mesh and weighed down with concrete reef balls, it could actually be more effective at promoting speedy coral growth. Additionally, a Biorock type of process could be employed to speed coral growth by passing a low-voltage DC current through the metal beams and mesh. This electrochemically deposits calcium and magnesium-rich substrates which encourage coral adherence and growth. To complete the solution, the electrical power could be harnessed from tidal energy using Gorlov helical turbines.
Lunch at Redang Bay and stories of Bidong
Northern Pasir Panjang beach in front of Redang Bay resort.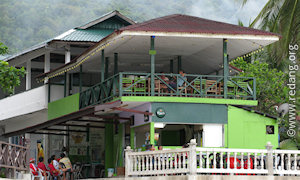 Redang Bay's food shops with upper dining terrace.
After finishing our last dive at Pulau Lima South, we skipped lunch at Laguna and went across to the cooked food stall at Redang Bay, where we had a delicious lunch of fried mixed flat rice noodles and vermicelli, and fresh coconut at the upper terrace overlooking the beautiful scenery of northern Pasir Panjang. We found ourselves in the company of two of Berjaya's staff, one of whom had worked as a Rela guard in Bidong when the Vietnamese refugees were living there. It was interesting to hear stories of what life was like on Bidong in those days. Each year, a number of these ex-refugees who had since settled down in the US and elsewhere return to visit the island on which they had spent part of their lives. For many, it was a time to remember loved ones who perished on the island or during the perilous journey there. For them, Bidong island was a memorial and perhaps it should be preserved as such in memory of these people.
While Tango had an afternoon nap somewhere in Redang Bay, Jules and I wandered over next door to Redang Lagoon where we met Harris, whose wife Fatima runs Redang Lagoon resort. It was our first meeting and Harris was cuddling a baby macaque monkey which was being hand-reared as it had been separated from its mother. The baby had grown very attached to Harris and would cling to him continuously. It took a while for it to become sufficiently accustomed to us before we could touch it. Apparently, each time the monkey population on Redang grew too large and they became a nuisance or threat, they were trapped and shipped back to the mainland. This sometimes resulted in babies becoming separated from their mothers. It seemed that while the marine life on Redang had been diminishing over the years with increasingly rare encounters with certain species (especially the larger ones), the terrestrial wildlife like monkeys and squirrels seemed to be bucking that trend, judging by the healthy numbers we encountered.
Visit to Berjaya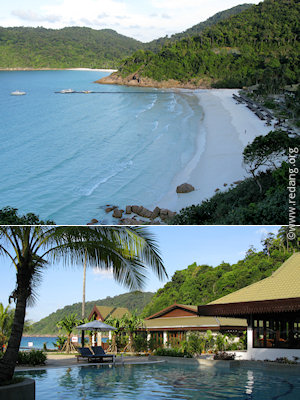 View of resort beach from Berjaya hillside suites and The Beach restaurant next to the pool.
Interior of Berjaya's hillview seaview suites.
Before this trip, I had made arrangements with Chris Cheong, director of e-business at Berjaya Hotels to visit and meet up with Michael Tan, resident manager at Berjaya Redang. This was to give us a first hand look at the newly-renovated Berjaya resort. The initial plan was to trek across the forest from Pasir Panjang to Teluk Dalam but this afternoon, Michael happened to be in Pasir Panjang for a meeting so we accompanied him back to Berjaya together with the two staff we met over lunch.
My last visit to Berjaya was in 2002 when my group of friends and I trekked through the forest to Teluk Dalam. Berjaya had changed a lot since then. It was Jules and Mike's first visit there while Tango had stayed and also visited Berjaya more recently.
As the boat pulled into Teluk Dalam, we could see the newly opened hillside accommodation blocks. Even the floating jetty had changed, with wooden strips now covering the top of the floats, making it less slippery and easier to walk. The white, fine sandy beach was as beautiful as ever, and to me still the best beach on Redang.
As we toured the resort, taking in the new Beach restaurant featuring Japanese, northern Indian and international cuisine, the beautiful buffet restaurant with open-concept kitchen, the professionally-managed Ayura spa, the gym and the beautifully renovated rooms and suites, it was obvious that Berjaya had undergone a major makeover. Not content to be just one of the upmarket resorts at Redang, it had completely broken away and distanced itself from the rest of the resorts, planting itself a few notches above the rest. The quality of furnishings, decor and in-room amenities such as wide-screen LCD TVs were impressive, as was the landscaping around the resort. Even the photos and pictures hanging on the walls of the rooms were professionally-taken shots of beautiful scenes around the island. To round it off, all rooms had access to wi-fi internet and cable TV channels.
The best rooms were undoubtedly the hillview suites. Electric buggies ferried guests between the hillside rooms and the hotel lobby. Stairs were also available for those who preferred to walk. The view from the suites and the gym overlooking Teluk Dalam were among the best seaviews I had seen, so good that some suites allowed guests to soak in jacuzzis while admiring the seaview through full-length glass windows while the gym, which also had full-length glass windows, allowed guests to sweat it out while soaking in the scenery.
Possibly the only thing missing from the magnificent view was sunrise and sunset which was obstructed by the hills surrounding the bay. Currently, there are no resorts on Redang on the western part of the island, so the only way to see a beautiful sunset is to take a sunset cruise while resorts at Pasir Panjang and Kalong get to witness sunrise everyday.
We also visited the airstrip which was being lengthened to accommodate future larger aircraft such as the ATR-72 from Berjaya Air. Flights in and out of Redang were suspended until mid April when the airport was scheduled to be reopened. Nearby was the kampung jetty, quiet and serene at this time of evening.
Pitcher plants near the village.
Along the way, we stopped to see some pitcher plants growing in the wild, tried to spot monitor lizards by the river and saw quite a number of sheep, goats and chickens reared by the village folk. Returning to the resort, we had dinner with Michael and his team at the buffet restaurant. Unlike Pasir Panjang, this part of Redang was very quiet - no discos, karaokes or live bands could be heard, only the sounds of gentle waves crashing on the beach. Guests who want a quiet, relaxing beach vacation in an international class resort at Redang would find Berjaya an ideal fit. For those who still need to check back occasionally with the office, stay in touch with work and connect to the Internet, all rooms now had Wi-Fi access. With email and Internet becoming a part of everyday life, I suppose it won't be long before other resorts start offering Wi-Fi too, a far cry from the days not too long ago when it was even difficult to get a mobile signal on Redang.
It was already night when we left, so Michael graciously arranged for a boat to send us back to Pasir Panjang. The waves had become stronger as a north wind blew into the bay, and we had to navigate slowly out of Teluk Dalam to prevent getting drenched by the seaspray. Once we reached the eastern part of the island, the sea was noticeably calmer and we could sit back and enjoy the starry night sky. This visit to Berjaya was a fitting climax to our short trip to Redang.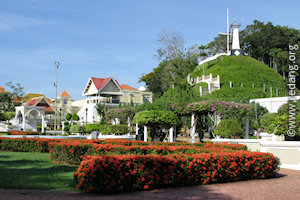 Maziah palace and Puteri Hill lighthouse.
Jules, Tango and I had to drag ourselves out of bed at 5:30am this morning to catch the 7am ferry back to the mainland. Mike was still asleep when we left - he would catch the later boat and fly off later that day. After bidding a warm farewell to Shurain who was there at the jetty to see us off, we made it back to Shahbandar jetty with more than enough time to catch our Five Stars coach. It was because of the longer 100-minute journey that we had to catch the earliest ferry to ensure we would be on time for our coach.
With about 2 hours to kill before our coach departure, we walked around the Shahbandar jetty area, exploring Bukit Puteri (Puteri Hill) where an old lighthouse stood, as well as the Istana Maziah (Maziah Palace). On our way to visit the coach station in town, we stopped to take pictures of Shahbandar jetty where the common ferry used by Berjaya and other resorts was docked. It was fortunate we did so, as we were soon approached by a guy who asked if we were Five Star coach passengers. We did not attach the Five Star stickers on our clothes as instructed as we thought the coach would not be due for another hour or so. We were told the Five Star coach had some problems and we were to transfer to his coach instead; an unexpected bonus as it was a more comfortable Konsortium 18-seater Super Snoozer with electrically adjustable snoozer seats and a personal entertainment system on each seat, much better than the 24-seater we rode on the way up. Only complaint was that my video screen backlight was faulty, making it very dim and difficult to see in the daytime. It didn't make much difference as I slept almost the entire 10-hour journey back to Singapore.
All of us had a great time though we did not manage to do all that we had planned. We did not manage to explore the beaches on Kalong, climb Tanjung Tengah or even trek across the forest to Teluk Dalam. Perhaps it was good we did not get to do everything this trip, as this gave us good reason to plan a return trip to Redang.
TOP LEFT: At Summerpoint with Chee Faun, Jules, Mike, Tango, Low and Pam | Jules with Harris of Redang Lagoon and his baby macaque | RIGHT: Me, Shurain, Jules, Tango, Alex (dive crew), Thiagu and (front) Saiful, Mike and Sangi | BELOW LEFT: Me, Shurain, Jules and Tango