Chris and the icecream man at Bitung jetty.
About 9 months had passed since my first visit to Lembeh last year and I was returning there again today, this time with Seng Hock, my cousin Chee Faun and his wife Wan Zhen, Pam and Low, Marco and Li Kai. Many of us had last dived together 2 years ago in Layang Layang. Due to the different flight schedules between Silkair and AirAsia, Seng Hock and I would fly in a day earlier from Singapore while the rest would join us at NAD Lembeh resort the next day, flying in from KL.
We touched down in Manado just past 1pm and was promptly picked up and ferried to Bitung jetty together with Chris, a Briton residing in Bangkok who was writing an article on NAD Lembeh for a dive magazine. Last year, I arrived in Bitung in the pouring rain. This time, we were greeted with blue skies and bright sunshine, warm enough that we ended up having ice-cream to cool off while waiting for the boat to leave. Memories of my last trip came flooding back and I hoped this time to see some of the critters I had missed then, such as the flamboyant cuttlefish and cockatoo flounder. I had also come back more prepared with a magnifying glass and a dive mask outfitted with reading glass lenses which I made myself, using a cheap S$2 pair of reading glasses I bought from Daiso. I had removed the lenses and attached them to the lower part of the mask on the inside using a small dab of superglue. The mask had worked like bifocals on land, allowing me to see near objects when I glanced down. Hopefully this would allow me to see the tiny critters more clearly. I also purchased a metal pointer at NAD Lembeh (which was cheaper than buying it in Singapore dive shops) which I could use to turn things over with to look for critters hiding under rocks, tree branches and discarded stuff on the seabed.
Changes at NAD
Pam and Low with Simon Buxton.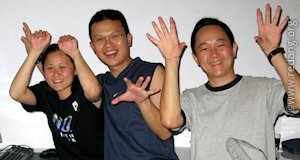 Pam, Low and Seng Hock clowning around in NAD Lembeh's air-con library and internet room.
Arriving at the resort, we were greeted by Simon Buxton and Mike Veitch, both expert underwater photographers and members of WetPixel (Mike is also a moderator). They had taken over the management of NAD Lembeh from Sandra and Stefan shortly after I left last year. I also found out that Meikel, the diveguide on my last trip, had left NAD Lembeh and was now at Bastiano's resort. Rudi, Abner and Aso were assigned to be our group's dive guides for our entire 6D/5N stay. The gray cat that used to mingle with resort guests had also disappeared.
NAD Lembeh resort had undergone some changes, mainly to the facilities. There was now a dedicated air-conditioned room that doubled up as a library as well as internet-access room. It had 2 desktop PCs with free internet access (wifi was also available), memory card readers as well as many power outlets complete with plug adapters for charging batteries and other electronic equipment. Beautiful underwater photos taken by Simon and Mike graced the walls of the room and an electronic photo display frame hung on the wall. Some other minor renovations were in progress to extend the lounge area and dive gear-up area.
We had a quick late lunch and proceeded to do a checkout dive at the house reef. I eagerly wanted to test out my modified mask and also to get in the water early before the sun set around 5:30pm. We explored the housereef where we saw numerous species of pipefish, razorfish, scorpionfish and a juvenile batfish. There was a lot of sediment in the water and the reading lens didn't work as well as I had expected in the fading light and low visibility. I would have to wait and see if the mask worked better the next day in clearer water.
Dinner at NAD Lembeh was similar to last year - a satisfactory buffet of rice and 5-6 dishes comprising soup, one meat dish (usually pork), one seafood dish (fish or squid), a dish of sweet potato, banana or spinach leaf fritters or gyoza and a vegetable dish. Dessert comprised a mixed fruit platter and a cake or pudding dish. What I enjoyed most was the sweet jackfruit which was available most meals.
As expected, I didn't get to sleep soundly last night. The night-owl in me found it hard to go to bed early in order to wake up in time for breakfast at 7:30am and the first dive at 8:30am. The sound of condensed water droplets dripping from the air conditioner onto a wooden shelf above my head didn't help either as I could feel the tiny splashes of water on my face. Frustrated, I ended up draping my face towel over the shelf which improved the situation. My short sleep was interrupted when daylight started flooding into the room around 6am. Not that I minded as I was looking forward to the day's dives and the critters that I would encounter.
Dive 1: Aw Shucks, 9:16am, 53min, 21m/13.1m, 28°C
Dive 2: Makawide1, 11:46am, 57min, 23.7m/12.2m, 27°C
We joined a group of German divers for our morning dives at Aw Shucks and at Makawide1 where we encountered an orangutan crab, a sole that appeared to have hair sprouting from its skin, cuttlefish, seamoths, a black lionfish and a crocodile fish. The visibility this morning was quite good but I was disappointed that the reading lenses on my mask did not work underwater as well as I had thought. Above water, things looked clear but underwater, objects appeared dimmer and fuzzier. Perhaps it had something to do with the poor quality optics or the seawater getting in between the lens and the mask. It bothered me enough that I kept trying to adjust or clean my mask to try to get a clearer view. So it was with a sense of relief that the superglue gave way after the second dive and the lenses floated free of the mask. At least I did not have to pry it loose and risk damaging the mask but more importantly, I learnt that regular superglue loses its bonding strength in water, or at least in sea water. It came off so cleanly that there wasn't even a trace of it left on the mask.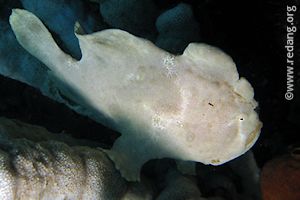 Giant white frogfish at Nudi Falls.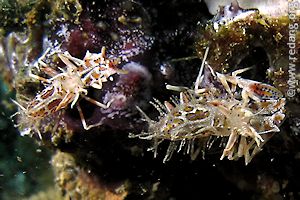 Pair of rare spiny tiger shrimps at Nudi Falls.
Returning to the resort after our second dive, we were met by Low and the rest of the group from KL who had just arrived moments ago. As our group was now at full strength, Seng Hock and I were reassigned to a new boat with our friends. We had at least 2 dive guides with us on each dive, sometimes 3, which was a pretty good ratio considering we only had 7 divers in our group. With calm and shallow waters that were devoid of any currents, Lembeh was one of the safest places to dive and so the dive guides at Lembeh functioned more as critter spotters rather than paying attention to divers here. Unlike many dive sites elsewhere, the dive briefings here often focused more on what we might encounter and rarely included the usual safety reminders like deco stop, dive time and low-air. Perhaps this was mainly because we always ended up in shallow water towards the end of each dive where we completed our 3-minute decompression while continuing to search for new critters.
Dive 3: Nudi Falls, 3:27pm, 60min, 22.8m/10m, 28°C
Our afternoon dive at Nudi Falls saw us encountering various species of nudibranchs, dragon seamoths and a white giant frogfish, which despite its large size was not that easy to spot as it looked like a white sponge. I also saw allied cowries for the first time and didn't know what I was looking at until I asked the guide later. On land, we often see dead cowrie shells but underwater, live cowries often have their mantels extended over and above their shells, completely covering them, which makes them unrecognizable. Just as interesting, though a lot smaller in size, was my first encounter with two rare spiny tiger shrimps, one of Lembeh's most sought-after crustaceans, also known as bongo shrimp or horned bumblebee shrimp.
Dive 4: Pantai Perigi, 8:57am, 66min, 19.2m/12.8m, 28°C
This morning's dive at Pantai Perigi was especially memorable for me as it was my first live encounter with one of the most interesting species of cuttlefish, the famous flamboyant cuttlefish, the only species of cuttlefish known to walk on the seabed and the only toxic cuttlefish in the world. The toxin in the muscle tissue of the cuttlefish has been found to be as poisonous as the toxin in the blue-ring octopus, so it has no food value and no predators. I would have been happy to see just one, but this being Lembeh - the underwater critter capital of the world - I saw a total of four, three on this dive alone. It was so much sweeter for me as I had not seen it during my last trip here and along with the cockatoo flounder, were the creatures I had really hoped to be able to see on this trip.
Flamboyant cuttlefish at Pantai Perigi.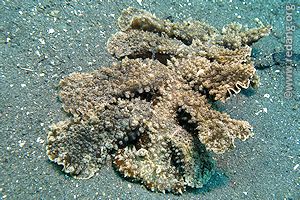 Melibe nudibranch at Air Bojo.
The first encounter was with a small juvenile, about 5cm long. It also turned out to be the most aggressive of all the flamboyants encountered, often approaching the camera with its tentacles raised in an aggressive stance and with its chromatophores exhibiting vivid purple, red and yellow colours. Later on the same dive, we encountered a slightly larger individual about 8cm long and close to it, another individual about 12cm long that seemed less threatened by our presence. When relaxed, the cuttlefish had a dull brownish-maroon colour and was usually seen walking on the seabed. We saw the dive guides exciting the cuttlefish by repeatedly making a fist close to the cuttlefish and then rapidly opening their fingers apart. We tried the same technique and it worked. The cuttlefish would stop, raise its tentacles and change to brighter hues of colour, sometimes moving aggressively toward the hand or camera. We also encountered ambon scorpions, blue-spotted rays and a large helmut gurnard busy scurrying around the seabed looking for food, sometimes opening up its large pectoral fins that looked more like a pretty pair of wings. The end of the dive took us to a shallow coral reef filled with beautiful corals and coral fishes where a picturesque school of beautiful banggai cardinals were swimming against a backdrop of soft waving anemone.
Dive 5: Airbojo, 11:09am, 83min, 19.5m/10.6m, 28°C
Airbojo was a new dive site at Lembeh island, slightly south of Rojas and opposite the TK dive sites. The dive here yielded a bumper crop of photo subjects such as the veined and longarm octopuses, a melibe nudibranch that looked unlike any other seaslug I've seen (it looked like a brownish mass of poop with no clear head or tail), a black ambon scorpion, a large black egg cowrie, a baby frogfish and juvenile hairy frogfish, robust ghostpipefish, a pair of emperor shrimps, orangutan crab and a large devil scorpionfish that made those in Redang look malnourished and stunted by comparison.
Mimic octopus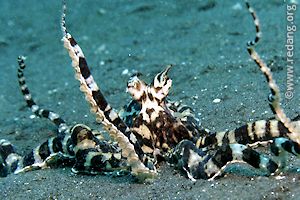 The spectacular mimic octopus.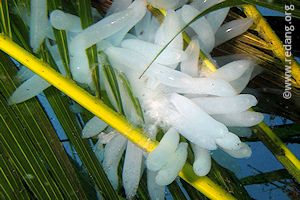 Bunch of squid eggs at Jahir.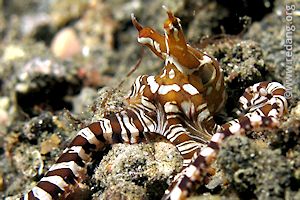 The wonderful wonderpus octopus.
The highlight of the dive was an encounter with the most famous resident of Lembeh, the elusive mimic octopus. I had seen the mimic during my last trip and it was a real treat to see it again, this time with fewer divers which meant more time and more photo opportunities with it. We had spoken to some of the other German divers at the resort earlier who had been diving more than a week at Lembeh and had not encountered the mimic so we were quite blessed to encounter it.
As we continued to follow and photograph it, we saw the mimic changing colours to blend in with the seabed, pretending to be an anemone or crinoid and even saw its seasnake impression. We never got to see it swimming in mid-water where it would sometimes pretend to be a lionfish but nevertheless it was amazing to see an octopus behaving in such a way. This one encounter alone made the trip to Lembeh worthwhile!
Wonderpus octopus
Dive 6: Jahir, 3:24pm, 66min, 18.9m/11.6m, 28°C
The last dive of the day couldn't have ended better. We got off to a good start when we first descended and found ourselves in the midst of a school of large calamari squid. Initially I thought they were fighting as some were chasing others rather aggressively, sometimes zooming by just inches from my face, while from time to time two squids locked tentacles. It occurred to me later that it was probably mating season when we saw bunches of squid eggs on a palm frond on the seabed. Nearby was a large school of razorfish. As the dive proceeded, we came across three large ceratosoma nudibranchs that looked like they were having a meeting, a white painted frogfish, a beautiful decorated crab that looked like it had coral polyps growing from its body, a juvenile mantis shrimp, beautiful starfishes and an army of about 30-40 urchins marching slowly together across the seabed, looking like a big black mass of moving thorns. As I dropped down to the seabed to photograph them, the urchin nearest to me kept walking towards my camera even as I shifted position. It was uncanny, almost like it was following me around. Towards the end of the dive, we had a lovely surprise when the wonderpus made an appearance. Eventhough it was cleverly hidden beneath the sand, it could not escape the sharp eyes of our dive guide Rudi. As with the mimic, we managed to spend a long time with the wonderpus, photographing it to our heart's content.
Large flamboyant cuttlefish at Hairball.
Large frogfish at TK1.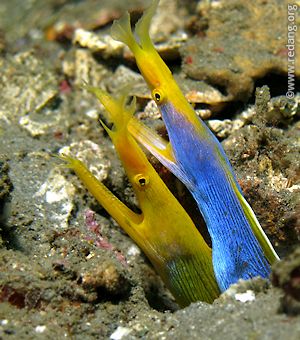 Pair of ribbon eels at TK1.
Dive 7: Hairball1, 9:04am, 64min, 24.4m/11.9m, 28°C
After yesterday's encounters with the mimic octopus, wonderpus and flamboyant cuttlefish, we wondered what else Lembeh would throw at us today. Anything else by comparison would seem a bit of an anti-climax. But then the thing about diving in Lembeh was not to go with a checklist of things to see and not to set one's expectations too high. Then every dive would be like a mystery present with a pleasant surprise. That's because unlike many other places, every dive in Lembeh was sure to provide many encounters with all kinds of critters. It's hard to get bored diving here. Shutterbugs will be kept busy and I was glad I had an 8GB memory card on my camera. Just on this dive at Hairball, we saw a painted snake eel, a pretty glossodoris nudibranch, an estuary seahorse and another flamboyant cuttlefish, larger than the three we saw yesterday. It seemed that the larger and older they got, the flamboyant became less easily excited or threatened. Perhaps they grew used to all the attention from divers and underwater photographers. This individual was just happily walking about on the seabed and was not bothered at all by our presence. It was amazing to watch this cuttlefish walk like a quadruped with front left and rear right 'feet' stepping out in time, and the front right and rear left 'feet' similarly synchronized. Just that the 'feet' were actually fleshy triangular flaps. Sometimes it seemed to skip over rocks and stones, sometimes it would break into a little run and at other times it would just walk casually.
Dive 8: Coral Garden, 11:12am, 63min, 24.1m/11.6m, 28°C
After many dives in black volcanic sandy areas or white sandy areas, it was refreshing to be diving amongst colourful coral reefs in Coral Garden. Here, we encountered a juvenile crocodile fish, a young helmut gurnard with its beautiful outstretched large pectoral fins that looked like it was gliding over the bottom, 4 pygmy seahorses on a single fan coral, dark red and green ornate ghostpipefish, a multi-coloured warty frogfish, soft anemone crab and banggai cardinalfish. There were the other usual coral fishes such as anemone fishes and damsels.
Dive 9: TK1, 3:26pm, 67min, 19.8m/9.4m, 28°C
The dive sites comprising TK1, TK2 and TK3 were black sandy bottom dives and home to many eels, frogfish, scorpionfish, stonefish and many other bottom dwellers. The most interesting encounter was with a pair of yellow and blue ribbon eels sharing the same hole, poking their heads out in unison. The frogfish seem to be out in force too and we saw no less than 4 different species, including a blotched painted frogfish, a yellow giant frogfish resting on a bluish coloured sponge and a white warty frogfish. Many of the marine creatures here blended in well with their surroundings, either lying well-camouflaged in the black sand or pretending to be colourful sponges and coral in small patches of coral, such as a bright yellow frogfish and yellow scorpionfish.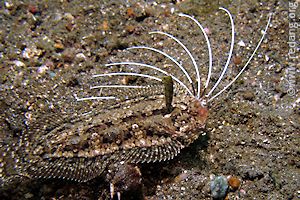 Cockatoo flounder at Police Pier.
Dive 10: Police Pier 8:54am, 34min, 22.5m/16.1m, 28°C
Our first dive today at Police Pier was also my shortest dive, just over half an hour, as I had problems with a leaky regulator. It was a good thing that the most interesting critters were encountered in the early part of the dive, in particular two cockatoo flounders. Initially, it looked like any other flounder, well-camouflaged to blend with the sandy seabed it was resting on. Only when the dive guide agitated it did the flounder fan out its white needle-like fin spines as a defense response or warning mechanism. The spines resembled the feathers on a cockatoo's head which was how it probably got its name. Leaving the flounders, I saw bunches of squid eggs attached to various parts of an old boat wreck. Suspecting there might be large squid nearby, I swam over to the boat and saw about half a dozen or more calamari squid, similar to those we encountered in Jahir two days earlier. It was at this time that I noticed my air going down at a faster rate than usual. Signalling to the dive guide and my buddy, I ascended to a shallower depth to do an early safety stop just in case and decided to get back onto the boat when I was left with about 30 bar air pressure after just half an hour. Police Pier was one of my least favourite sites in Lembeh as there was always a thin layer of oil on the surface of the water, something I noticed when I dived at this site last year. It was probably due to the close proximity of this site to Bitung jetty where there were more boats and shipyards.
The puppy-faced jorunna rubescens nudibranch at Rojas.
The shy and elusive comet fish at Aw Shucks.
Dive 11: Rojas, 11:12am, 72min, 23.1m/11.9m, 28°C
After replacing my faulty octopus and regulators, it was back to another long dive, this time at Rojas. We encountered a hole filled with many hingebeak shrimps, xeno crab, cockatoo waspfish, soft anemone crab, and another species of seahorse known as the thorny seahorse. There was also an interesting jorunna rubescens nudibranch which had a cute puppy-like face. Most memorable was a large mantis shrimp we encountered toward the end of the dive. It was carrying a whole bunch of eggs which made it look like a santa claus with a reddish beard.
Dive 12: Aw Shucks, 3:28pm, 75min, 22.8m/12.5m, 28°C
For our last dive at Lembeh, we returned to Aw Shucks, where Seng Hock and I had our first boat dive. We saw the elusive comet fish, lots of nudibranch including notodoris, risbecia, chromodoris and beautiful nembrotha chamberlaini whose brown and cream colouration reminded me of a dairy cow. We also saw a pair of bright orange and red frogfishes out in the open on the seabed. As I swam away after photographing them, I glanced back and saw one of the guides taking the pair of frogfishes and putting them back near some similarly-coloured sponge coral nearby. It struck me then that perhaps some of the creatures we had encountered and photographed throughout our dives could have been similarly 'planted' by dive guides to allow us to photograph them more easily. While I appreciated their helpful intentions, I had always preferred to photograph animals naturally, rather than to handle and pose them as this could harm the animal or put them in harm's way. One of the greatest satisfactions in nature photography was to be able to capture a picture with the subject naturally in the right place at the right time doing the right thing and this often involved a lot of patience, luck and great timing on the part of the photographer. 'Aw Shucks' was a fitting exclamation when underwater photographers realized their pictures had been set up!
All of us left NAD Lembeh resort after breakfast this morning and upon arrival at Bitung jetty, went our own separate ways. Seng Hock and I went on a day-tour of the Manado highlands, my cousin Chee Faun and Wan Zhen to Gardenia resort at Tomohon for some fresh mountain air and the rest to Bunaken for more diving.
Tondano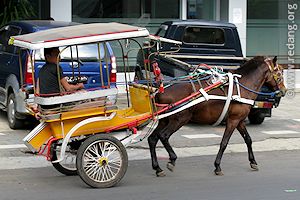 Bendi horsecart in Tondano.
Fish farms by the banks of Lake Tondano.
Having 'mujair' fish lunch at Tondano restaurant.
I had arranged with Simon at NAD Lembeh for a day tour in a private car with driver which cost us US$80 for the whole day. The friendly local driver spoke little English, and it took me a while to understand the local words and slangs used in Bahasa Indonesia which was different from the Malay language I was more familiar with. We left Bitung around 8:30am and headed towards the town of Tondano, passing many small towns and villages. I noticed many dogs along the village roads and I wondered if these were pets or walking dinners (dog meat was regular fare in this part of the world). Soon we were climbing hills on winding roads that at some stretches were full of potholes which our driver expertly navigated around. Along the way, we passed many caves carved into the hillside. During World War 2, the occupying Japanese troops had forced locals to carve these caves which they used to store their supplies and to take cover from air raids. Some caves had their entrances sealed, while others could be explored. We stopped for a quick peek and found the tunnels generously proportioned with wide walkways and sufficiently tall ceilings to walk without stooping. Arriving at Tondano town, we were greeted by the sight of horse-drawn taxis called 'bendis', which were common in many Sulawesi towns. We drove past wide expanses of green paddy fields, criss-crossed with triangular flags perhaps acting as plot markers, and on which stood many Sulawesi-styled scarecrows. Our driver detoured around a local village so we could see the local farmers drying the harvested paddy rice in the sun while catching a glimpse of kampung (village) life, Minahasa-style.
We stopped for an early lunch at Tumou Tou restaurant located on the banks of Lake Tondano (Danau Tondano). The restaurant was built on stilts over the water and was surrounded by wooden walkways that allowed one to view the lake, adjacent resort buildings as well as fish stockades in the water filled with different types of carp, koi and food fishes, including those that appeared on the restaurant menu. We weren't familiar with the local menu items so we just went with the recommended favourites. Each of us had a good-sized barbequed Mujair fish (which turned out to be really delicious). We also had black-coloured fried fish cakes known as Nike goreng (Nike is a type of fish, no relation to the sports company) which tasted much better than it looked and reminded me of thick round slices of fish crackers (keropok). Local nasi goreng (fried rice) and kangkong vegetables completed our lunch spread, which together with drinks came up to IDR200,000 (S$28) for the three of us.
Tomohon and Mahawu volcano
Tomohon wet market.
Dog meat for sale at Tomohon market.
Seng Hock jubilantly arriving at the top of Mahawu.
Mahawu crater.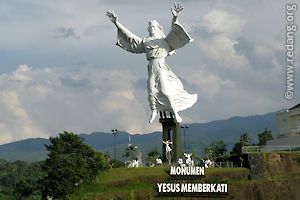 Statue of Jesus at Citraland.
From Lake Tondano, we headed for the Flower City of Tomohon. We stopped at the local Tomohon wet market to get a feel of what the local people ate. There were the usual vegetables and common meats like pork, fish and poultry. But we had heard much about some of the more unusual local fresh meats, common cuisine in this land but strange and unusual by our standards. It was a little bizarre to see bats or flying foxes, dogs and even python meat on sale, some whole, some in pieces. It was hard to recognize the bat or dog species as they were all blackened with their fur burnt off. We didn't see any rats on sale but our driver explained that the rats sold as food were jungle or forest rats, not the dirty, disease-carrying domestic rats. I spotted a pile of bat's wings and asked one of the stall-holders whether those could be eaten and he replied that it was used to make curry. Harry Potter would feel at home here!
Resuming our journey, we soon found ourselves on a very narrow unpaved road passing vegetable farms leading to Gunung Mahawu (Mahawu mountain), a dormant strato-volcano 1511m above sea-level with a small emerald-green lake at the bottom of the 180-metre wide and 140-metre deep crater. The volcano last erupted in 1789 but small geysers and fumaroles had been observed along the shores of the lake as recently as 15 years ago. The road stopped just beneath the crater and we had to hike up the last 200 metres to the rim of the crater. At the top, we could smell sulphur and see areas of yellow sulphurous deposits on the crater walls. We walked about a quarter way around the rim before heading back to the car as it would have taken too much time and perspiration to go around it in the hot sun.
Going back to Tomohon town, we visited Chee Faun and Wan Zhen at the Gardenia resort where they were staying. It was a lovely resort nestled in peaceful, green surroundings which the resort owner had painstakingly cultivated and nurtured. They were on their way out to lunch when we dropped by so we joined them for drinks at the local KFC. Leaving them there, we continued down to Manado town, just half hour away from Tomohon. Along the way, a huge statue of Jesus Christ built on a hillslope caught our eye. It reminded me of the Corcovado statue in Rio de Janeiro, Brazil. We stopped to see what it was and found ourselves at a themed residential development called Citraland 'The City of Blessings'. Statues lined the road while a majestic looking fountain graced the entrace to palatial looking homes, a stark contrast in comparison to the more humble zinc-roof, wooden abodes found throughout Manado. In many towns and villages we passed, we had noticed that the best and biggest buildings were usually churches and there seemed to be one or more churches on every street, an indication of the large number of Christians amongst its local population. So perhaps a large statue of Christ was not out of place here.
As we drove into downtown Manado, the roads became noticeably wider and traffic much heavier. Travelling along the coastal road led us past the main shopping strip whose offshore scenery was dominated by the looming peak of Manado Tua and Bunaken islands next to it. It was almost 5pm when we finally pulled up at the Swiss-Belhotel Maleosan in Manado, where we would spend the night. I had booked the 4-star hotel online through AirAsia's Go Holiday site which offered a promotion rate of S$77 for a twin room with buffet breakfast included. The hotel was new, opened less than a year and was good value for the price, with spacious, clean and well-furnished rooms, all of which had a seaview. The staff was helpful and courteous.
Panorama of Manado city from our room in Swiss-Belhotel Maleosan.
We got a room on the 12th floor which provided a good view to a beautiful sunset that evening. Perhaps the only downside was that the hotel was not walking distance to the shopping strip though taxis were affordable and easily available for the 10 minute trip downtown to the Megamall where we had our dinner and did some shopping. We discovered that not all taxi drivers in Manado use the meter, preferring instead to "nego" (negotiate) the fare with passengers. We found this out when we hopped onto one such taxi at the Megamall to return to the hotel. The driver initially wanted to charge us IDR30,000. I refused, saying the Bluebird cab which brought us to the mall used the meter and charged us IDR20,000 for the trip (minimal fare for Bluebird even when the meter showed less than IDR20,000. The Bluebird cabs use the meter and were considered the most reliable among the different taxi operators in Manado). The driver finally relented and agreed to IDR20,000.
Seng Hock and I left for the airport after a leisurely buffet breakfast at the hotel, taking a normal metered taxi which cost just over IDR60,000 for the 20-minute ride. At the airport, I looked around for a moneychanger to change sufficient local currency for the exit tax of IDR100,000 but found only a bank with a long queue of customers and a single moneychanger booth whose staff was nowhere to be seen. We had to check in soon and the queue was moving too slowly. Seeing my plight, a local gentleman offered to change with me at a 20% lower rate, giving me IDR200,000 for US$25 because the US$20 bill I gave him was a little used and crumpled. It was a lesson learnt: next time I'm going to change money in town or bring enough local currency and to use only new and crisp US$ bills.
Our Silkair flight departed on time at 1:45pm and we arrived back in Singapore just after 5pm. As I reviewed the 800+ photos I had taken over the last 6 days, it was clear that Lembeh deserved its reputation as the underwater critter capital of the world. We saw 4 different octopus species, no fewer than 9 different frogfishes comprising 4 different species and colour variations, 3 species of seahorses and many other marine species. There were prettier places to dive like Sipadan, Layang Layang and even Bunaken with its rich coral-encrusted walls but for those who want to see interesting creatures on every dive, Lembeh's the place to be.
Our group with dive guides Rudi (seated) and Abner on the left | Our dive group: Low, Pam, Chee Faun, Li Kai, me, Seng Hock and Marco.