Jules at the safety stop.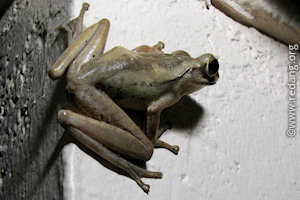 Tree frog on a wall.
Pretty oleander hawk moth.
During our first RFM (Redang.org Forum Moderators) dive trip to Redang in March, we enjoyed ourselves so much we decided then to arrange another one before season ended. This time, Tango arranged a 4D/3N 6-dive package through Coast to Coast Travel for Jules, me and Tango's friend, Andrew. This trip was special in that we would be taking the coach from Singapore to Merang and flying Firefly back to Singapore. Firefly had started thrice-weekly flights between Singapore and KT in the middle of the year and we were eager to try it out.
We had booked ourselves on the Five Stars VIP coach and were delighted to be upgraded to the Executive VIP coach, a double-decker with personal AV entertainment system and electrically-operated snoozer seats. The coach was less than half full which meant we could sit anywhere we pleased. While the coach looked impressive, the overnight journey was not as comfortable as expected. We kept sliding down the smooth leather seats when reclined. The double-decker was great for travelling on the smooth North-South highway but once it left the highway at Yong Peng and reached the main trunk road to KT, the upper deck magnified every roll caused by bumps, potholes and winding roads which made it hard to sleep. Being close to the ground, the single-decker executive VIP coaches were better suited for travel on these trunk roads.
Upon arrival, we checked into our 2 standard rooms just above the dive centre. It was my second time staying at the standard rooms and I liked it for its convenience and quick access to the dive centre. It was quiet, situated away from Pasir Panjang yet close enough to access the nightlife on the beach. Best of all, being at the edge of the forest meant more opportunities for nature photographers like me to encounter interesting critters and insects, like the Oleander Hawk moth and wall-climbing frog we encountered this evening.
Dive 1: Chek Isa, 2:59pm, 49min, 19.5m/14.6m, 28°C
I was eager to get into the water for our first dive. After diving for so many years and renting dive equipment, I had finally decided to buy my own gear which comprised a DiveRite Transpac harness with TravelExp wings, Aqualung Mikron primary regulator and Scubapro gauges. I chose these as they were among the smallest and lightest equipment. In the past, I had always avoided buying my own gear as they were expensive, required regular maintenance, and were bulky and heavy to lug around. Advances in modern technology now meant lighter gear without sacrificing reliability, strength and performance. It was also my own experience with rental gear that were either not well maintained or faulty that finally convinced me it was time to get my own, especially since I had started to dive overseas more often.
The leisurely dive at Chek Isa saw encounters with rays, puffers, anemonefish and the usual schools of reef fishes which allowed me to practice my photography tips I had learnt from Edvin in Anilao. The new dive gear did not disappoint, with the Aqualung Mikron providing a smooth flow of air and the back-inflated BC providing much more freedom of movement which meant less interference with underwater photography. Rental BCs had always been jacket-styled, which restricted movement more. The only thing was getting used to the fact that the back-inflated BC tended to tip one forward on the surface of the water after coming up from a dive. So I had to compensate by leaning back. Other than that, I was pretty satisifed with the new gear.
Dive 2: Tg.Tokong, 9:02am 1 Oct, 51min, 22.5m/14.0m, 28°C
Dive 3: Kerengga, 11:00am 1 Oct, 60min, 16.1m/12.2m, 27°C
Dive 4: Terumbu Kili, 8:58am 2 Oct, 47min, 22.2m/14.3m, 26°C
Dive 5: Black Coral Garden, 10:59am 2 Oct, 41min, 21.3m/14.6m, 28°C>
Dive 6: Sandy Bottom, 2:47pm 2 Oct, 49min, 19.8m/17.0m, 28°C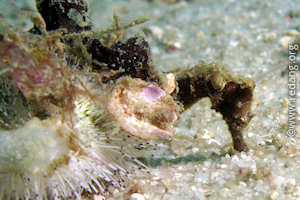 Seahorse on the back of an urchin.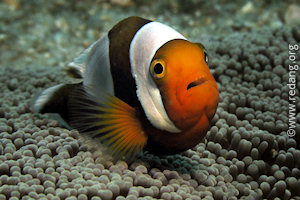 Saddleback anemonefish.
Over the next two days, we completed five more dives at Tanjung Tokong, Kerengga, Terumbu Kili, Black Coral Garden and Sandy Bottom. Visibility was below average with strong surf at some sites, perhaps a common occurence at this time of year as we approached the end of visiting season. We were joined on our dives by Ian from the UK and Lisa from Beijing. Liu, my Rescue instructor, arrived on the island on our last day of dives and he brought Jules and I out to explore the Sandy Bottom dive site with him for our last dive.
Over my last few years of diving, I had begun to enjoy muck diving more. Perhaps I had grown too accustomed to reef fishes having seen them so often while snorkelling or diving around coral reefs in the region. Perhaps it was also hard to focus and appreciate certain individuals when there were abundant fishes swimming all around, especially in places like Sipadan where the visual senses were continually bombarded. With muck diving, divers have to actively look for marine life which are often well camouflaged amongst rocks, seaweed, coral and the sandy bottom. It's also a more peaceful and unhurried way of diving, which may be why it's boring to some. For me, perhaps the real reason is the greater sense of reward or accomplishment when one spots something interesting and is able to focus on it without visually being distracted by myriads of other fishes swimming around. With focused observation also comes a deeper appreciation of the creature's appearance, behaviour and habits. So it was not surprising that the last dive was the most interesting for me, eventhough we didn't encounter much - just a seahorse attached to some coral on the back of an urchin, pipefishes and a very territorial group of saddleback anemonefishes which fearlessly tried to drive us away from their anemone. At the end of that dive, I learnt another important lesson too when I got tangled in the line of Jule's safety dive sausage during our safety stop - keep one's distance from divers using the dive sausage!
Tango and Andrew at a coconut stall.
Firefly airlines at KT airport.
We checked out early this morning to catch the first boat back to the mainland. With our flight leaving at 1:45pm, it would give us a couple of hours to do some last minute shopping around KT. The Coast to Coast van was already waiting for us when we arrived at Merang. Along the way, we stopped at a roadside stall to enjoy some thirst-quenching fresh coconuts, then headed to a market near Batu Enam to enjoy some durians. I was a little surprised that the van driver did not lock the doors on the van when we alighted to walk around. As a KL boy, it had become a habit growing up in the city to always be constantly on the alert, looking around before getting into or out of vehicles and to lock the car doors or house gates to deter opportunistic thefts. We were told that KT was a lot safer, partly due to the fact that a large proportion of the population were religious, practising Muslims. I remembered my first visit to KT in 1998 during my first visit to Redang when we arrived at the bus station at 4:30am in the morning. It had struck me then that the folks we encountered at that time in the morning were friendly, small-town folks. So it looked like more than a decade later, that safe, village feeling was still very much alive and present. A nice change from life in the big city where even private, residential neighbourhoods, like the one I grew up in Ampang, KL, now had private security guards hired by residents to keep their streets safe.
After a brief stop at Batu Enam (literally translated means 'sixth mile') to buy local sarong cloth, the van dropped us off at the airport. The newly renovated KT airport was modern, clean and comfortable. We had a quick nasi-lemak lunch at one of the shops and then boarded our Firefly aircraft. The French-made ATR-72 was quite new with a clean and comfortable interior and 18 rows of 2-2 seats. With the plane barely a third full, we could sit anywhere on the comfy leather seats. Owned by Malaysian Airlines, Firefly wasn't exactly a budget airline as it had in-flight service. We were served muffins and drinks on the 75-minute flight to Singapore Changi Budget Terminal. The twin propeller aircraft was quieter than I had expected and cruised at about 20,000 feet below clouds. This made it possible to see the coastline and scenery along the way which was quite interesting as we tried to identify the various towns and islands we passed. We touched down on time just after 3pm. Compared to the 10 hour day coach journey, this was quicker and much less tiring. With prices starting from about 50% more than a coach ticket, it was the recommended way to travel back to Singapore as the afternoon flight schedule was perfect for those leaving Redang in the morning. In contrast, Firefly's flight schedule from Singapore to KT offered no time saving compared to an overnight coach as Redang-bound passengers would still have to stay overnight in KT. Let's hope more budget airlines take up the Singapore to KT route in future.
Tango, me, Liu, (seated) Andrew, Jules, Lisa | Tango, Jules and me | Tango, Ian and Jules