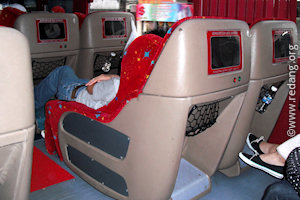 Konsortium coach snoozer seat.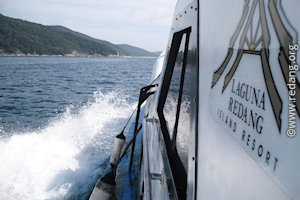 Laguna boat arriving in Redang.
As our kids got older, it became more difficult to make our annual family trip to Redang. The last time we were there as a family was in 2006. The following year, we couldn't visit as Timothy was preparing for his IB Diploma, then we skipped 2008 as well when he entered national service (NS) for 22 months. Now in his last month of NS, he had to clear his leave before going to Australia for his final stint with his Guards unit, since he would complete his NS at the end of the exercise. With just over 2 weeks before end of season, we seized this small window of opportunity to visit Redang. This time, we were joined by our friends Pansy and Esther, who had accompanied us to Redang back in 2001, and Samuel, who was visiting Redang for the first time.
Five Stars had stopped their coach services to KT/Merang in October, so we booked ourselves on a Konsortium VIP coach. We were delighted to find ourselves upgraded to their Super Executive VIP coach with electrically-operated snoozer seats as there weren't many other passengers. It seemed the chances of getting upgraded were better during low season. As long as there were passengers who paid for the Super VIP coach and the total number of passengers booked on both normal and super VIP coaches on a particular night could fit onto that coach, it was more economical for the company to just put everyone onto one super VIP coach than to run both coaches. Of course, this assumed the number of passengers waiting to be picked up from KT/Merang could also fit onto that same coach.
Though I was in Redang just a week ago, I was looking forward to spending time with the family on the island once again, especially since it held so many fond memories for us. With Timothy away in the army most of the time, we had not been able to spend much time together the last twenty-one months. I was also looking forward to testing Timothy's new camera, a Lumix DMC-FT1 that was waterproof to 3 metres, dustproof and shockproof to 1.5 metres. I had recommended this camera to him as it was more rugged and appropriate for use in the dusty, semi-desert conditions he would experience in Rockhampton, Australia. It also came in handy as a smaller backup camera to use while snorkelling. All photos in this trip diary were taken using that camera.
As expected, we had a very comfortable ride to Merang in the Konsortium coach. Being a single decker, it rolled less and was smoother compared to the Five Stars double decker I had taken recently. After a leisurely breakfast of nasi lemak and curry puffs at Laguna's waiting area, we headed out to Redang. It was almost mid-October yet the sea was fairly calm and the weather sunny.
Pasir Panjang upon arrival.
Pansy and Joyce at the Marine Park Centre.
Samuel at the Marine Park Centre shipwreck.
Baby black-tip shark at Shark Bay.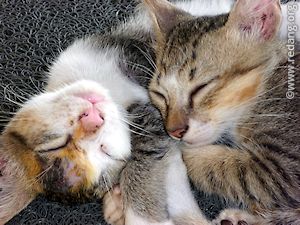 Cute sleeping kittens at the dive centre.
Most of the resorts in Redang had closed for the monsoon, which meant beaches and snorkelling areas were far less crowded. The weather was hot and sunny during the next few days which was perfect, although most days the red flag was up on the beach due to potentially strong surf. Still, we managed to snorkel around Shark Bay two evenings and saw about a half dozen baby black-tip sharks each time. The visibility was quite bad near the shore but improved further out. With only a few of us in the water, the baby sharks felt comfortable enough to swim leisurely close to us each time they passed.
We had just one boat-load of snorkellers when we headed out to the Marine Park Centre. As a result, we had a lot of hungry fishes circling around us. Our friends had a blast feeding the fishes. The lack of currents allowed all of us to visit the shipwreck safely, which provided a lovely backdrop to photos. Not surprisingly, it was also the location shoot of choice for snorkellers having their photos taken by Laguna's recreation department.
Returning from one of our snorkelling trips, we found a pair of very young, cute sleeping kittens curled up next to each other at the dive centre. They were a picture of relaxed, leisurely bliss, something that most visitors to Redang probably felt after arriving on the island. When we could not find them the next day (and we never saw them again after that), we wondered if they had ended up as snacks for a fairly large monitor lizard we had seen earlier crawling underneath the dive centre. While we hoped they hadn't, the harsh reality of the animal world is there's nothing too cute to be eaten. 'Cute' doesn't exist in a predatory animal's vocabulary; it just sees other animals as 'food' or 'not food' as it eats to live. 'Nemo' may be cute to us, but it's just food to a bigger fish! I was reminded that we should act as neutral observers rather than interfere with the natural order of life, whether on land or in the water. Rescuing one marine creature from another underwater predator simply means depriving that predator of food. Similarly, handling and unnecessarily exposing another marine creature puts it in danger of being eaten by its predators.
Over the next few days, we occupied ourselves playing in the strong evening surf, strolling on the beach, shooting pool in the recreation room or relaxing in the swimming pool. I brought the kids up Tanjung Tengah to enjoy the view. Northern Pasir Panjang beach was now dominated by the new Sari Pacifica resort, which was due to open in 2010. Hopefully, this would be one of the last land plots to be developed on Pasir Panjang, which was beginning to look more like a concrete jungle, compared to the lush natural greenery complementing the white beaches and turquoise seas of yesteryears.
At More More Tea Inn: Me, Joyce, Samuel, Pansy, Timothy, Esther and Sarah.
Evening strolls at Pasir Panjang beach.
We left the island after breakfast and found our Konsortium coach waiting for us at Merang jetty. It was another Super VIP coach with meant a very comfortable journey back to Singapore. The only hiccup was that the regular coffee shop where the coach stopped for lunch was closed and we had to hunt for an alternative location. It had been a good trip for all, thanks to the fact that the weather was kind to us too. Hopefully, we wouldn't have to wait another 3 years to return to Redang as a family again. With Timothy starting life at National University of Singapore (NUS) next year and Sarah preparing for her 'A' levels, it might be hard to find a suitable schedule to visit. We'll just have to wait and see.
As for the Lumix DMC-FT1, it performed as expected and it's small size made it convenient to bring along while snorkelling. Pictures were sharp and the 720p HD-quality movies had impressive detail. My only gripes were that underwater colours were a little too reddish and the flash was a tad too strong, which meant underwater subjects had to be further away to prevent being overexposed.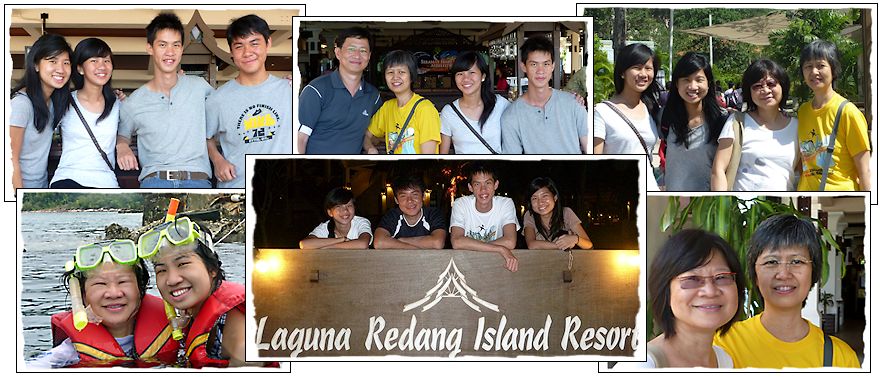 Our group in Redang, October 2009.