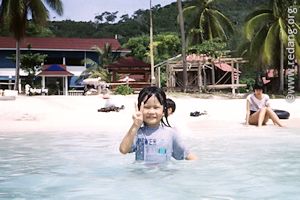 Sarah playing in the waters in front of Redang Bay Resort.
Timothy at northern Pasir Panjang beach.
Since our return from Tioman last year, Timothy and Sarah had learnt to swim and snorkel and were now better equipped to appreciate the underwater world. 'Knowledgeable sources' had told us Redang was "much better than Tioman" with "plenty of fishes and corals" and even possible encounters with whale sharks. Wait... whale sharks? Who could pass up a chance to see whale sharks?
With 2 young kids in tow and with Min Chuen and Angela joining us, we figured it was best to join a tour package to Redang from Singapore. We called, trawled (the internet), browsed travel adverts but found few tour operators that offered packages to Redang. The few that did quoted prices way above what local Malaysian tour operators charged and must have made a handsome profit since they booked directly from the Redang resorts too. In some cases, a RM600 package (about S$260) went for as much as S$450!
Following recommendations from friends, we contacted Alex Lee at Ping Anchorage Travel and Tours in Kuala Terengganu, and booked a 5D/4N package at Redang Bay Resort. They also helped us to book our coach tickets back to Singapore from KT but we had to find our own way to KT. Flying cost more and did not save much time as we had to go through KL, so daunting as it seemed, the 10-hour overnight Transnasional coach was our best option. We ended up booking the Kota Bahru coach as the coach to KT was full.
7:30pm, Kallang Bharu coach terminal
This looked more like a makeshift bus depot on unreclaimed land. Most people probably passed by without realizing there was actually a coach terminal here. Why else would Singapore Casket be used as a landmark to direct visitors here ("oh, it's opposite Singapore Casket across Lavender Street"). What a grim sounding way to start a holiday!
A few hours later we were on the North-South highway on a comfortable 24-seater VIP coach, complete with TV, video and a McDonald's dinner to keep our eyes, ears and stomachs entertained. We had reminded the driver to let us off at KT as we didn't want to wake up in Kota Bharu. Turned out we needn't have worried as we weren't able to sleep anyway since they were driving so fast - every turn and pothole jolted us out of slumber. To make things worse, a thunderstorm broke out during the journey.
4 am and the bus pulled into KT station. "Kuala Terengganu", the driver called out. "Zzz... what?? Was my watch slow?" We had arrived at least an hour early! As the bus left, we realized a little nervously that we were standing in a bus station in the middle of the night with two sleepy kids in who-knows-where in KT (it was our first time there). One quick phone call later to Alex Lee at Ping Anchorage and his German friend (also named Alex) arrived in a white van to transport us to the Ping Anchorage office nearby. Actually, KT, like many other towns along the East Coast, was safe even in the middle of the night. The locals were friendly, country folk with a great reputation for hospitality.
Ping Anchorage had a Homestay where they also had their office. With another 2 to 3 hours before breakfast, Alex Lee graciously provided a room in which to put our things and rest. Later, we were driven to a coffee shop for breakfast, then transferred to Redang Bay's mainland office where we changed to shorts in preparation for the beach landing and to wait for the coach that would bring us to Merang Jetty. The trip to Merang was pleasant, passing scenic countryside along the Terengganu coast. After about an hour, the bus dropped us near a little bridge in what appeared to be in the middle of nowhere. Crossing the road, we arrived at a run-down wooden jetty by the river. Welcome to Merang Jetty!
Redang Bay Resort seen from southern Pasir Panjang beach.
The 24-seater speedboat wound its way slowly past quaint fishing villages bustling with morning activities until it reached the river mouth, then accelerated quickly and sped towards a group of islands visible in the distance. About half an hour later, the deeply-forested hills and ragged cliffs of Pulau Redang loomed before us. The clear waters around us had turned turquoise and emerald in places.
As we passed Tanjung Tengah, the boat turned to the left and there before us rested the long beautiful white sandy beaches of Pasir Panjang. The speedboat slowed down, lifted its engines out of the water and drifted as close to the beach as possible. Jumping into knee-deep water with our backpacks and making our way up the beach towards Redang Bay Resort, we were amazed at the fine powdery white sand and clear waters. This was just as others had described and what we had read about. An island paradise!
Redang Bay Resort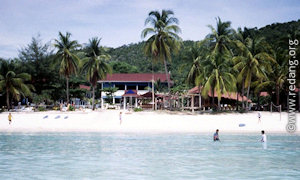 Redang Bay Resort.
Pool at Redang Bay.
Redang Bay felt like a holiday camp with young, enthusiastic and friendly staff who gave visitor briefings through a megaphone. Our full-board package included all meals and free use of their facilities (beach volleyball, karaoke, disco, outdoor pool, small cinema hall, badminton courts, canoeing), free rental of snorkelling masks, snorkels and fins. The itinerary was the same each day: breakfast at 8:30am, lunch at 1pm, tea at 4:30pm and dinner at 7:30pm with snorkelling trips at 9:30am and 2:30pm.
Our room was housed in a 2-storey hostel block. The air-conditioned room had an attached bathroom without a heater. The tap water was not suitable for drinking as it was from ground water. The room was sparsely furnished with only beds and nothing else, not even a cupboard, chair or table, but at least it was clean and comfortable. We didn't mind as we ended up spending most of our time out at sea or soaking up the sun on the beach.
Meals were served in the dining hall. Self-serve beverages (tea, coffee, Milo, water) and biscuits were available throughout the day at one corner of the hall. A BBQ dinner every alternate night ensured that even short-staying guests on 3D/2N packages would enjoy at least one BBQ dinner. Lunch and dinner were mainly 5-course local or Chinese-style dishes comprising soup, chicken, fish, vegetables and fruit. Dishes were pre-apportioned and served at tables bearing names of guests. Breakfast and tea were buffets serving bread and jam as well as local fare like fried meehoon, doughnuts, hot desserts, fried rice and porridge. After each snorkelling session watching the fishes go into a feeding frenzy, it was strange to come back for lunch or dinner to watch people go into a feeding frenzy! BBQ nights were the worst, with late guests getting mainly leftovers! The dining area had a TV with Astro satellite channels showing mainly World Cup '98 matches, and was the site for much screaming and jeering especially during live telecasts.
Marine Park Centre jetty.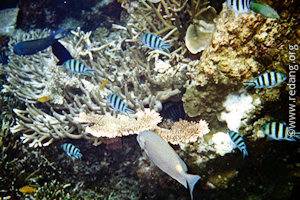 Fishes and corals at Redang marine park.
There were 2 boat snorkelling trips a day. Slow, noisy fishing boats headed for different snorkelling destinations and guests were pre-assigned boats in such a way as to cover different destinations over the duration of their stay. However, guests could choose to transfer onto another boat if they desired. We had to wade out to the fishing boats in deeper water as they could not get as close to shore as the speedboats but boatmen were there to lend a hand to those struggling to get on or off. These helpful boatmen would also accompany guests while snorkelling when assistance was required.
We were impressed with the clarity of waters around Redang, which allowed us to see corals in waters 30 to 40 feet deep. At many snorkelling sites, we encountered abundant marine life in waters. The most common were sergeant majors, damsels, parrotfish, wrasses, angelfish, butterflyfish, anthias, surgeonfish, needlefish, fusiliers and anemone fishes. We saw various hard and soft coral formations, although in some areas, El Nino had bleached (whitened) the corals. We also noticed there were much fewer urchins in Redang compared to Tioman perhaps due to the presence of more marine predators feeding on these urchins, like triggerfish. On a more painful note, we also encountered swarms of small jellyfish only 1-2 inches in diameter at the bell. These appeared over 2 days and disappeared just as suddenly as they appeared. Timothy and a few other snorkellers were stung at the Marine Park Centre and it was a good thing we had Stingose spray with us. Another time, there were so many jellyfish in the water at one of the snorkelling sites that we had to abort and go downstream from the current behind Pulau Paku Besar so that the island could shield us from the jellyfish as we snorkelled.
The house reefs at Pasir Panjang were great snorkelling destinations. We discovered that 'Shark Bay' just around the corner of the beach had a beautiful reef comprising mainly hard corals and a school of 8 resident baby black-tip sharks each about 2-3 feet in length. They would not let us get close but it was an experience swimming with them! The Marine Park Centre was another popular spot because of the abundance of fish life there and their star attractions, a resident giant grouper and giant moray eel that lived around the artificial reef beneath the jetty. We got to see the moray a few times as someone lured it out with fish. The adventurous could explore a shipwreck located about 50 metres to the east of the jetty which was home to a host of interesting marine residents.
After 5D/4N of snorkelling, we left on the afternoon speedboat back to KT. Our two friends had left a day earlier. As there were only 4 of us and 1 resort staff going back to the mainland, we boarded a small speedboat which brought us directly back to KT instead of Merang. Along the way, we encountered flying fishes skimming over the wake of the boat. An hour later, the boat pulled up at the jetty behind the Redang Bay Resort office and a bus transferred us back to the Ping Anchorage office, where we left our things and went shopping downtown, returning only after dinner. We chatted with Alex Lee and Jo'an for awhile until it was time to leave, then they sent us to the bus station.
Redang had left an indelible impression in our hearts. There was just something magical about snorkelling in waters teeming with fishes and other marine life. We had been bitten by the Redang love bug and thus began our affectionate relationship with this wonderful island paradise...

Our family with friends Min Chuen and Angela.