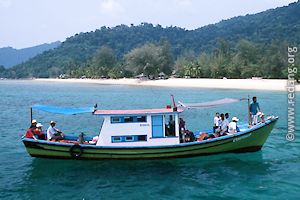 Boat at Kampong Paya beach.
Growing up as a young kid in KL in the 60s and 70s, I remembered watching the 1958 movie version of the musical 'South Pacific' and playing songs like 'Bali Hai', 'Happy Talk' and 'Some enchanted evening' on the piano. Years later, I discovered that Tioman was used to portray the fictional Bali Hai island in the movie. So when Joyce suggested we visit Tioman, I was more than eager to go and see this legendary island for myself.
With 'Bali Hai', 'Happy Talk' and other showtunes playing in my head, we boarded the high-speed ferry from Tanah Merah ferry terminal in Singapore for the 4 hour journey to Tioman. Timothy and Sarah, then 7 and 4 years old, were excited to be on their first boat ride but the excitement soon wore off once we were in the open sea with nothing much to see except the monotonous scenery of mainland Malaysia in the hazy distance.
Out in the open water, the sky was blue and cloudless but in the distance, clouds hovered above Tioman. As we neared the island, visions of the legendary Bali Hai from the movie 'South Pacific' fleeted through my mind. Before long, the huge island of Tioman loomed before us, rising out of the water majestically with its peaks (some rising as high as 1000m) towering over us and surrounded by an emerald sea.
We arrived at the jetty in front of Berjaya Tioman Island Resort and had to clear immigration officials who had set up desks at the front and rear of the boat. After a long wait, we finally cleared immigration and boarded another boat which brought us to the jetty at Kampung Paya, where we got down and walked to Tioman Paya Resort, which would be our home for the next 4 nights. We had booked a 3D/2N full-board package with 2 additional nights free and easy.

Berjaya Tioman resort.
Tioman marine park.
We visited the Tioman Marine Park today. As it was a half-day trip, the resort provided packed lunches. Our first experience seeing the fishes close-up was exciting. We were amazed that the fishes didn't have a natural fear of humans, unlike most terrestrial animals. They would hang around snorkellers waiting for handouts and were even willing to be hand fed by visitors. Other fish species that weren't interested in bread simply swam around or were busy feeding on algae off rocks and corals.
After visiting the Marine Park, the boats dropped us at Berjaya Tioman Island Resort where we had the afternoon at leisure. The resort was big and had all the trimmings of a luxury resort: airstrip, golf course, shops and landscaped gardens. However, we noticed that the waters in front of Berjaya were full of dead coral rubble with few fishes here. Probably a sign of over-development in this part of Tioman. There was also a sign on the beach warning visitors to beware of jellyfish, although we didn't see any during our stay here. They were probably seasonal.
During our 'free and easy' part of the stay, boat snorkelling trips were not provided so we just snorkelled around the housereefs at Paya beach or played on the beach. With the clear waters here, it was fascinating to observe the fishes and we also noticed a lot of sea urchins on the seabed or wedged in rocks and crevices. They looked intimidating with their long spines and we had to be very careful not to touch them especially in shallow water.
Tioman Paya Resort
Our chalet at Tioman Paya resort.
Timothy and Sarah at Paya beach.
Located at Kampung Paya, south of Tekek beach, Tioman Paya Resort provided comfortable accommodation with its clean and comfortable timber chalets blending into the natural surroundings. The rooms were air-conditioned and solar heaters mounted on the roofs provided hot water.
Our particular chalet was located next to the forest. To get to the beach or main dining hall, we had to cross a little wooden bridge built over a river with mangrove trees fringing its banks. Monitor lizards would occasionally make their presence felt when they splashed into the water. There were quite a number of them here with some large individuals. Each morning they would lie on the grass on the resort grounds, basking in the morning sunshine and running up the nearest tree when we approached too close.
Meals were served in the common dining area, which also housed the other shared facilities like TV, newspapers and other reading material. An ala-carte menu was also available.
After 4 relaxing nights in Tioman, we reluctantly boarded our boat at Paya jetty which transferred us to the main jetty at Tekek where we caught the high-speed ferry back to Singapore. Our first island vacation had been a lot more enjoyable than expected. The children had enjoyed the beach and playing in the sea, and the experience of seeing and feeding fishes in the clear waters had made it particularly memorable. It looked like we were now hooked on tropical islands and looked forward to our next island destination... Redang!