Mabul location and dive sites.
The big day had finally arrived! As I sat at the back of the Singapore Airlines Boeing 777 headed for Kuala Lumpur International Airport (KLIA) to meet up with my cousin Chee Faun, I was really excited that I was finally on my way to Mabul and Sipadan, one of the top diving destinations in the world. It had been an eagerly anticipated trip. My cousin in KL had earlier booked us on a new 5D/4N package from Borneo Divers (BD) that covered both Mabul island and Sipadan island. With the region reeling from the SARS outbreak, it was not the best time to travel but hey, it's not everyday one gets to visit Sipadan, so off I went with a couple of surgical masks and disinfectant handwash in my backpack.
As expected, the Boeing 777 was not even half full, and I was sitting alone at the back of the plane with the nearest passenger a few rows in front of me. The plane touched down at KLIA at 9pm. It was my first time at KL's new airport which was big, spacious and clean. I was quite impressed until I found myself at the end of a long queue. All the passengers from Singapore were going through a SARS checkpoint one by one in single file. Duh! So much for sitting at the back of the plane! Took me longer to clear the SARS checkpoint than to fly from Singapore to KL!!! Oh well, could have been worse if the plane was full!
11:45 pm and Chee Faun and I were back on a Malaysian Airlines Boeing 737 late flight to Kota Kinabalu. With our connecting flight to Tawau at 6am, I was eager to get some sleep on the two and a half hour flight, but it was difficult with the aroma of spicy rendang and rice wafting through the cabin - midnight supper Malaysian style at 35,000 feet!
Sunrise over Kota Kinabalu airport.
view of majestic Mount Kinabalu glowing in the embers of the morning sunrise.
Tawau airport.
Borneo Diver's office at Semporna jetty.
Mabul island with village on the right.
We touched down at KKIA (Kota Kinabalu International Airport) at 2 am in the morning. What a stark contrast KKIA was to the spanking new KLIA airport! I was reminded of Stephen King's novel 'The Langoliers' - it felt like we had just flown through a time warp. Firstly, it's strange that in East Malaysia, I had to have my Malaysian passport stamped as if I had entered another country. Secondly, I couldn't find a single 'Welcome to Sabah' tourist brochure in English - everything on the shelf was in Japanese! Thirdly, at this time of morning, the airport was quite deserted and devoid of activity. We thought we could wait in the main hall until 6:10am to catch our connecting flight to Tawau except there was no 'main hall'. Leaving the arrival hall, we found ourselves outside the building. The next floor up, the main doors opened into the departure hall but we were not allowed in. All the checkin counters were outside the airport by the road!
With no place to catch 40 winks, we walked around the airport and managed to find a solitary snack shop that was still open where we burnt a few hours over hot cups of Neslo (a Malaysian concoction made up of Nescafe and Milo) and some instant noodles. When the shop eventually closed, we adjourned and waited outside the departure hall.
KK to Tawau
At 5:30am, we were allowed into the departure hall. Dawn was already breaking (Sabah is in the same time zone as Singapore and West Malaysia but being further to the east, it gets brighter earlier). As other passengers arrived, we realized many were Japanese tourists, which explained the Japanese language brochures. As the Boeing 737 took off from the runway by the sea, we got a good look at KK from the air while the plane circled around the city. A little further ahead, those of us seated on the left of the plane were treated to the majestic sight of Mount Kinabalu, it's 4104m peak bathed in the morning rays of the sun. South East Asia's tallest mountain simply dwarfed the neighbouring peaks around it!
Tawau to Semporna
The 40 minute flight to Tawau passed through miles of pristine virgin forest. Even as the plane descended on Tawau airport, it looked more like we were landing in the middle of the jungle, surrounded by greenery all around. Though small, with only 2 gates, Tawau airport was new and modern, a far cry from the old and rustic KK airport. The airport was located between Tawau and Semporna, about 30km away from Tawau town, and was the gateway to Mabul, Kapalai and Sipadan, evident by the number of dive tour offices at the airport and by the various vans from different dive resorts waiting outside.
We bundled into the Borneo Divers van outside and were soon on our way for the 70+ km journey to the town of Semporna where we would catch our speedboat to Mabul. The 2-lane roads were similar to the trunk roads in Peninsular Malaysia, winding smoothly through acres of agricultural palm oil plantations on both sides of the road. Traffic was light, and most of the local vehicles we encountered were 4-wheel drives. Tired from our long night, we snatched short naps on the 1 hour ride to Semporna.
Semporna to Mabul
We arrived in Borneo Diver's office in Semporna around 8am. Next to it was the Sipadan Ocean Tourism Centre and Dragon Inn, an attractive inn with rooms built over the water. It looked like we were the only locals on this trip. There were Japanese, British, Danish and other foreign tourists who were all headed for Sipadan. An hour later and our speedboat was riding over the calm sheltered waters around Semporna, passing islands with green rolling hills, scenic villages on stilts and local fishing boats with their characteristic triangular cloth sails.
Mabul!
It was almost 10am as we approached Mabul, and we could see the island of Sipadan about 15 km away in the distant horizon. Mabul is a small, 20 hectare flat island ringed with sandy beaches and coconut trees. Sitting on a reef on the edge of the continental shelf which slopes to about 25-30m in depth, Mabul was home to a fishing village populated by immigrants from the Philippines, and 3 other dive resorts scattered around the island. Borneo Divers Mabul (BD Mabul) was the newest, the other two being Sipadan Mabul Resort (SMART) and Sipadan Water Village (SWV). A fourth resort, Seaventures, is a converted oil-rig located off-shore facing BD Mabul.
Any concerns regarding security were quickly dispelled when we noticed a Malaysian Navy patrol boat in the waters and a police station on the island. Security at the main Malaysian diving resorts in this region (Mabul, Kapalai, Sipadan, Pandanan) had been beefed up since the Abu Sayyaf terrorists kidnappings on Sipadan and Pandanan islands 3 years ago. During our stay, a Malaysian military helicopter with armed soldiers landed daily on the open field next to our resort.
Borneo Divers Mabul Resort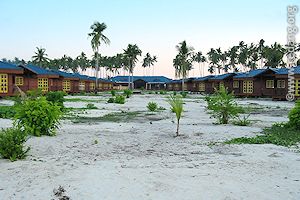 Borneo Diver's Resort Mabul.
Dining hall at Borneo Diver's Resort Mabul.
As we stepped off the boat, we were warmly greeted by Borneo Divers' staff at their new resort, evident by the freshly planted grass and plants. As staff took care of our baggage, we were served fresh coconuts to quench our thirst in the main hall. We were the 9th and 10th guests to stay at this resort which opened in early May '03 and were the only guests today. We checked into chalet #108. A tub of water was provided outside the chalet for rinsing the feet of sand and debris - a good way of saving precious fresh water resources. Inside, the air-con timber chalets were clean, cosy and comfortable, with ceiling fan, 2 single beds, a sofabed and attached bathroom. Fresh towels were laid out neatly on the bed, and a pair of flip-flop sandals were provided for each guest. In the dining hall, meals, which were a mixture of western and local fare, were served to our table instead of the usual buffet.
Introduction to 'muck diving'
Eager to check out the dive sites, we met up with Lionel Aaron, our jovial and friendly divemaster whom we called 'Lio', and arranged to have our checkout dive at 11am at the jetty in front of the resort. The dive centre was well thought out, and the equipment was all new. The jetty was an ideal introduction to 'muck diving' which was what Mabul was famous for. Visibility was only about 5 metres, and the seabed was full of coral rubble, mud, silt and sand. Yet lurking in all that muck were plenty of well camouflaged marine life. We encountered razorfish, cleaner shrimps, lionfish, scorpionfish and crocodile fish. We were so busy taking photographs we got separated from Lio who had gone off with another diver to look for seahorses. We eventually surfaced in the shallow waters in front of Sipadan Water Village chalets.
Seaventures Resort.
After lunch, we headed out to the Seaventures resort for our second dive underneath this former oilrig. Lurking in the shadows and muck beneath it were schools of small triggers, lionfish and crocodile fish. Depth was about 16.5m but visibility was down to about 3m. Within a rectangular frame of metal bars, we found a whole school of about 15 cornetfish and trumpetfish.
After staying awake the whole of last night, we decided not to do any more diving for the day and to have an early night. We spent the evening walking on the beach taking photographs and admiring the lovely sunset. At one point, the sun dipped behind a cloud and lit up the edge of the cloud, painting a bright golden lining. Breathtaking!
At night, I ventured out to the beach to make a call back home and was able to get a signal on my mobile phone. Everything was so peaceful and quiet, save for the lapping of waves on the shore. It felt good to be back on an island close to nature!
Military chopper next to the resort.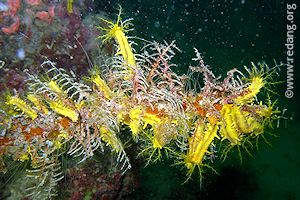 Colochirus robustus sea cucumber.
Well-camouflaged scorpionfish.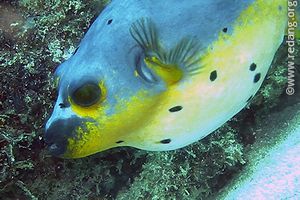 Seal pufferfish.
This morning, we were joined by Edric Sng, editor of the Singapore-based diving magazine, Fins. Our morning dive brought us to Lobster Wall, the only wall dive on Mabul. We had heard from staff that a juvenile whaleshark was spotted there a week or so before we arrived.
Anticipation turned to disappointment quickly due to the poor visibility, below its usual level. Any whaleshark present would have to be really close for us to spot it. It seemed rough weather a week ago had affected visibility in Mabul and Sipadan, and there were a lot of particles in the water. The drift dive took us past walls covered with soft coral, beautiful gorgonian fans, sea squirts and sponges. Didn't see any lobsters here, though we found a soft coral branch completely covered with the small yellow sea cucumber Colochirus robustus.
Returning to the resort after our dive, a Malaysian military chopper flew right above our heads and landed on the field next to us and was greeted by excited children from the nearby village.
The second morning dive saw us doing a gentle drift dive at Eel Point. Saw lobsters here, but no eels. Over lunch, the military chopper took off and left the island. No sooner had it gone out of sight when another military chopper landed on the field again. It was beginning to feel like we were in a warzone, or on the set of 'Black Hawk Down 2' or something. If they were going to be coming and going so often, they might as well make themselves useful to divers by helping to spot whalesharks from the air!
Fishermen tales
For the afternoon dive, being our last boat dive, there was a debate about where we should dive. We had earlier heard stories about a 4m grouper at Panglima jetty that was 'as big as a Volkswagon' which apparently a local fisherman and divemaster had witnessed 1 or 2 years back. We had also heard rumours about a 3m crocodile fish. Yeah, sure... someone either watched too many episodes of Steve Irwin or mistook a real saltwater crocodile for a fish!
As for the grouper, perhaps it was not too far fetched for a king grouper or brindlebass to grow to lengths of 4m, but these sizes are really rare. We agreed 4m might have been an exaggeration but who would dare verify this? The story was that this giant grouper was living within a space marked out by 3 pillar-like structures. With the poor visibility we've been having in Mabul, that would have meant being uncomfortably near this giant to see it. It would also have meant the possibility of wasting a dive if we didn't see the grouper since we were told Panglima jetty was like a dumping ground, not a dive site.
In the end, only Edric wanted to go check it out - had he found it, that scoop would have meant selling out the next issue of Fins assuming he survived the encounter! The rest of us decided to let this fisherman tale remain a mystery and chose to go to Ray Point instead, where a cute seal pufferfish was only too happy to pose for the photographers among us. Saw eels here, but no rays. I think the marine life must have been playing musical chairs - lobsters at Eel Point, eels at Ray point and so on.
Mandarins make their appearance
The elusive mandarin fish.
For our last dive in Mabul, the vote was unanimous... mandarin fish! No dive in Mabul would be complete without at least seeing a mandarin fish, which supposedly only comes out in the evening before the sun sets. So off we went for another shallow muck dive at the jetty and sure enough, we were rewarded not only with mandarin fish but also banded pipefishes and harlequin ghostpipes.
The appearance of the mandarins were a fitting conclusion to our stay in Mabul, where we enjoyed good service at BD Mabul Resort, warm and friendly staff, delicious meals and comfortable chalets. Other than the tap and shower water that had a funny smell (basically just chlorinated ground water), we agreed Mabul was worth a return visit sometime in the future. For now, we eagerly looked forward to Sipadan the next day, where we would see 'the big stuff'.
With other guest divers at BD Resort Mabul | Chee Faun having a cuppa | With Lionel 'Lio' Aaron (DM) and Edric