The sharp increase in the number of visitors to Redang following Sammi Cheng's Summer Holiday movie in 2001 posed a great challenge for marine conservation and protection efforts and contributed to a gradual decline and deterioration of its coral reefs and marine life. So I was filled with a sense of deja-vu when I read the Star Online 7 Dec article about another famous Hong Kong singer and actor Andy Lau planning to wed his Malaysian girlfriend Carol Chu in Redang next year. While it's good publicity for Redang, no doubt this will lead to another surge of curious first time visitors. According to the article, Redang was chosen to avoid the papparazzi but the public disclosure of the location sort of defeats that purpose. Hopefully, it's just a ruse to mislead the papparazzi while they tie the knot on another undisclosed island location.
Anyway, assuming the disclosure was a 'slip-of-pen' and that they are going ahead with their plans to wed in Redang, perhaps they might want to do so over monsoon season since there won't be any crowds, curious onlookers and papparazzi who will have difficulty getting there due to rough seas and the absence of boat services. Andy, his bride and entourage will just need to fly in on their private or chartered jet. If they're planning to wed during normal visiting season, the only way they can keep out the papparazzi is to close off an entire resort and beach (they can't close the island since Redang isn't privately-owned). The only way I can think of them doing that is if the resort is the only one with its own beach, so my guess is that the likely venue will be Berjaya since Andy's bride will not settle for one of the budget resorts with its own beach. Regardless of where it's held on Redang, what's more important is ensuring it's done in an eco-friendly manner and that best efforts are made to educate all guests to be responsible visitors. Who better to do that than the bride and groom, so here's a special request to Andy and bride.
An open letter to Andy and Carol...
Firstly, my congratulations to both of you on your wedding and for your impeccable choice of romantic Redang for your lavish wedding ceremony. I'm sure it will be a beautiful and truly memorable place to start your lives together blissfully. In fact, I'm sure Andy will be so charmed by its beauty that he'll be inspired to write another romantic hit song just for Carol. May I humbly ask not for a wedding invitation but for you to remind your wedding guests, fans and stalkers (papparazzi included, invited or not) to please take good care of the marine environment in Redang and to be responsible visitors. May I suggest printing on your wedding invitation cards the 3 golden rules: Don't collect marine life, Don't trample and destroy the corals and Don't litter. You may also refer them to the park regulations. As lavish as the wedding may be, please leave the island the way you found it. No offense but I wouldn't want to visit the island after your wedding and find confetti and dinner menus strewn on the beach or plastic bags for your wedding souvenirs floating in the sea or some papparazzi's corpse at the bottom of Pulau Lima. I'm not a fan who considers these as collectibles or memorabilia; hey I don't even watch your movies or listen to your music. It will also be good for your professional image, plus you'll be doing us a great favour, if you can promote marine conservation in your wedding speech (and to avoid any irony, remove shark's fin soup from the dinner menu). You'll be helping our cause significantly. Thank you and have a great wedding! :)
Year-end reminiscing
10 years on: Tim and Sarah's first trip to Redang, June 1998 and now in Nov 2008. Looking at our kids is a stark reminder of how fast time flies!
Another year over. Another monsoon season to wait out till opening season in mid-end Feb'09. Tango, Jules and I had our second Redang moderator's dinner recently at Colbar and we're already planning a joint dive trip next year. I'm looking forward to setting foot again in Redang after more than a year's absence. I still can't believe it's been a decade since my first trip to Redang. I still vividly remember thinking this was such an unspoilt paradise island when we made our water landing at Redang Bay Resort ten years ago. The clear waters, wide expanses of clean, fine sandy beaches and abundant corals and fishes just off the beach ignited within me a passion for the marine environment that I never knew existed and spurred me to come up with this website to promote its conservation.
I remember my kids, then 6 and 8, enjoying themselves on the beach and in the water, feeding the fishes at the Marine Park and having a great time. Redang was, and still is, such a family-friendly island, offering healthy and wholesome back-to-nature fun for the entire family. Back then, it was a place to relax, unwind and be uncontactable by the office. It became our annual family retreat during the long school vacation in June or October break. How time flies, and how things have changed! With Tim serving his final year in the army and Sarah starting a new year at Hwa Chong Junior College, it'll be a challenge to find an appropriate time to visit Redang again as a family next year. I'll always cherish the family time spent at Redang. Kids really do grow up so fast, so parents, treasure your time with your young kids - before you know it, they've all grown up and can't spend as much time with you.
As we draw towards another year's end, may we wish all our readers and visitors a happy, hopeful, blessed and meaningful year ahead filled with joy, peace and love. As you spend time with family, friends and loved ones, may you be filled with thankfulness, counting every blessing even in these troubled economic times and appreciating that the best things in life can't be bought or sold, but only freely given and received from the heart.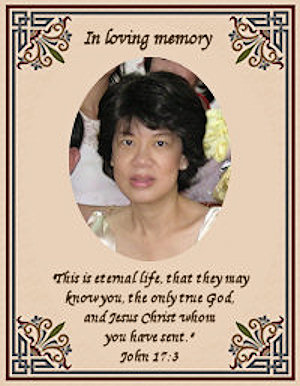 I just discovered that my guestbook email notifications never reached me as they were being weeded out by my spam filters. As a result, I did not realize there were guestbook entries waiting for me to read and to set as 'visible'. My apologies to those of you who had taken the time and effort to sign the guestbook but were not able to see your entries. I have rectified the situation and will also manually check for entries instead of just relying on the email notification. To prevent spammers from leaving ads and other junk entries in the guestbook, I will continue to keep entries invisible until I have vetted them personally.
Personal loss
After a long battle with advanced-stage cancer, my one and only sister passed away peacefully in Selayang hospital, KL, last Sunday, 21 September. Her battle started 22 years ago when she was first diagnosed with stage 3 ovarian cancer and later, renal cancer which then spread to her lungs. Countless times, she endured operations, chemotherapy, radiotherapy and all the nasty side effects, never giving up nor losing hope and as many times, by God's abundant grace, she outlived her doctors' prognosis. Last year, the cancer spread to her brain and she fought bravely on for another one and a half years before the Lord finally brought her home. Her story is one of courage, strength and perseverance, and of God's love, grace and blessings on her life and the lives of those around her despite her difficult circumstances. I have learnt much from her and have been truly blessed during my visits with her over the past year. While she and I have always been close, the past year and a half has brought us even closer. Though this separation is only temporary until we meet again in the presence of our Lord, I will deeply miss her, as will my parents, brother, her husband and 9-year old daughter.
The elusive mimic octopus at Lembeh.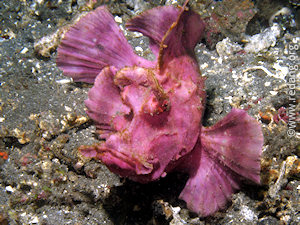 Purple Rhinopias at Lembeh.
It's been a busy year and time seems to have zoomed past quicker than before. We're already past mid-September and in just 4 weeks time, resorts at Redang will start closing for the year-end monsoon season. I had originally planned to make at least one visit this year but more pressing demands forced me to put most of my island travel plans on hold indefinitely. It has also kept my participation in the forum this year to a minimum - thanks to those of you who regularly participate and share useful information with the other forum visitors. Also my gratitude to my moderators Tango and Jules for keeping things going on the Forum pages. Incidentally, Tango, Jules and I finally met up for dinner one evening last week. It was the first time we had met and seen each other 'in the flesh' and we were like 3 old friends having a great time, such were the bonds of friendship established through the Forum pages.
It looks like 2008 will be my first year away from Redang since 1998. If absence does make the heart grow fonder, I shall eagerly look forward to visit next year. My only island trip was a 6D/5N dive trip to Lembeh Straits in Manado, North Sulawesi, Indonesia at the end of July. It was my first visit there and hopefully, not my last. Of all the dive sites I've visited, Lembeh is one that will keep drawing me back again and again as every dive was rewarded with interesting and unexpected encounters with the unusual, bizarre and rare creatures that live in the underwater volcanic landscape there. You can read more about it in my Lembeh trip diary or browse through the photos in my Lembeh gallery.
Jellyfish alert in July
Perhaps not being able to visit Redang this year was a blessing in disguise, seeing the many posts, blogs, pictures and videos on the internet about swarms of jellyfish encountered in Redang between late June to early August. Enough for some resorts to put out 'Beware of jellyfish' signboards on the beaches. Seems they were spotted in Vietnam, Thailand and further south to the east coast islands of Peninsular Malaysia. Some say its due to weather, climate change or typhoons in the area but what's certain is many visitors had their first taste of what it feels like to be stung. Looking at videos on YouTube, I've not encountered this particular species in Redang before - tennis ball-sized bells and tentacles up to a metre long. Having been caught in 'jellyfish minefields' before, this looked scarier than my previous encounters, no thanks to those long tentacles. If there's ever a good reason to wear full-length wetsuits rather than shorties, this is it. Let's hope these jellies don't show up as regular visitors from now on.
Berjaya annual Redang cleanup day
Berjaya Redang Beach Resort is having its annual Redang cleanup day as part of Project AWARE (Aquatic World Awareness, Responsibility and Education) from 10-12 October. Contact them for more details. This annual cleanup hopes to instil conservation awareness amongst volunteers and participants by cleaning up litter and garbage from beaches and dive sites.
Chris Cheong, Director of e-Business at Berjaya Resorts has just informed me that Berjaya Redang Beach Resort will be closing its lobby area for upgrading and refurbishment which is anticipated to complete by end April this year. They would like to assure guests that every effort is being made to minimize noise and disturbance and the works will be carried out during the day time from 9.00am till 6.00 pm, when most guests would be relaxing by the beach or swimming pools. Renovation areas will also be screened and hidden from view.
It's 2008... 10 years since our first trip to Redang, and it also means this website turns 10 this year! When we started this site, it was because there was so little information about Redang on the internet then, not to mention slow 56Kbps dial-up internet connections. Now one just has to google 'redang' and be swamped by pages of hits almost instantaneously thanks to high speed broadband, 8Mbps in my case, courtesy of Starhub. Thanks to your support that this site continues to appear high on the results page - hopefully it means that we are able to attract and help educate more visitors about the importance of marine conservation and how to be responsible visitors. So much has changed in Redang in the last decade, especially the reduction of coral cover at Pasir Panjang and other sites due to both human and natural causes, that it is even more important today than ever to ensure that we do all we can to protect what remains.
2008 is also the year that our son Timothy began his 2-year national service stint in the army back in January. While we have been making Redang an annual family holiday destination since 1998 and have had the pleasure of the company of various friends and families over the years, last year was the first time we didn't get to visit Redang as a family, partly due to Tim's preparation for his International Baccalaureate exam. It remains to be seen whether we'll be able to synchronize vacation/leave schedules to continue this annual 'tradition' over the next 2 years.
Redang updates
I apologize for the really slow updates, this being the first for this year. I had been busy with many work and personal/family issues and will continue to be for the near future. As usual, check on the Forum for news and updates from other visitors. With all resorts now open for 2008 visiting season, it looks like another busy year ahead so plan your trip well ahead of time if you can, using the 2008 holiday calendar as your guide. News has it that Ayu Mayang resort is open again this year while Desagreen remains uncompleted and up for sale. Redang Bahtera's website has disappeared and it's not clear if it is still operating.
With budget airlines like AirAsia and Tiger Airways now flying between Singapore and Kuala Lumpur (KL), visitors going to Redang from Singapore have more flight choices though they still need to change flights in KL for Kuala Trengganu (KT). One-way fares (SGP-KL-KT or KT-KL-SGP) start from as little as S$75 including surcharges and taxes (if you catch the promotions). Currently, flight timings from Singapore are such that one most likely has to spend a night either in KL or KT on the way to Redang. Flights back are better as one can catch AirAsia's afternoon flight from KT-KL (1625-1715) and then hop on AirAsia KL-SGP (1950-2050). The nice thing is all the budget airlines use KLIA's Low Cost Carrier terminal (LCCT) so there's no mad rush between terminals. Of course, the simplest way to fly is still by Berjaya Air direct between Singapore Seletar Airport and Redang, but it'll cost about S$360 return (including surcharges and taxes).
Onboard the Airbus A380
Singapore Airline's Airbus A380 and view of the upper-deck economy class.
Talking about airlines, we had a rare opportunity to fly onboard the world's first Airbus A380 when we visited friends in Sydney and Brisbane in Nov/Dec last year.
Compared to my flight onboard the Antonov AN26 to Layang Layang last year, our flight to Sydney on Singapore Airline's new A380 was at the opposite end of the comfort scale. As an airplane enthusiast (one of my unrealised childhood ambitions was to be a pilot), the A380 exceeded all my expectations: quiet, smooth, a very well-designed cabin with mood lighting that changed colours, and an in-flight entertainment system that would keep any geek happy - a 10-inch screen with USB, LAN and video-in connectors and even StarOffice built-in. We sat on the upper deck (2-4-2 seating) by the window in economy class, and I think these are the best economy seats on the plane if you're planning to travel on it as there is extra room by the window with seat-level storage compartments which also serve as useful arm-rests/table-tops. We didn't have to pay extra for upper deck seats, neither did we pay extra to fly on the A380.
Aussie wildlife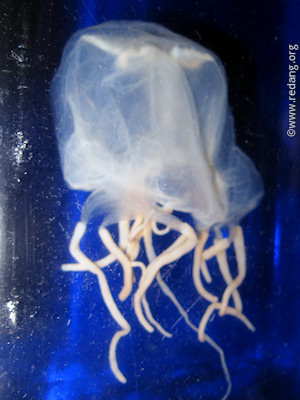 Box jellyfish at Sydney Aquarium
While we were in Sydney, we checked out the Sydney Aquarium at Darling Harbour and came away impressed. This was one of the better coral reef aquariums and worth a visit for fans of reef life. There, I had my first close look at a preserved box jellyfish, one of the most venomous creatures on the planet, and common in the northern coast of Australia. There was also a blue-ringed octopus, many types of sharks and reef fishes. Driving from Sydney to Brisbane and back also gave us opportunity to stop and visit many beautiful beaches along the East coast and a chance to spot beautiful wildlife. We saw wild dolphin pods at Nelson Bay (Port Stephens), wild parrots at O'Reillys and many wild kangaroos and wallabies. Didn't manage to see a koala in the wild though we encountered them at sanctuaries like Billabong Koala Park at Port Macquarie and Daisy Hill Koala Centre near Brisbane. Unfortunately, we didn't get a chance to visit Cairns, gateway to the Great Barrier reef.
I was also impressed with the Aussie approach to marine conservation. At a beach near Seal Rocks south of Forster-Tuncurry, I saw a fisheries conservation sign that outlined 'legal bag and size limits for saltwater species', stating the species of fish, size and quantity that could be caught. If the rules were to be obeyed, those fishing had to know their fish species well. Juveniles and unidentified species had to be returned to the water. I was tickled to read the part of the sign that said 'Protected Species - Return these species to the water' included 'great white sharks' ("yeah officer, I'm trying to return the great white to the water but it wouldn't let go of my leg"!). Such measures would be difficult to enforce here in Singapore and Malaysia and I'm not sure how effectively the Aussie authorities actually enforce these marine conservation rules.
Malaysia Travel Guide
Finally, I was introduced to a new Malaysian travel website called Malaysia Travel Guide which, as its name implies, contains lots of unbiased information to guide travellers in planning their trip around Malaysia. It includes tips on happenings, sights, food, local culture and customs, maps, transportation and other areas. It's a useful additional resource for anyone planning a trip around Malaysia. The author has also started his own campaign to create greater awareness to protect the wildlife in Malaysia, of which 14% of mammals, like the orang utan, sumatran rhino, pygmy elephants and tiger are all endangered, some critically. While this website focuses more on marine conservation, I believe we should all nurture the spirit of conservation within us if we are to protect our wildlife heritage, whether on land or in the water. After all, what happens on land affects what's in the water.